Herd Immunity Is Not the Primary Goal of Vaccination
Indonesian Technical Advisory Group on Immunization (ITAGI) Chair Sri Rezeki Hadinegoro said that the Covid-19 immunization has been fairly smooth albeit the vaccine shortage. The high mortality rate among the elderly population has prompted the government to shuffle the order of priority groups for vaccination. On the advice of the ITAGI, the elderly group was moved forward from the fourth to the second in line to be vaccinated along with public servants. Accoding to Sri Rezeki the main objective of vaccination was not to create heard immunity as widely publicized but rather to lower the death rate. Not only participating in the preparation of vaccination roadmap, the ITAGI also gives recommendations to the health ministry.
Edition : Monday, April 5, 2021
THE high mortality rate from Covid-19 among the elderly population has spurred the government to re-orientate its vaccination policy. On the recommendation of the Indonesian Technical Advisory Group on Immunization (ITAGI), the health ministry included older people in the second phase of the vaccination program. People above 60 years old previously slated to be vaccinated in the fourth round were injected with vaccine alongside public servants on February 17.
Besides health care workers, 21.5 million senior citizens are among the population most vulnerable to the Covid infection. The Covid-19 Response and National Economic Recovery Committee (KPC-PEN) recorded last February that people over 60 years old made up of 7.3 percent of Covid related deaths. "Therefore, senior citizens must be given priority," said ITAGI Chair Sri Rezeki Hadinegoro, 74, during a special interview with Tempo via a video conference on March 28.
Established since 2007, the ITAGI advises the health ministry on immunization programs. In the Covid-19 pandemic, the independent agency consisting of experts has been involved in the formulation of the vaccination roadmap since mid-2020. Besides recommending to get senior citizens vaccinated first, the ITAGI also assessed the type of vaccines suitable for them. When the AstraZeneca vaccine sparked controversy, the ITAGI coordinated with the Food and Drug Monitoring Agency (BPOM) and the Indonesian Ulema Council (MUI) on the possibility of using the vaccine for emergency situation.
Speaking to Tempo journalists Mahardika Satria Hadi, Dody Hidayat and Nur Alfiyah, Sri Rezeki explained that the chief purpose of the Covid-19 vaccination was to stem the mortality rate adding that the much-hyped herd immunity could not be achieved in a short period of time. A pediatrician by profession, Sri also highlighted various issues, from vaccine shortage, vaccination of children, the AstraZeneca vaccine's side effects, the Merah Putih vaccine's potentials, to the Nusantara vaccine.
W251bGwsIjIwMjEtMDQtMjMgMTg6Mjc6NTQiXQ
Since mid-January to date, over 10.4 million people have been vaccinated. How does ITAGI assess the process?
It's fairly smooth albeit some shortcomings. That's normal. This is perhaps Indonesia's first experience of immunizing a lot of people at the same time. Usually we immunize babies and children. Now we have to immunize adults with different problems, not only comorbidities but also social problems. It's not easy to mobilize elderly people. We don't know where they are located but the government has provided facilities where the public can have easier access such as the Bung Karno Sports Stadium or traditional markets in addition to puskesmas (community health centers), hospitals and clinics. We also have drive-throughs, a great innovation that facilitates a greater public access.
Indonesia initially gave precedence to health care workers and young productive people as vaccine recipients in the early phase although many countries prioritized the elderly population. What was the rationale?
Initially, we divided the population into four priority groups. First, health care workers; second, public servants; third, other community groups; and fourth, senior citizens. In developed countries, senior citizens are vaccinated first. The conditions are different from Indonesia's. The governments really take care of old-aged people, most of whom live in nursing homes. They also receive social security and their health is monitored. Everything is organized. It's different in Indonesia. Elderly citizens are scattered everywhere. As of now, 5 percent out of the 21 million elderly population have been vaccinated. We also have to be careful. There's no problem if they don't have comorbidities but if they suffer stroke a day after vaccination, the vaccine will get the blame.
(The health ministry reported on April 1 that only 7.71 percent or 1,661,036 senior citizens have been vaccinated and 208,446 have already received the second dose.)
How did ITAGI convince the government to vaccinate senior citizens in the second phase?
We discussed with the Indonesian Geriatrics Society as to how we select senior citizens, who could be vaccinated. Vaccines certainly do not raise blood pressure or cause stroke but elderly people can have complications from their diseases. This was our concern initially. But after we reexamined and consulted with the Indonesian Society of Internal Medicine and the Indonesian Medical Association, we concluded that they could be vaccinated after stricter screenings. That's what we conveyed to the health ministry last November given the high death rate among older people.
How did the discussion to change the order of precedence go?
We had a lengthy discussion with the internal medicine society members of which have different expertise such as hypertension, kidney or heart diseases in older people. The discussion was indeed a bit complex.
What were the bones of contention?
They gave a very long list of questions for screening that could be a burden for vaccination officials. The list stretched to three pages. How come? It asked, for example, whether the prospective recipient has hypertension, on what level, whether he/she has been treated. Very detailed questions. It is great for sure but not all the people would know the answers. We haggled as this is for the pandemic emergency. Thank God, now, the program for the elderly is going quite well.
The ITAGI was involved in drafting the road map on vaccination. Has the implementation of the program been on the right track?
We helped draw up different stages, who were the priorities, what vaccines or doses, vaccine storage, etc. We also offered feedback for the BPOM and held discussions with the KPC-PEN. Vaccination against the pandemic clearly has a specific purpose. Herd immunity has been over-hyped although it actually isn't the primary goal of the vaccination drive.
What is the goal then?
To reduce deaths as Indonesia's mortality rate is still very high. A disease is still a problem if it causes high mortality. If the number of deaths drops, then it's an achievement. But it doesn't mean we've achieved herd immunity. It will take time. It can't be achieved in months. That needs to be underlined.
What are ITAGI's recommendations to the government?
We conveyed two important points to the government before the program began. First, vaccination during the pandemic must be a public good. It means the government is fully responsible. Vaccines must not be commercialized. Second, more than 40 percent of the Covid deaths are among the elderly population. Therefore, they must be given priority to curb deaths. Previously senior citizens were slated to be vaccinated last, then we included them in the second phase alongside public servants.
You once mention that ITAGI found some issues in the vaccination program. Are there any aspects that need serious attention?
We do face a vaccine shortage. Say we need 181 million doses multiplied by two, it means we need in excess of 300 million doses. Vaccines come in batches, therefore, we must decide who should be given first. Maybe we will get a significantly large quantity of vaccines in June. So, we must plan it in April to May to prevent shortages. We should not find ourselves in a situation where we have to turn away people because there's no vaccine.
What about the readiness of human resources to do mass vaccination?
We've trained 31,000 health care personnel to this effect. A vaccinator can serve 40 people, so we expect to achieve the target in 12 months. Our initial calculation was 15 months but Pak President (Joko Widodo) asked to shorten it to 12 months. We have sufficient vaccinators in puskesmas, hospitals, as well as private clinics. There are adequate facilities but the calculation is still on paper. We don't know the actual conditions in the regions.
Besides the supply, did the ITAGI see other constraints?
There are always weak points in immunization drives. From our survey, we still find resistance to vaccination. That's normal. It exists in every country.
How many people are resisting?
According to our survey, around 7.6 percent of the respondents rejected vaccination. Their reasons vary. Perhaps it needs a special approach. The survey was conducted last September jointly with the WHO (World Health Organization) Indonesia, UNICEF, and the health ministry via WhatsApp blast involving 155,000 respondents from across the archipelago.
What did the results look like?
Almost 80 percent said they heard about the Covid-19 vaccination. But when asked about their readiness for vaccination, around 64 percent said they were ready, 7.6 percent said no and the rest was still in doubt. When asked what hurdles they faced, they highlighted concerns for safety and its halal (permissible by Islamic law) aspect. These two issues stood out.
Could the profile of the resisting respondents be identified from the survey?
Most of them were young people. The reception from the older respondents was extraordinary. They are more enthusiastic than the younger ones.
Why are many young people rejecting vaccination?
They lack information. If we look around, most of Covid-19 related information is disseminated via television, newspaper and magazine. It doesn't reach them as they don't watch TV nor read. They prefer YouTube, Instagram, Facebook. We have to go in there via youth-friendly approach. They will not show interest in dull information or instructions.
What advice has ITAGI's given to the government to overcome this?
I think the informatics and communication ministry is aware of it. I heard that the last survey showed that the Covid-19 vaccine acceptance level had climbed to 80 percent.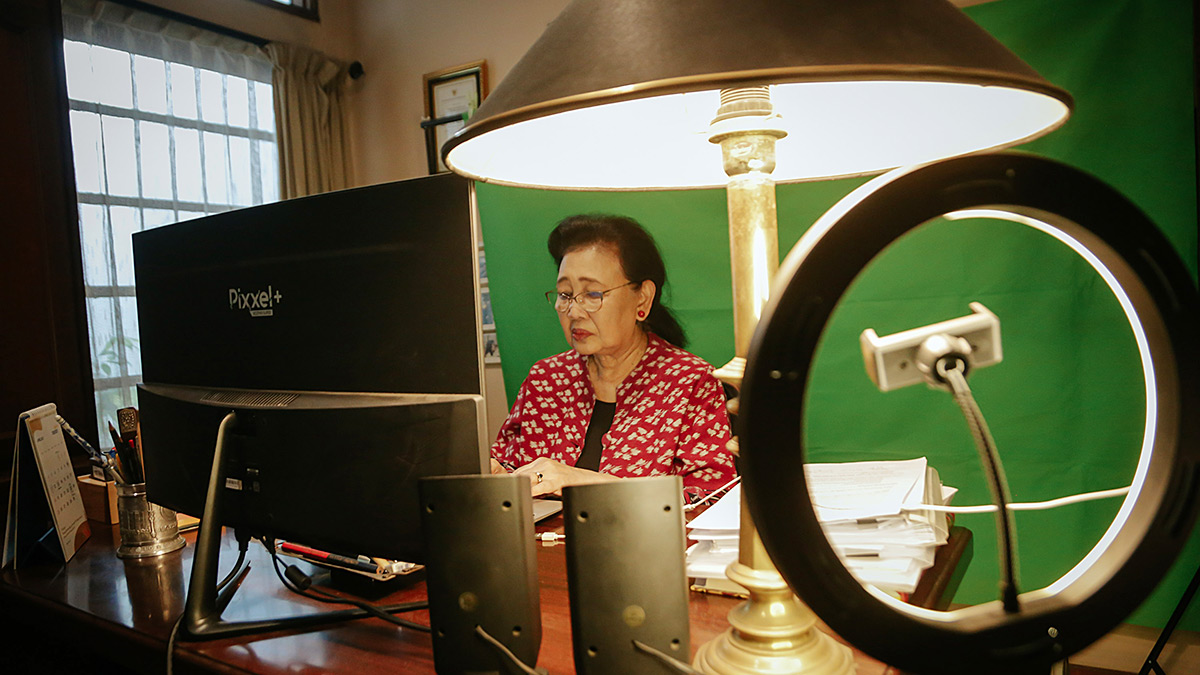 Sri Rezeki Hadinegoro working in her office in Jakarta, March 31. Tempo/M Taufan Rengganis
AstraZeneca vaccine shots were temporarily halted in North Sulawesi due to significantly high side effects. What did ITAGI's investigation find?
Actually, the effects were mild and people recovered within a day. It happened collectively so people got panicked. All had headache and nausea, that's all. But it's the jurisdiction of the AEFI (Adverse Event Following Immunization) committee.

(National Committee on AEFI's [Komnas KIPI] Chair Hendra Rawan Satori said on March 30 that the adverse reactions in North Sulawesi are categorized as mild and the committee recommended to continue the use of the AstraZeneca vaccine. Besides North Sulawesi, the vaccine is also used in Jakarta, East Java, Bali, East Nusa Tenggara, Riau Islands and Maluku.)
In addition to safety issues relating to blood clotting cases in Europe, the AstraZeneca vaccine also stirred up controversy in Indonesia because it was made with porcine trypsin. What is your response?
A matter of halal or haram (forbidden by Islamic law) is the MUI's (Indonesian Ulama Council) concern. Scientifically, trypsin is needed for the viral replication process. Bovine trypsin was used in the past but it was later found to be containing a substance that can cause brain damage. So, they looked for alternatives and found porcine trypsin. After replication, the viruses are purified hundreds of times via a specific technique using a modern technology. They are free of trypsin after this purification process because any remnant of the enzyme could interrupt the viruses' interaction with other substances. We all know that besides viruses, vaccines contain solvents, preservatives, adjuvants and so on. Therefore, the viruses must be cleansed thoroughly so that the end product no longer carries any pig DNA. That's a scientific explanation. But for Muslims, once it's haram, it's haram forever. It can't be made halal. That's beyond my control.
Sinovac has announced that its vaccine is safe and effective for children aged 3 to 17. Did the ITAGI study this?
We are still awaiting the clinical trial results.
How important is it to vaccinate children?
It is important to vaccinate particularly school-age children as classroom activities are set to resume in July. Many children also get Covid-19 but not all are detected as they show no symptoms. The problem is that family members often hug and kiss them. In some countries, children are dubbed super spreaders because they can infect a lot of people.
How should they be vaccinated?
The most important factor is safety. We should determine if they should be given the same dose as adults or a reduced one. The younger they are, the less developed their immune systems are. Their antibodies are not optimal yet. If the dose is too small, maybe it will generate less antibodies. But an increased dose can cause increased side effects. We have to be cautious.
Do you think that locally made vaccines such as Merah Putih can potentially help meet the vaccine need?
It looks like it can only be produced in mid-2022. It takes time to produce vaccine seeds and do trials on animals. Only after it is found to be really safe and immunogenic, can trials on humans begin. Maybe the Merah Putih vaccine is more suitable for routine application in the future than for the emergency use like now.
How about the Nusantara vaccine that has undergone clinical trials?
The BPOM has already reviewed it and recommended several corrections as a completely different technology is used. Actually, it is a cancer therapy where 40 cubic centimeters (cc) of blood is taken, processed, let sit for five days and reinjected back to the person. The whole process needs skills and sterile equipment, otherwise it can cause infection. These are the things they need to prepare to advance to the phase II trial.
Is it technically possible to use the Nusantara vaccine?
It is, but for who? It is a personalized and individualized vaccine whereas we are doing mass vaccinations. It is not suitable for emergency use either as it requires specialized equipment. All the ingredients are imported from America to be mixed up here. It must be expensive.
---
SRI REZEKI SYARASWATI HADINEGORO | Place and Date of Birth: Solo, May 3, 1946 | Education: Bachelor of Medicine, Padjadjaran University, Bandung (1972); Master of Medicine in Pediatrics, University of Indonesia (1983); Consultant Pediatrician in Infection and Tropical Diseases (1993); Ph.D. in Child Health, University of Indonesia (1996); Professor, University of Indonesia's Medical School (FKUI) (2000) | Career: Staff member, Child Health Department, FKUI (1983-2019); Head, Infection and Tropical Diseases Subdivision, Pediatrics Division, FKUI/ Cipto Mangunkusumo Hospital (1993-2004) | Organization: Member, Asia Strategy Alliance of Pneumococcal Disease Prevention (since 2007), Steering Committee of Asia Dengue Voice and Action (since 2011), President, International Community of Tropical Pediatrics (since 2017), Chair, National Committee for Study and Management of Post-Immunization Associated Events/Komnas PP KIPI (1999-2012), Member, Komnas PP KIPI (since 2013), Member, Immunization Task Force of the Indonesian Pediatrician Association (1999-2014), Chair, Indonesian Technical Advisory Group on Immunization (since 2008) | Awards: Outstanding Asian Pediatrician Award from the Asia Pacific Pediatric Association (2012), FKUI Lifetime Achievement Award (2014), IDAI Special Award for International Publication (2017)