Promises of Heaven
The Jamaah Ansharut Daulah group is using the prospect of marriage to lure in new female members. One woman tells how she nearly went to Syria after being promised marriage and being indoctrinated with the ideology of ISIS.
Edition : Monday, April 12, 2021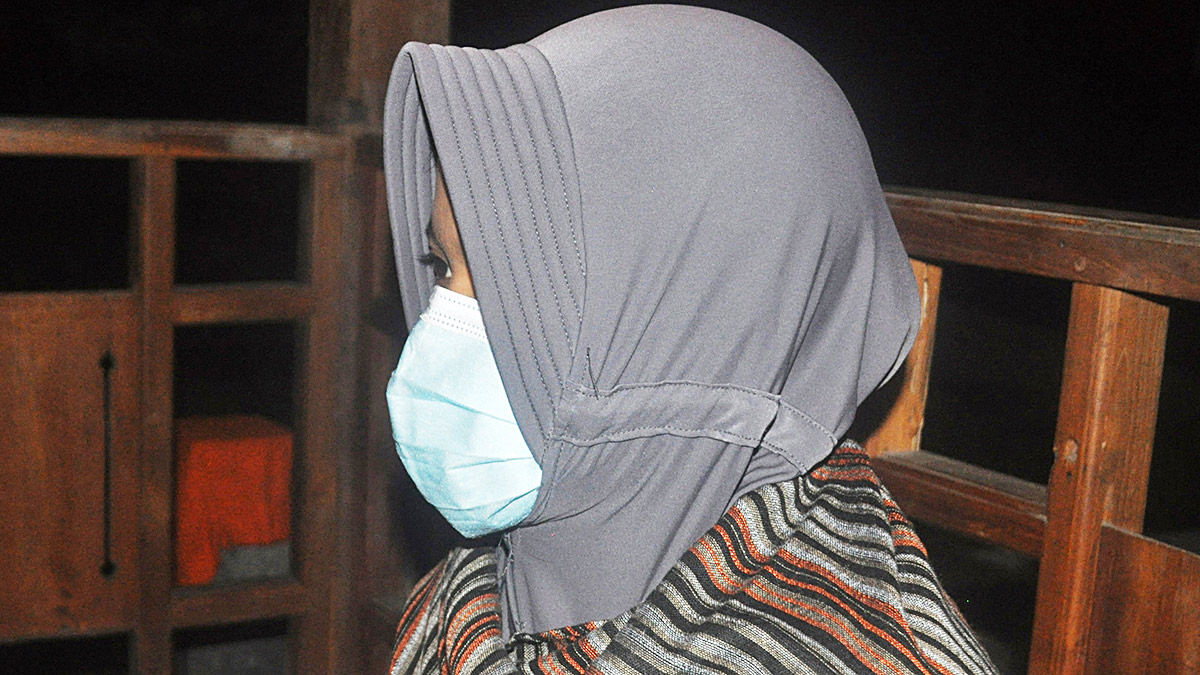 A 26-YEAR-OLD woman, let us just call her Wahidah, asked that her real identity be concealed in order to protect her family.
Four years ago, four plain-clothes Singapore police officers entered the home of her employer in that country. They headed straight to her room and searched it, where they found some burqas and face veils. They also found the evidence they were after: her chat history with a particular man on her cellular phone.
"I was arrested because of my chat with a man who asked me to get married and go for jihad in Syria," said Wahidah, giving an account of what happened to Tempo, when we met her at a town in Central Java on Thursday, April 8.
Suicide bombing by the couple Rully Rian Zake and Ulfa Handayani at Jolo Church, Sulu province, Philippines, January 27, 2019. Armed Forces of the Philippines - Western Mindanao Command/Handout via REUTERS
W251bGwsIjIwMjEtMDUtMTMgMTk6MDM6MzQiXQ
At the time of her arrest, Wahidah had been working in Singapore for two years as a nursemaid for her employer's parents. During that time, her employer had considered her to have been doing a good job. Her contract had been extended a short time before the police arrested her. Her employer never suspected that she was involved in a terrorist group.
The police took Wahidah to the Indonesian embassy. She was held in a small holding cell which only had a mattress, chair and small desk. Officers repeatedly questioned her during her two days in detention. She was asked to explain everything that she knew about the man who had asked her to emigrate to Syria and join the Islamic State of Iraq and Syria (ISIS).
Speaking to police, she explained that the man in question went by the alias of Young Farmer, also known as Abu Nakir Shaab, 23, from Bandung, West Java, Indonesia. The Indonesian police's Special Detachment (Densus) 88 Counterterrorism Unit arrested Abu Nakir and his network in Antapani, Bandung, in October 2017. They were said to be a part of the Jamaah Ansharut Daulah (JAD) group for the Greater Bandung area, which was planning bomb attacks at the State Palace in Jakarta and at the police's Mobile Brigade (Brimob) Command Headquarters in Kelapa Dua, Depok, West Java.
As it turns out, the police had been on to Wahidah and Abu Nakir for some time. The officer who interrogated Wahidah showed her photographs of some women. She said that she recognized a few of them. "From that I understood that Young Farmer was luring in many other women, asking them to get married," she said.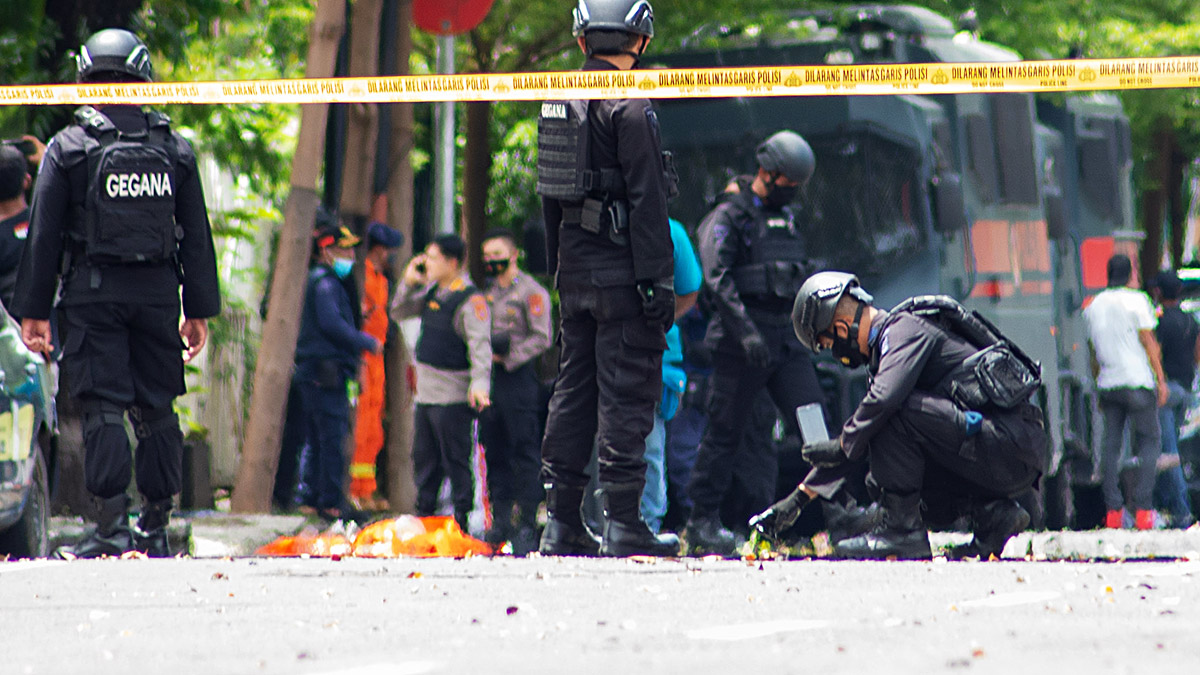 Police conduct an investigation of the alleged suicide bomb blast in front of the Makassar Cathedral in South Sulawesi, March 28. The bomb explosion at the church resulted in the death of two suspected suicide bombers and injuring 14 members of the congregation and church officials. Tempo/Iqbal Lubis
Abu Nakir was suspected of asking those women for money. One of them was Anggi Indah Kusuma alias Khanza Syafiah Al-Furqon, an Indonesian migrant worker in Hong Kong. The police arrested Anggi first when preparations for attacks on state weapon producer Pindad and the Brimob Command Headquarters in Depok were detected.
Ratna Lestari Harjana, Head of Social and Cultural Information at the Indonesian Embassy in Singapore, could not confirm the timeline of Wahidah's arrest in Singapore. According to her, terrorism is a sensitive issue, and the government needs to be cautious in divulging someone's identity. "We need to coordinate such things beforehand," she said. "Such information is not easy to remember because embassy officials and employees are often replaced every three years."
•••
WAHIDAH first knew of Abu Nakir Shaab after a story of heartbreak. Her boyfriend broke up with her a month before she was arrested by the Singapore police at the end of 2017. Feeling confused, she attempted to find solace in religion.
She joined a religious study groups for the Malay Singaporeans and Malaysian community on Facebook and Telegram. That is where she first encountered Abu Nakir, who strongly introduced the ideology of ISIS. According to Wahidah, he dazzled her by saying that ISIS members will go to heaven. "It is religiously permissible to kill those who disagree with ISIS," said Wahidah, repeating what Abu Nakir had told her.
Abu Nakir then took a pledge of allegiance from Wahidah over the phone as a new ISIS member. She later found out that this man works at a chicken abattoir in Bandung.
This man who she had just met promised to marry her if she was willing to fight with an ISIS militia in Syria. She said that his words won her over. The two became closer, even having affectionate nicknames for each other. "He called me 'Mee'. I called him 'Bee'," she said. This nicknames were short for "umi" (ma) and "abi" (pa).
After their initial contact, Abu Nakir often sent her links to websites about jihad (holy war). He also asked her to start wearing a burqa instead of her regular headscarf. She did so, and would wear one when she was outside of her employer's home.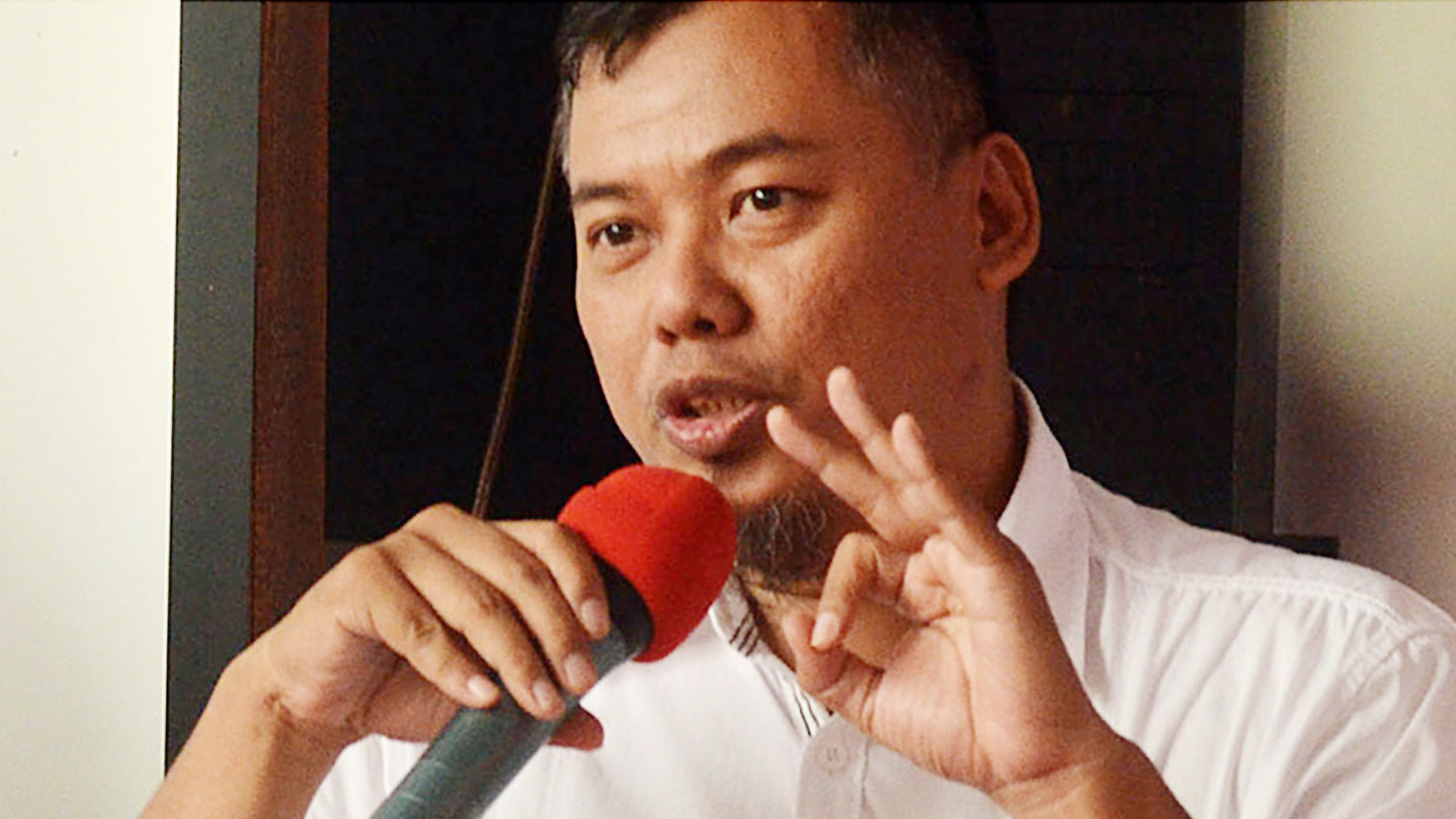 A former terrorist convict, Sofyan Tsauri, in Jakarta in August 10, 2017. TEMPO/Imam Sukamto
Wahidah changed. Abu Nakir's words were instilled in her, namely that those who do not agree with the views of ISIS are unbelievers, even if they are Muslims. She began reading a lot of digital material in Indonesian about ISIS sent to her by her new boyfriend. "It made me feel different from the others," said Wahidah. "I felt like I knew best, and believed that other religions were wrong. I acted like an arrogant person."
After her arrest she was taken to Jakarta, where she underwent a deradicalization program at a social care facility in East Jakarta, along with 10 other women who had the same experience. Slowly the ideas promulgated by Abu Nakir began to fade from her mind.
The National Counterterrorism Agency (BNPT) uses care facilities managed by the social affairs ministry to rehabilitate ISIS sympathizers or people detained in connection with terrorism cases. Hundreds of people have been rehabilitated. They must undergo such a program and declare an oath of loyalty to the country of Indonesia before they can be released.
As it turned out, Abu Nakir was also sent to the same care facility as Wahidah, but was in a different building. After they met in person they had no further contact, except for occasional communication. She prefers to keep her distance because she does not want to backslide. She has repented.
•••
WHILE Wahidah could be saved, some other women have become more deeply involved. Since the arrival of the ISIS ideology in Indonesia in 2015, the number of women caught up in terrorism networks has been growing.
Their involvement was revealed when Densus 88 arrested Dian Yulia Novi, who was called a potential 'bride' for a suicide bombing at the State Palace in 2016. Since then, at least 41 women have been arrested.
Those women played various roles. Aside from those who were potential suicide bombers, others provided funds and disseminated the ideology of ISIS. The police said that Puji Kuswati, one of the perpetrators of the church bombings in Surabaya in 2018, had bomb-making expertise. That chemistry graduate reportedly had made 40 bombs, which were distributed to other groups.
At the social care facility where Wahidah underwent deradicalization, there were women who had trained in self-defense and archery. Others have undergone i'dad or battle training in Poso, Central Sulawesi. Wahidah said that she had only reached the stage of studying the ideology of ISIS, and was not involved in other training. "Other had previously been quite active," she said.
Sofyan Tsauri alias Abu Ayas, a former terrorism convict, said that the role of women in the Jamaah Ansharut Daulah group is more prominent than in the Jamaah Islamiyah network. "Women from the JAD are ready to divorce their husbands if they develop different religious views," he said.
Sofyan once met Rullie Rian Zake and Ulfa Handayani, the couple which carried out a suicide bombing at a church in Jolo, the Philippines, in 2019, when they were staying at the same social care facility as Wahidah. According to him, it was difficult to get them to say an oath of loyalty to Indonesia. One reason was that Ulfa was very stubborn. After leaving the facility they continued to be involved in a terrorism network.
According to Irfan Idris, spokesman for the BNPT, ISIS propaganda is to blame for the involvement of women in terrorism cases. Those who were initially drawn in have gone on to spread radical thinking, and have even perpetrated acts of terrorism. Based on BNPT's observations, said Irfan, "Women have a power to expose their children and husbands to radical religious ideas."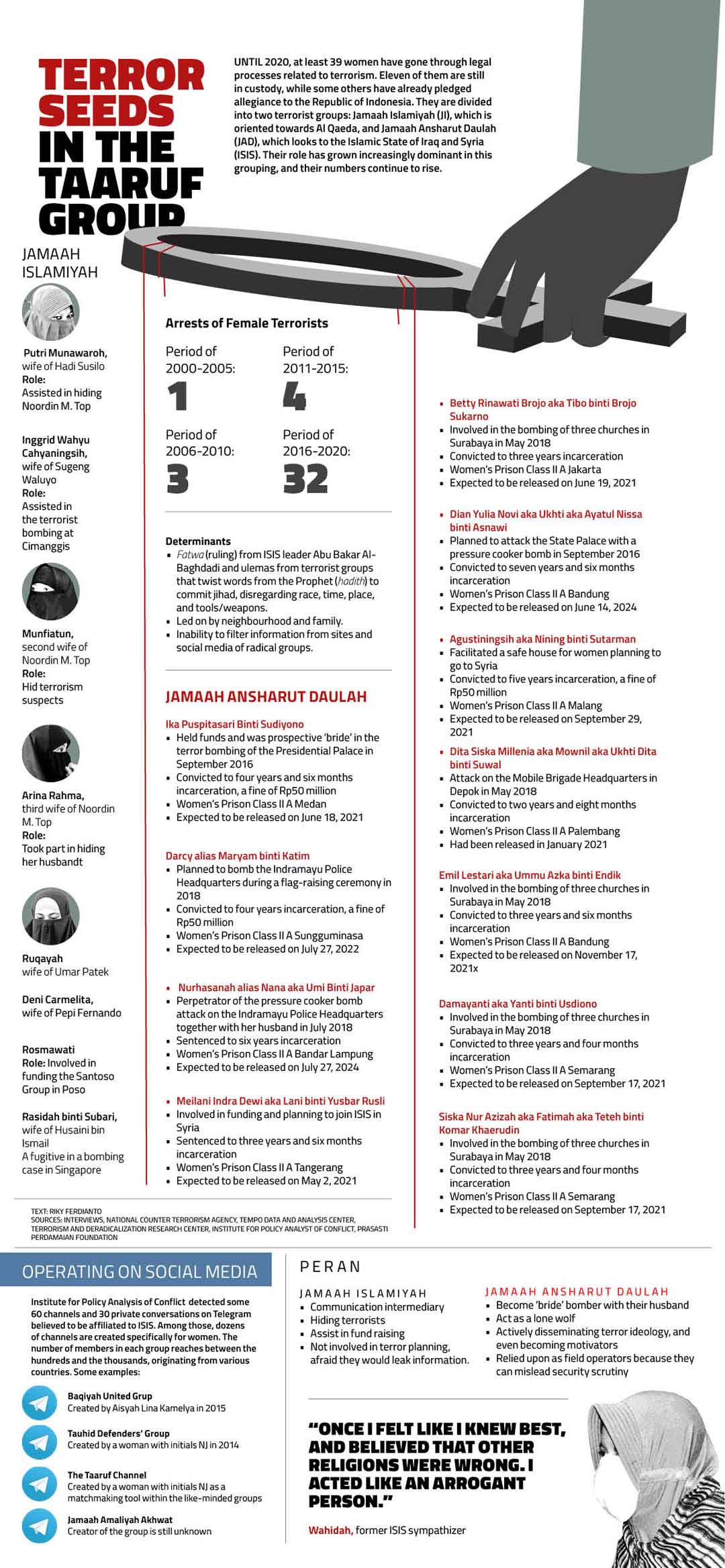 Ahmad Michdan, a coordinator for the Muslim Lawyers Team, who is often asked to provide legal assistance in terrorism cases, said that the men and women involved in terrorist networks are victims of propaganda. He said that they often misinterpret the meaning of jihad. "Therein is the role of the religious scholars (ulema) to explain the correct view," he said.
Michdan considers that the current handling of terrorism cases has not been able to eliminate the problem. According to him, the terrorism eradication operations which often end in deaths will actually result in further resistance on the part of terrorist groups.
RIKY FERDIANTO, PITO AGUSTIN RUDIANA