Competitor's Flight to Nasdaq
Grab is preparing a scenario to list in Nasdaq, aiming for a proceeds of Rp65 trillion to fund its ambition to become Southeast Asia's number one super app.
Edition : Monday, April 26, 2021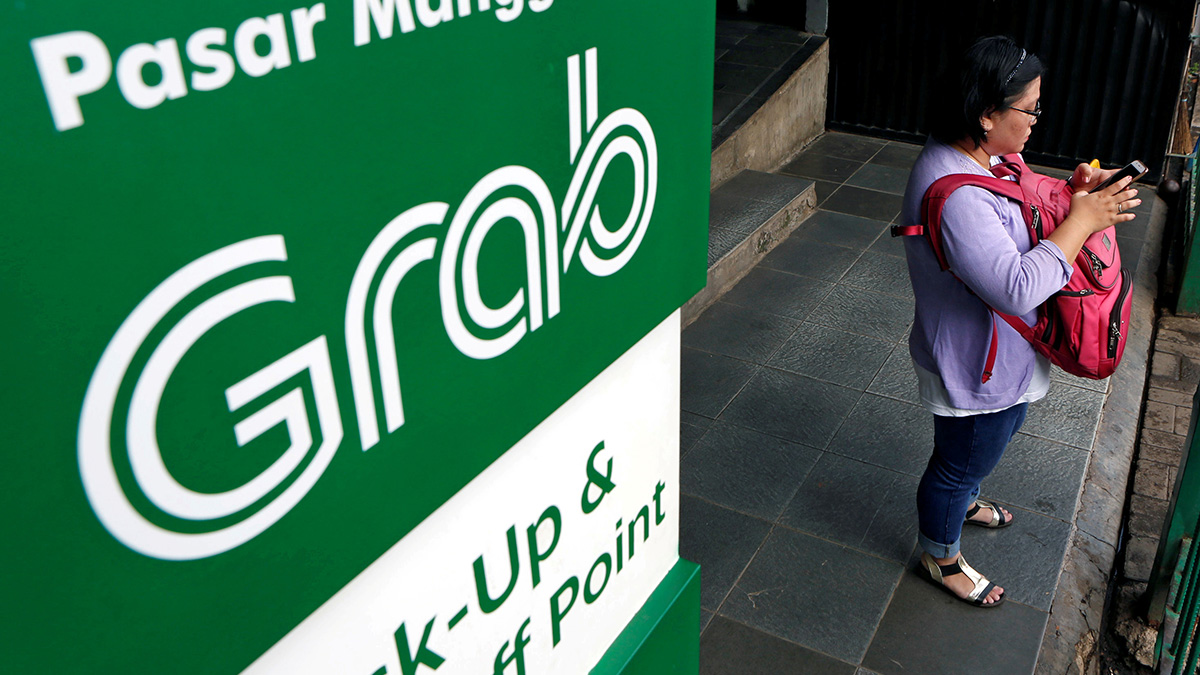 ROHMAT's family uses the GrabFood service quite often. During the Ramadan fasting month, they mostly get their fast-breaking meals from the food delivery feature in Grab's ride-hailing app. On Friday, April 23, Rohmat ordered pizza and nasi liwet (savory rice, cooked in coconut milk) to enjoy with his wife and children. "There's a discount. Not bad," he said.
The discounts offered by Grab also makes Ratih, an employee in West Jakarta, a loyal customer. The mother of one uses GrabFood, GrabCar and GrabBike, as well as GrabExpress for delivering packages. "There are plenty of discount vouchers," she said that Friday.
Grab continues to expand its services, from ride hailing to food deliveries, good deliveries, and digital payment. When it first arrived in 2014, the Malaysian app—now based in Singapore—has been a constant competitor of local player Gojek.
In mid-march, a month before reports of Gojek and Tokopedia's merger plans came up, Grab stole their thunder. Grab Holdings Inc. announced its plan of an initial public offering (IPO) in one of America's stock markets, NASDAQ.
W251bGwsIjIwMjEtMDUtMTMgMTk6MjE6NTgiXQ
In its exposure, Grab said a merger with Altimeter Growth Corp will precede the IPO, a special purpose acquisition company (SPAC) listed in Nasdaq under the ticker AGC. Then, after several months, the new company resulting from the merge will list with Nasdaq under the name GRAB.
Altimeter Growth and Grab will become subsidiaries that are fully owned by a new holding company. The new company is expected to have pro-forma equity of around US$39.6 billion or roughly Rp600 trillion.
Through the IPO, the merged company is expected to garner US$4.5 billion in proceeds—or around Rp65 trillion. It would be the biggest IPO value by a Southeast Asian company in an American stock exchange. The US$4 billion plus is the amount of offer from private investment in public equity (PIPE), which had been raised because of significant interest from investors. Meanwhile, Altimeter is committed to provide up to US$500 million in contingency investments.
PIPE is a pool of funds managed by Altimeter Capital Management. In it are a number of global investors such as BlackRock, Counterpoint Global (Morgan Stanley Investment Management), and T. Rowe Price Associates, Inc. There are also Singapore's investment company Temasek and Malaysia's Permodalan Nasional Berhad. Indonesian investors include several top conglomerates like the Djarum Group, the Sinar Mas Group, and the Sariaatmadja family.
As a form of long-term commitment by Altimeter to Grab, Altimeter's sponsor that promotes the share plans on 'locking' the investment for three years. "We have always believed in long-term partnerships to drive impact on a large scale," said Grab Group Chief Executive Officer (CEO) and co-founder Anthony Tan.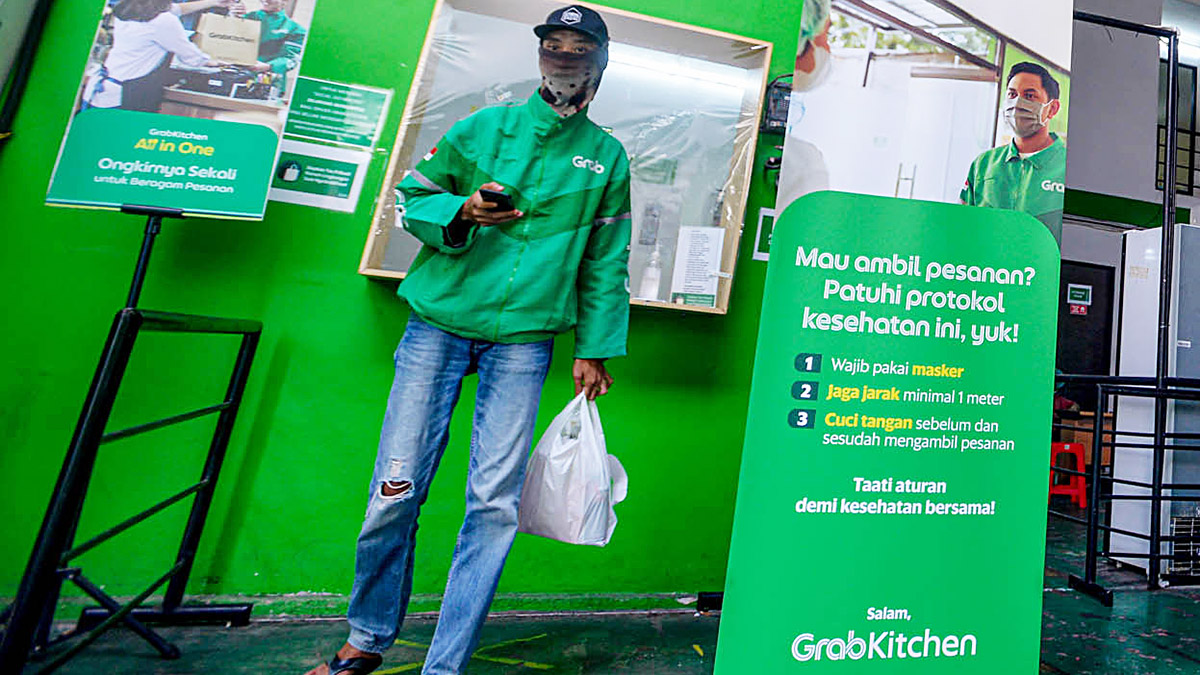 Food delivery service activities at the Grabkitchen in Karet, Jakarta, March 23. In 2020, Grab saw a significant growth in its delivery service division which now represent 50 percent of its overall business. Tempo/Tony Hartawan
The proceeds from the IPO—a first for Grab—would be used to strengthen the company's position as a super app in the Southeast Asian region. "The funds we get will be used to expand our mission and our plans in Southeast Asia," Grab Country Managing Director for Indonesia Neneng Goenadi told Tempo on Thursday, April 22.
The online service market in Southeast Asia, especially in Indonesia, is still wide open. The latest report by e-Conomy SEA, published in November 2020, estimated the region's turnover from the Internet-based economy to have reached US$100 billion last year, up by five percent from 2019. The figure is predicted to keep soaring, with an average annual growth of 24 percent until 2025, reaching a staggering US$309 billion.
Dubbed At full velocity: Resilient and Racing Ahead, the study supported by Google, Temasek, and Bain & Company placed Indonesia as the largest market regionally. By 2025, Indonesia's digital economy pie is estimated to reach US$124 billion or Rp1,798 trillion in today's currency.
Many believe that the super-apps' corporate act also resulted from pressure on startup developers to generate profits fast. This was hinted last year, when Softbank reportedly joined in pushing for a merger between Grab and Gojek. Later on, the agenda faltered, and each company set up their own plan.
Gojek opted to join forces with Tokopedia. Meanwhile, Grab decided to fly to NASDAQ—not planning to partner with e-commerce platforms just yet. "That sector is not a playing field for us to compete in," said Neneng.
According to her, Grab would instead seek advantage from e-commerce growth by improving delivery and payment services. Grab sees an opportunity to expand its business in the segment of delivery: food, daily necessities, and other packages. For the next few months, Grab will launch GrabMart and GrabAssistant services in more cities. "A wider network allows us to deliver from one point to another very efficiently," Neneng remarked.
That way, there would be more small businesses that can benefit from Grab's platform and logistics network. "In GrabExpress, we are introducing new features that will make long distance delivery more accessible," said Neneng.
Neneng said that the level of online penetration in Southeast Asia is still low, creating opportunities for developments. As an example, she pointed to the region's on-demand mobility services, which is only one-fifth of China's. The same with the online penetration of food delivery services, which is only half that of China.
But Grab remains confident in Southeast Asia's economy, which is considered as the most attractive and fastest growing, despite needing pushes towards digital transformation. "As Southeast Asian people continue to rely on online services to meet their daily needs, we respond in ways that are culturally appropriate and easily accessible," said Neneng.
RETNO SULISTYOWATI