Nazi Graves and the Story of Deutsche Schule
GERMAN author Horst Henry Geerken follows the trace of Adolf Hitler and the Nazi ideology in Indonesia through the third and fourth volume of his book Hitlers Griff nach Asien. These two newest editions, published last year, continued what Geerken started in his previous volumes with the same title. In his recent books, Geerken delved into the diaries of Otto Coerper, which gave detailed descriptions on some 300 Germans who had been jailed in the Dutch Indies. According to Coerper's notes, those prisoners were released after the Japanese entered the territories in 1942. They then settled in Sarangan by Mount Lawu in East Java, and set up a German school, or Deutsche Schule. Coerper also formed an officer's training academy for military police.
The president at the time, Sukarno, sent navy cadets from Yogyakarta to learn German at the Deutsche Schule, so that they could understand military equipment, many of which originated from Germany. Among alumni from the Deutsche Schule are Raden Eddy Martadinata dan Donald Isaac Pandjaitan.
Edition : Monday, May 10, 2021
THE cemetery by Mount Gede Pangrango, West Java, has an unusual site. Underneath tall rubber and kencana (Terminalia mantaly) trees are 10 graves with the Eisernes Kreuz symbol: the distinctive steel cross of the Nazis, or the Nationalsozialistische Arbeiterspartei (National Socialist German Workers' Party). This area measuring some 20 X 50 meters is located at Arca Domas, Sukaresmi village, Megamendung subdistrict, Bogor Regency. In old Sundanese, Arca Domas means '800 statues', referring to statues from the Pajajaran Sultanate that had been there.
The Arca Domas cemetery has three terraces. The lower one has a monument with the German caption "Dem Tapferen Deutsch-Ostasiatischen Geschwader 1914. Errichtet von Emil und Theodor Helfferich 1926," which means "The brave 1914 German-East Asian squadron. Set up by Emil dan Theodor Helfferich in 1926." The monument is flanked by replicas of a Ganesha statue on its left, and a Buddha statue on its right. Both of these new sculptures are unrelated to Arca Domas.
On the middle terrace lie eight graves, complete with names and ranks, measuring 2.5 X 0.5 meters. On the third terrace are two bigger graves with the engraving Unbekannt, or 'anonymous', on them. Ratna, 67, takes care of the graves daily. She is continuing what her father had been doing since the 1950s. Ratna said she has been given the task of maintaining the graves by the German Embassy in Indonesia. "The German Embassy pays me to maintain these graves," said Ratna said when met by Tempo in the middle of March.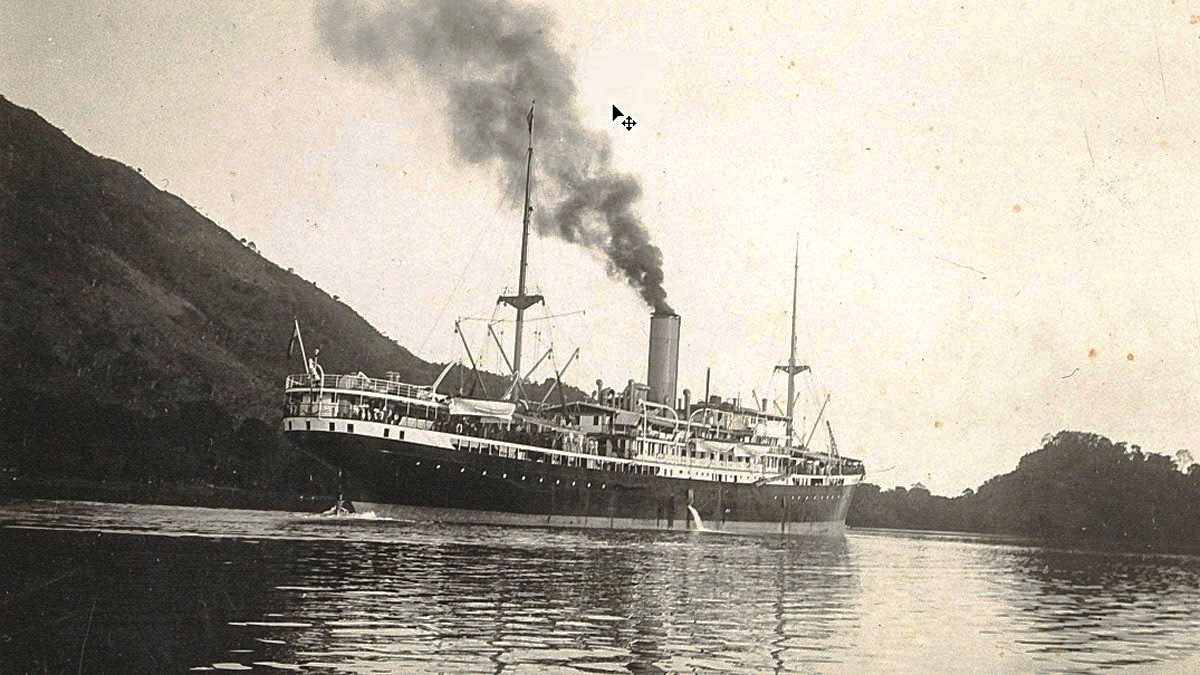 The Van Imhoff ship seen in the Indonesian waters, between 1930-1940. KITLV
W251bGwsIjIwMjEtMDYtMjIgMTU6MzU6NTMiXQ
Sometimes, Ratna said, Embassy personnel come to check the condition of the graves. She further said that every November there is a commemoration ceremony by the German Embassy to honor those buried there. However, lately the area has been in dispute between state plantation Perkebunan Nusantara (PTPN) VIII and local developers who have been farming there since 1991. The state company claims that it holds cultivation rights certification after the Indonesian state nationalized this land formerly owned by the colonial government in 1958.
The Arca Domas cemetery's history starts with two brothers, Emil and Theodor Helfferich, who were related to Karl Helfferich, the deputy prime minister during the German Empire era. Both brothers came to Indonesia after the Dutch East-Indies government implemented its opendeur politiek, or open-door policy, in 1905, giving opportunities for Europeans to invest in the colony. Emil arrived around 1905 while Theodor, who was a Nazi Party member, only arrived eight years later.
The brothers then pioneered tea plantations at Gunung Mas, and set up a factory on land measuring 900 hectares after the conclusion of World War I (1914-1918). Sukaresmi village head M. Iib Ibrahim said that the monument, built in 1914, was only inaugurated in 1926, coinciding with the visit of Hamburg, an explorer ship from Germany, to the Tanjung Priok harbor in Batavia, Jakarta's name under the Dutch. Since then, the plantation area was also used as a rest area for German soldiers on duty in Asia.
Iib further said that the Helfferich brothers also cultivated the land with a variety of plants, mostly tea. Their endeavor grew so large that they had to build a hydro power plant to operate the factory. Alas, the power plant is now broken and neglected. The factory is now used as the Megamendung Police office.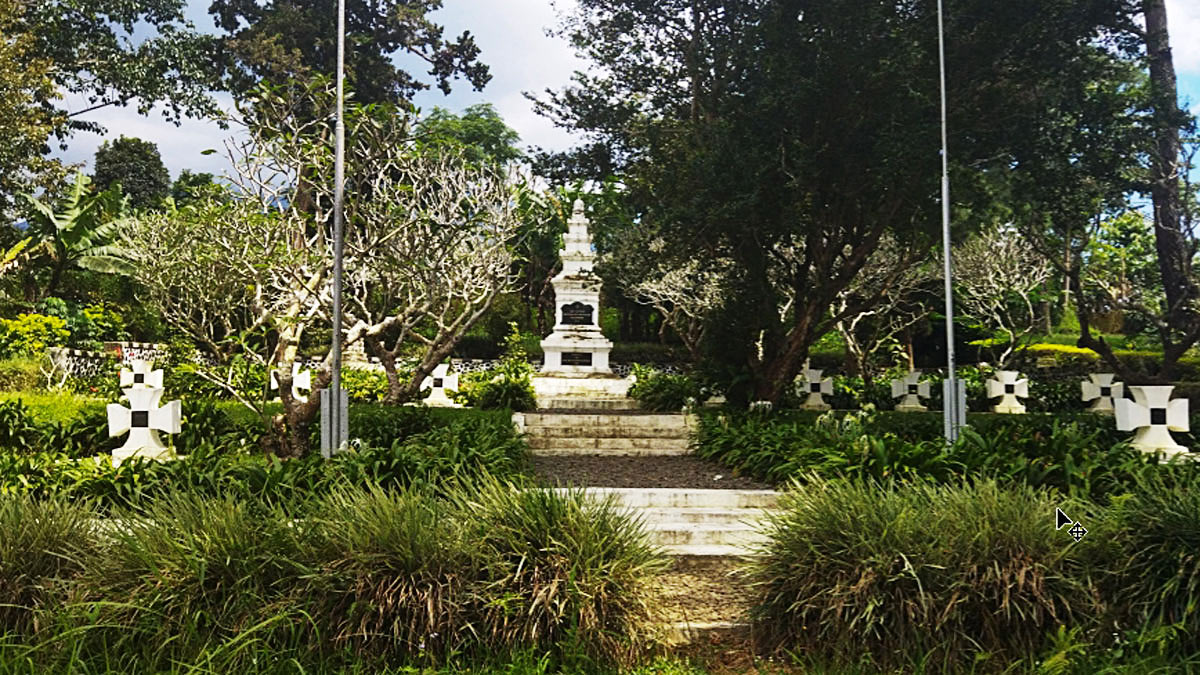 The grave of German soldiers at Arca Domas, Sukaresmi village, Bogor Regency, West Java, March 2021. Tempo/M.A Murthado
Both brothers were known to be patriotic. Thus, it was logical that they built the four-meter monument at Arca Domas honoring the heroics of Admiral Maximilian Graf von Spee, the commander of Germany's Southeast Asian troops. Graf von Spee's ship sank in the Falkland Islands on December 8, 1914, during a clash with British troops. In addition to the monument, the Helfferichs also secured land for the graves of slain German soldiers.
Besides at the Arca Domas block, graves of German soldiers are said to be located in the Jonggol area in the Bogor Regency, and in Cipanas, Cianjur Regency, in West Java, according to Agus Hermawan, a Sukaresmi resident who was also a former employee at state plantation PTPN XI Cikopo Selatan.
***
THE cemetery for German soldiers at Arca Domas is a sign of the existence of Nazi ideology in the Indonesian archipelago, long before the country's independence. Even before Adolf Hitler came to power in 1933, Nazi representatives were already in the Dutch East Indies since 1931. Its central office was in Batavia, with branches spread in other major cities such as Surabaya (East Java), Bandung (West Java), Medan (North Sumatra), Padang (West Sumatra), and Makassar (South Sulawesi). The Nazi's representation in the territory was a major one in the Asia Pacific region, second only to its offices in China.
German author Horst Henry Geerken, in his book Hitlers Griff nach Asien (Hitler's Grasp towards Asia) that was also translated into Indonesian in 2016, divulged connections between Germany and the Dutch East Indies, and the development of a German marine base in Southeast Asia. This discovery was further researched by Geerken in the third and fourth volume of Hitlers Griff nach Asien, published last year. These two volumes trace the Nazi ideology in Indonesia, which came to inspire political parties prior to independence such as the Partai Gerakan Rakyat Indonesia (the Indonesian People's Movement Party) and Partai Indonesia Raya (the Great Indonesia Party) led by Mohammad Husni Thamrin. Geerken said in his book that Hitler did not hesitate to send funds to parties supporting the Nazis in order to spread his ideology.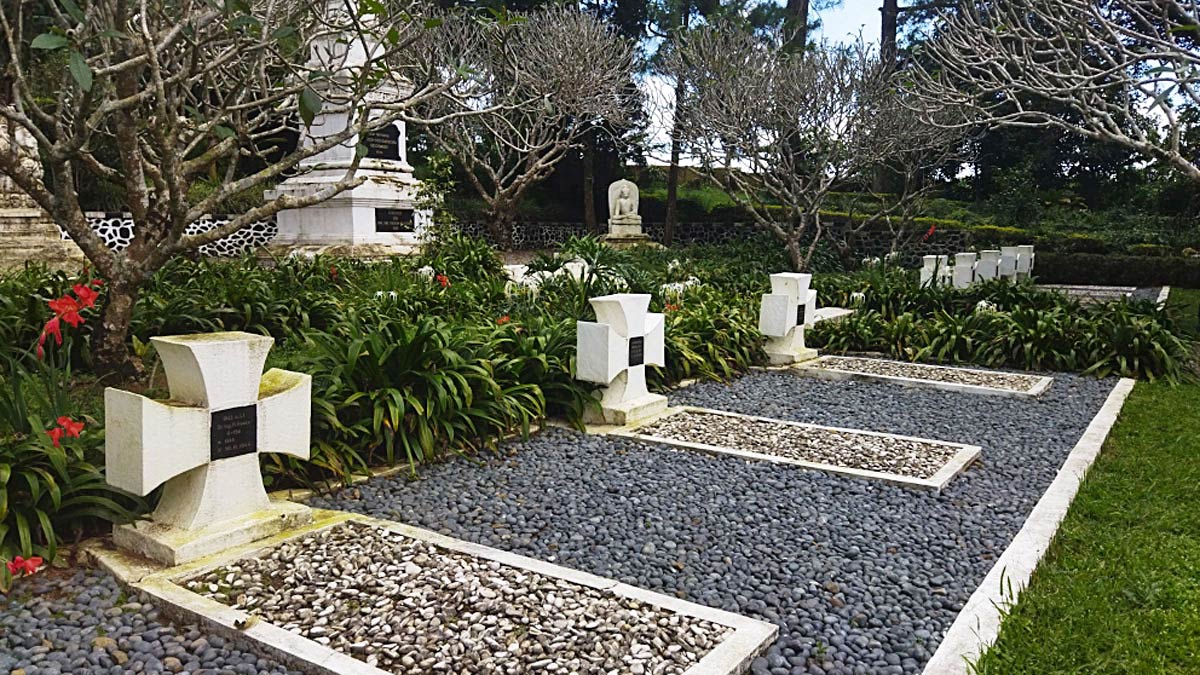 The grave of German soldiers at Arca Domas, Sukaresmi village, Bogor Regency, West Java, March 2021. Tempo/M.A Murthado
In his latest books, Geerken also noted his discovery of several former high Nazi officials who were in hiding in Indonesia between 1941 and 1945. One of them was Roeder Edsker, a former member of Hitler's Schutzstaffel/SS, a major paramilitary organization set up to guard Adolf Hitler. Edsker is said to have participated in mass killings in Warsaw, Poland. Edsker, who should have been tried at the Nuremberg Courts with other Nazi war criminals, was able to live in Jakarta.
Geerken also wrote about other Germans in the Netherlands East Indies who stood on the side of Indonesians, and joined them in battling the Dutch after Japan capitulated. Germany has also played a special part in Indonesia's independence, Geerken wrote in the third volume of his book: the draft of the country's independence speech signed by Sukarno and Mohammad Hatta was typed on a German typewriter with the logo of an eagle, the German symbol. The typewriter belonged to Hermann Kandeler, a former German marine commander based in Batavia.
Germany was said to have supported Indonesia as it felt kinship for being under Dutch control at a certain point. Germany's invasion into the Netherlands during World War II in May 1940 was countered by the Dutch arresting Germans in the Netherlands East Indies. All people with German lineage—civilians, scientists, physicians, entrepreneurs, missionaries, and even those with Dutch nationalities—were brutally arrested and jailed. Women and children were separated from the men. Boys over the age of 16 were jailed with the adults.
They were spread among detention barracks on Java (Ngawi in East Java, Salatiga in Central Java, and Batavia), Maluku, New Guinea (now West Irian), and Sumatra. A survivor, Erich Voigt, wrote in his diaries about being a captive in Onrust Camp in the Thousand Islands nearby Jakarta. The camp had 35 barracks, separated by barbed wire and housing 2,500 detainees. Among the prisoners were Dutch people who sympathized with the Nazis, and Dutch soldiers with deadly sexual diseases. Voigt said that some prisoners were randomly executed. "This was illegal. We were treated like animals," said Voigt in his diary.
When the Japanese invaded Southeast Asia in World War II, the Dutch immediately moved the prisoners. On December 23, 1941, most of Onrust's detainees were transported to the Allas Valei camp in Aceh. Some were also taken to the Judensavanna Camp in Guyana (which is now part of Surinam). The Dutch planned to ban them to the Allas Valei in Dehra Dun, a camp in Sri Lanka, which was under British rule at the time. The detainees were put into three groups. From the Sibolga harbor in North Sumatra, a wooden ship departed with prisoners in early January 1942. Voigt was in the first vessel, which arrived safely at its destination. However, the last ship was less fortunate. On January 19, 1942, the Van Imhoff, a ship owned by cargo operator De Koninklijke Paketvaart Maatschappij in Batavia, sank in the Indian Ocean after being hit by bombs from a Japanese warplane the day before.
The Van Imhoff was attacked as it did not have a Red Cross sign, which would have signaled that it was carrying prisoners. From the three bombs dropped, one fell right next to the ship, causing it to capsize and suffer serious damage. H.K. Hoeksama, the ship's captain, fled on a rescue boat, leaving behind more than 400 hysterical prisoners. Even worse, Hoeksema ordered to destroy the six remaining rescue boats right before he left the Van Imhoff, so that the prisoners would not be able to use them. Consequently, many prisoners drowned, including Walter Spies, a German musician and painter who resided for years in Bali, and his good friend Hans Friedrich Overbeck, an insectologist.
Some prisoners managed to get on a rescue boat, including Stephan Walkiwiak, who paddled the boat by hand until it reached Simu Island by Sumatra. Geerken quoted this story from the diary of Albert Vehring, a scientist who rowed a makeshift raft until Nias Island by Sumatra. Several other prisoners died from hunger and exhaustion. Van Imhoff's tragedy is still being discussed now. The Netherlands denies all accusations, and claims that it had sent a rescue ship, the Boelongan. However, Vehring said this was a lie, as the Boelongan sailed off after only rescuing Dutch passengers.
On March 8, 1942, the Dutch surrendered unconditionally, and Japan started its control over the colonial territory. All of the Germans still imprisoned were released. Some of them chose to return home, while others stayed in Indonesia. Vehring, the Van Imhoff survivor, together with another friend even supported the formation of the Free Nias Republic, with himself as foreign minister. Rosihan Anwar also wrote about this in his book Sejarah Ketjil (Small History).
As requested, the Japanese then transported around 600 Germans—half of them children—to Sarangan near Mount Lawu in East Java. The area has cool temperatures, suitable for those used to living in regions with four seasons. The Deutsche Schule (German School) and Sports School SORA were then set up in Sarangan. The school played three national anthems: Germany's Deutschland, Deutschland Über Alles, Japan's Kimigayo, and Indonesia's Indonesia Raya. It rotated four flags: those of the Nazis, Japan, Indonesia's red-and-white flag, and the communists' star and crescent one.
Deutsche Schule Director Otto Coerper also used the school building as a location to teach military police techniques, or the Military Police Officers' Training LOPT. At Deutsche Schule, Coerper taught Latin and Japanese. Prior to the war, he was head of the Police Academy under the Dutch in Sukabumi, West Java.
At the beginning, LOPT students only consisted of experienced military personnel, such as former members of the Royal Netherland Indies Army KNIL and the Homeland Defenders Peta, set up by the Japanese. Lessons were given in German and Indonesian. Although Coerper already switched nationalities from German to Dutch, using the Dutch language was forbidden at schools.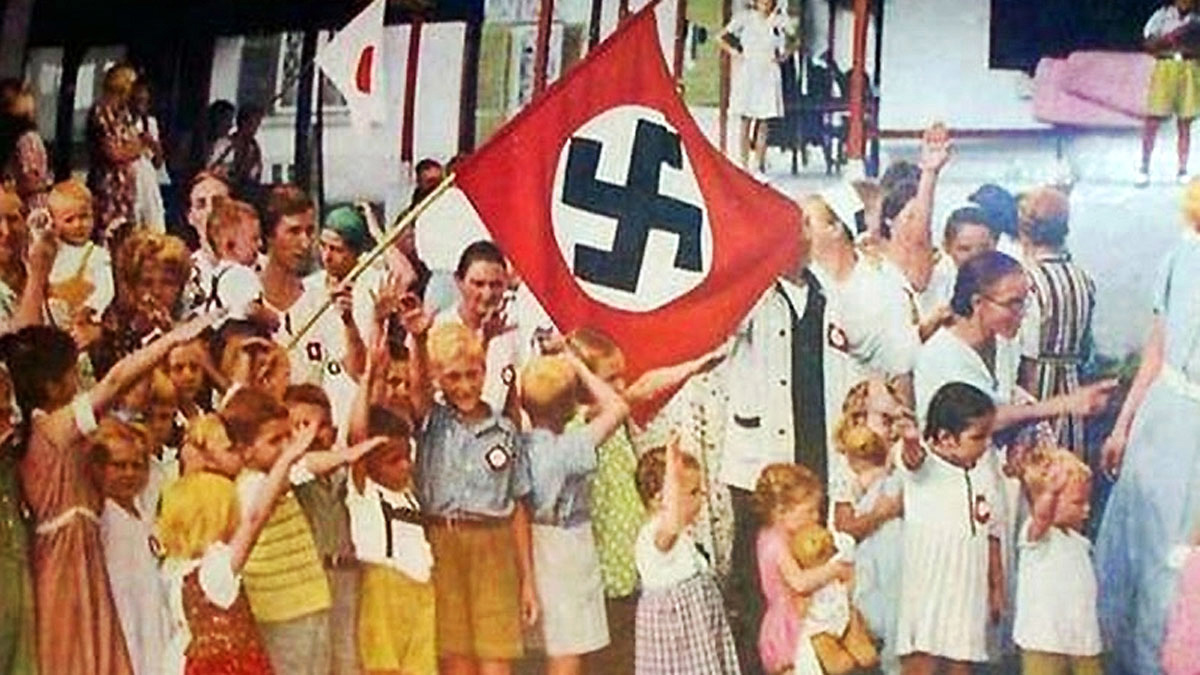 German children and women raise the Nazi flag after being liberated by Japan and taken to Sarangan, Magetan Regency, East Java. Hotlers Griff nach Asien volume Ill
Coerper's students multiplied rapidly. Many Indonesian youths joined the school, which grew to some 300 students. It was so much in demand that it could no longer accept new students. Finally, Coerper, who later changed his name to Pak Kemal, divided his students into two groups: one in Sarangan, and one in Plaosan. Every day, Pak Kemal rode his horse across valleys to teach, moving back and forth between the hilly territories.
Sarangan then became an important military training center prior to the independence war (1949-1955). In addition to Coerper, another teacher there was Weirich Kurse, the former radio communication head of a German explorer ship in Yokohama, Japan. In Yogyakarta, a maritime school was set up by August Friedrich Hermann Rusenow. This former captain of the expedition ship HAPAG on the Hamburg- USA route towards the Dutch East Indies prior to World War I had been a prisoner of the Dutch at the Allas Valei camp. During World War II, he evacuated to Japan, and only returned to Jakarta after the Dutch capitulated. In Indonesia, he met with Sukarno to discuss his idea of setting up a maritime school, which Sukarno approved of.
Thus, the military academy in Yogyakarta was set up, and Rusenow became a lecturer there. Rusenow was also merited for establishing the Indonesian Naval Force. Sukarno sent cadets from Yogyakarta to Sarangan to further their knowledge. According to Horst H. Geerken, Sukarno aimed to prepare the young soldiers to become Indonesian 'diplomats' in the international community. "In addition to learning military techniques there, they were also learning German at the Deutsche Schule, and doing exercises with German instructors at SORA to maintain strong physical stamina," he wrote.
The male and female cadets were also taught Western table etiquettes. They lived with German families to learn how to use spoons, forks, knives, and linen napkins. Former Navy Admiral Raden Eddy Martadinata, and Maj. Gen. Donald Isaac Pandjaitan are alumni of the school. Like Sukarno, who sometimes visited Sarangan with Mohammad Hatta and his family for a vacation, both were fluent in German. Sarangan became increasingly popular, and became a go-to destination for Germans. The area was frequently visited by German military officers, such as Jakarta's Nazi secretary-general navy war captain, and became the resting place for German submarine crew members, who had to stay on board for months crossing the Atlantic Ocean and the Indonesian archipelago.
After operating for five years, Deutsche Schule shut its doors on December 15, 1948, when Sarangan was raided in a military aggression by Dutch troops who landed on Maguwo Airport in Yogyakarta. German citizens, adults and children, were forced to kneel for hours in front of their homes. Their houses were searched and ransacked. With harsh words, KNIL soldiers—consisting of people from Ambon and Manado—yelled at them: "Germans must be shot. We must see their blood."
TUTTY BAUMEISTER, M.A. MURTADHO, ISMA SAVITRI