Donating Digitally
Alms institutions are fast-tracking digital transformation amids the lack of the regulations on zakat.
Edition : Monday, May 10, 2021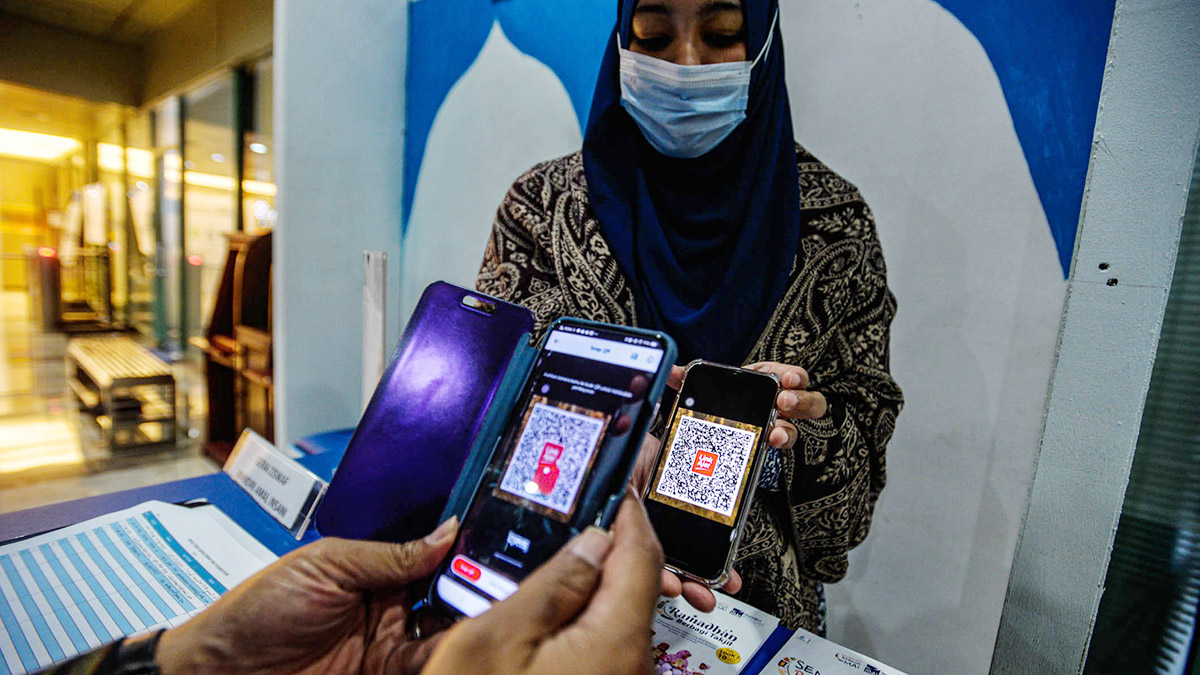 WHILE called an ATM (automatic teller machine), the machine standing almost two meters tall at the courtyard of Baitul Mukminin Grand Mosque in Jombang, East Java, is not provided by a bank for people to withdraw cash from. The ATM written on it is short for anjungan terima mandiri or 'automated receiving machine', and it dispenses rice instead of money. The huge rice dispenser belongs to the National Alms Agency, Baznas, of Jombang Regency, as written on the bottom part.
Launched on April 12, the day before Ramadan fasting month started, this rice vending machine is one of four that Baznas provided for East Java. People who are eligible to receive alms (mustahik) and have the Rice ATM Card from Baznas can take rice from the machine by simply tapping their cards. "Withdrawals are only carried out on Friday, 25 people at most, each gets five liters of rice per month," said Jombang Regency's Baznas Chief Didin Achmad Sholahudin on Friday, May 7.
At the early stage of its operations, the rice ATM can only serve 100 mustahiks per month. Didin hopes the capacity will increase by 10 times to 1,000 mustahiks by the end of this year. "Once we reach that number, the maximum dispensing frequency would be set to 250 people per week or 50 people per day," he said.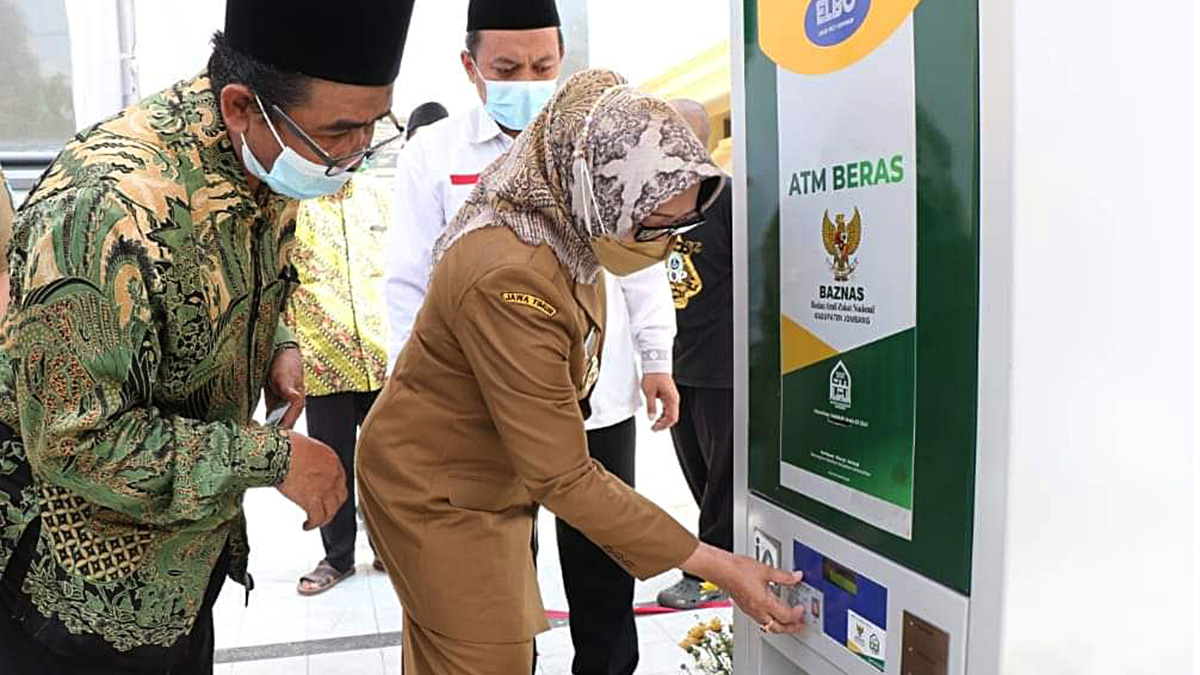 The inauguration of the Baznas rice ATM by the Regent of Jombang, Mundjidah Wahab (right), at the Baitul Mukminin Grand Mosque, Jombang, East Java, April 12. baznasjombang.id
W251bGwsIjIwMjEtMDYtMjIgMTQ6NTc6MjIiXQ
The dispenser serves as a solution for Jombang Baznas to increase the distribution of zakat or obligatory alms. Nowadays, giving alms to the poor could be done by the rice ATM. Jombang Baznas, its office not far from the complex of the Grand Mosque of Baitul Mukminin, has been distributing at least five tons of rice every month to the recipient community, including to the Qur'an tahfiz (people who memorize Qur'an) schools and orphanages spread across 21 subdistricts in the regency.
To Baznas, a non-structural government agency in the management of national zakat, the use of Rice ATM is part of a digital transformation in the charity distribution line. In the past, alms was distributed by giving cash or rice to the mustahik. "These days, all they have to do is going to the ATM, tap their cards, and out comes the rice," said Baznas CEO Mohamad Arifin Purwakananta on Tuesday, May 4.
These Rice ATMs, Arifin said, are the development of an automatic rice vending machine that was first tested in Jakarta four years ago. At the time, 10 vending machines were placed in mosques around the Greater Jakarta Area and Baznas' service unit office in Jakarta's Jalan Kebon Sirih. "Our friends at the Bandung Institute of Technology continue to improve the system," he said.
Each Rice ATM unit has a capacity of 230 liters of rice, which is enough for 120 verified families. Baznas will refill the automatic machines at least eight times per month. Arifin also aims to expand the use of these Rice ATMs throughout Baznas' entire network of almost 500 offices throughout Indonesia. "We will continue to develop technology for distribution."
•••
THE agenda to digitally transform zakat management was sounded again during a National Zakat Coordination Meeting 2021 on April 4-6 April at the Grand Mercure Hotel, Jakarta. The meeting, joined by leaders of Baznas from the central and provincial level, also made digitization as one of its 12 resolutions. The digital transformation meant to cover aspects of the collection, distribution, and reporting of alms.
Digitalization is considered as a strategy to overcome the challenges facing Baznas today. In the words of Vice President Ma'ruf Amin during his opening address at the meeting, digitization not only makes it easier for muzaki alias alms payers to do their deed, but also aims to increase charity literacy among young people and the millennial generation. "Given the national alms literacy index in 2020 is still at a moderate level of 66.78 percent," said the Vice President from his official residence, joining the meeting remotely on April 5.
Baznas had actually started digitizing in 2016. Over the past five years, numerous breakthroughs were rolled out to strengthen the technology infrastructure. Baznas has, among others, applied the Baznas Information System for national alms reporting. The Integrated Database of Mustahiq Baznas had also been compiled through the recording of Mustahik Identification Numbers. In 2020, Baznas began implementing the basic components of blockchain, which is expected to trace and track all alms transactions completely and at all times.
Mohamad Arifin Purwakananta said that in order to make alms collecting easier, his institution has applied the Quick Response Code Indonesian Standard (QRIS) from Bank Indonesia (BI). For the same purpose, Baznas collaborates with various digital economy platforms.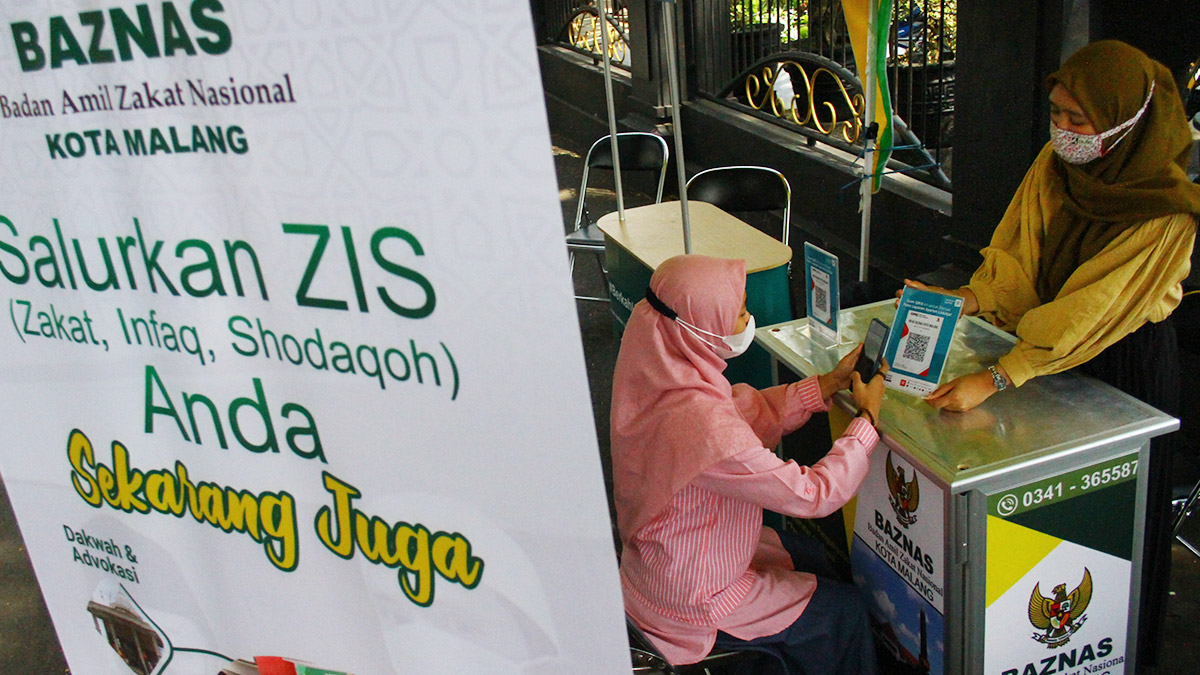 Volunteers from the National Alms Agency (Baznas) help residents pay alms online in Malang, East Java, Tuesday, May 4. Baznas opened tents at various public areas to receive alms payments as well as to promote the digital payment system through the Quick Response (QR) code. Antara/Ari Bowo Sucipto
However, Arifin admitted that the digitalization of alms management has not been evenly distributed. The digitization process has only been successful so far at Baznas headquarters and networks in a number of big cities.
Meanwhile, the development of alms digitization in a number of regions depends on each province's mastery of technology. "About a third of Baznas' 500 networks have just started preparing to go digital. Especially in the eastern parts of Indonesia," said Arifin. He estimated it would take about five more years to equalize digital mastery across the Baznas network.
In terms of raising funds, Bank Indonesia Payment System Policy Department Director Fitria Irmi Triswati encourages alms payments via digital channels. The opportunities are quite huge, especially during the Covid-19 pandemic. BI noted that throughout 2020, zakat (obligatory alms), infak (voluntary material alms) and sedekah (voluntary alms) transactions through e-payment services grew 26.1 percent. "The trend of alms payment is to use a digital platform. This is what millennials are using," said Fitria in a web seminar, Thursday, April 22.
According to Fitria, the digital system not only makes transactions faster, but also makes recording easier—allowing better transparency of alms management. The use of digital payment channels also reduces the risk of money theft and the use of counterfeit bills. QRIS can now be used to turn charity boxes in places of worship into digital charity boxes.
A study on digital alms payments by the Center for Islamic Economic Studies at the University of Indonesia (PKES-UI) showed that the existence of infrastructure or facilities has positive impacts on people's will to pay alms. "The many alternative payment systems—from bank transfers, crowdfunding platforms, to e-commerce—influence individuals' behavior in making alms," said Rahmatina Awaliah Kasri, a researcher with the PKES-UI.
•••
DIGITALIZATION of alms payments is also growing at Nucare.id, the official site born from rebranding the Zakat, Infak, and Sedekah Institution of Nahdlatul Ulama(LAZISNU). The same is happening at Lazismu.org, a national alms institution website founded by the Muhammadiyah Leadership. Both portals now display numerous logos of e-wallet platforms like GoPay, LinkAja, OVO, DANA, Simobi and Go Mobile.
NU Care-LAZISNU's Central Committee Director, Abdur Rouf, said that his institution had prepared the digital infrastructure needed to optimize the collection of zakat, infak, and sedekah since the end of 2017. A digital platform is built in the internal and external scope of the institution. "Internally, we are building a digital ecosystem infrastructure with crowdfunding Nucare.id. Then, the provincial branches create the subdomains," said Rouf on May 5.
As for the external digital platform, it is developed in collaboration with almost all marketplaces, e-commerce, and digital wallets. "For a more specific context such as zakat fitrah (zakat paid at the time of Idul Fitri), Tokopedia generated more than other channels," said Rouf.
Meanwhile, Lazismu CEO Sabeth Abilawa said his institution has made 2021 as the year for the transformation of philanthropic digitization. "In the future, the world of generosity will be more familiar with digital platforms, especially for payments," he said.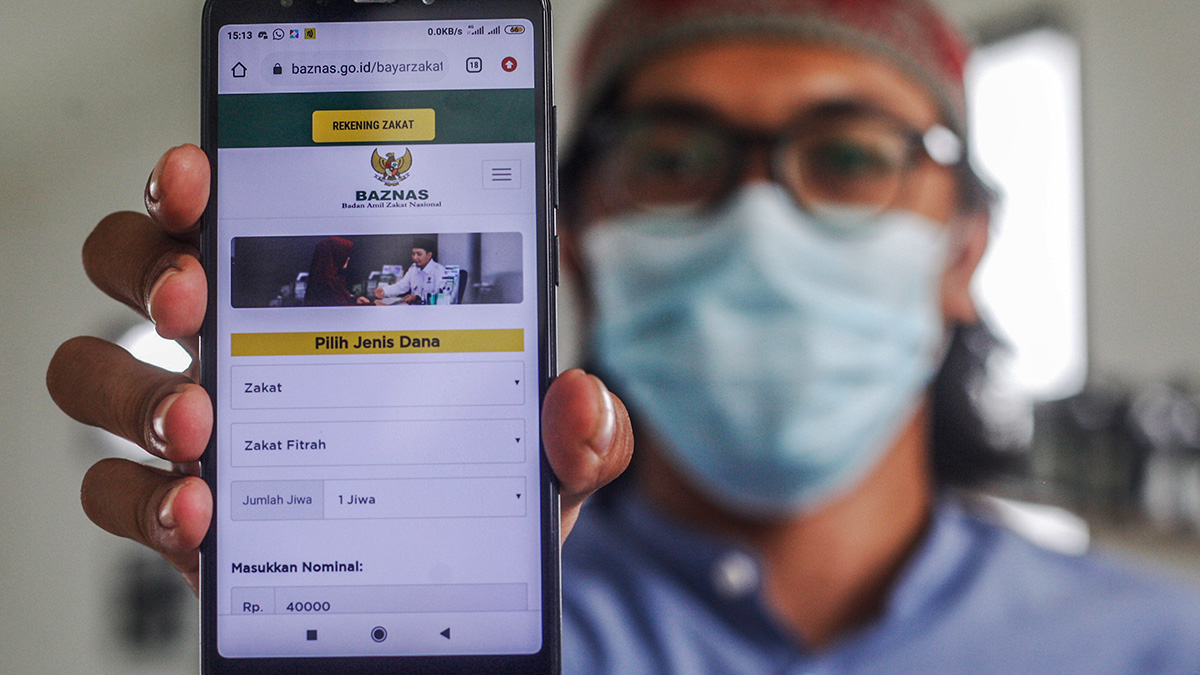 A man shows the official website of the National Alms Agency (Baznas) oh his smartphone when making an alms payment in Bogor, West Java, Tuesday, May 4. Antara/Yulius Satria Wijaya
From January to April, Lazismu noted that 42 percent of the muzaki paid their zakat, infak and sedekah using digital platforms. The contribution of the digital payment channel has significantly increased compared to last year, when around 70 percent of the donations Lazismu received were still made conventionally.
The increasing public use of donation and digital alms features is clearly seen in GoPay. Dompet Anak Bangsa (GoPay) Managing Director Budi Gandasoebrate said that in 2020, the number of GoPay transactions for alms donations through the GoTagihan feature increased by almost three times from the previous year.
Over the last five years, Budi said, the donation ecosystem in Indonesia continues to grow. Their research report showed that during the pandemic, the average increase per digital donation was 72 percent. Over the past year, GoPay recorded Rp136 billion in donation transactions via digital wallets. The achievement made GoPay win the Baznas Award for the Best Alms Collection Partner through Financial Technology category in December 2020, its second consecutive win.
GoPay's collaboration with numerous mosques and alms institutions for donation collection—including digital alms—by using QR codes began in the 2018 Ramadan fasting month. The partnership was followed up by the launch of alms features on Gojek's GoTagihan feature in November 2019 by GoPay and Baznas.
Today, GoPay collaborates with various alms institutions for payments on GoTagihan. The subsidiary of Gojek also partners with more than 1,000 foundations and places of worship to make it easier for people to donate digitally through GoPay.
Along with GoPay, OVO won the Best Partner for Alms Collection through Financial Technology at the 2020 Baznas Award. "This is an acknowledgment of our over-our-long efforts in supporting alms payments or donations digitally, including the provision of a QR code for zakat," said OVO spokesperson Harumi Supit. For this year's Ramadan, the app by Visionet Internasional launched a special donation program in the form of using OVO Points for donations and alms.
Abdur Rouf welcomed the role of digital platforms in optimizing alms collection. The problem, according to him, is that there are still obstacles in terms of regulations. He lamented on how Law No. 11/2008 on electronic information and transactions does not regulate zakat, infak and sedekah. Law No. 23/2011 on alms management also does not regulate the existence of a digital platform.
This issue, Rouf said, was mentioned during a focus group discussion at the religious affairs ministry last April. The FGD discussed a regulation that the ministry was drafting as a derivative of the Alms Management Law and government regulations on the percentage of digital platform fees in collecting alms funds.
Rouf said a number of digital platforms currently charge 5-percent fees for operational costs. "Until now, it has not been regulated. Every institution is different because there are no references," he said.
He added that the philanthropic sector is still under laws by two ministries, the religious affairs ministry with its Alms Management Law and the social affairs ministry, which refers to Law No. 9/1961 on the collection of money and goods. So far, the issue of permits for using digital platforms has been regulated by the social affairs ministry. They raise funds for zakat, infak and sedekah by categorizing them as donations. This scheme is different from the licensing of the alms management institution (LAZ) by the religious affairs ministry. "The two ministries should sit together to organize the digital crowdfunding platform," said Rouf.
However, the religious affairs ministry has no issue about this. The Ministry's Director-General of Islamic Community Guidance, Kamaruddin Amin, considers GoPay, OVO, and other digital platforms as mere intermediaries. "The final destination is Baznas or LAZ as the amil (manager)," he said.
Sabeth Abilawa argues that the legality of digital platforms—in the context of collecting alms funds—can be addressed by linking it as a partner to collect donation from existing zakat institutions. Another option, he said, is to fundamentally revise the Alms Management Law so it would accommodate current developments and future philanthropic trends.