Suharto's Children and the Stray Kites
Suharto's children made the Berkarya Party into a family political vehicle. They are deemed to have not run it seriously.
Edition : Monday, May 24, 2021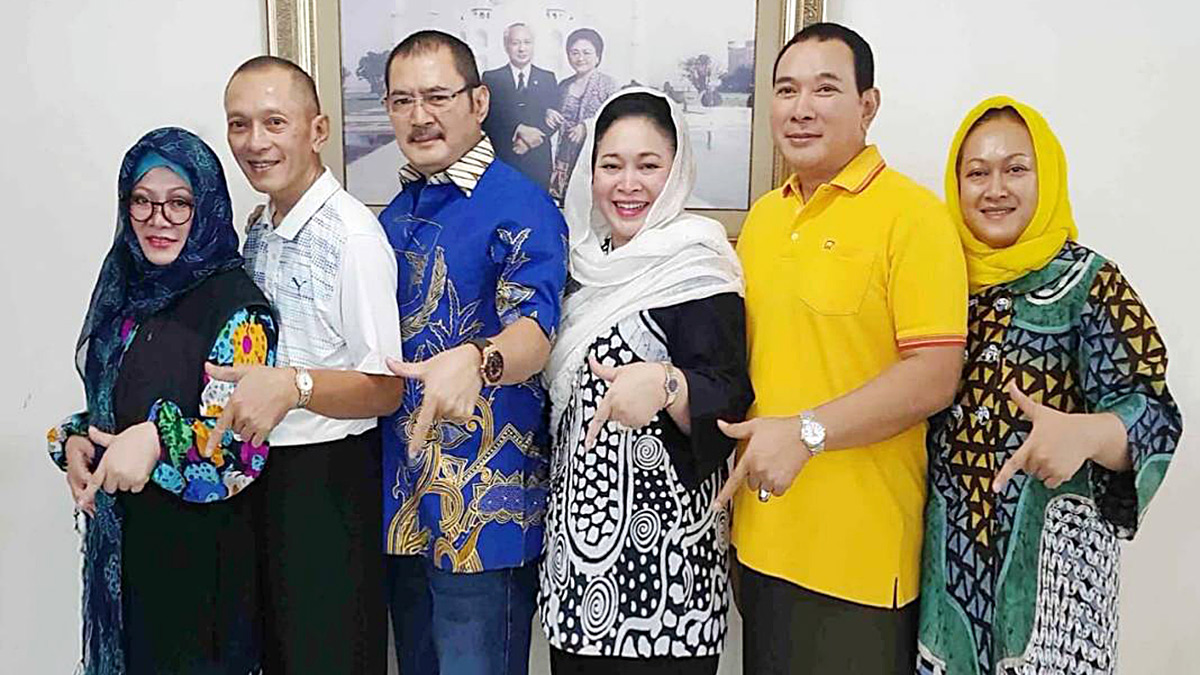 HOLDING a meeting about a month before the fasting month of Ramadan, Hutomo Mandala Putra intended to evaluate the verdict of the Jakarta Administrative Court regarding the administration of the Partai Beringin Karya, known as Berkarya Party (Working Party). Tommy—as Hutomo commonly called—hoped to end the division among party cadres. "Tommy still hopes that Berkarya Party cadres who joined the opposing camp can return," said Berkarya Party General Treasurer Neneng A. Tuty to Tempo on Friday, May 21.
Tommy sued the ministry of justice and human rights in connection with the validation of the party's organizational structure for the 2020-2025 term. Tommy was ousted from the position of general chairman, replaced by Muchdi Purwoprandjono, and subsequently named chairman of the board of patrons. On February 16, the Jakarta Administrative Court decided in favor of Tommy's lawsuit, cancelling the decision of Minister of Justice and Human Rights Yasonna Hamonangan Laoly regarding the validation of Working Party officials led by Muchdi. This means that, Tommy—former President Suharto's fifth child—reacquired his position as Working Party general chairman.
This internal party conflict began to heat up after the 2019 General Election. In the election two years ago, that party came in 11th place, getting just 2.9 million votes, or 2 percent of the vote, failing to reach the parliamentary electoral threshold at the national level. Even so, they have been able to place 140 of their cadres as members of regional legislative councils. (Read: Keeping the Family Name Alive)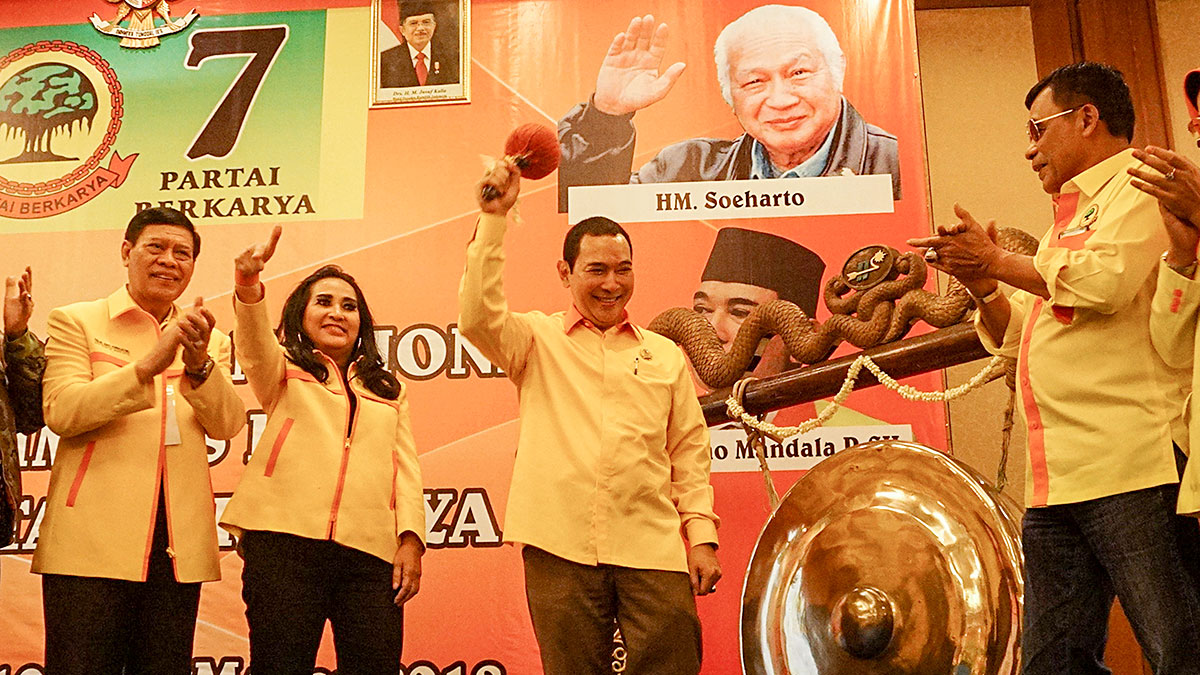 The youngest son of former Indonesian President Suharto, Hutomo "Tommy" Mandala Putra, (center) hits the gong at the opening of the Berkarya Party national congress where he was voted chairman, in Solo, Central Java, March 2018. Antara /Mohammad Ayudha/via Reuters
W251bGwsIjIwMjEtMDYtMjMgMDk6NDg6MTYiXQ
Badaruddin Andi Picunang, Working Party Secretary-General in the Muchdi camp, said that the outcome of the 2019 General Election disappointed many cadres. According to him, Tommy promised that the party would be able to secure at least 80 seats in the House of Representatives (DPR) in Jakarta. However, the party took a beating in the election, partially due to limited number of witnesses sent to monitor voting locations.
Andi Picunang, a former Golkar Party cadre, and some party officials said that they had written to Tommy several times, asking for a general election evaluation meeting. These requests were ignored by Tommy, and no discussion was ever held to discuss the reasons for their election defeat. He also said that the cadres who were elected to the Regional Legislative Councils (DPRDs) have never been given guidance or special assignments in the party factions. "We are like kites with severed strings," said Andi. (Read: Longing for the Suharto Days)
After failing to communicate with Tommy, Andi visited the home of Siti Hardijanti Rukmana—Suharto's first child—in Menteng, Central Jakarta, around December 2019. Siti Hardijanti, alias Tutut Suharto, is also a Berkarya Party cadre. Speaking to Tutut, Andi expressed his disappointment with Tommy's administration and asked her to run the party. She declined, but promised to take up the complaints of party cadres with her younger brother.
The awaited evaluation meeting never materialized. Tedjo Edhy Purdijatno, Chair of the Working Party Advisory Board in Tommy's camp, said that he held a meeting with 11 members of the party's high council in early July 2020. In that meeting, four high council members urged that an extraordinary consultation meeting be held in order to remove Tommy from the position of general chair.
Tedjo was against the motion made by those high council members. He suggested it would sufficient to evaluate the Working Party's leadership under Tommy's command in a forum at the national leadership level. A majority of the participants agreed with this proposal, and a leadership meeting was held in Jakarta on July 8-9, 2020, even though some continued to insist on holding an extraordinary national meeting.
Just two days after that leadership meeting attended by Tommy was held, namely on July 11, 2020, some cadres held an extraordinary consultation meeting at Hotel Grand Kemang, Jakarta. Accompanied by the Berkarya Party Secretary-General Priyo Budi Santoso, Tommy, who brought along some tough-looking uniformed men, crashed and broke up the event. "We have to be persuasive, no anarchistic, and safeguard the party's good image in any place, including at this hotel," said Tommy at the time.
***
THE Berkarya Party is the latest party which Tommy Suharto has helped bring into being. Badaruddin Andi Picunang who helped found the party, said that this party is the result of a merger of two parties: the National Republic Party and the Beringin Karya (Working Banyan Party). The former was registered at the ministry of justice and human rights, but failed to participate in the 2014 general election. In that party, Tommy was chair of the board of patrons. (Read: Tommy Suharto the New Order is a Reference)
When the party was formed in 2016, Neneng A. Tuty was chosen as general chair. However, after the Berkarya Party officially qualified to take part in the 2019 general election, the chairmanship shifted to Tommy. Andi Picunang said that the leadership change made at that time was indeed a part of the party's effort to realize the aspirations of Suharto's development trilogy concept, as is espoused by the Berkarya Party. "It is Suharto's children who best know his ideas, and that is our strategy to attract fans of Suharto, of which there are still many," said Andi.
Tommy had not responded to an interview request sent through his lawyer, Erwin Kallo, as of Saturday, May 22. In a written interview with Tempo in February 2018, Tommy said that the Berkarya Party uses Suharto's New Order period as a reference, but realizes that it is not possible to return to the system of politics and governance as it was in his father's time. Suharto's other five children supported and joined the party once Tommy became general chair. However, only Tommy and Siti Hediati Harijadi alias Titiek Suharto had attempted to become legislative candidates.
Tommy and Titiek were once active in the Golkar Party—the political party which supported their father's rule for 32 years. Suharto resigned from office on May 21, 1998. Tommy was a candidate for general chair at the Golkar National Congress held in Riau in 2009. Tommy, who had served a prison sentence after being found guilty of initiating the killing of Supreme Court Judge Syafiuddin Kartasasmita, did not receive a single vote. At that party's national congress held in Bali in 2016, Tommy was said to going to enter the race to become general chairman, but did not show up until the registration deadline expired.
Compared to Tommy and Titiek, Tutut had already been involved in politics. She helped create the Partai Karya Peduli Bangsa (Concern for the Nation Functional Party—PKPB) in the early 2000s. Working in the party which had a rice and cotton plant logo, she was touted as a potential presidential candidate in the 2004 general election. The plan was for her to run with the famous religious speaker Zainuddin Hamidi, but this would not take shape as PKPB only won 2.11 percent of the legislative vote—far below the 5 percent threshold required to field a presidential candidate.
Former PKPB Secretary-General Hartanto said that Tutut is no longer active in party activities. She is rarely involved in party decisions as well. She is known to be more involved in running foundations connected to the Cendana family—as the Suharto family is commonly referred to. One of these is the Harapan Kita Foundation. At this foundation which manages the Taman Mini Indonesia Indah (Beautiful Indonesia in Miniature Theme Park—TMII), Tutut is general chairperson. The government took over the management of that park on March 31.
As the 2019 presidential election approached, Tommy showed up at the "Ulama Gathering" event held at Hotel Peninsula in Slipi, Jakarta. One outcome of this gathering was agreeing to support running mates Prabowo Subianto and Sandiaga Salahuddin Uno. It was later discovered that the Cendana family was supporting the pair's presidential bid. They received a visit from Prabowo at Jalan Cendana, Jakarta, after that Gerindra Party General Chair had declared his candidacy. Titiek—Prabowo's ex-wife—even attended a protest at the office of the General Election Supervisory Agency (Bawaslu) on May 21, 2019, protesting suspected fraud in the presidential election.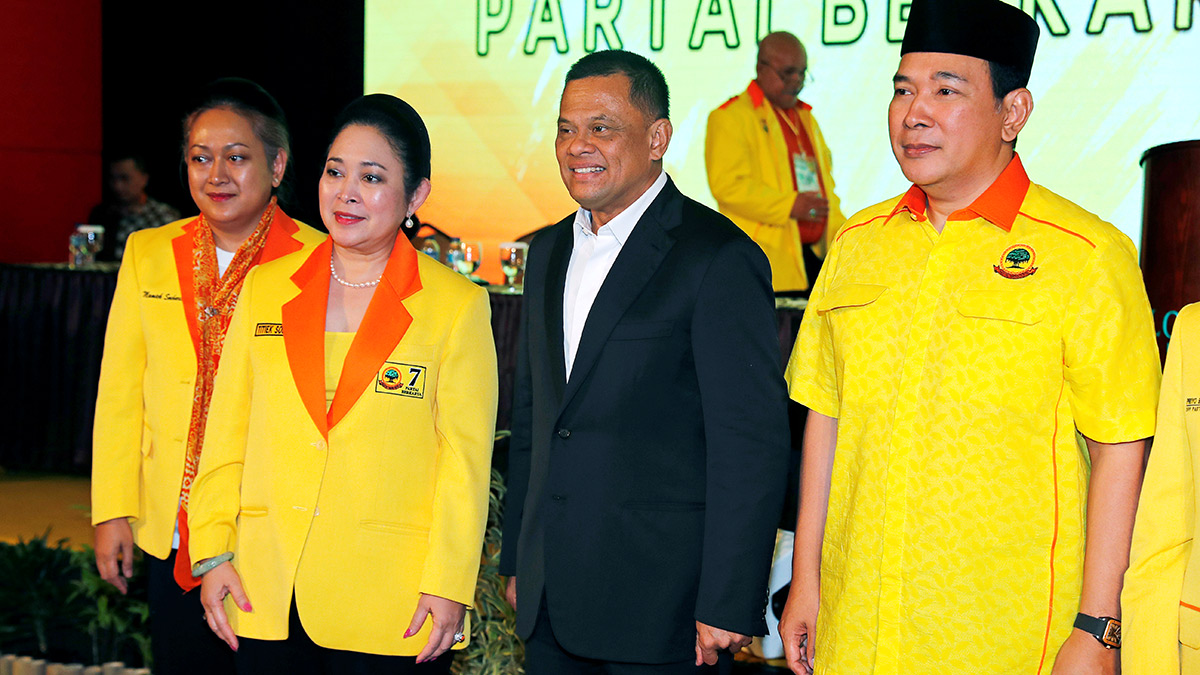 (L-R) Siti Hutami Endang Adiningsih, Siti Hediati Harijadi, former Indonesian Military commander Gatot Nurmantyo, Hutomo Mandala Putra, during the Berkarya Party congress at a hotel in Bogor, West Java, July 2018. Reuters/Beawiharta
Similar to other members of the Suharto clan, Ari Haryo Wibowo Hardjojudanto or Ari Sigit—Suharto's grandson—was also involved in establishing a political party. Ari was once general chair of the Karya Republik Party (Pakar). When registering this party to the General Election Commission (KPU) in 2012, Ari openly stated the party's mission as being to support a "populist economics" like during the New Order period. "Things are no better now, are they?" he said. However, Pakar never qualified to take part in the general election.
Ari Sigit's younger sister, Retnosari Widowati Harjojudanto alias Eno Sigit, followed Tommy's footsteps. She joined the Berkarya Party. Eno did not respond to an interview request to confirm the political exploits of the Cendana family which were sent to her WhatsApp number. Tutut and Tommy also did not respond to our written interview requests sent through their lawyers and adjutants. "She is recovering from an illness," said one of Tutut's staff members in a short message.
RAYMUNDUS RIKANG, BUDIARTI UTAMI PUTRI