Cross-Border Protections for the Online Market
In order to attract buyers, online shopping applications are offering free shipping for items shipped from abroad.
Edition : Monday, May 24, 2021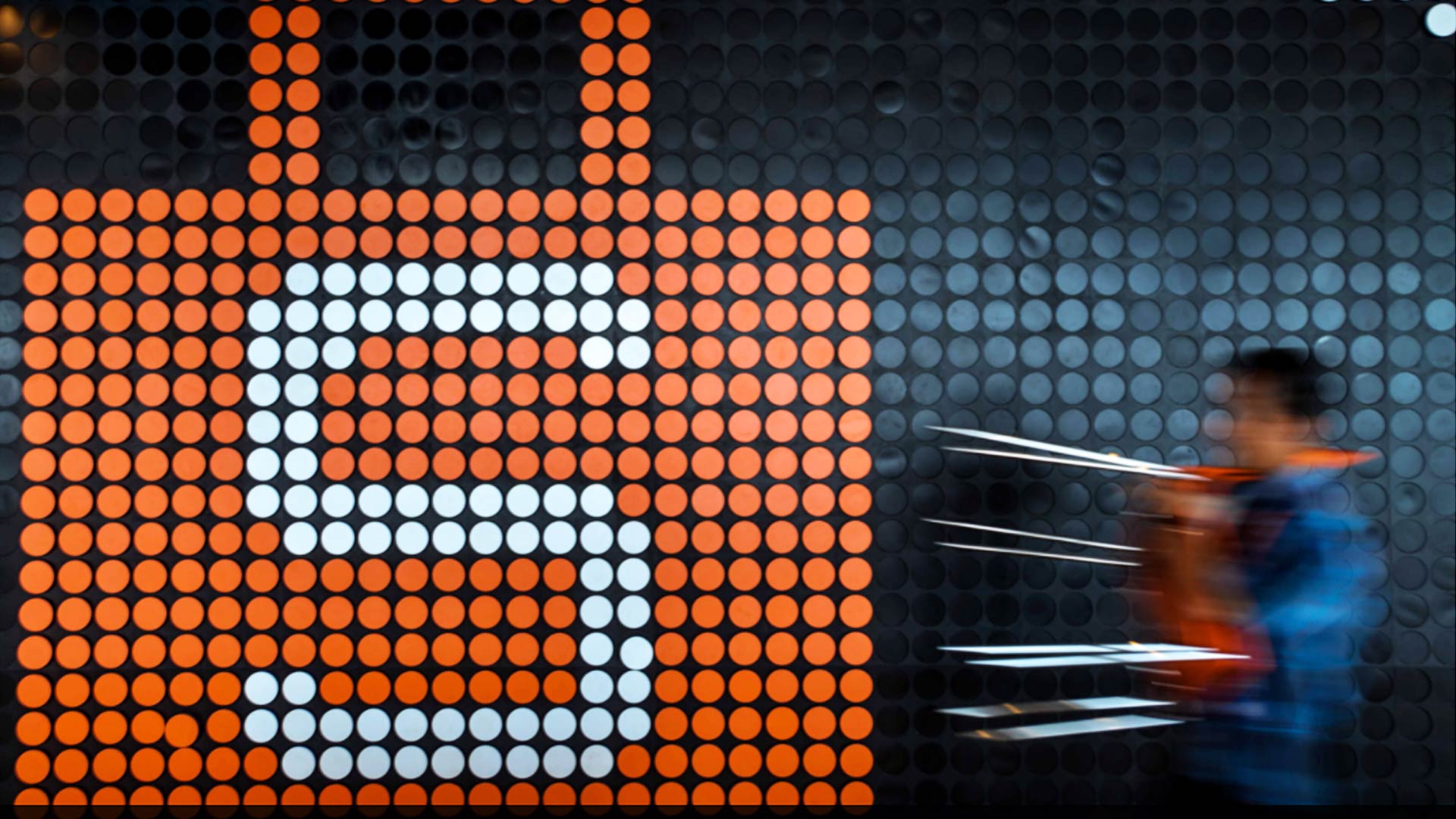 ONLINE shopping platforms in Indonesia are limiting the amount of imported products in order to support local micro, small and medium-sized enterprises (MSMEs). Shopee Indonesia, for instance, has limited the entry of cross-border vendors for 13 product categories in the Indonesian market.
Handhika Jahja, Director of Shopee Indonesia, claimed that their company is committed to supporting the growth and continuity of local MSMEs by providing them various types of support and ease of business. "We are giving them special attention through some of our initiatives and innovations," he told Tempo on May 19.
One way they are doing this is through education and mentoring for local MSMEs, in cooperation with government ministries and institution through the Kampus Shopee program. Shopee also provides a special channel for marketing local products, called Kreasi Nusantara.
Some of the foreign products being given limited entry to the Indonesian market include Muslim clothing such: headscarves, women's outfits and prayer gowns, men's shirts, children's clothing, as well as traditional Indonesian gowns for women.
W251bGwsIjIwMjEtMDYtMjMgMDk6MzM6MjUiXQ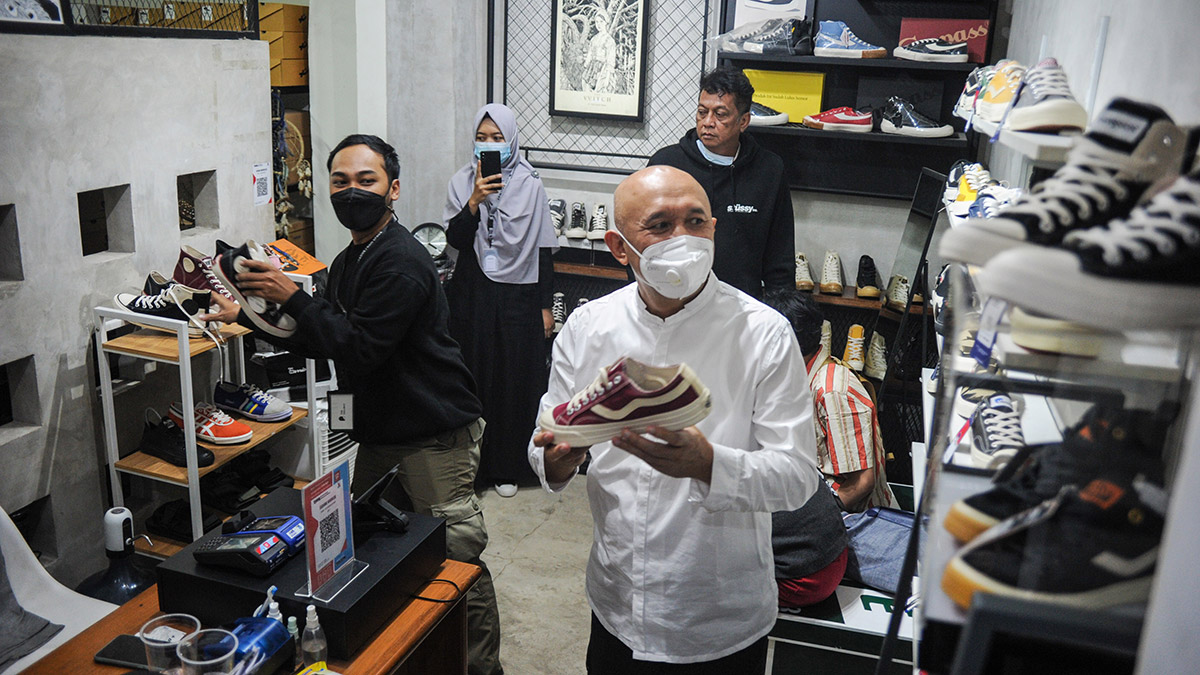 Cooperative and SME Minister Teten Masduki looking at MSME products during a dialogue with industry actors at the Hallway Kosambi, Bandung, West Java, April 3. Antara/Raisan Al Farisi
Handhika added that Shopee is also committed to helping local MSMEs reach the export market, by cooperating with the ministry of cooperatives and SMEs, as well as with the Indonesian Chamber of Commerce and Industry (KADIN). "We are targeting 500,000 MSMEs being able to export," he said. It is hoped that the combination of the export program and protection will have a positive impact on domestic MSMEs growth.
In order to stimulate public purchasing power and to support MSMEs, another strategy is continuing with the free delivery program. "The free delivery offer is a type of stimulus," said Handhika.
Meanwhile, Tokopedia said that it is only accepting vendors from Indonesia and facilitating transactions from Indonesia. Astri Wahyuni, Tokopedia's Director of Public Policy and Government Relations, said that Tokopedia's business model consists of the domestic online marketplace.
"One hundred percent of the vendors on Tokopedia reside in Indonesia, and the products sold on Tokopedia are already in Indonesia. They have already gone through the customs process with the distributor, which are then resold by retail vendors," she said.
To date, Tokopedia has more than 10 million vendors. Nearly all of them are MSMEs, and 94 percent of them are ultra-micro vendors. "There has been an increase of over 2.8 million (vendors) from the previous 7.2 million vendors from before the start of the pandemic in January 2020," said Astri.
Minister of Cooperatives and SMEs Teten Masduki had previously instructed online shopping platforms operating in Indonesia to review their policies on cross-border product sales. This is in line with the government's commitment to support local product sales and MSMEs as a catalyst for consumer performance in order to accelerate economic growth recovery. "Moreover, the quality of Indonesian MSME products is now better and just as good as foreign products," he said.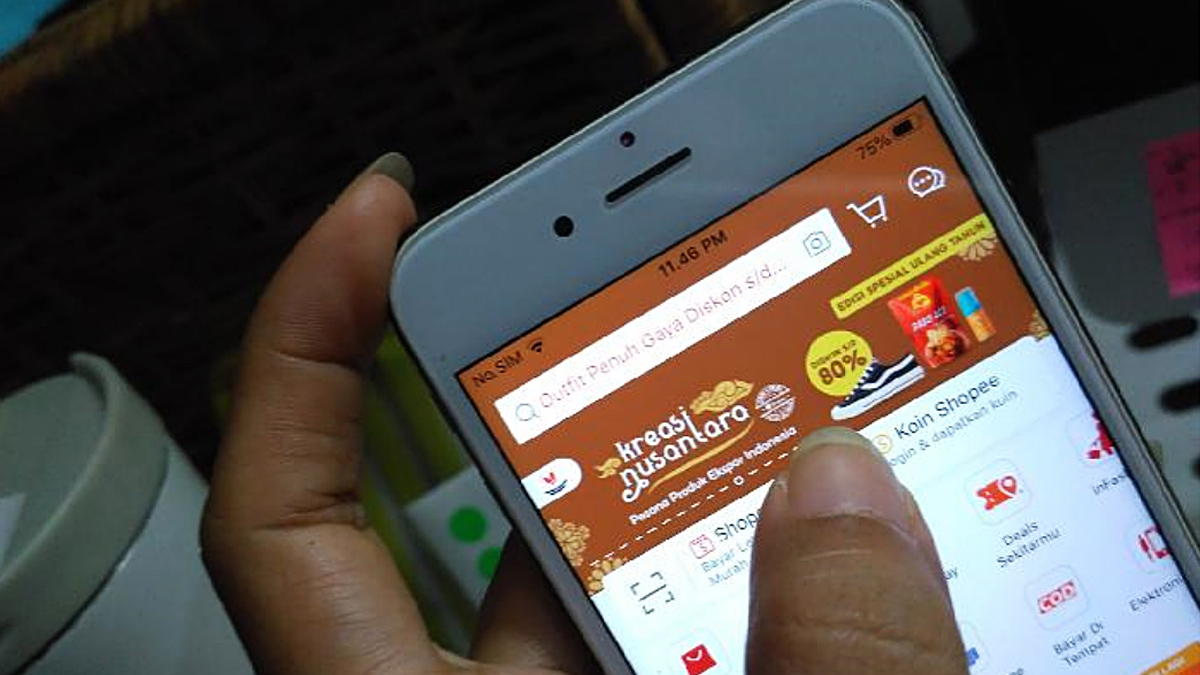 Indonesian export products promotion in the Shopee, in February. Tempo/Nita Dian
In this way, dependency on foreign products can be reduced, thereby demonstrating support for MSME players in Indonesia. The identification process, said Teten, continues to be conducted, namely by going over which products can potentially subject to limitations. According to him, even though Indonesia engages in free trade, this does not automatically mean that the country is rolling out the red carpet to be flooded with foreign products. "The closing of access which has been done has the potential to save MSME products, which are worth nearly Rp300 trillion annually," said Teten.
Bhima Yudhistira Adhinegara, an economist from the Institute for Development of Economics and Finance (Indef), said that the influx of imported goods through online shopping platforms can be seen in the ownership of local e-commerce companies which are affiliated with business groups located abroad. "For instance, those affiliated with Chinese companies. Their strategy is to acquire e-commerce in Indonesia in order to turn it into a distribution channel for products from their country," he said. In order to attract customers, they apply additional strategies consisting of offering various promotions and discounts. One of these is offering free shipping for items being shipped from abroad.
Much lower prices are an important factor behind the high sales of imported products on the online marketplace, in particular for goods from China. Bhima said that business players in China are much more competitive compared to Indonesia, as their production costs can be lower compared to local MSME products. "The Chinese government is active in subsidizing business efforts through taxes, certification, and tariffs. We are trailing in the competition in this regard," said Bhima.
GHOIDA RAHMAH