De Oost Rips Open Dutch Colonial Wounds
DE Oost is the first major Dutch film which clearly exposes the violence committed by its military during the 1945-1949 Indonesian independence war. It showed how an elite Dutch corps under Captain Raymond Westerling sowed terror in South Sulawesi, killing thousands of Indonesians. This controversial movie, made in a span of almost a decade, has sparked a flood of reactions—from praise to condemnation—from the Dutch media and public. On Twitter, Dutch Defense Minister Ank Bijleveld expressed regret that De Oost, made by Dutch-Moluccan Director Jim Taihuttu, has caused unrest among former soldiers who served in Indonesia, as veteran associations like the Dutch East Indies Federation (FIN) accused the film of defaming veterans. FIN even took the filmmakers to court. Tempo spoke to the film's director, producers, and actors, and also historians, in the Netherlands and Indonesia.
Edition : Monday, May 31, 2021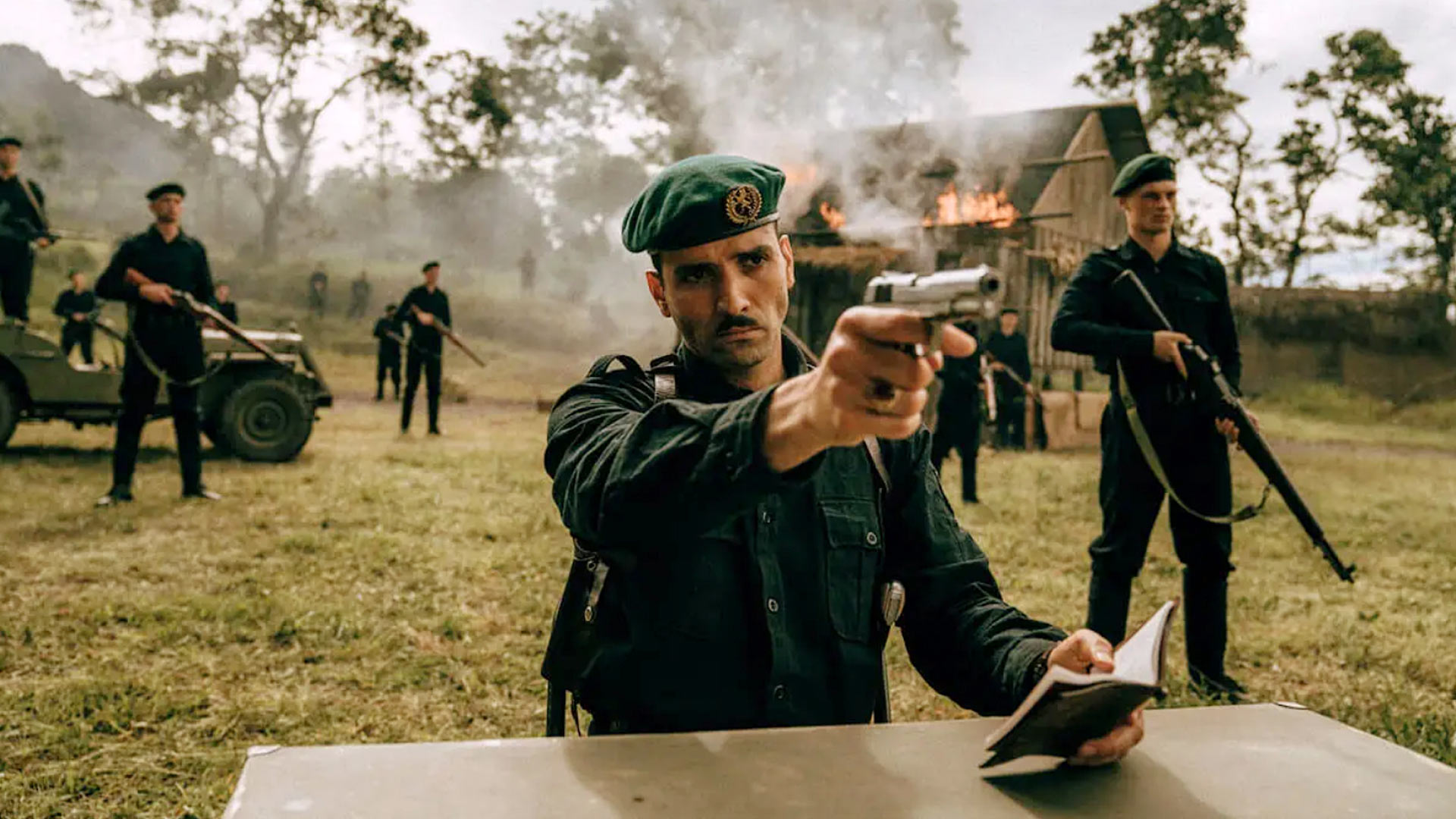 IT was chaos. Dutch soldiers brutally raided a small village in South Sulawesi, and rounded up its residents—men, women, children—onto an open field. Then a tall, imposing man appeared with a folding table and a chair. He calmly sat down and put his gun on the table. The other soldiers tensely stood on guard with their rifles. The officer took out a small notebook from his pocket, opened it, and read out a name. A villager was then dragged in front of him. "Is this your name?" the officer asked. "Yes," the man answered. Bang! Without flinching, the officer shot a bullet through the villager's head.
The setting above depicts Captain Raymond Pierre Paul Westerling during one of his killing sprees in Indonesia between 1946 and 1947. This is only one of the many raw scenes in De Oost (The East), a movie by Dutch filmmaker Jim Taihuttu, which shows what has become known as the Westerling massacres amidst Indonesia's independence war. "This film forces the Dutch to confront this period, and it's very painful," said Martijn Eickhoff, senior researcher at the Institute for War, Holocaust and Genocide Studies (NIOD) in Amsterdam, by phone on May 12. "They are used to seeing themselves as the victims of war, not as the perpetrators."
Even before its premiere on Amazon Prime in the mid of May, De Oost already sparked controversy. All Dutch media—print, broadcast, online—discussed the movie through interviews and reviews, as well as opinions and editorials. In their opinion piece in Het Parool daily, Lara Nuberg and Rochelle van Maanen pointed out that "dozens of movies have been made about World War II in the Netherlands" and that De Oost "fills a big gap in the collective conscience of the Dutch."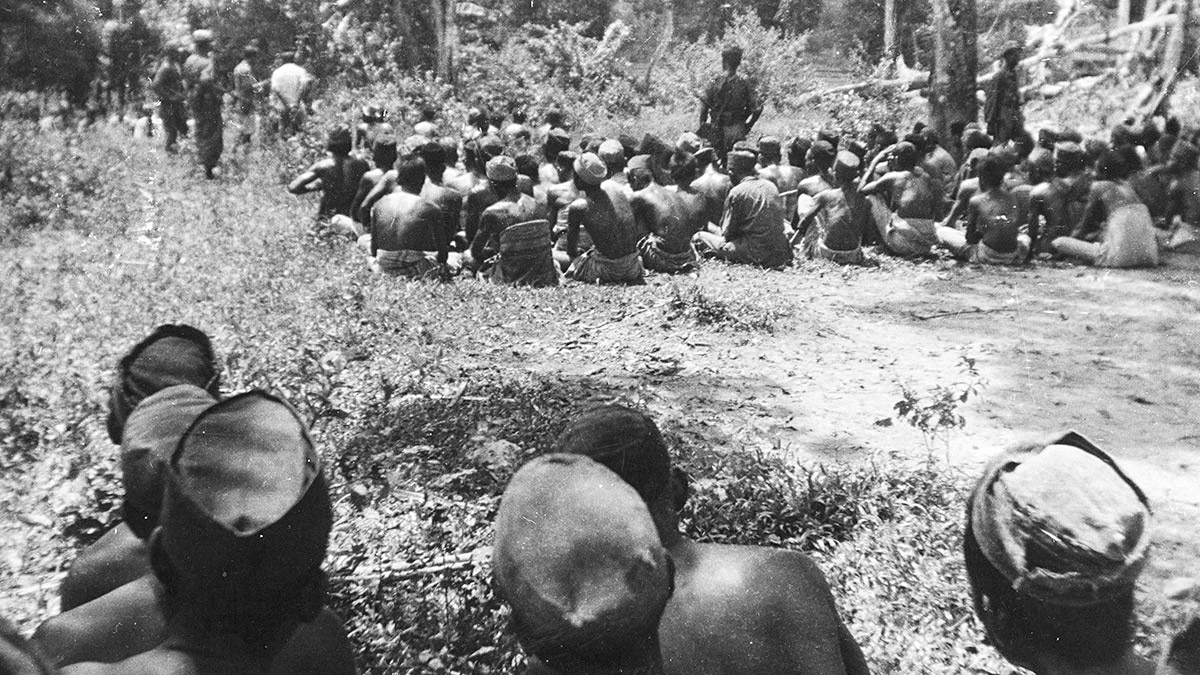 The execution of villagers by soldiers from Depot Speciale Troepen in Salomoni village, South Sulawesi, in February 1947. Collection of the Dutch Military History Institute (NIMH)

Public focus on the German occupation in the Netherlands has strengthened the image of the Dutch as victims. This is also the case with the Japanese occupation of the Dutch East Indies during World War II, where some 150,000 Dutch civilians and military personnel were put into camps. The great-grandfather of Jim Taihuttu was born in Maluku, and fought in the Royal Dutch East Indies Army (KNIL). "KNIL personnel were seen as traitors and Dutch henchmen in Indonesia, but in the Netherlands they were also viewed as foreigners. It was very complicated," noted Ody Dwicahyo, an Indonesian historian who graduated from Yogyakarta's Gadjah Mada University and Leiden University in the Netherlands.
W251bGwsIjIwMjEtMDYtMjMgMDk6MDg6MjkiXQ
De Oost producer Sander Verdonk, a seasoned filmmaker, said that none of his other movies has ever received such attention. The film already made headlines eight months prior to its release, when a short trailer of the movie appeared online. The video angered some veteran associations, such as the Dutch East Indies Federation (FIN). The organization accused the movie of defaming Dutch East Indies veterans, saying that the depiction of Westerling's army resembled Nazi soldiers.

FIN and some other veteran organizations have taken the filmmakers to court, with one case still ongoing. Even Dutch Defense Minister Ank Bijleveld joined the conversation. "It's regrettable that De Oost has caused unrest among the Dutch East Indies veterans," Bijleveld posted on her Twitter account in mid-May.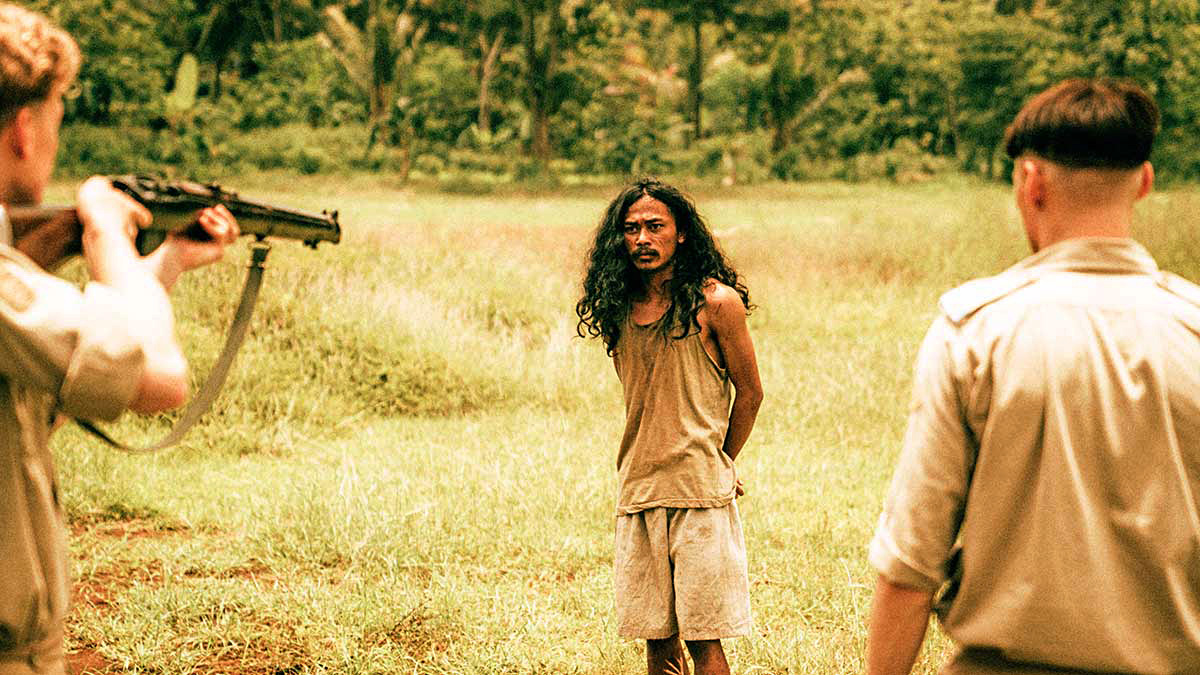 The scene of the rebel Agus (Nano Suharno) facing soldiers Johan de Vries and Mattias Cohen in the film De Oost. New Amsterdam Film Company/Milan van Dril

Martijn Eickhoff noted that the film is actually pro-veteran. "Viewers can sympathize with the young soldier," he said. "The film shows that excessive violence was caused by the Dutch military structure, not the confrontation with the so-called 'wicked East' which is still being suggested in the Netherlands."
Even Westerling's youngest daughter, Palmyra, responded through an open letter. She wrote that the Netherlands has a complicated colonial past, and that her father "was an exceptionally successful soldier who fulfilled his mission with the necessary integrity, respect and military loyalty." Palmyra accused De Oost of "distorting facts and proclaiming falsehoods" to chase commercial interests. Eickhoff, on the other hand, expressed worry "that even until today, there are still people who defend Westerling."
Some have also lamented how the perspective of Indonesia was captured in the film. "The Indonesian characters were so cliché: a rebel and a prostitute. This was a missed opportunity," said writer and historian Reggie Baay on the phone. On the other hand, Ody Dwicahyo praised the character of Agus, the rebel captured by Westerling in De Oost. "He personified thousands of people who fought for independence," said Ody from Jakarta.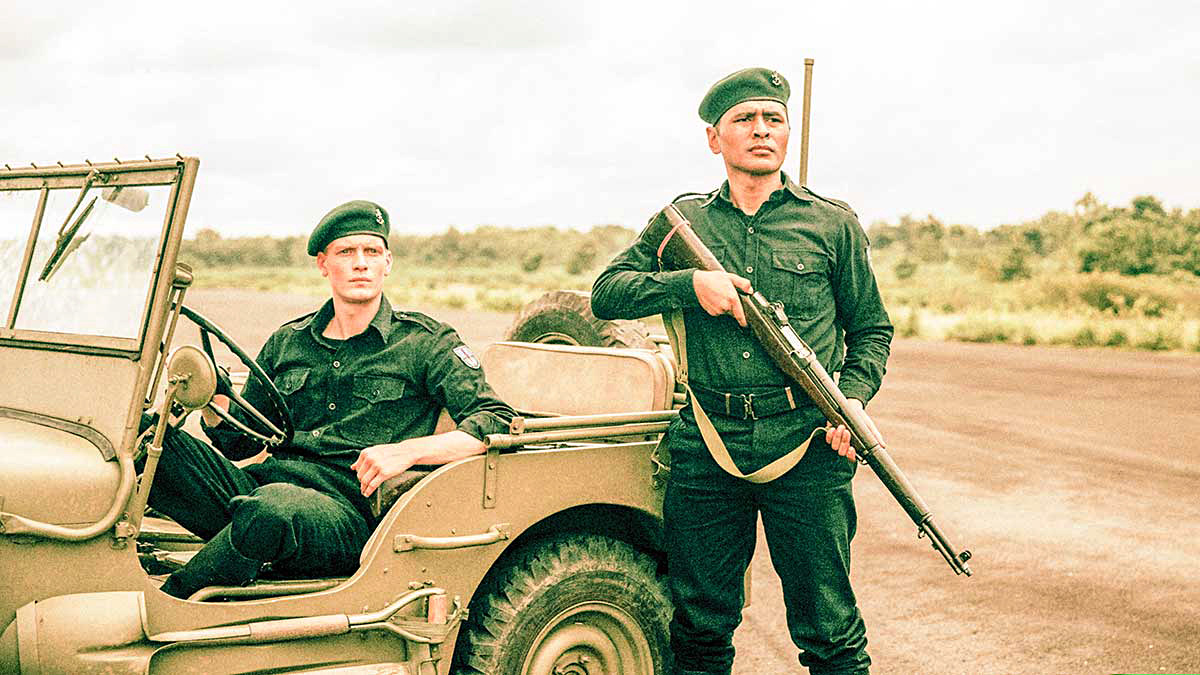 Soldier Johan de Vries, played by Martijn Lakemeier (left) and Samuel Manuhio, played by Joenoes Polnaija. New Amsterdam Film Company/Milan van Dril
One special project which came from this film is De Wereld van de Oost (The World of The East) which can be found in www.dewereldvandeoost.nl, a website containing educational material for schools. The project is headed by assistant director Jazzy Taihuttu, who is also a film and art history teacher at Amsterdam's 4e Gymnasium secondary school. Jazzy pointed out that colonial history, particularly darker sides like the Westerling massacres, is hardly mentioned in the Dutch school curriculum.
Roel Frakking, historian at the Royal Netherlands Institute of Southeast Asian and Caribbean Studies KITLV, confirmed Jazzy's statement. "The majority of Dutch people have no idea what actually happened during this period of their colonial history," said Roel, who is conducting research on this violent post-independent times in South Sulawesi.
Anhar Gonggong, a historian from Pinrang, South Sulawesi, expressed hope that De Oost will be allowed to be screened in Indonesia. "My father, uncle, brother, and cousin were victims of Westerling. If this film were to be banned, I will challenge that," he said when contacted on May 28.

***
DURING World War II, the Dutch were conquered in two parts of the globe: by Germany on its own soil, and by Japan in the East Indies. Three months after Germany surrendered to the Allied Forces in May 1945, Indonesia proclaimed its independence. In the next four years, some 100,000 Dutch soldiers—mostly drafted—were sent to Indonesia. Around 6,000 of them were killed, while 150,000 Indonesian civilians and soldiers died in the same period. For many years, the Dutch did not recognize this period as a war, calling it Politionele Acties, or police actions. The Netherlands only officially recognized Indonesia's independence in December 1949.
In that period, the Westerling massacres occurred. Anhar Gonggong said that they were preceded by the Malino conference in South Sulawesi on July 16-25, 1946. The conference came with plans to form a federation which included regions in east Indonesia. Meanwhile, guerrilla groups in South Sulawesi had been attacking Dutch military points. The Dutch then sent Raymond Westerling to 'pacify' South Sulawesi.
A scene from De Oost, with Raymond Westerling, played by Marwan Kenzari, pointing his gun. YouTube Amazon Prime Video Nederland
In an official statement, the Dutch admitted to conducting an operation on December 11, while actually Westerling had already been active in villages in the region two days before. His Special Troops Depot (DST) extracted information from residents on guerrilla members. Victims' family members, Anhar said, recall Westerling rounding up dozens, sometimes hundreds, of villagers and ask them to dig their own graves. "If they refuse to point the guerillas' hiding places, they would be executed."

Massacres committed by Westerling and the DST was reported by some Dutch left-wing media at the time. They criticized their government, pointing out that the Netherlands has suffered suppression under Nazi occupation. While this pressure has led to Westerling being transferred to Bandung, West Java, he was never tried for his actions until his death in 1987 in the Netherlands. While the number of Westerling's victims remains in dispute—Westerling himself said it only amounted to 600—Anhar believed it was in the tens of thousands, spread throughout West and South Sulawesi. Until today, people in those regions still commemorate that violent chapter of their history on December 11.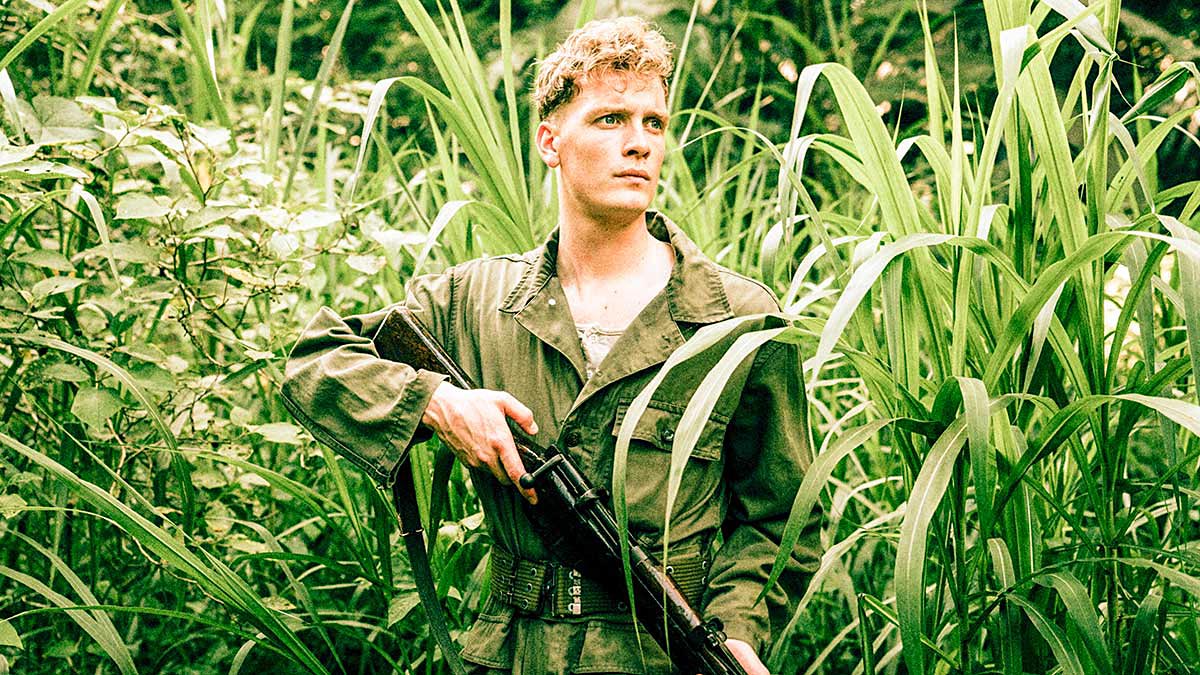 Soldier Johan de Vries, played by Martijn Lakemeier in the film De Oost. New Amsterdam Film Company/Milan van Dril

In the past decade, widows and children of victims from the Indonesian independence war, including those from the Westerling massacres, have demanded apologies and compensation from the Dutch government. Through claims lodged by Jeffry Pondaag of the Committee for Dutch Honor Debts (KUKB), dozens have received compensations ranging from €123 (around Rp2.17 million) to €20,000. KUKB lawyer Liesbeth Zegveld said hundreds more people have the right to receive similar compensation from the Dutch government.
Maarten Hidskes sees De Oost as an "anti-war movie that reproaches all parties." Hidskes wrote the book Thuis Geloofd Niemand Mij (At Home No One Believes Me) about his father who served in the DST under Westerling. "Through fiction, the public can have an insight into reality," said Hidskes by telephone on May 10.
***
DE Oost tells the story of the fictional Johan de Vries, a young man who volunteered to serve in Indonesia. It follows his moral dilemmas as the harsh reality he faced was a far cry from his original intentions. De Vries, a poignant performance by Martijn Lakemeier, is dragged into a bloody war after he meets the mysterious 'Turk'. This was the nickname of Westerling, who was born in Turkey in 1919. Dutch actor Marwan Kenzari, who broke through in Hollywood with his role as Jafar in Aladdin, played the character known in Indonesian history as 'the butcher' with cold viciousness.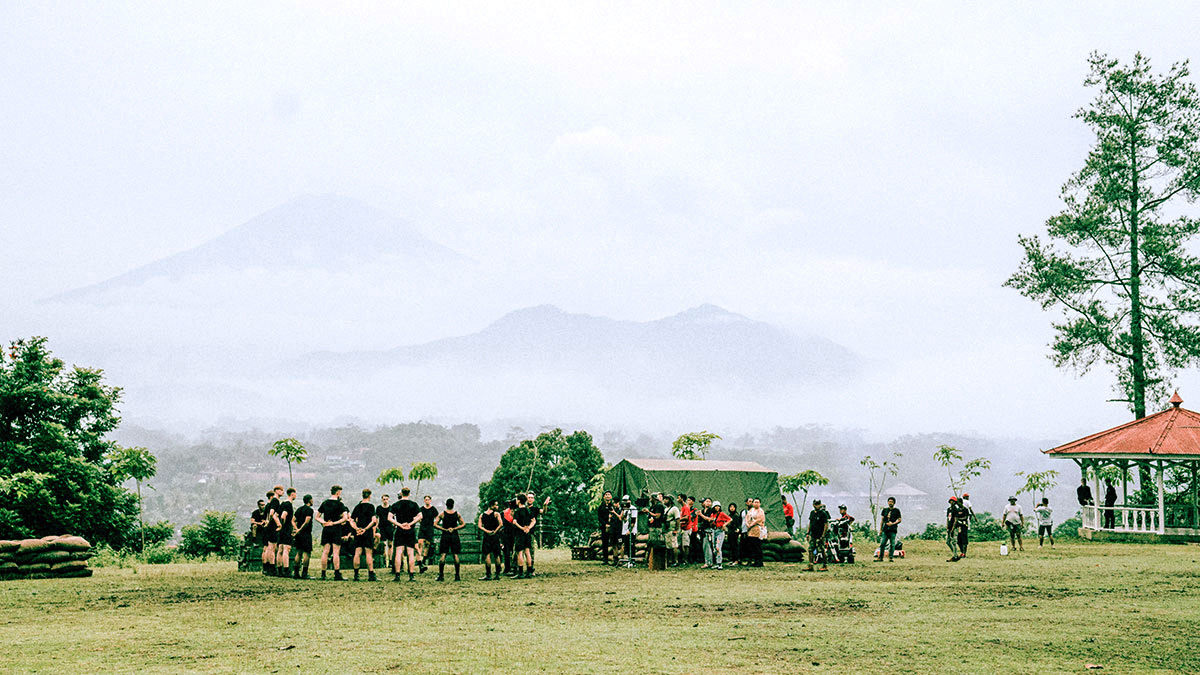 Film shoot preparations of De Oost in Java. New Amsterdam Film Company/Milan van Dril
Lakemeier, 27, said Johan de Vries was "the most intense role I have ever played". In addition to learning as much as possible about that period's history, Lakemeier also took Indonesian lessons, as was demanded for his character. In January 2021, Lakemeier was selected as one of the European Shooting Stars at the Berlin Film Festival for his role in De Oost.
Lakemeier burst onto the Dutch film scene at the tender age of 15 for his performance in Oorlogswinter (Winter in Wartime), making him the youngest-ever best actor winner at the Dutch Film Festival. Director Jim Taihuttu already offered him the role of Johan de Vries when Lakemeier was still a teenager. The actor said the most challenging scene for him in De Oost was the raiding of the villages. "I wasn't able to eat lunch afterwards," Lakemeier told Tempo by telephone from Rotterdam.

The supporting characters in the film included De Vries' fellow soldiers Mattias, who is Jewish, and Samuel, a KNIL soldier from Maluku. Then there is Agus, the Indonesian rebel captured by Westerling, and Gita, a villager who sold her body to feed her family. Denise Aznam, who played Gita, responded to criticism that her role was cliché. "I understand that some people would like to see a stronger female character in this film. However, there were so many women like Gita then, and still thousands like her now," said Aznam, a Dutch theater and television actress with parents from Jakarta and Manado (North Sulawesi), who is fluent in Indonesian.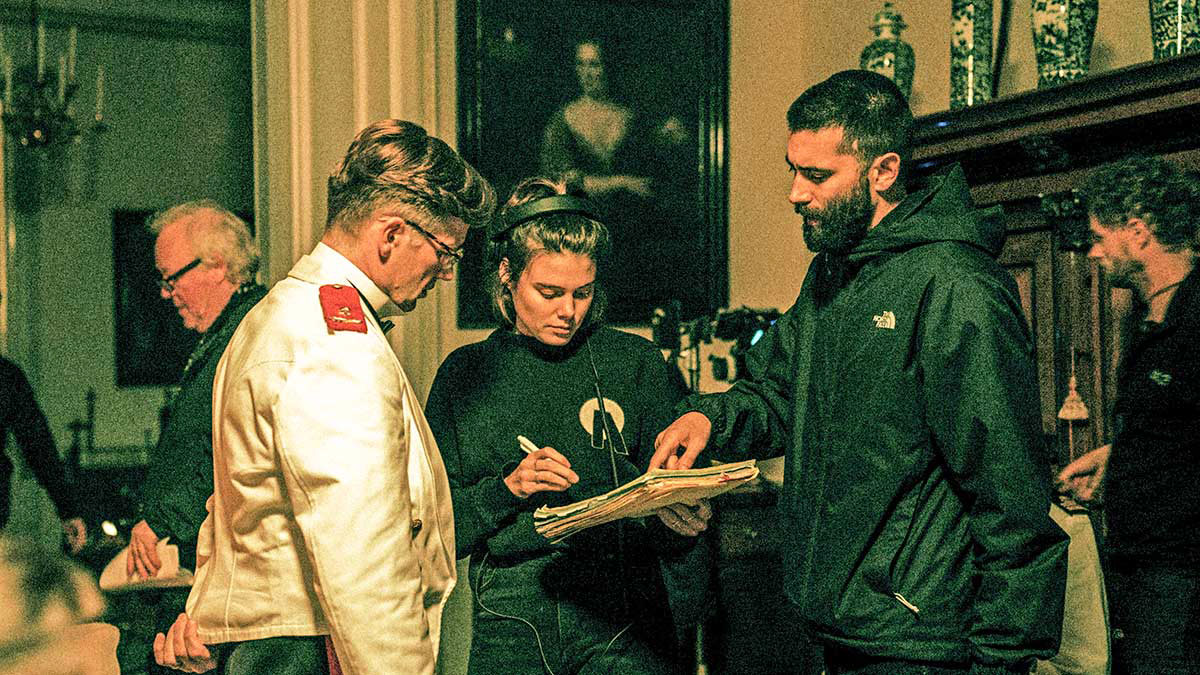 Director Jim Taihuttu (right) and Assistant Director Jazzy Taihuttu (center) while shooting De Oost at the Sandenburg House, Langbroek, Netherlands. New Amsterdam Film Company/Milan van Dril
Director and scriptwriter Jim Taihuttu explained that De Oost is made from the viewpoint of Johan de Vries, reflecting his physical and cultural gap with life in Indonesia. Taihuttu's research showed that there was limited contact between Dutch soldiers and the local community. "His relationship with Gita was also disjointed, just like the relationship between the Netherlands and Indonesia at that time. De Vries sees himself as her savior, but he also wants to control her. Meanwhile, Gita already has her own life."

In De Oost, Westerling's cruelty is shown both physically and verbally. "Those of you who are incapable to be up to your ankles in blood, tell me now, and don't come." These words, voiced by Kenzari in the film, were actually said by the real Westerling, according to DST veteran Haij van Groenendaal. In the Dutch television program Andere Tijden (In the Past), Van Groenendaal said in 2006 that "I can still hear him say those words," which Westerling uttered as the DST was about to embark to South Sulawesi towards the end of 1946.
Many film reviewers compared De Oost to classic war movies like Platoon (1986) and Apocalypse Now (1979). "De Oost is Holland's answer to America's Vietnam movies," said media commentator Mark Koster on television broadcaster NPO1. Jokingly, Koster noted that the production process of De Oost was also riddled with problems, similar to Apocalypse Now.
Indeed, production of De Oost was not always smooth sailing. Getting enough funding for the film, with a budget of over €7 million, was difficult. In the pre-production phase, for example, assistant director Jazzy Taihuttu lived in Indonesia for one year for preparations. Due to a variety of problems, including delayed permits, shooting time in Indonesia was limited to between February and April 2019.
Raymond Westerling in Batujajar, Bandung, West Java, November 1948. Collection of the Dutch Military History Institute (NIMH)

De Oost—shot in Magelang, Semarang (both in Central java), Yogyakarta, Pacitan (East Java), and Lembang (West Java)—involved a crew of 350 people from the Netherlands, Indonesia, and Belgium. "We caught so many tropical diseases, from malaria and dengue to typhoid. Jazzy was even bitten by a scorpion. And then there was the time when our set was washed away by flooding from the river," Sander Verdonk recalled. He was grateful that all through the production process, he worked side by side with Indonesian producer Shanty Harmayn and her team. "They were so professional," he said.
Shanty, who produced gems like Perempuan Tanah Jahanam (Impetigore) and Sang Penari (The Dancer), has been involved in De Oost since 2016. She worked together with the Dutch team from doing research, obtaining permits, and scouting locations, to selecting local actors and production experts.
Shanty underlined the importance of the movie, as it exposes Dutch war crimes. "This film is an important admission from the Dutch towards Indonesia," she said. While she understood the criticism that Indonesian characters were underrepresented in the film, she pointed out that De Oost is a movie about the Dutch. "This is a film about the Dutch struggling with their role as perpetrator in this period of history, and the burden that comes with that. This is shown through the sins committed by Johan de Vries, and the consequences he had to bear."
Sensitive scenes were given special attention in the production process, especially as military officials sometimes came on location to observe. For example, Verdonk said, the sound for a scene where Dutch soldiers scorned the name of President Sukarno were recorded later in a studio in the Netherlands.
Sometimes the weight of Westerling's legacy was felt on set. After shooting the violent village scenes, Jazzy Taihuttu told Tempo in Amsterdam, the usually cheerful crew became subdued. "Everyone is left with their own thoughts," said Jazzy, Jim Taihuttu's younger sister.
LINAWATI SIDARTO (AMSTERDAM), ISMA SAVITRI