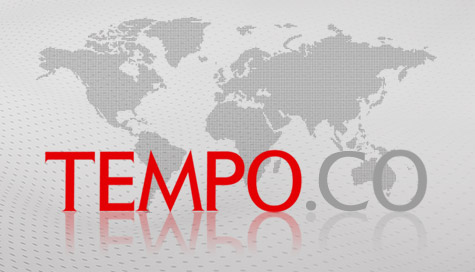 Oka Sulaksana
Wave Orphan
His skin was tanned almost black from the sun's rays. And when he sets his feet on his board as it rides the waves, I Gusti Made Oka Sulaksana, 31, is like a phantom for other windsurfers. In Asia, nobody can match his speed.
This year Oka's winning performances continued. He pitched in with a gold medal for the Indonesian team at the XIVth Asian Games in Busan, South Korea. This is his second gold medal contribution. Four years ago, in the same games in Thailand, he also produced a sparkling performance.
This year's stellar achievement in Busan was not only Oka's. But the man from Sanur, Bali, is special. He struggled alone in competing for his country. No official from the Indonesian contingent accompanied him when he raced. This father of two sons is used to that kind of treatment and has for a long time been self-sufficient.
Introduced to windsurfing at the tender age of 8, the first official competition he joined was when he was 15 years old. Everything was done alone, from practice to looking for sponsors. There has been scant assistance from the government or the Indonesian Sport Sailing Association (Porlasi). "You may say that I'm an orphan. Only in big events I get attention," said Oka. And this despite his extraordinary contribution.
For the province of Bali, he has contributed four gold medals in the National Sports Games (PON), from 1988 until 2000. For Indonesia, Oka has contributed three gold medals in the SEA Games, (1997-2001). And don't forget the gold he won in the Australian Open Championship in 2000.
He was promised a bonus of Rp104 million for his achievement at the SEA Games and Asian Games in Thailand. He only received Rp5 million.
Making a living from the sport is almost impossible. Prize money is not considerable, but the cost of the equipment reaches Rp20 million. Oka could survive thanks to the support of his sponsor, Quiksilver. Lucky for us, he hasn't yet reached his saturation point in contributing medals for Bali and his country.
Angelique Widjaja
Making a Smash
Angelique Widjaja, 18, cried last October. With her partner, Wynne Prakusha, she failed to win the gold medal at the Asian Games in Busan, South Korea. The pairing lost against the home country's women's doubles team in a dramatic match. The only thing that may console Angie was her success in winning gold in the team event.
This failure was no disgrace, though. Angie is still one of the best athletes in the country today. Viewing the data from her past performances, it can be seen that the achievement graphic of the Bandung athlete is always increasing. Indeed, at the Volvo Open Championships in Pattaya, Thailand, she was the champion.
Her world ranking last year was still 150. But in the middle of the year, she improved her position to become number 59. Only later did she slide to 91. This was due to her failure to retain her title at the Wismilak Open in Bali in September.
But her achievement in Pattaya improved her rankings again. In Angie's last game of the year she was in 72nd position. Her dream? "Next year I must be one of the world's best 50," said Angie.
She has the capabilities. Her service is deadly, as is her backhand and forehand. What she must train for is to build up stronger shoulders.
Deddy Tedjamukti, her coach, is convinced that Angie will shine again next year if she increases her training, which, of course, must include weight training for those shoulders.
Indonesia's Bridge TEAM
Intelligent, Mature
In Indonesia, people seldom play bridge. But due to this little-known game, Indonesia boasts a team that must be considered seriously on the international stage. This year, the Indonesian team shone in the Rosenblum championship in Montreal, Canada. In the tournament joined by 60 teams, Indonesia finished in second place.
It was a fantastic achievement. The team of Henky Lasut, Eddy Manoppo, Denny Sacul, Franky Karwur, Robert Tobing and Taufik Asbi, only lost to the Lavazza team from Italy in the finals. Two years ago in Switzerland, Denny Sacul and his colleagues beat them dramatically. Only, in Montreal, the same Italian team had improved quickly. "They were formidable. It was difficult for us to break through their defenses," said Denny.
Now Indonesia is getting more respect. The team is now ranked fifth, after USA, Italy, Poland and Norway.
This achievement is a result of joining a long string of tournaments spanning more than 30 years. In 1962, Indonesia was the winner of the open team in the Asia Pacific Bridge Championship in Manila. Since then Indonesia has almost had no comparable competitors in the Asia-Pacific region.
At the international level, Indonesia was a semifinalist at the Olympic World Team Championships in Valkenburg, the Netherlands. Then, six years ago, reached second place at the Bridge Olympics in Greece.
Although with several championships under its belt, the All-Indonesian Bridge Association only conducted centralized national training eight years ago. Since then, 22 players have graduated from the center. Different from other sports, the average age of bridge players is over 40.
Besides skill, "Maturity is extremely important in bridge," said Bert Toar, a national bridge player. And the Indonesian team has surely proven this.
Sony Dwi Kuncoro
Not Intoxicated by Praise
Last year he was a nobody. His name was buried under the names of other junior athletes in the national training center at Cipayung, East Jakarta. But in November, Sony Dwi Kuncoro, 18, suddenly broke the deadlock in Indonesia's badminton regeneration. He was number one in the Asian Badminton Championship in Bangkok.
And it was a stunning achievement, as he beat Taufik Hidayat, the number one badminton player in Indonesia. Sony defeated his senior in two straight sets: 15-12 and 15-5. This was his first victory in an official international tournament.
Sony's feat is notable as he represents the newcomers in Indonesian badminton. Ten years ago he was just a small boy who regularly accompanied his father, Mohammad Sumadi, for badminton training at his village in Surabaya. As his talents were remarkable, he then joined the Suryanaga Club in the same city. His outstanding achievements in inter-club championships led to the training center at Cipayung in March 2001.
The success of the 172-centimeter-tall athlete resulted in a rise in his position to the world's number 44. His next target is to become more active in world championships next year. All-England is also his main concern. "I also hope to qualify for the Athens Olympics in 2004," said Sony.
His abilities have been proven. To step further, his coach, Joko Supriyanto, said he needs more serious training and a steely mentality. "This is important for young players."
Fortunately, the new champion is well aware of it and has promised not to become intoxicated by praise.