A Second Wave after Celebrations
The Covid-19 pandemic in India is getting worse. Lax health protocols skyrockets infection rates. Health facilities are overwhelmed.
Edition : Monday, April 26, 2021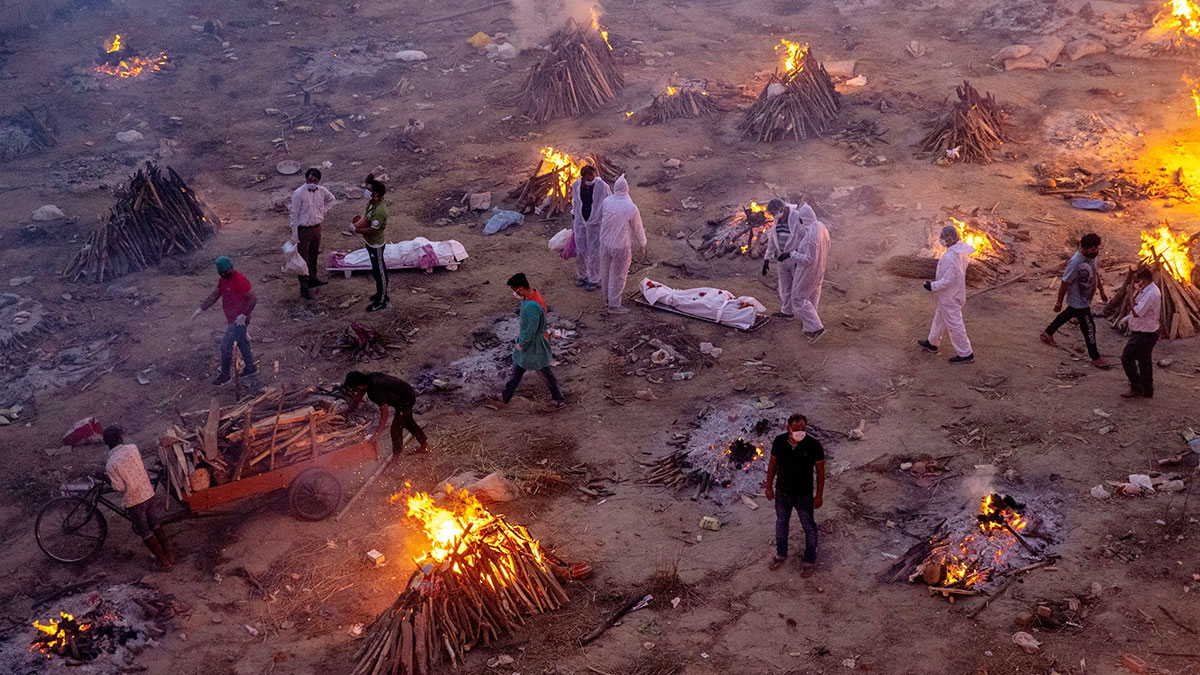 FLAMES continued to burn and smoke billowed from the vacant lot that was turned into a mass cremation site in New Delhi. Hospital staff took turns carrying the bodies of patients who died from Covid-19. Long queues forced Nitish Kumar to keep his mother's body for two days at home.
Kumar was only able to carry out the cremation ritual for his mother on Thursday, April 22. The location was unprecedented, a parking lot next to the crematorium in Semmapuri, north of Delhi, which was turned into a makeshift funeral pyre. "I've looked everywhere, but I was rejected. One of them even stated that they had run out of firewood," said the Delhi resident, as reported by Reuters.
The explosion in the number of deaths of Covid-19 patients overwhelmed the administrators of the cremation services. The emergency mass cremation facility in Delhi can process up to 60 bodies every day. However, now, there is always a queue of dozens.
Gas and wood crematories in Surat City, Gujarat State, have been operating non-stop since the Covid-19 pandemic hit India. Due to its long operation, a number of the metal components of the cremation furnace have melted. "We work all day with a facility capacity of 100 percent to ensure that the bodies that come every day can be cremated," said the head of the Kamlesh Sailor Crematorium Foundation.
W251bGwsIjIwMjEtMDYtMjIgMTU6MDE6NDYiXQ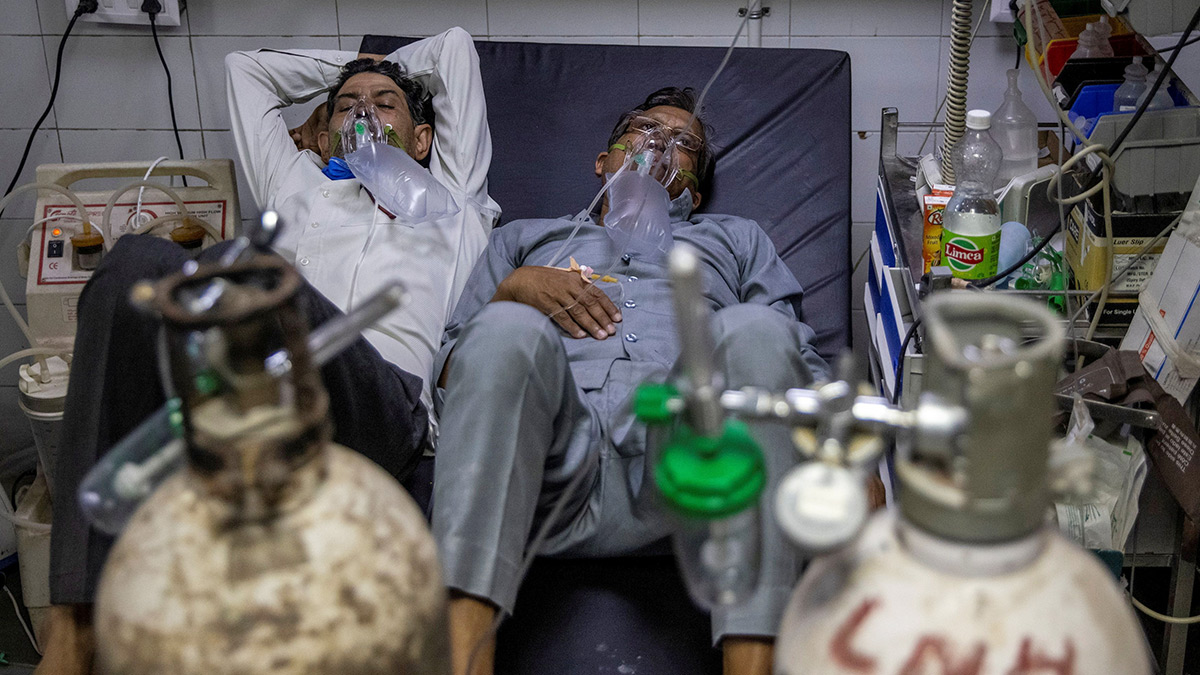 Covid-19 patients receive treatment at the casualty ward in the Lok Nayak Jai Prakash (LNJP) Hospital in New Delhi, India, amid widespread infections, April 15. Reuters/Danish Siddiqui
The Covid-19 pandemic in India continues to worsen. The spread of infections and the number of cases skyrocket and put the country's health system in danger of collapse. On Friday, April 23, India showed 332,730 new daily cases and recorded the highest in the world. Previously, the worst increase in the number of Covid-19 cases occurred in the United States with 300,000 cases per day on January 2. The death rate related to Covid-19 in India continues to rise and has more than 2,200 deaths per day.
According to former Director of Southeast Asia at the World Health Organization (WHO) Tjandra Yoga Aditama, the peak of the first wave of the Covid-19 outbreak in India occurred in September 2020. At that time, more than 97,000 cases were recorded a day. The number then dropped sharply to around 9,000 cases in February. However, a month later, the numbers shot up. "Until now, there are more than 250,000 cases per day," said Tjandra via text messages to Tempo, on Thursday, April 22.
According to Tjandra, the number of Covid-19 cases in India has skyrocketed because basic health protocols, namely wearing masks, washing hands with soap in running water, and maintaining distance, are no longer strictly enforced. The marketplace is crowded, public transportation is fully operational, and theaters have reopened. A number of public events, such as general elections in several states, weddings and religious ceremonies, have also been held.
Some people also feel protected because the government has given more than 100 million doses of vaccine. Even though infections are still prone to occur and new variants of the coronavirus that cause the disease have emerged. The number of testing and tracing cases of Covid-19 has also decreased. "Approaching 1.5 million tests in October-November (2020), to only a few hundred thousand in January-February," said Tjandra, who has lived in New Delhi for five years.
The number of Covid-19 cases that have decreased since September last year seems to have made the Indian government and population complacent. At that time, many believed that the worst of the pandemic had passed. When the second wave of the pandemic arrived, the government was deemed too late to anticipate it.
With a population of 1.4 billion, India is now facing major challenges in tackling the Covid-19 virus. The government has given around 2.7 million doses of Covid-19 vaccine every day. However, the number of recipients of the first stage vaccine is still less than 10 percent of the population.
President of the Indian Public Health Foundation K. Srinath Reddy said the government was not ready to face a potential spike in cases despite warnings and advice on prevention. The government even drew criticism when it decided to allow religious festivals and general elections, which drew large crowds. "The Indian government ignored public health priorities," said Reddy as reported by the Associated Press on Thursday, April 22.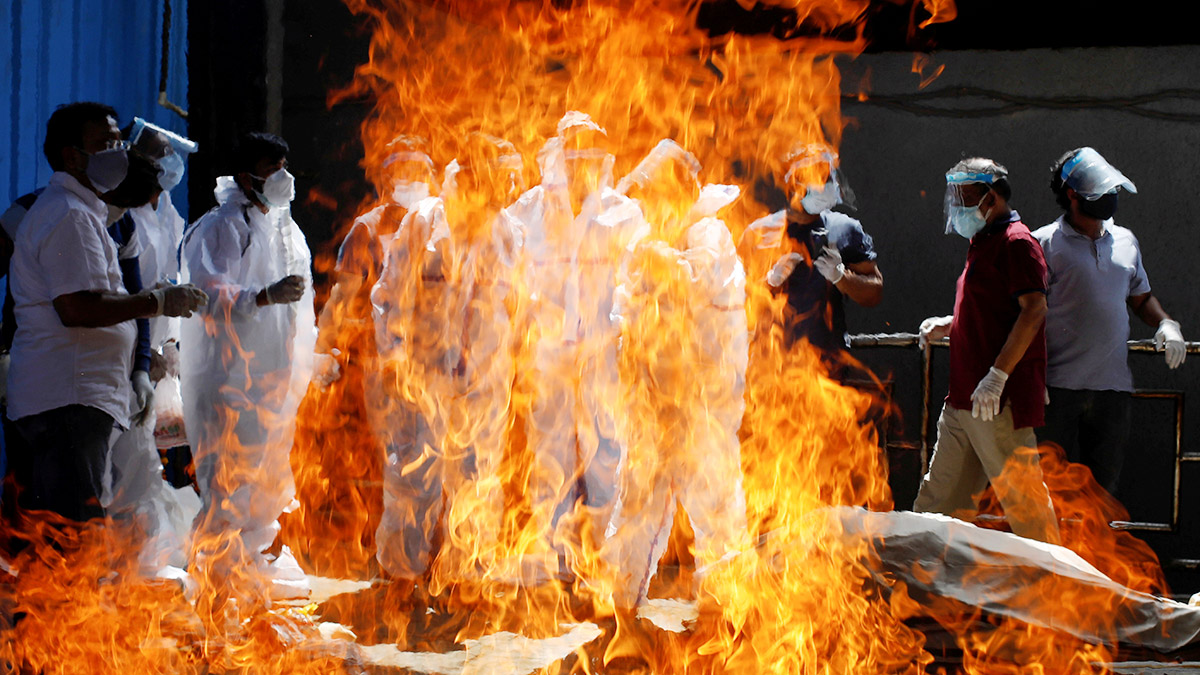 Relatives wearing personal protective equipment (PPE) attend the funeral of a man who died from the coronavirus disease at a crematorium in New Delhi, India, April 21. Reuters/Adnan Abidi
The Kumbh Mela Festival which was held in Haridwar City began in mid-March. The event was attended by millions of Hindus. They descend into the River Ganges as part of the ritual of cleansing their sins. The Uttarakhand state government immediately came under fire for allowing the festival to go on while the pandemic continued.
This activity was only stopped a day after Swami Kapil Dev, a popular religious figure in Uttarakhand, died from the virus on April 13. Head of the Health Office Haridwar S. K. Jha stated that more than 1,600 festival participants were infected with Covid-19 during April 10-14. However, this number could be higher considering that many people have returned from the festival and are suspected of carrying the disease with them throughout the country.
On April 15, India recorded 200,000 daily cases of Covid-19 for the first time since the pandemic hit the country last year. Prime Minister Narendra Modi has drawn criticism for his incompetence in dealing with the pandemic and for allowing religious festivals that attract large crowds to take place. Moreover, he even delivered speeches in front of tens of thousands of people who packed his political campaign event with the Bharatiya Janata Party (BJP) officials that he leads in West Bengali.
The Indian government has not budged. The Minister of Railways, Trade and Industry Piyush Goyal said Modi had worked hard to deal with the Covid-19 crisis. Modi is also said to have asked religious leaders to celebrate Kumbh Mela in a symbolic way. But the message came more than two weeks after the celebrations began and tens of thousands of people had already arrived.
Some Indians took their anger out on Modi. They considered him slow to respond to the second wave of the pandemic, which was exacerbated by the emergence of a new variant of the coronavirus. Tens of thousands of social media users have enlivened online discussions with various criticisms of Modi and demanded him to resign. "The worsening Covid-19 pandemic in India is a reflection of the Modi government," said Karnataka State Head Siddaramaiah.
Opposition politicians insist elections to be postponed for public health reasons. Rahul Gandhi from the Congress Party said he would postpone all of his campaign agendas in West Bengali. He asked politicians to think about the consequences of the plague if they continue to hold an open public campaign. However, as reported by Al Jazeera, the BJP maintains that every candidate has the constitutional right to campaign for 14 days.
The explosion in the number of Covid-19 cases has also shaken India's health system. Hospitals are flooded with patient and intensive care rooms almost at maximum capacity. Ventilators and oxygen cylinders for patients have become scarce.
Medics are scrambling for supply oxygen cylinders from suppliers to keep their patients in intensive care unit breathing. Pankaj Solanki, director of a small hospital in New Delhi, even sent his driver to hunt for oxygen cylinders because the stock was running low. "It's a mental pressure. I can't stand it anymore. What if something happens to the patient later?" he said.
Chaos such as the struggle for oxygen cylinders have engulfed all health care facilities in India, including elite private hospitals that are known to have the best services in the entire country. New Delhi's Chief Minister Arvind Kejriwal had stated that the oxygen supply was fine on April 13. At that time, 13,000 new cases had been confirmed in the city. Five days later, he corrected it by declaring a state of emergency of oxygen supply.
---
> 2,000

deaths per day related to Covid-19

187,770

total people died due to Covid-19

13.9 million

Covid-19 patients recovered

124 million

doses of Covid-19 vaccine given to the public
---
The seven major hospitals of the Max Healthcare network in New Delhi have treated more than 1,400 Covid-19 patients with oxygen stocks left only for a duration of two to 18 hours. Staff at the hospital, owned by the Apollo Group, was also panic-stricken when the oxygen supply for 200 patients shrank. They were a little relieved when the new oxygen tank finally arrived just before dawn. But the problem has not been resolved considering that many other hospitals cannot accept Covid-19 patients with severe symptoms anymore in order to maintain their oxygen stock.
The court even issued an order for the central government to immediately resolve the oxygen supply crisis. Judges in New Delhi at a hearing on Wednesday, April 21, urged Prime Minister Modi to supply oxygen to health facilities in the city at all costs. "The state cannot declare 'we have no more' and let people die. That is not the answer of a sovereign and responsible state," said Judge Vipin Sanghi.
---
RESTRICTIONS OF ENTRANTS FROM INDIA
THE number of Covid-19 transmissions continues to skyrocket in India. A number of countries have prohibited flights and restricted entry for passengers from India for a certain period of time. The United States Centers for Disease Control and Prevention (CDC) even stated that people who have received the complete Covid-19 vaccine should still avoid travel to India.
Pakistan
The United States (US)
The United Kingdom (UK)
New Zealand
Hong Kong
Singapore
Oman
France
United Arab Emirates
Saudi Arabia
Canada
---
Due to the explosion in the number of Covid-19 cases, a number of countries released flight bans and restrictions on passengers from India. Singapore, which is one of the world's main aviation transit routes, prohibits entrants with a history of travel from India. According to Tjandra Yoga Aditama, everyone who enters Indonesia, including from India, must first undergo quarantine. "If someone is suspected of being sick, they must be treated according to the procedure and their contacts traced," he said.
Tjandra said that strict supervision should also be carried out on people who entered Indonesia long before the spike in the number of Covid-19 cases in India. Singapore has even closed flights from Europe in December 2020, when information about the new variant of the B117 corona virus emerged. The Singaporean government then tracked everyone who came to the country since November 2020. "The surveillance is not only on those who are now landing from India, but also on those who have arrived since mid-March 2021."
GABRIEL WAHYU TITIYOGA (REUTERS, AL JAZEERA, TIMES OF INDIA, BBC, CNN)