Engines Sputtering on Biodiesel
Monday, April 11, 2022
B30 biodiesel fuel is damaging engines. The additional costs would be borne by end consumers.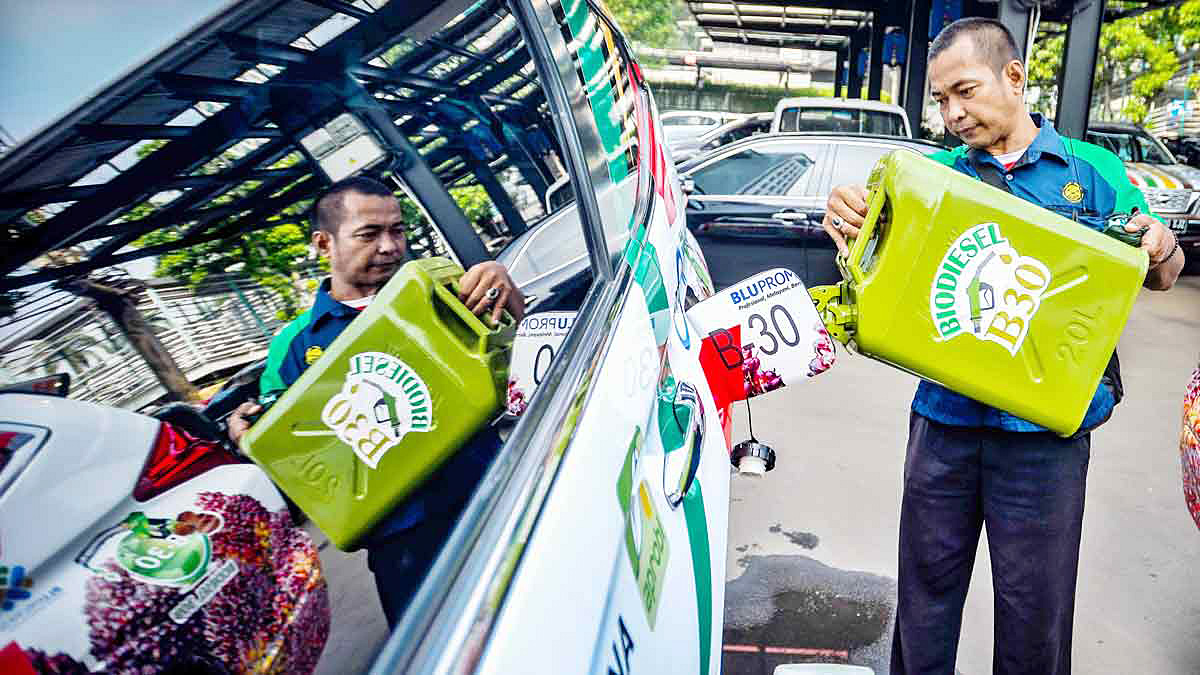 An official fills up B30 fuel in a vehicle during the B30 launching at the ministry of energy and mineral resources, Jakarta, June 2019. TEMPO/Tony Hartawan . tempo : 170121461551.
THE government's desire to require industries to use B30 biodiesel as fuel has forced companies replace engines or raise engine capacity in order to adjust for the use of biodiesel. Consisting of 30 percent palm oil and 70 percent diesel fuel, the use of B30 biodiesel has created a new problem: engine sludge which disrupts productivity.
Eonchemicals Putra, a distributor of biocide chemicals, often finds sludge and rust in customers' storage tanks used for biodiesel or diesel. Headquartered in Jakarta, this company has 15 branches, spread out from Sumatra to Ternate. Their customers are mining companies and heavy industries that the government requires use the B30 fuel.
On Wednesday, April 6, Edwananta T. Hakim and Fatkhur Rozaq from Eonchemicals checked on the engines of a mining company in East Sumbawa, West Nusa Tenggara. They saw that pipe filters for three biodiesel fuel tanks with a 10,000-liter capacity were filled with sludge. The mining company manager explained that they have to replace the filters every two weeks. "When it was just diesel fuel the interval was six months," said Edwananta.
Fatkhur Rozaq obtained additional information that fuel filters in engines must be changed more frequently as well. Since the engines started using biodiesel, operators must replace the filters every 300 hours, much more often than when they used diesel, when they could last for 2,000 hours.
The sediment in the filters comes from bacteria which feeds on organic material in palm oil. The bacteria form layers of sludge which clog the filters in the storage tanks and in the fuel pipes running to the engines. "Blockages affect engine performance," said Fatkhur. "They lower engine efficiency."
The sludge in question contains iron sulfide, which enters the engines and clogs fuel injectors. As a result, engines lose power. Operators need to check and clean them. For the industry, stoppages in the operation of heavy machinery are a drag on productivity.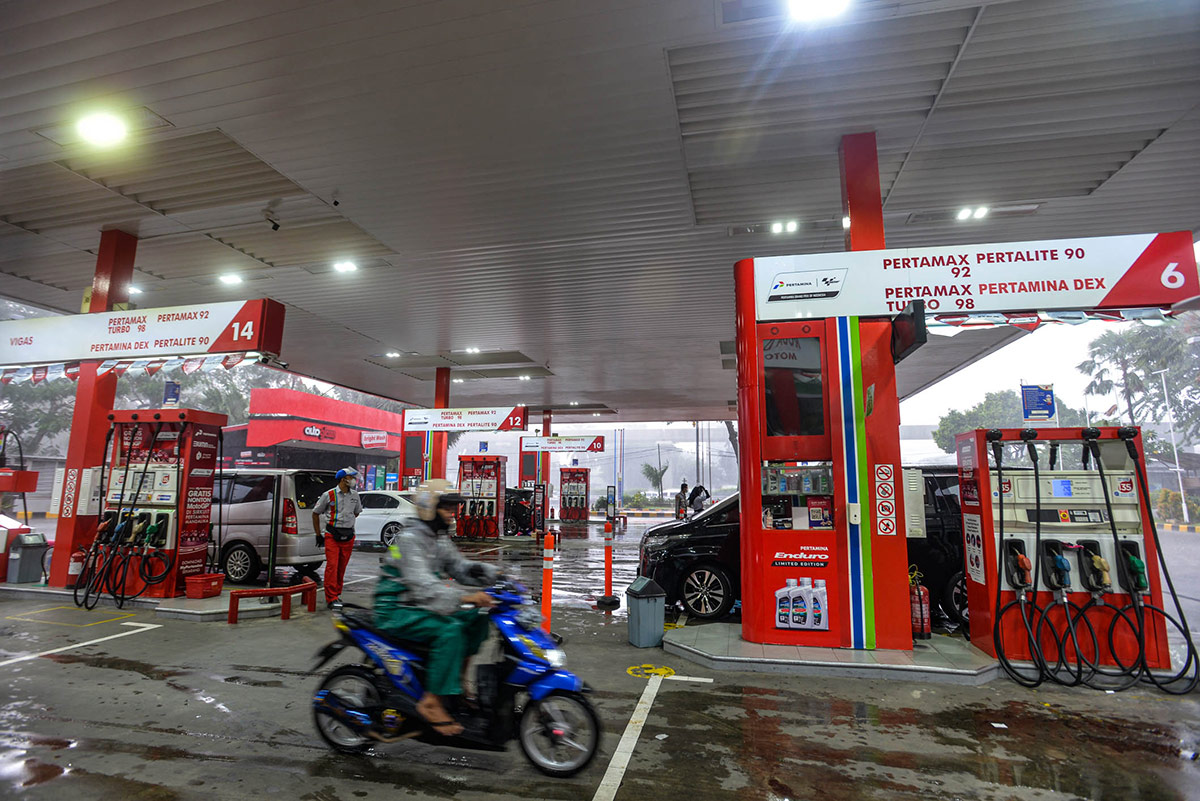 Pertamina's MT Haryono gas station, Jakarta, April 8. The MT Haryono gas station already serves the sale of B30 Biodiesel fuel. Tempo/Tony Hartawan
Biodiesel customers in East Sumbawa are not the only ones who have complained to Eonchemicals. Fatkhur once checked on a biodiesel sample in the laboratory to learn more about the cause of that sludge. As it turned out, the water content of B30 is too high, at 373 parts per million (ppm)—above the 350 ppm moisture content limit for biodiesel as set in the Decree of the Director-General of New and Renewable Energy and Energy Conservation of the Ministry of Energy and Mineral Resources No. 189/2019.
Biodiesel—which in the automotive world is known as bad diesel—triggers multiple impacts on the heavy equipment industry. Yuliarto Abadi, Product Manager at Pusaka Bumi Transportasi, which is an agent for heavy equipment produced by Sany in China, said that the use of B30 depends on the system used by heavy equipment. Sophisticated engines, such as Caterpillar, which use an electronic combustion system, are not suitable for B30.
A study done by the Corruption Eradication Commission (KPK) found that the quality of B30 does not meet the standard of consumer needs. The KPK found that, much like the discovery among the customers of Eonchemicals, the sludge from B30 damages engines, degrades more easily compared to regular diesel, and provides 3 to 4 percent less energy compared to pure diesel. According to the KPK, a maximum water content of 350 ppm could result in rust inside engines.
In the end, according to the KPK, consumers end up paying for this high-cost economy. In the case of Samudera Indonesia, that logistics and cargo company had to spend Rp2.23 billion in capital expenditures to adjust their loading equipment to B30 use. Samudera Indonesia uses 95 million liters of fuel annually, nearly all of it B30. "Filters must be cleaned regularly," said Samudera Indonesia Chief Executive Officer (CEO) Bani Maulana Mulia. "If not, it would be hard on the engines."
Samudera Indonesia uses B30 in 40 to 50 supplementary ship engines. The main ship engines still use fuel with low sulphur content, which is more expensive and low-emission. Of the average 20 to 25 tons of fuel used per day, one ton is B30.
Dadan Kusdiana, Director-General of New and Renewable Energy and Energy Conservation, said that the use of B30 biodiesel must be managed differently than regular diesel. The government, he said, has issued guidelines for the handling and storage of biodiesel and the B30 mixture. "As long as it is managed properly, there are no commercial after-effects," said Dadan.