Nickel Profits in a Flurry of Slurry
Monday, January 23, 2023
The mining and processing of nickel is powering the local economy. It alters traditions and changes the environment.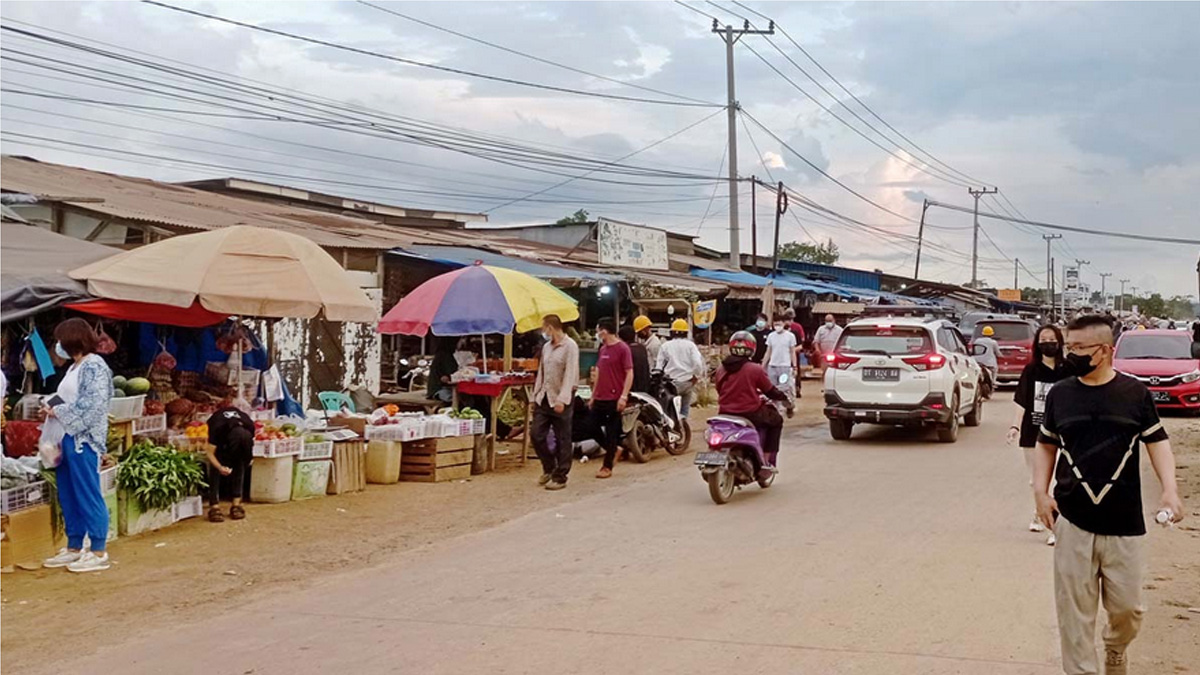 A makeshift market next to Obsidian Stainless Steel smelter in Morosi, Konawe Regency, Southeast Sulawesi, November 2022. TEMPO/Erwan Hermawan . tempo : 170152779734.
AT precisely 5pm on Thursday, November 24, 2022, hundreds of workers flooded out of the nickel ore processing complex or smelter of Obsidian Stainless Steel in Morosi, Konawe Regency, Southeast Sulawesi. Some were dressed casually or were in uniform, while others were neatly dressed, and a few others looked shabby and covered in mud. As the gates opened these workers from China headed straight for a makeshift market on the roadside in front of the smelter.
At the end of November the weather in Sulawesi was muggy. The sound of automobile and motorcycle horns on the Kendari-North Konawe alternative route could be heard over the sound of dozens of vendors offering their wares. These buyers and sellers were seemingly oblivious to the dust flying around. They were all engaged in their dealings.
The management of Obsidian limits workers to two hours outside the smelter area each working day. The workers who live in the factory dormitory eagerly use this time to shop. The store inside the factory only sells snacks. The temporary market in front of the smelter sells various foods and provides things that workers can cook at their boarding rooms or rented houses.
This enthusiasm of nickel smelter workers in Sulawesi has been a boon for locals. Adam, 26, studied Mandarin to be able to communicate with those Chinese workers. He opened a stall selling staple foods. It costs Rp10 million a year to rent the kiosk. "Now I can speak a bit of Mandarin," he said.
The man from East Kolaka—a three-hour trip from Morosi—has been in business near the smelter for a year. He went there when a neighbor asked him to go into business because the smelter had just begun operation. Obsidian's smelter was built over swampland. The factory and closest residential area are about 3 kilometers apart. The vendors would serve the needs of the nickel factory workers.
There are hundreds of people like Adam in Morosi who are trying their luck. When Virtue Dragon Nickel Industry built the smelter there eight years ago, people from around Morosi went there hoping to make money. Economic opportunities grew when Obsidian Stainless Steel officially opened a nickel smelter last year. The two companies are subsidiaries of Xiangyu and the Delong Group, a Chinese business alliance.
Obsidian has a production capacity of over 2.5 million tons of nickel per year. Virtue Dragon has a production capacity of over 1 million tons annually. Those two factories produce nickel pig iron (NPI), ferronickel, and nickel matte. Those three nickel ore products are components for making steel. As of the third quarter of 2021, Obsidian exported over 800,000 tons of NPI worth Rp24.5 trillion. Virtue Dragon exported 618,117 metric tons worth Rp17 trillion over that same period.
In addition to stimulating the economy outside the factory gates, those two large smelters provide a lot of jobs. La Ode Muhammad Alihaswandy, Chief of the Office of Transmigration and Labor of Southeast Sulawesi, said that out of 25,281 workers at those two smelters, 1,893 are from China. "The mining sector accounts for 2.9 percent of workers," he said.
According to Alihaswandy, the opening of shops is but one domino effect from the construction of nickel smelters in Morosi. Residents rent out boarding rooms or houses, open restaurants, workshops, and other commercial facilities. Newly built shops sprouted up along the road in Morosi.
Rusdin has been building rentable houses and boarding rooms for the past five years. The 38-year-old resident of Morosi is currently filling in a swamp in order to build a 72-square-meter kiosk, which will be rented out. According to him, land in Morosi is relatively expensive, Rp200,000 per square meter. "There is some cheaper land, but it is not located along the road," he said.
Rusdin rents wooden walled boarding rooms for Rp600,000 to Rp800,000 per month. A neighbor rents brick walled boarding rooms starting at Rp1 million per month. Because of the relatively high cost of renting, Nurhayati from Bombana—which is a four-hour trip from Morosi—decided to buy a house for Rp32 million using installment payments. "Rather than rent a house for Rp10 million a year," she said. The 42-year-old woman also purchased a kiosk for Rp3 million for selling fruits.
The growth in economy in Southeast Sulawesi due to this nickel mining activity has created a new problem: trash accumulation. In addition to the high amount of street dust and smoke resulting from the burning of coal to power the ore processing plant, trash scatters on the streets around the market or vendor shops, and is even found in the river and swamps. It appears that the local government has not made any plans in response to the impact of this sudden economic change.
While most of the vendors come from outside of Morosi, locals tend to become factory workers or work side jobs in addition to their company jobs. Residents of Mandiodo, Tapuemea, and Tapunggaya villages no longer work as fishermen. They have gone to work in the factories or have taken up nickel mining.
According to Ratna Kasim, head of neighborhood unit (RT) 4 in Tapunggaya village, of the 32 heads of households in her area only two still remain as fishermen. Her husband is paid Rp3 million a month as a security guard for heavy machinery located at the mining location. "Everything has grown with nickel," she said, pointing to the houses with cars in the garages. Before the nickel mining, houses in her neighborhood had wood walls and sago palm frond roofing.
Nearly no one can endure to work as fisherman in the villages located around the nickel mining location. Ratna said that the waters are contaminated with nickel slurry. Fishing platforms are often destroyed when barges in Tapunggaya Bay crash into them. As a result, fishers must search for daily catch further out at sea, making it more expensive to sail. "It is difficult to find fish now," she said.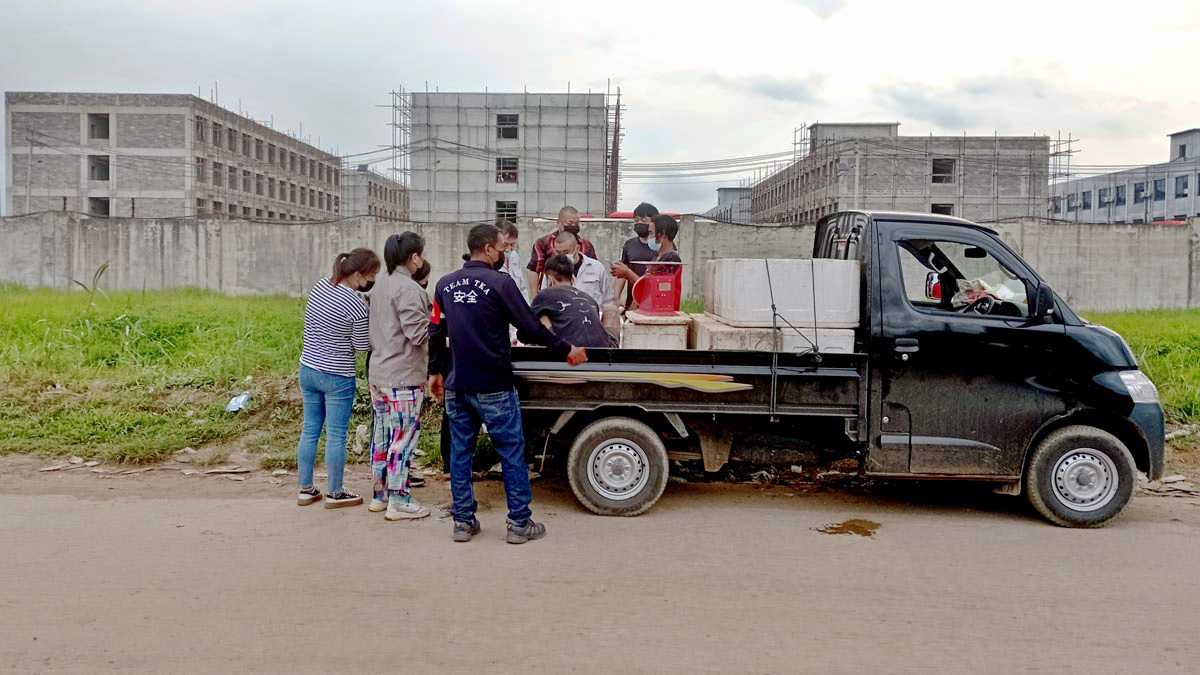 Several workers crowd a mobile vendor in front of PT Obsidian Stainless Steel (OSS) smelter in Morosi, Konawe Regency, Southeast Sulawesi, November 2022. TEMPO/Erwan Hermawan
Amirudin is one of two heads of households in RT 4 in Tapunggaya who remains to be a fisherman. He confirmed Ratna's story. According to him, fish catches have been getting smaller since nickel mining started. Sometimes he catches 10 kilograms of fish a night, which are sold in the market for Rp200,000. "Before the nickel mining, my income was Rp600,000 a night," he said.
This is also the case in Mandiodo village. Slamet Riadi, the local village head, said that of the 239 heads of households in his area, perhaps only about 10 percent are still fishermen. Slamet explained that in addition to having difficulty catching fish, working in the factory is more promising. "It used to be easy to catch fish and difficult to sell them. Now it is easy to sell them but you have to go far out to catch them," he said.
In addition to earning wages working at the nickel smelter, residents in villages receive compensation from each company for the dust issue. In Mandiodo village, said Slamet, each family receives Rp1.5 million in compensation per month. This was an agreement reached between local communities and the company. According to him, the air became polluted after the nickel smelter went into operation, and conditions are particularly bad during the dry season.
However, during the rainy season the dust dissipates but Mandiodo is inundated by mud, something which had never previously occurred in this village. In early December 2022, the entire Mandiodo village was inundated with mud mid-calf deep. According to Slamet, the mud ran down from the hills around Mandiodo that have become barren due to nickel mining. "Nickel gives life to the economy, but it destroys the environment," he said.
______
This report is supported by the Rainforest Investigations Network, Pulitzer Center.