When Fish Disappear from Youtefa Bay
Development and construction at Youtefa Bay, including the Youtefa Bridge and the rowing venue for the 2021 National Sports Week, are considered to have a serious impact on the ecosystem of the waters in that region. Waste disposal and mangrove deforestation are on the rise.
Edition : Monday, October 5, 2020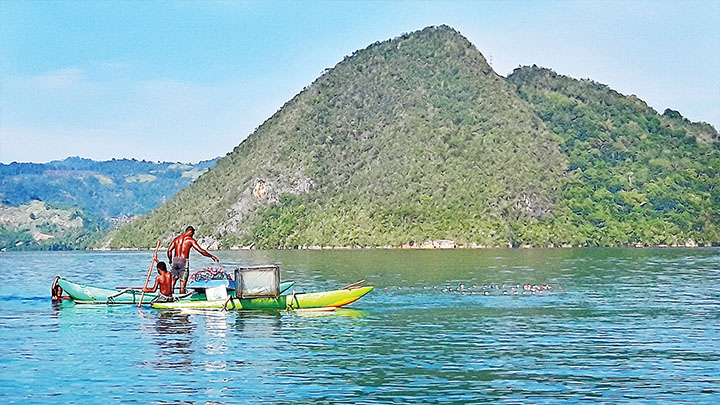 FRANSINA Hanasbey has already sat for two hours on the bridge in Enggros village, Abepura District, Papua, on Friday afternoon, July 24. A basin next to her only had a small fish in it: her only catch of the day so far. She patiently continued to wait for more fish. "It has become increasingly difficult to catch fish and other animals," she said.
The same goes for Laban Hamadi, a fisherman from neighboring Tobati village. Tobati and Enggros are both located by the shores of Youtefa Bay. Laban, 65, said that easy fishing at Youtefa Bay is but a memory. On the bay's shores, where a red-and-white bridge now spans, Laban used to fish for tuna. "There is no more tuna here due to ocean pollution," Laban said.
Fishing around the Tobati village area since the 1970s, Laban used to take his boat out with his net and fishing rod. Starting at dawn, he was able to return home in no time with a boat full of fish. Fishing at Youtefa Bay's lagoon had been easy. The water was pristine. Villagers would catch fish like skipjack tuna, mackerel, mackerel tuna, emperor, and streaked spinefoot. Mangrove forests, which are fish breeding grounds, were undisturbed. Crab, fish, and snails were abundant.
However, in the past two decades, Laban has seen a continued decline in Youtefa Bay's fish variety. Now only small streaked spinefoot can be caught. "It now takes a whole night to catch fish," he said in August.
Pollution in Youtefa Bay, Laban said, has resulted in a drastic reduction of fish. Mangrove forests at the bay, where fish breed, have been cut down. Construction of bridges, the ring road towards Jayapura, and other buildings on the shores of Youtefa Bay have badly damaged the environment. "There are so many projects here. The noise of heavy machinery has driven out all the fish," he said.
W251bGwsIjIwMjEtMDYtMjIgMTQ6NTM6MTAiXQ
Ricky Hababuk, a fisherman in the Youtefa Bay waters, said fishing has become increasingly difficult in the last several years. Fisherman often only net garbage. In the past, he explained, it was easy to catch a lot of fish in less than two hours. "Even throwing a net in front of our homes was already enough to catch a lot of fish," he said.
Now that fish are hard to find, Ricky's income has nosedived. In order to obtain Rp200,000, he has to work hard throughout the night. In the past, Ricky had been able to clinch up to Rp1 million from fishing in the Youtefa Bay. "Now, even catching small fish is a challenge," he said.
Enggros village head Origenes Meraudje said fishermen and villagers can no longer easily look for fish. They now do their fishing near their homes after the area of the ocean where they used to fish has been used as the rowing venue for the 2021 National Sports Week (PON). In fact, that location was home to a variety of fish and corrals. "People still fish there, only the area has shrunk," Meraudje said.
2021 PON's rowing venue and facilities at Youtefa Bay is believed to have violated Jayapura spatial regulations. Even worse, the rowing venue is constructed in a protected forest area. The project is also deemed as not having gone through the Papuan provincial forest office's proper permit procedures. "It is impossible that the forestry office was not involved, as it occurred right in front of their eyes," said Yoan Alfredo Wambitman, member of the Commission A of Jayapura City's local parliament, on Tuesday, July 21.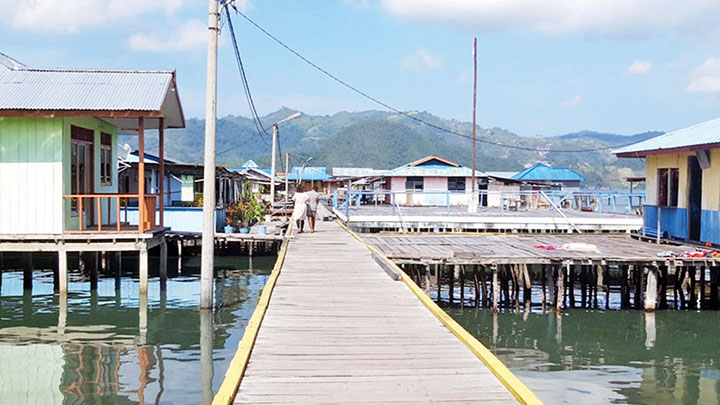 Tobati village in Youtefa Bay, Jayapura, Papua, in July./Jubi/Tempo/Engel Wally
The local community has opposed the construction. George Awi, head of the Port Numbay customary community institution, said that residents actually do not object to any kind of construction that does not violate spatial regulations. "If it has to do with mangrove or protective forest areas, the government must also obey regulations," George said.
He further said that the government did not involve local residents in the construction of the 2021 PON rowing venue. Public consultation was only done on July 30, while part of the project location was already filled since early July. The mound protrudes towards the ocean and erodes mangrove areas. Construction ceased after local communities started protesting.
George further said that community involvement must occur prior to the start of construction. This is especially important as there are some locations deemed sacred by the locals, including mangrove forests called Female Forest. The disappearance of trees on the shore, such as pine, sago, and mangrove—cut down for the project's sake—could worsen abrasion at this location by the Pacific Ocean. "Customary community supports development, but some aspects must be taken into consideration," he stressed.
Several major construction projects at Youtefa Bay have intesified the ongoing destruction in that area. Research conducted by John Dominggus, from the Oceanography and Fisheries Faculty of Cendrawasih University, shows that mangrove areas at Youtefa Bay are no longer healthy. Healthy mangrove has high density and low levels of disturbance index, ecosystem interaction with humans, and exploitation.
John Dominggus' study, published in 2018 in the Biodiversity Journal, said that Youtefa Bay's mangrove ecosystem has been disturbed by human activities, and contaminated by waste, resulting in the disappearance of fish-breeding areas. John also pointed out that some areas on the mangrove shores by Enggros village no longer have sandy grounds. "There's only waste," he told Tempo in early July.
When it was healthy, Youtefa Bay's mangrove was a breeding and nesting place for fish and crab. Mangroves also support shorelines from abrasion, and prompt island growth through sedimentation. However, changes caused by environmental damage have made it difficult for fisherman to survive. Even if they catch fish, John said, the variety is very small. Fishermen also need much more time to catch fish. "And they need to go much further towards Papua New Guinea," he said.
Youtefa Bay belongs to the category of semi-closed bays. Its ebb and flow process influences the water's variable physical and chemical fluctuations. The level of sedimentation and waste cause Youtefa Bay's water to color brown and impact the ecosystem. "Before we know it, this condition has influenced the presence of planktons, including zooplanktons," said Triana Mansye Kubelaborbir, lecturer at the Ottow Gleiser University's Management Studies of Shore Resources, in Jayapura.
Yehuda Hamokwarong, Cendrawasih University's researcher at the Geography Faculty, said that Youtefa Bridge has changed the area's physical condition. Many investors have brought construction projects to the area around Youtefa Bay. Shore vegetation such as the whistling pine tree (Casuarina equisetifolia), pandan, coconut, shrubs, swamps, and sago forests have been eliminated. Trees, functioning as a barrier for abrasion and intrusion from ocean water, are also disappearing as they continue to be cut down. "In fact, they are also home for fish," Yehuda said.
Environmental change also impacts the psychological and physical conditions of the people around Youtefa Bay, such as those in the Tobati, Enggros, Kayu Pulo, and Skouw villages. Youtefa Bridge and the removal of protected forest area have sparked horizontal conflict among customary communal land owners. Yehuda pointed out that ownership claims and land sales often end in dispute.
The shores of Youtefa Bay—stretching the villages of Nafri, Enggros, and Tobati—are home to several mangrove types, such as Sonneratia ovate, S. alba, Rhizophora mucronata, R. apiculata, R. stylosa, Avicennia alba, Xylocarpus granatum, Bruguiera gymnorrhiza, and B.cylindrica. This bay also has some 110.83 hectares of seagrass, which is around 26 percent of Youtefa Bay's waters. It has four different species of seagrass: Thalassia hemprichii, Enhalus acoroides, Halophila ovalis, and H. minor.
GABRIEL WAHYU TITIYOGA, TIMOTEUS MARTEN, DOMINGGUS A MAMPIOPER (JAYAPURA)