A New Hope From Stem Cells
Stem cells are proven to help Covid-19 patients recover more quickly. Research in Indonesia is ongoing.
Edition : Monday, August 31, 2020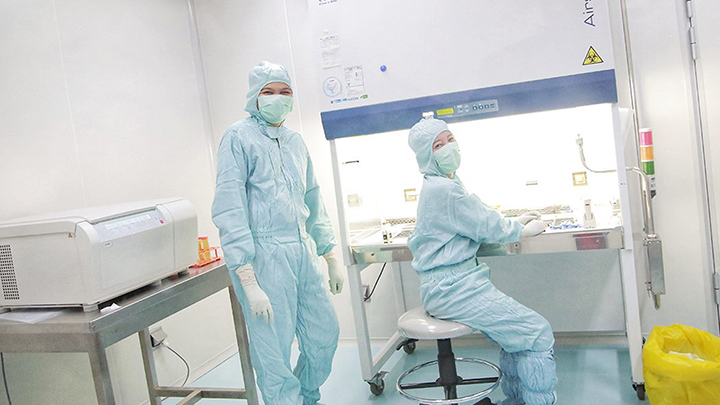 ISABELLA Kurnia Liem has been more busy than usual since last May. She and her team have had some additional duties, including monitoring the growth of stem cells which are to be given to Covid-19 patients. They grow the stem cells at the Stem Cell Medical Technology Integrated Service Unit Laboratory at the (RSCM-FKUI-KF). "We have to prepare them in advance, so that they are available for use when there are critical patients," said this lecturer at the University of Indonesia Medical School, on Friday, August 28.
It takes a month to grow those stem cells, whereas the condition of patients can worsen in a matter of hours. For this reason, she and her team have to be ready before patients arrive. "If the stem cells are ready and are not used for Covid-19 patients, we can use them in other research, so as not to waste them, as they are expensive to produce," said Isabella. It takes about Rp2.2 million to process one stem cell line. This research is being funded by the University of Indonesia and the Ministry of Research and Technology/National Research and Innovation Agency-Education Fund Management Agency.
Since last May, a team from the University of Indonesia Medical School (FKUI), Dr. Cipto Mangunkusumo Central Hospital (RSCM), Sulianti Saroso Infectious Diseases Hospital, Persahabatan Central General Hospital, and the University of Indonesia Hospital have been researching the effect of stem cells on patients infected by the novel coronavirus. Not all Covid-19 patients treated at that four hospitals are given those cells. Only patients who match certain criteria are given stem cells.
Stem cells are said to be the body's original cells, which are able to produce the rest of the specialized cell lines in the human body. This is why it is believed that they can be used to generate and renew tissues which have been damaged by various diseases. Researchers have tested them on people suffering from heart disease, stroke, and chronic respiratory problems, as well as in an anti-aging context. It is also this ability which led researchers from those four hospitals and one university to use stem cells on Covid-19 patients. To date no medication has been found for curing that disease. "Covid-19 can rapidly cause damage to the body," said Telly Kamelia, a doctor specializing in internal medicine and a pulmonology consultant.
In their initial research, they gave stem cells to patients in critical condition being treated in the intensive care unit (ICU). The breathing of these patients had to be supported by a ventilator. Usually, only two of 10 critical Covid-19 patients survive this treatment. It is hoped that the use of stem cells can increase the number of patient recoveries.
W251bGwsIjIwMjEtMDUtMTMgMTk6MDY6MjMiXQ
The research team gave intravenous infusions of stem cells with a dose of 1 million cells per kilogram of body weight to 16 critical patients. A patient weighing 60 kilograms was given 60 million stem cells. Sixteen other patients were given saline drip solutions (NaCl) as a control group. In addition to being given stem cells and ordinary intravenous drip hydration, they still were administered oseltamivir and the antibiotic azithromycin according to procedure.
The stem cells given to those patients came from umbilical cords. Researchers decided to use stem cells which did not come from the bodies of the patients themselves, as this would require a long time to process, and the patients were already in critical condition.
Umbilical stem cells are superior to other stem cells. According to Isabella, cells which come from the cord which connects the placenta to the fetus have a higher cell count. It is also easier to source. Collecting them is not invasive and the level of rejection from the body is lower compared to using cells which originate from other sources. "The source is from babies, so their condition is better compared to adults," she said.
Their first trial was done on the first patient on May 20. A 38-year-old female patient arrived at Dr. Cipto Mangunkusumo Hospital in critical condition. The coronavirus not only attacked her lungs, but repeatedly caused leaks in her stomach. "She was repeatedly operated on after each leak," said Ismail Hadisoebroto Dilogo, a senior researcher at the RSCM.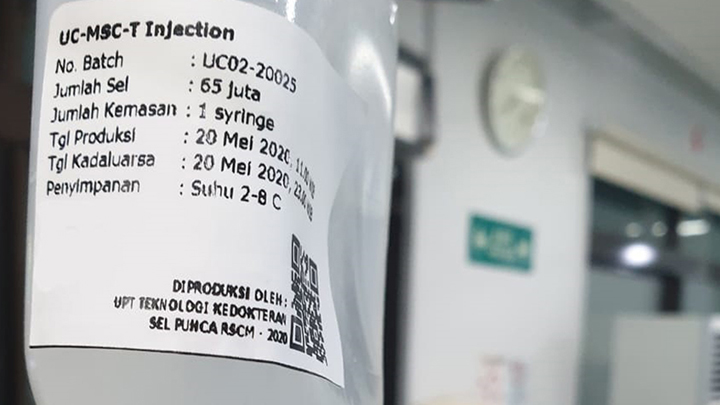 Intravenous infusion of stem cells for a Covid-19 patient./Private doc.
The research team finally decided to give that patient 65 million stem cells. Her condition slowly improved. On the 13th day after the transfusion, the patient no longer needed assisted breathing. On the 23rd day, she could return home after testing negative for coronavirus.
According to Ismail, from their interim analysis this recovery process highly depends on the patient's condition, especially whether or not the patient has comorbidity such as diabetes mellitus, obesity, heart disease, stroke, or kidney disease. All of the patients who arrived without any comorbidity who were given stem cells have recovered. Some of those who were given regular saline drip infusions recovered, but some also died.
Patients who had more than two comorbidities, in particular heart or kidney disease, who were given stem cells or regular saline infusions died. "However, more of those who only had one comorbidity or no pre-existing medical condition who were given stem cells were able to recover," said Ismail, who is also a professor of orthopedics at the FKUI.
According to Telly Kamelia, when entering the bloodstream, to overcome any disease, most of the stem cells will enter the lungs. Only then do the rest spread to other organs. This is very beneficial for Covid-19 cases, because the lungs are the organs which are most frequently affected by the SARS-CoV-2 virus.
Stem cells will calm cytokine storms which can cause a patient to be unable to breathe normally. The stem cells can also clear out germs in the lungs and prevent the scarring in the lungs. If such tissue damage is not repaired, patients will still feel shortness of breath after recovering from Covid-19.
As of the end of August, there are 67 studies on stem cells for Covid-19 patients worldwide which are registered on the ClinicalTrials.gov clinical trial database, including the one conducted by the team from those four Jakarta hospitals. One hospital which has reported completing its clinical trials is the Abu Dhabi Stem Cell Center (ADSCC) in the United Arab Emirates, which tested stem cells on 73 patients.
According to a report in The Arab Weekly, this clinical trial resulted in the recovery of 1,200 of 2,000 Covid-19 patients treated. Stem cells reduced patient treatment time to less than a week, shorter than the standard therapy which usually takes 22 days. However, the condition of the patients who were treated was not explained.
According to Ismail Dilogo, their team is continuing their stem cell studies. Because the interim results indicate that the use of stem cells does not always work on critical patients, they plan to give them to patients in fair and serious condition, but who have not yet become critical, with the hope that stem cells will be able to help more patients. "We will finish up the initial research, then move on to the next one," he said.
NUR ALFIYAH