Precious Personal Experience
Susanti is a member of the Indonesian diaspora involved in the Covid-19 Research and Innovation Consortium. She is also a researcher on colorectal cancer of which she herself was once a patient.
Edition : Tuesday, June 23, 2020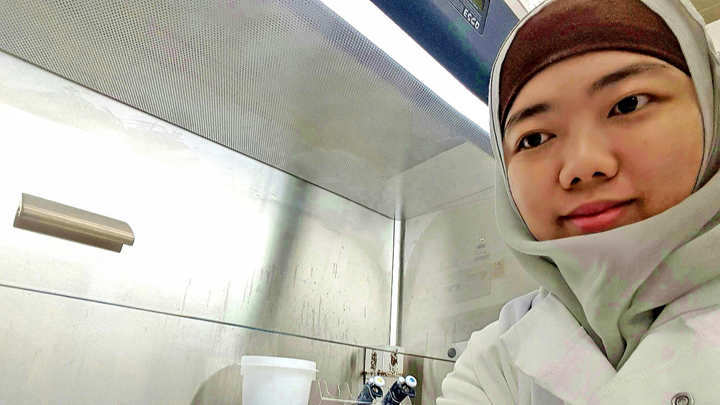 THE lockdown as a result of the Covid-19 pandemic caused Susanti undue stress. The post-graduate student in pathology at the University of Nottingham School of Medicine, England, had very little room to manuever after the British government enforced social restrictions beginning March 23. Before the pandemic, she was up to her neck in activity doing her post-doctoral research on colorectal cancer. "And then simply going to the lab required lengthy procedure, and so I ended up staring at the wall at home," she said on Wednesday, June 3.
So, when the Indonesian Institute of Sciences (LIPI) offered her to provide online training in polymerase chain reaction (PCR) testing for lab technicians, to help overcome Covid-19 pandemic, she jumped at the chance. Santi, as she is usually called, now trains scores of lab technicians weekly from all over Indonesia. In the past two months alone, she has trained almost 1,000 technicians.
Santi, 37, was also invited to become a member of the Covid-19 Research and Innovation Consortium under the research and technology ministry. The Consortium is led by the Director-General of Resources, Science, Techology and Higher Education, Ali Ghufron Mukti. "When the confirmed postive Covid-19 case in Indonesia emerged, I immediately contacted Pak Ali Ghufron, asking him, 'How can I help?' He replied by saying my name would be put in the consortium list as a member of the Indonesian diaspora," she said.
Santi's tasks among others was to design inter-team research between the University of Nottingham and LIPI on effective PCR methods to detect Covid-19. They also developed an easier sequencing method to identify SARS-CoV-2, the virus causing Covid-19.
According to the Attache for Education and Culture of the Indonesian Embassy in London, Endang Aminudin Aziz, Santi was the main motor driving the team. She even went herself to seek out re-agents when the team ran out. "When she wants to do something, she will not let it go. She will chase after it until she gets it," said Endang.
W251bGwsIjIwMjEtMDUtMTMgMTk6NTY6MzUiXQ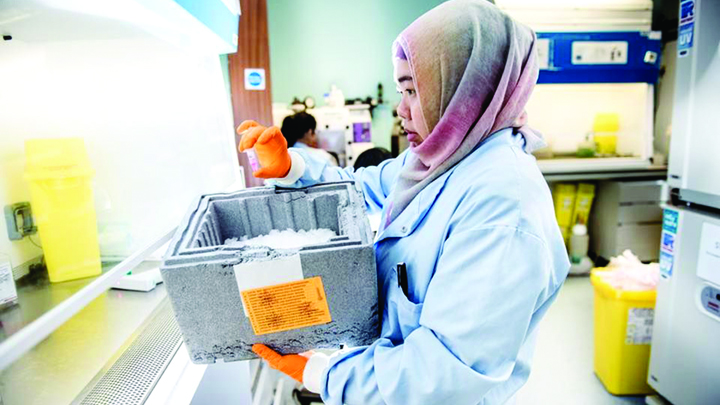 Susanti at the Department of Cancer and Stem Cell, School of Medicine, University of Nottingham, England./ private doc.
Santi was already familiar with PCR testing procedures before Covid-19 burst on the scene. Her doctorate research at the University of Nottingham in the genetic study of colorectal cancer, uses this method. "PCR testing was my daily routine," she said. In Indonesia, Santi teaches at the Department of Pharmacy at the Muhammadiyah University in Purwokerto, Central Java.
Santi did her graduate research on cancer at the John Curtin School of Medical Research, Australian National University, in 2009. At the time, she focused on angiogenetics, the formation process of new blood vessels that can cause cancer cells from one organ to develop in another organ in the human body. She calculated the mathematical angiogenetic probabilites, up to her graduation in 2011.
Two years after, the alumnus of the Department of Pharmacy of Gadjah Mada University decided to do her postgraduate degree. Two of her applications for a scholarship were accepted, by the Australian Prime Minister's Endeavour Postgraduate Award and the Islamic Development Bank (IDB) Merit Scholarship. Santi veered towards the scholarship in Australia. The Australian ambassador to Indonesia personally granted her the award in December 2013. "At the time, I felt my career was going so well. I had done my graduate studies, and then I received a scholarship for my post-graduate studies," she said.
But, before Santi once again set off for Australia, her husband, Ciptoaji, reminded her to go for a medical checkup. A few months prior, Santi had been suffering sharp pains in her abdomen, had been passing blood, and had lost a lot of body weight. Santi, who had ignored the symptoms, decided to comply. The diagnosis was grim. In January 2014, her doctor told her that she was suffering from stage III cancer of the intestines. Santi, who all this while had been studying cancer itself, obviously felt shocked. She fully understood that only between 50 to 70 percent of patients survive more than five years. And even if they did recover, she understood the possibility of the cancer recurring. The more she researched her illness, the more worried she became. "My husband told me to simply stop reading all those medical journals," she said.
Santi relented to the medical procedure prescribed by her doctor. For three years, she underwent several operations and took chemotherapy. During the whole process, she kept note of the many questions that bubbled inside her. One was, how could she, still in her early 30s, get colorectal cancer? In all the literature she was reading, colorectal cancer is usually suffered by people in the West, and only by those aged over 50. The disease only occurs in younger patients if there was a family history of cancer. Yet those two factors did not register in Santi's case. She also felt she adhered to a healthy diet. "I practice clean eating, I avoid all processed foods," she said.
It turned out, younger patients of cancer of the large intestines more readily occur in Indonesia. One out of every three patients here are aged below 40. The experience reignited the fire in Santi to continue her research. She felt she could not waste her time worrying her cancer could soon return. Yet her own deteriorated state of health after all the medical treatments made Australia refuse her a visa. In the end, in 2017, she left for Nottingham under the auspices of the IDB scholarship. She focused on genetic research on colorectal cancer. Together with Mohammad Ilyas, her supervisor, a British-Pakistani, she established the Nottingham-Indonesia Collaboration for Clinical Research and Training (NICCRAT). This is an initiative between Indonesian researchers and Nottingham. They developed a genetic testing device to identify the existence of possible cancer genes inherited from a family member.
Early this year, Santi established a pioneer company separate from NICCRAT, she named PathGen, a connector between research and enterprise. She established it so that her research does not stop within the pages of academic journals. "If Covid-19 had not happened, the cancer genetic testing device would already be in the process of validation in Indonesia," said Santi.
According to Ahmad Utomo, one of the advisors to PathGen, one out of every five patients of colorectal cancer has a probability of passing on the disease to their descendants. With the device, it is possible to detect whether a descendant has a propensity to suffer the disease. If the predisposition is detected early enough, prevention and diagnosis of the disease can be done very quickly. The device, she said, is produced cheaply to make it affordable for communities in developing countries, including Indonesia. "And thus it is possible to be covered by the BPJS health insurance scheme," she said.
Prior, Santi had already sought assistance from Endang Aminudin Aziz to help connect NICCRAT and testing of the device with the Indonesian government. She wanted cooperation between researchers of the two countries to obtain support, also so the device they were developing could be made of benefit for as many people as possible.
According to Ahmad, Santi herself contacted many parties to relate about the research. To date, the initiative has obtained the support of the research and technology ministry, LIPI, the Jakarta government, Kalbe Farma pharmaceutical company, and the Indonesian Cancer Foundation. "As a scientist, she is very adept in explaining the benefits of her research to many stakeholders," he said.
NUR ALFIYAH