PNM Supports Independent Campus Activities By Encouraging Innovation
Monday, 26 September 2022
PNM collaborates with Jenderal Sudirman University (Unsoed) to improve student competencies according to work needs. #Infotempo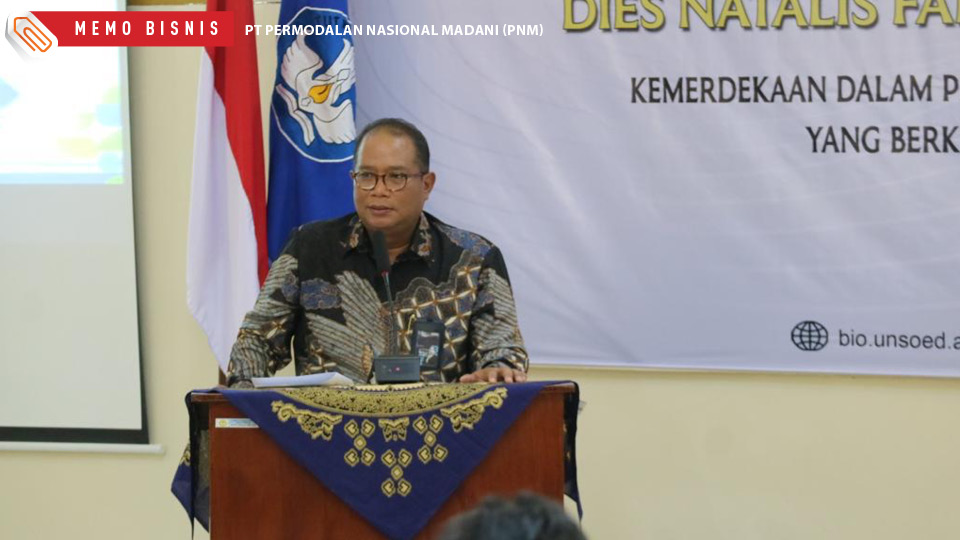 Director of Operations of PT PNM, Sunar Basuki gave a presentation in the Scientific Oration of the Faculty of Biology at the 59th Anniversary of 2022 which was held in the Hall of the Faculty of Biology Unsoed, Thursday, September 22, 2022.. tempo : 167528092175
Supporting the Indonesian Independent Campus program to prepare Indonesian youths who will later become leaders and increase competence to produce graduates according to work needs, PT Permodalan Nasional Madani (PNM) is collaborating with Jenderal Sudirman University (Unsoed).
In order to welcome this collaboration, the Director of Operations of PT PNM, Sunar Basuki, was present at the Scientific Oration of the Faculty of Biology on its 59th Anniversary and acted as a material presenter in the Hall of the Faculty of Biology of Unsoed on Thursday, 22 September 2022. The purpose of this event is to provide innovation and adaptation in the new era of society. At the Scientific Oration, a special honor was held for several retiring lecturers.
Then, the material presented by the Director of Operations of PT PNM includes sustainable human development in the technology, economy, equitable development of national resilience, and governance sectors. PNM's 3 main capitals, i.e. financial, intellectual and social capitals, were also presented. Financial capital is provided through productive business financing, while intellectual capital through assistance, including trainings as well as sharing of information and experiences. As for social capital, PNM builds customer awareness through business networks and business synergies that can help accelerate customers' businesses.
The event was attended by Sunar Basuki as Director of Operations of PT PNM, Prof. Dr. Ir. Akhmad Sodiq, M.Sc.Agr. as the Rector of Jenderal Sudirman University, Dr. Dwi Nugroho Wibowo, M.S. as Dean of the Faculty of Biology, and Rohmat Agus Pranoto as Head of Puwokerto Branch of PNM.