PNM Helps Earthquake Victims in Tapanuli
Monday, October 17, 2022
As many 300 grocery packages were given to PNM Mekaar customers, PNM employees, and Tarutung residents. #Infotempo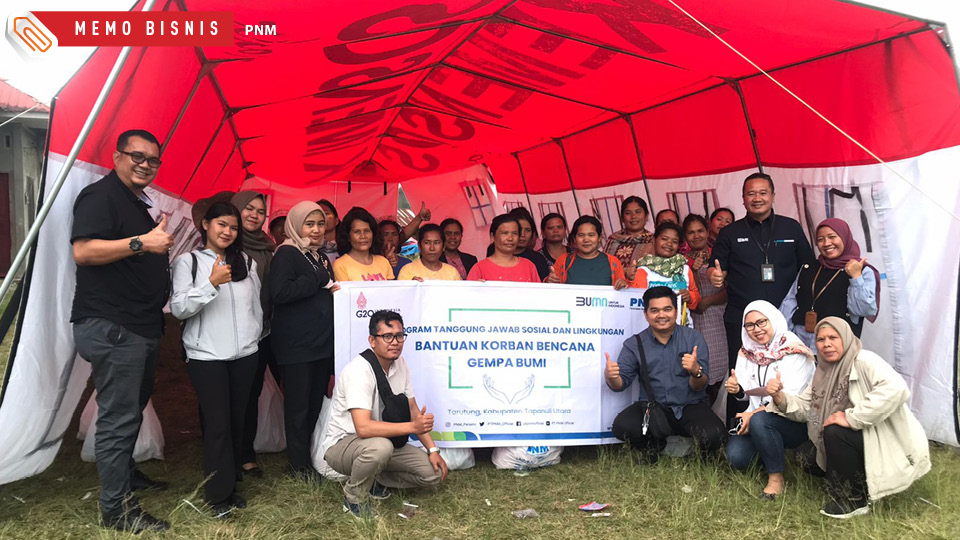 The handover of aid from PNM to earthquake vitims in Tapanuli.. tempo : 170145842430.
PT Permodalan Nasional Madani through its Social and Environment Responsibility (TJLS) program gave a succour in the form of 300 groceries packages to the customers, PNM employees, and the people affected by the earthquake in Tapanuli Regency. The aid distribution took place in Tarutung City, North Tapanuli Regency, North Sumatra Province on Wednesday, October 19, 2022.
Tapanuli Regency was shaked by an earthquake on October 1 which damaged 1,316 houses, 72 worship places, 31 irrigation canals, and other facilites. Not only once, on the same day there's an aftershocks that forced citizens to be evacuated.
"Our condolences to the customers, employees, and the surrounding community who were affected by the earthquake that happened on early October 2022. By providing this grocery packages, we hope we can help ease the burden on the victims earthquake," said the Head of BRI Tarutung Branch, Hendra, when handing the succours. The Head of PNM Kabanjahe Branch, Indra Irawan, was also present at the handover ceremony.
Hernawati, one of the PNM Mekaar customers who received the aid said she was very grateful because PNM was present in the community. "I hope there will be no more disaster, moreover an earthquake that traumatize the residents and prevent them to go to the fields."
Until October 19, 2022, PNM has distributed financing of Rp147.37 trillion to 12.9 million PNM Mekaar customers. Currently, PNM has 4,138 service offices throughout Indonesia serving MSMEs in 34 provinces, 422 regencies/cities, and 5,640 districts.