US Embassy
Specific Procurement Notice
Monday, May 15, 2023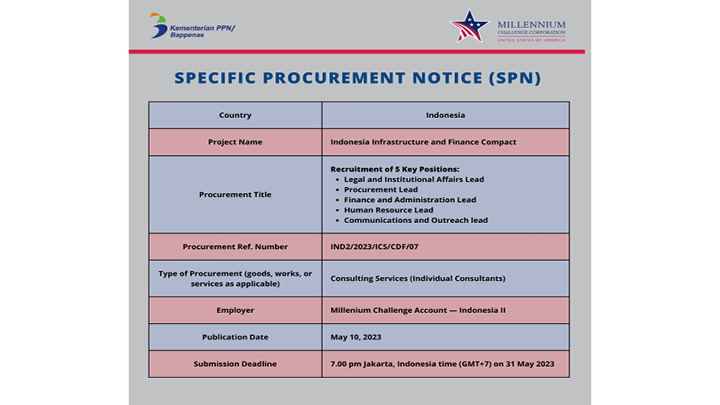 Calling all applicants!. tempo : 170128472694.
The United States of America, acting through the Millennium Challenge Corporation ("MCC") and the Government of Indonesia (the "Government") are working together on the Millennium Challenge Indonesia Infrastructure and Finance Compact to help facilitate poverty reduction through economic growth in Indonesia (the "Compact").
MCC requires that all beneficiaries of MCC Funding, including the MCA-Indonesia II and any applicants, Bidders, Suppliers, contractors, Subcontractors, consultants, and sub-consultants under any MCC- funded contracts, observe the highest standards of ethics during the procurement and execution of such contracts. MCC's Policy on Preventing, Detecting, and Remediating Fraud and Corruption in MCC Operations ("MCC's AFC Policy") is applicable to all procurements and contracts involving MCC Funding and can be found on the MCC website at: https://www.mcc.gov/resources/doc/policy-fraud-and-corruption.
The MCA Entity now invites Applications for the position of the following Key positions:
Legal and Institutional Affairs Lead

Procurement Lead

Finance and Administration Lead

Human Resource Lead

Communications and Outreach Lead
Each position will support the Millennium Challenge Account – Indonesia II and the governing board of trustees (Majelis Wali Amanat [MWA]) in leading the MCA Indonesia II. More details on the qualifications required are provided in the Terms of Reference of the Request for Application (RFA).
Location: The assignment is expected to be conducted in Jakarta, Indonesia
Anticipated Start Date: June 2023
Applicants will go through an initial selection process under the Individual Consultants Selection (ICS) method in accordance with the procedures set out in the MCC Program Procurement Guidelines which are provided on the MCC website (www.mcc.gov/ppg). This first phase will be followed by an interview of top-ranked candidates prior to a final offer of a contract. Compensation shall be based on the salary history of the individual selected and the responsibilities involved.
Consultants interested in receiving the RFA can submit their details using the following link: https://forms.office.com/e/Q4aeYtQcXF Please fill in the form to get access to the application documents.
The deadline for submission of Applications is 7.00 pm
Jakarta, Indonesia time (GMT+7), on 31 May 2023.
Contact Information:
Attn : Rusudan Gobejishvili, Interim Procurement Agent