A victor from Nganjuk
Parti Liyani, an Indonesian migrant worker, was cleared of theft charges after a four-year battle. As a result, Singapore's legal system is being scrutinized.
Edition : Monday, October 12, 2020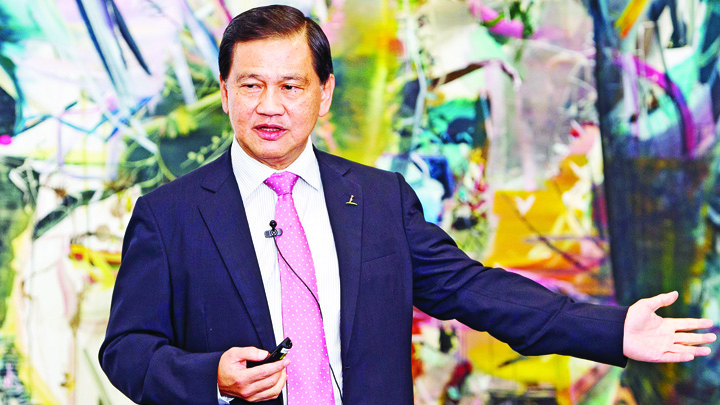 SHE had not heard anything from her job placement agent for five weeks. Parti Liyani eventually decided to return to Singapore on December 2, 2016. This migrant worker from Nganjuk, East Java, planned to collect some of her belongings which had been left behind at the home of her former employer, Liew Mun Leong, and to look for a new job.
Things did not go as she planned. Right after her arrival at Changi Airport a group of police took her into custody. As it turns out, two months earlier Liew and his family had reported Parti to the police. They accused their former domestic helper of stealing some of their belongings, such as kitchen equipment, cellular phones, a wristwatch, and clothing. They claimed these items were worth 50,000 Singapore dollars or about Rp542 million. Those items, according to the report filed by the Liew family, were found in boxes belonging to Parti.
The police did not hold Parti for long. They took her to the Humanitarian Organization for Migration Economics (HOME), a Singaporean non-governmental organization which helps troubled migrant workers. At that point HOME was handling Parti's case. The Indonesian embassy in Singapore said that it was working with Parti, but it was HOME which did most of the work, including covering her personal expenses and providing her with pro bono legal assistance from lawyer Anil Balchandani from Red Lion Circle. "She needed a place to stay while the investigation against her was underway," said HOME Case Manager Jaya Anil Kumar in a written statement to Tempo on Friday, October 2.
Parti's case against the Liew family attracted public attention in Singapore, being referred to as a case of "David versus Goliath". This was because Liew is a famous businessman in Singapore who is chairman of the Changi Airport Group.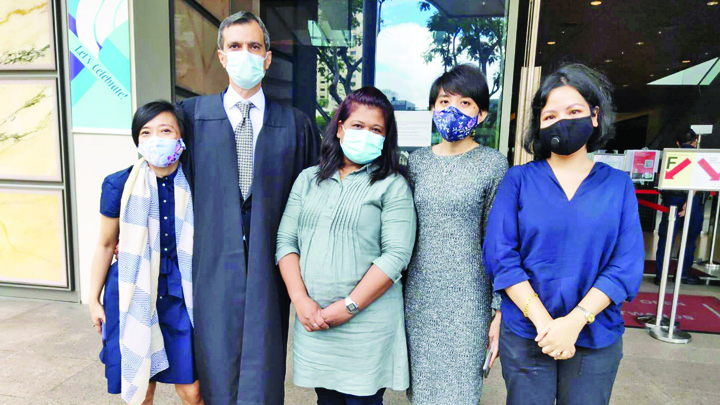 Parti Liyani (center) with her lawyer, Anil Balchandani, and HOME staff members in Singapore in September./ giving.sg
W251bGwsIjIwMjEtMDYtMjIgMTQ6MjQ6NTIiXQ
This case began when Parti was working at the Liew family home with a monthly salary of about Rp6.5 million. She was then asked to also clean up the house and office of Karl Liew, Liew's son who had just moved to a new place in March 2016. This was actually a violation of the country's labor laws, but Liew forced her to do the work.
After Parti objected to working at two places, Liew fired her on October 28, 2016. Her request to be allowed to continue working at the home was ignored. "I know why. You are mad because I refused to clean your toilet," Parti said to Karl at that time.
Parti was given two hours to pack her things before returning to Indonesia. The Liew family promised to send her boxed-up belongings to Nganjuk, but they never did. Later the Liew family claimed to have found their belongings in those boxes.
Liew and his son filed a report to the police about the items found in those boxes two days after Parti left. "I genuinely believed that if there were suspicions of wrongdoing it is our civic duty to report the matter to the police and let the authorities investigate accordingly," said Liew, as was reported by Asia One.
In March of last year, Singapore District Judge Olivia Low found Parti guilty and sentenced her to 26 months imprisonment. Parti appealed the decision. Chan Seng Onn, a High Court justice who handled the case, found many discrepancies, including how the police handled the evidence and no lawyer was present when Parti was questioned. The items which were accused of being stolen turned out to be already broken, such as a cellular phone which no longer worked and a broken DVD player.
The prosecutor knew that the device could not play DVDs, but did not divulge this information during the trial. Lawyer Anil Balchandani said that the prosecutor "worked some magic" which was very detrimental to the defendant. The motive for the Liew family to accuse Parti of stealing is also questionable.
High Court Judge Chan Seng Onn decided to acquit Parti of the theft charges on September 4. In his 100-page verdict, Chan said that the Liew family had done things which made Parti uncomfortable in her work. The Liew family also broke off Parti's work contract without giving her sufficient time to pack up her belongings, "With the hope that Parti would not complain to the ministry of manpower," said Chan.
"I am very happy to finally be released. I fought for four years," said Parti in a press conference after the appeal verdict was read. The court victory of the 46-year-old woman was a decisive blow against Liew Mun Leong and triggered a debate about the country's justice system.
A week later, Liew resigned from Changi Airport Group and an international infrastructure consulting company owned by the government of Singapore, Surbana Jurong. Liew also gave up his position as a member of the Board of Directors of the Temasek Foundation. "I do not wish my current situation to be a distraction to their respective boards, management and staff, amidst their many critical priorities," said Liew, as was reported by The Strait Times.
Asia Times suspects that the resignation of Teo Eng Cheong as Chief Executive Officer of Surbana Jurong is also related to this case. He is the husband of Minster of Manpower Josephine Teo. Many have criticized Josephine for her decision to only issue an advisory to Liew's son and give a caution to Liew's wife for making that housekeeper work illegally at his son's home.
Home Affairs and Law Minister K. Shanmugam said that the prosecution, police, and ministry of manpower are going to look into this case. He is also going to give an explanation to the parliament this October about the legal issues which came up in this case during the court hearing. When speaking with reporters during a break in a visit to the Tuas View Fire Station in mid-September, Shanmugam also said that some members of parliament from the People's Action Party (PAP) had submitted some questions about the Parti case and how the authorities handled it.
His comments came after the Workers' Party (WP) announced that their chair, Sylvia Lim, had filed a motion to debate this matter in parliament. "Both sides, PAP MPs as well as WP MPs, appear to be very interested," said Shanmugam, as was quoted by Today. He said it would be better to "openly set out what happened and deal with the questions."
Shanmugam promised to take the verdict in Pati's case seriously. "We have to find out what happened, why it happened, and then deal with it. And be accountable. That's the best way to build trust in public, in the system," he said.
According to HOME volunteer Stephanie Chok, Parti remained incredibly committed in the face pressure. While the case was ongoing, she always insisted that she was innocent. Chok said that her firm belief in her innocence gave her the calm and strength needed to fight this case for years.
As was reported by HOME, Parti hopes to return to Indonesia as soon as possible. She wants to open a food business, something she always wanted to do. She also said that she forgives her former employer and his family. "I hope that they do not repeat what they did to me to another worker."
The matter is not completely settled. She filed a disciplinary lawsuit against two prosecutors, Tan Wee Hao and Tan Yanying, who demanded that she be found guilty in the district court. The Attorney-General's Chambers (AGC) of Singapore stated that it is going to review this case. Parti also has a chance to demand compensation from her former employer for the protracted legal process which caused her to lose her income. Chok said that discussions on that matter are still underway.
Parti's release came as good news for her family in Keduk hamlet in Nganjuk. Her younger brother-in-law, Sabikhan, said that the win is a blessing for Parti, who he sees as being a good person. "If someone didn't steal, God will surely make it known," he said when met at his home on October 1.
Saiul Nizar, the head of Keduk hamlet, said that the entire neighborhood discussed the case against Parti. They think of Parti as a good woman who likes to help people, even though she has not lived there for a long time. Saiul praised her struggle to prove her innocence in the case. "It is rare for someone to win against their employer, and this was all purely from her efforts," he said.
Parti has been one of the main sources of income for her family. Due to financial limitations, Parti only has an elementary school education. She looked for work in several cities, such as Nganjuk, Surabaya (East Java), and Jakarta before becoming a migrant worker. For the past 20 years she has been a part of the community of migrant workers in Singapore.
From her income as a maid in Singapore, Yu Ti, as the family calls Parti, has been able to help repair the family home currently inhabited by her mother, Kasmi. Her younger sister, Muntamah, and her husband, Sabikhan, and their two sons are also living there. "I asked for Yu Ti's help to renovate this house," said Sabikhan.
Sabikhan said that Parti is a generous person who often gives gifts to her nieces and nephews on the end-of-fasting-month Lebaran holiday. She is also ready to help whenever the family asks her for additional money. Some family members in need of help sometimes contact Parti via WhatsApp voice and video calls. "She always gives and never asked to be repaid," said Sabikhan. "Many of her relatives here have been helped by Yu Ti."
Parti's generosity has also been felt by the neighborhood through the social facility established at her house. Parti purchased a house on 480 square meters of land in that neighborhood 12 years ago. Because no one was living there, the community and village officials asked her permission to use it as a place for early age education and an integrated service post for public health. "That house is used for social activities free of charge," said Sabikhan.
Parti's assistance to her family stopped in 2016. Sabikhan suspects that it had something to do with the case against her in Singapore. However, Parti's family never looked into what happened. Parti herself never shared any details with the family about her condition when she last returned home in 2016.
After staying just two weeks at home, Parti bid her family farewell and returned to Singapore. Since that, Sabikhan and the family knew nothing about her situation. However, news of her legal case reached them last September. Kasmi, according to Sabikhan, was shocked by the news. "She lost her appetite and refused to talk," said Sabikhan.
Not wanting Kasmi to continually worry about what had happened to her daughter abroad, a relative attempted to contact her. Her family was greatly relieved after being able to contact her to confirm the news of her release last September. Kasmi has been more at ease after hearing from Parti that she was doing well. "She asked the family not to have any bad thoughts about her," said Sabikhan.
GABRIEL WAHYU TITIYOGA, NOFIKA DIAN NUGROHO (NGANJUK)