Shaken by freedom of expression
France was shocked by attacks against a school teacher and a church, prompted by caricature of Prophet Muhammad in Charlie Hebdo satirical magazine.
Edition : Tuesday, November 10, 2020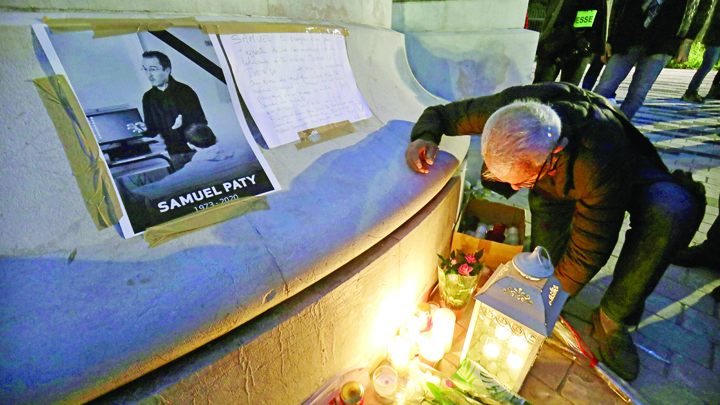 A
FTER a long break due to the Covid-19 pandemic, Intan Puri Hapsari has resumed her two children's school activities in Paris, France. Residents of the city carry about their day as they normally would after being shaken by a series of brutal attacks, perpetrated by migrants who claimed in the name of Islam in the attacks in Paris and Nice in October.
"The situation is conducive. No one is saying that Muslims are behind the terror attacks. French residents also maintain their usual attitude towards immigrants," said Intan, a citizen of Indonesia who has been living there for 12 years, when Tempo contacted her on Wednesday, November 4.
Samuel Paty, a middle school teacher of history who taught at Bois-d'Aulne in north of Paris, was killed by Abdoullah Anzorov, a Chechen immigrant teenager on October 16. Two weeks later, Brahim Aoussaoui attacked and killed three people in a Church in Nice. The two incidents occurred amid a rising tension between France and the Muslim community, following a statement by French President Emmanuel Macron who defended Charlie Hebdo, the satirical magazine that often publishes caricatures of Prophet Muhammad—and other religious figures. Muslim Federations and Mosques in France condemn terrorism and all forms of violence expressed in the name of Islam.
Anzorov and Paty did not know each other. Anzorov lived in Evreux, a city 100 kilometers away from Paty's school. Anzorov even had to confirm Paty's identity to a number of students before attacking him. After killing Paty, he uploaded photographs of the victim to Twitter, claiming that he had stopped somebody who committed blasphemy against the Prophet. Anzorov was shot dead by the police after resisting arrest. The police also detained 11 other persons, including Anzorov's parents, grandfather, and younger brother.
Paty's murder is allegedly connected to his teaching in class. He showed a caricature of Prophet Muhammad from Charlie Hebdo during a class on freedom of expression. Paty asked Muslim students to leave the room if they thought they might be offended. Brahim Chnina, whose daughter is a student in the school, uploaded a video complaining about Paty. The video is believed to be one of the factors in the events leading to the attack.
W251bGwsIjIwMjEtMDYtMjIgMTM6NTc6MTIiXQ
Anzorov is suspected to be involved in hard line Islamist groups. Le Parisien newspaper reported that the assailant contacted a Russian Muslim militia in Syria. In his Instagram videos, including those in which he referred to the Islamic State of Iraq and Syria (ISIS) terrorist group, Anzorov declared that he was ready to become a martyr.
The police traced Anzorov's online communication history all the way to Idlib, headquarter of ISIS militant group in Syria. Jean-Francois Ricard, the national anti-terrorist prosecutor, said that Anzorov's stepsister went to Syria six years ago to join ISIS.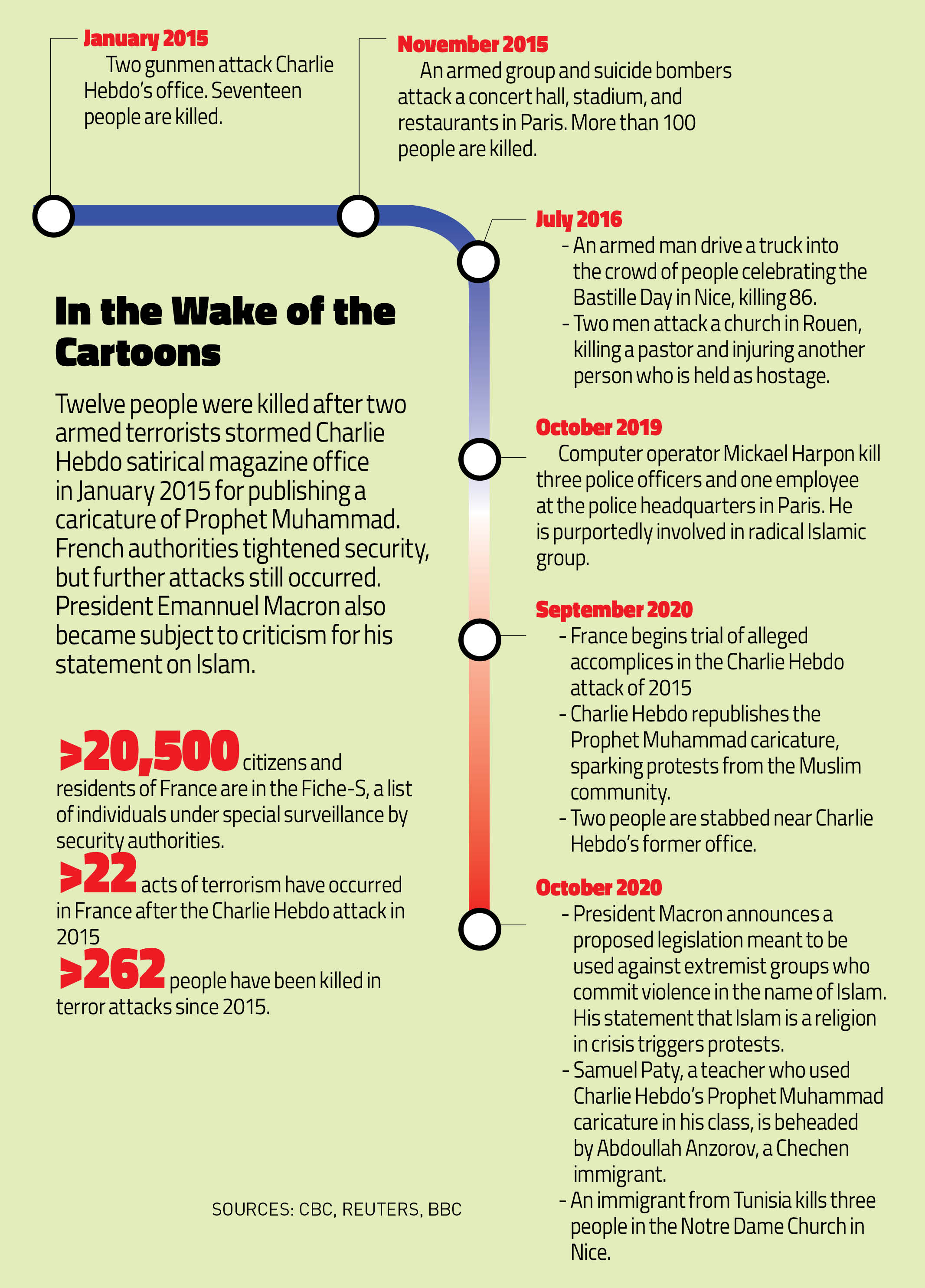 Dini Kusmana Massabuau, a citizen of Indonesia who lives in Montpellier, said that many French people condemn Anzorov's action, which they know was not in accordance with Islamic values. Dini said that the people in France are able to distinguish between Islam the religion and radical Islamist groups. "The stern protest from a number of politicians and the public is directed towards radical Islamists," said Dini, who has been living in the city for two decades.
She also said that there has been no change in attitude towards Muslims after the murder of Paty, nor has there been any pressure against them. Some of her friends who wear hijab head covering initially felt anxious after two women wearing headscarf fell victim to an attack around the Eiffel Tower following the Paty incident, but the police managed to arrest the perpetrators. "Unfortunately, videos containing hoax about hijab-wearing women being prosecuted are circulating from outside of France," said Dini, who wears the headscarf herself.
Elizabeth Inandiak, a French author who translated the Serat Centhini Javanese tales and teachings compilation to French, said that Charlie Hebdo is being misperceived as a symbol of freedom of expression. Charlie Hebdo's caricatures, according to her, are too crass, ridiculing, and vulgar. "There are limits to freedom of speech. Critics against terrorism and radical Islamist should not be voiced through that kind of cartoons," said Elizabeth when contacted by Tempo on Thursday, November 5.
Elizabeth said that the situation in France is similar to Indonesia. There are a few extremist groups who commit violence in the name of Islam. On the other hand, there are many immigrants and Muslim communities, including those from Morocco, Algeria, Tunisia, and Egypt, who cooperate with other communities in establishing peace. Elizabeth did not dismiss the notion that immigrants are still facing discrimination. The police often also arrests immigrants who live in refuge camps on the outskirts of cities. "But there are many civil society network who take up initiative to help them, by accommodating them in apartments, or giving them money to fulfill their needs," she said.
GABRIEL WAHYU TITIYOGA, SHINTA MAHARANI (YOGYAKARTA)