America's Turning Point
Joe Biden wins the 2020 US presidential election. The country will need time to recover its reputation in Asia.
Edition : Tuesday, November 10, 2020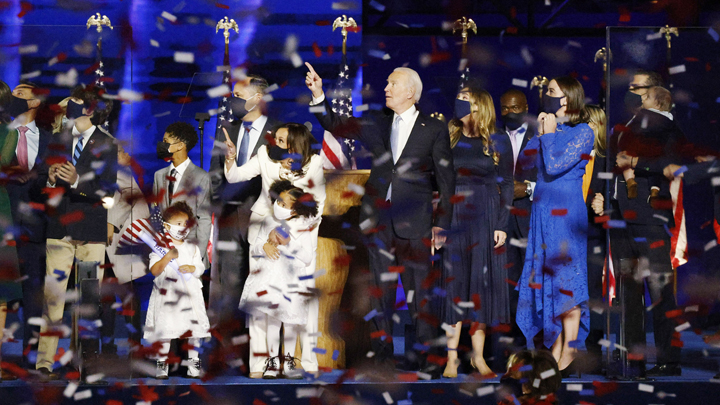 KAYLA Green only needed 30 minutes to cast her vote in the United States presidential election on Tuesday, November 3. Along with her sibling, the 25-year-old from Lansing, the capital of Michigan, came to polling station located two kilometers away from her house. Green voted for Democratic Party candidates Joe Biden and Kamala Harris.
That day, Green along with five million Michigan voters decided the fate of their country as Michigan is a key battleground state in this year's election. In 2016, then-candidates Donald Trump and Mike Pence from the Republican Party shocked the country by winning votes from this state, which had consistently voted for the Democrats in the last two elections.
Areas of Joe Biden voters are more centralized towards urban areas such as in Lansing and Detroit. "Whenever I visited some rural areas, I'd see a lot of Trump flags. I wouldn't think that Biden has much of a chance (in Michigan)," Green told Tempo. This year Biden won the state of Michigan with 50.6 percent of the votes. "It turns out that the people of Michigan still have some sense," she said.
Green voted for Biden because she holds the same values touted by the Democrats. She wants a liberal government, proportional taxation in accordance with wealth, and universal health care coverage. "I voted for the candidates that also believe women have the right to decide what to do with their body (in term of their reproduction health)," said Green, referring to abortion laws in the United States.
Leonard Standridge, a voter from Davidson, Michigan, also has his vote set on Biden. To Standridge, as long as Trump and the Republicans hold the White House, legal justice can never be attained by the minorities in America. Trump's handling of the Covid-19 pandemic spirals further out of control. "He's a disaster that needs to be kicked out of the White House," said Standridge.
W251bGwsIjIwMjEtMDYtMjIgMTQ6MDg6MjAiXQ
Ericssen Wen, an American politics analyst from the National University of Singapore, explained that the United States votes a little differently than Indonesia. The US Presidential Election uses an electoral college system, in which representative votes are determined by the population of each state. Candidates need 270 out of 538 electoral votes to win. "Campaigns for presidential candidates are usually centered in regions that have many electoral votes," said Wen in an online discussion that was held by The Political Literacy Institute, an Indonesian research institute on political communication, on November 4.
The provisional ballot counts in 44 of the 50 states, when we wrote this story, were able to call the winners of each state. As of Friday, November 6, Biden has won 264 electoral votes, while Trump has 214. Biden enjoyed easy victories across Democrats' stronghold states such as California, New York, Illinois, Massachusetts, and Washington. Meanwhile Trump gained the most of his votes from Tennessee, Mississippi, West Virginia, and Wyoming.
The real battles, however, are fought in states with a balanced composition of both Democrats and Republicans, called swing states, Wen explained. "The key states in this year's election are Pennsylvania, Wisconsin, and Michigan, which Donald Trump won in 2016," he said.
An estimated 150 million voters turned out and participated in this year's election, carving a new record into US presidential election history. The unprecedented voter turnout was due to the heated competition between Biden and Trump which will consequently deepen the divide between the American people.
While the ballots were still being counted and started to lean towards Biden, Trump claimed his victory. He threw around accusations of fraud and cheating, and threatened to take the matter to court. He also accused Biden and the Democrats of stealing the election. "We were winning in all the key locations by a lot, actually. And then our number started miraculously getting whittled away in secret," Trump said during a briefing at the White House on Thursday, November 5. "But we think there'll be a lot of litigation because we can't have an election stolen by—like this," he also said.
---
Trump threw around accusations of fraud and cheating, and threatened to take the matter to court. He also accused Biden and the Democrats of stealing the election. "We were winning in all the key locations by a lot, actually. And then our number started miraculously getting whittled away in secret."
---
During the very same briefing Trump also made claims regarding mail-in ballots, insisting that they are unfair and 'destroying' the system. This method of voting has been available to the American people for generations, and almost half the votes in this election came from mail-in ballots due to the pandemic. Trump's comments ultimately encouraged his supporters to go to polling centers and pressure the ballot workers to stop counting the votes.
Trump's baseless claims even garnered him the ire of some Republicans, such as former senator Jeff Flake who said Trump's claims were outright unacceptable. Republican Senator for Pennsylvania, Pat Toomey, said that Trump's claims have no evidence. "There is no evidence here," Toomey told TODAY show.
Michiganders like Standridge and hundreds of others even gathered near their polling stations until nighttime to ensure that every vote gets counted. There was free food and a music stage for voters that came. Standridge expressed that he wanted Trump to stop obstructing the election. "I hope he accepts the election result and his defeat so we can have a safe transition of government," said the 70-year-old man.
There was also Kate Williams, a Michigander voting for Trump again this year, who has been following Trump's antics, including his tendency to mock minorities. "I know he's bad for the country" said the 38-year-old woman. "His Tweets can be very embarrassing."
And yet Williams still voted for Trump because she is a Republican. The pastoress believes that the Republicans are needed to guard conservative values of the country. She is against the Democrats that she believes are leaning too much towards socialism, especially with their health care policies and programs. "I've heard a lot of stories, that if this (program) passes, people are going to get lazier. And people are going to go to the doctor for every little thing," said Williams. "It's not fair for those of us paying for health insurance."
The election results are expected to have a massive impact for the entire world, including Southeast Asia. United States governments prior to Trump have always maintained a healthy relationship with the Association of Southeast Asian Nations (ASEAN) in order to balance China's influence in Asia. But ever since Trump was in office, a lot of those relationships and international cooperation have been neglected. "Trump has not paid much attention to Southeast Asia in the last four years," said Wen.
In the East Asia Summit attended by Asia's economic powerhouses, such as Japan, China, and India, Trump was absent for the most part. This pales in comparison to Obama who only missed one meeting in 2013. The reputation of the United States continued to plummet after Trump arbitrarily decided to leave the Trans-Pacific Partnership, a trade agreement involving 11 countries in Asia and the Americas.
The President of the Institute for Future Forum Studies in Cambodia, Ou Virak, said that Biden's victory could be a turning point in improving US relations with countries in Asia and ASEAN. Biden is considered able to continue the legacy of cooperation that Obama has built in the past. With Biden at the White House, the US is also expected to re-enter the Trans-Pacific Partnership. However, according to Virak, Biden might need a long time to rebuild his reputation. "Four years will not be enough to repair the damage that was done," he said.
GABRIEL WAHYU TITIYOGA, INDRI MAULIDAR (MICHIGAN)