Transgender Discourse in the Village
For years Hendrika Mayora went against her inner instinct to act out her feminine side. She is the first trans woman to sit in public office.
Edition : Monday, August 24, 2020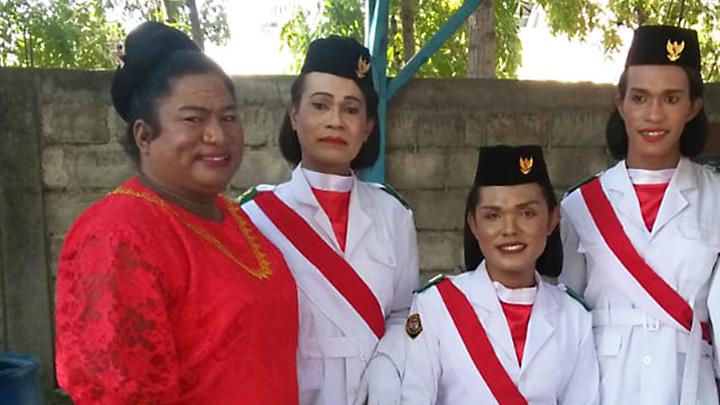 AS inspector of the Indonesian Independence Day ceremony at the Service Mission Center lawn in the city of Maumere, East Nusa Tenggara (NTT), Hendrika Mayora Victoria Kelan discussed issues related to trans women. The chair of the trans women Fajar Sikka society said, despite our nation this year enjoying 75 years of freedom, this has not been the case for her particular community.
Many trans women continue to be persecuted, both by their community and as citizens of Indonesia. "Yet we live in a country based on Pancasila, bearing the state motto of Unity in Diversity," said Mayora, 34, on Tuesday, August 18, referring to what she had conveyed in the ceremony.
All the officials in the Independence Day event were trans women. This was the very first flag-hoisting ceremony initiated by this group. In attendance were 30 trans women and 15 women.
Mayora related how trans women are the most vulnerable grouping in face of persecution, to the extent that some of them have been killed for being what they are. In April, a trans woman was burned alive in Cilincing, North Jakarta, after being accused of theft. After that, derision was continued by a prank video made by a YouTuber.
Trans women face difficulty when registering their documents as citizens. They are often banished from their own homes and lose their official identification documents. "But when we try to re-register, the bureacracy very often impedes our efforts," said Mayora. As a result, trans women face many difficulties when looking for jobs or trying to access even the most basic of services, such as public health care and education provided by the government.
W251bGwsIjIwMjEtMDUtMTMgMTg6NDg6MDgiXQ
Mayora is the very first trans woman to hold public office in Indonesia. She was elected member of the Village Consultative Body (BPD) in the village of Habi, Sikka Regency, NTT, in March. She beat her all-male rivals. "My rivals included the chair of the village youth organization, the village neighborhood head, the chief of the neighborhood association, a former village chief candidate, and former civil servants. But by the grace of God, the community elected me," said Mayora, who only moved to Sikka two years ago.
She was championed by the local women. Though initially derided for being transgender, Mayora was ever ready to lend a willing hand, helping to cook when people held a family do, offering to do the bridal makeup at weddings, and taking over classes for children at Sunday School. "Even though she was always being ridiculed, she continued to help people out in the village," said Agustina Merlin, a Sikka resident.
***
Mayora was born Hendrikus Kelan. When still small, his family and Hendrikus moved from Sikka to Merauke, Papua. Hendrikus, a Catholic, loved doing religious activities from since a young age. "I loved going to church, attending Sunday School. I went to Mass diligently," Mayora said.
Hendrikus felt something was off about himself. He felt he acted more feminine ever since he was still small. He felt disconcerted because his family tried to instil into him that boys should act like he-men. He tried to fight his urge towards femininity by taking up the martial arts, taekwondo and karate. But to no avail. Instead he found himself becoming attracted to people of the same sex as he entered his teens. "My friends would mock me by calling me, "Homo! Homo!"
He decided to take up the vow as a Catholic lay-priest. He moved to Yogyakarta in 2008 to take pastoral training. Hendrikus became a Catholic brother and was named Victor.
Hendrika Mayora (center) gives donations to poor residents. Private Doc
But his religious studies made him feel even more disconcerted. His urge to act like a woman went against nature, seeing he was born male. He was afraid he was in sin because of these sensibilities. "I suffered vertigo for many years because I dared not face the truth about myself," Mayora said.
Desperate about his condition, Hendrikus decided to leave the cloister and the brotherhood. He returned to Merauke and became a teacher. But he was restless. He went back to Yogyakarta.
After long inner turmoil, Hendrikus eventually came to accept himself. He decided to become a cross-dresser in 2017. He totally changed the way he dressed. He wore skirts, made himself up, and grew out his hair. He changed his mannerisms to be more girly. He discovered that, ever since, he was never troubled by vertigo again.
He changed his name to Hendrika Mayora Victoria Kelan. Hendrikus became Hendrika and Victor became Victoria. He added the name Mayora. "Mayora was my chosen name, meaning strong woman who has to become good and great," she said.
Becomine a transvestite was not easy for Mayora. She fulfilled her basic needs by busking and becoming a street-walker. Many a time she was chased by public order police units for singing on the streets dressed as a female. Her transvestite colleagues when caught were put into a home, but Mayora continued to resist this.
She maintained, if other people were allowed to busk on the streets, as human persons, she and her transgender colleagues should also be allowed to do the same. "Whenever I was beaten up, I would beat them up back. Remember, I still had my karate and taekwondo skills," she said, laughing.
But once during a chase, Mayora was hit by a motorbike while trying to run away. She broke her left arm and had to be fitted with a pin. To this day the pin has not been taken out because she had no money for the operation. "So, I still have a 'souvenir' of how bad things were in Yogyakarta," she said.
Her hard life scrabbling to survive as a trans woman in Yogyakarta made Mayora decide to return to her hometown Sikka in 2018. Agustina Merlin remembers how Mayora had absolutely nothing when she landed in Sikka. She shacked out in people's homes. "To bathe, she borrowed the facility in my cafe," said Merlin.
At first, said Merlin, the Sikka community did not accept Mayora. People encouraged her to kick Mayora out because her presence made people leery about coming to the cafe. But because Mayora never bothered other people, instead she was always willing to give a helping hand, Merlin decided to let her stay. "She taught little children to sing. When my daughter opened a baby spa, she offered to be the master of ceremonies."
Mayora blended in with the community. When people held events, she would step in and help 'mamas' (women) in the community to make decorations, cook, or offer to do the women's makeup. She became involved in the Family Welfare Empowerment Program, known as the PKK, and helped provide guidance for children coming to Sunday School. In 2018, she joined Fajar Sikka. "I encouraged my trans women colleagues to get involved in community activities, including helping out families with stunted babies."
These 'mamas' then encouraged Mayora to run as a candidate for the BPD election. The Habi BPD's responsibilities include drawing up regulations, overseeing fund expenditure, and monitoring the performance of village apparatus. Mayora agreed to register her candidacy under the condition she not be forced to change her outward appearance. If elected, she wanted to continue dressing as a trans woman. It turned out, Mayora won 60 votes, over and above the votes of all the other candidates.
Through the BPD, Mayora among other things is planning to revive the traditional law. She wishes to bring back into practice local wisdom long abandoned by the community. "Currently, whenever a problem occurs, people go straight to the police. Yet we are villagers. Why don't we try to iron out our differences first through the household association, then the neighborhood association, then through the customary council," she said.
She is also pushing for village policies to be more amenable towards women and minority groups, including trans women. "Now that I'm in the BPD, I can make heard the voice of those who all this while have been disregarded," she said.
NUR ALFIYAH