Advertising
These days, truth—which makes an appearance every now and then—seems unable to touch ground. It leaves no trace.
Edition : Monday, Desember 7, 2020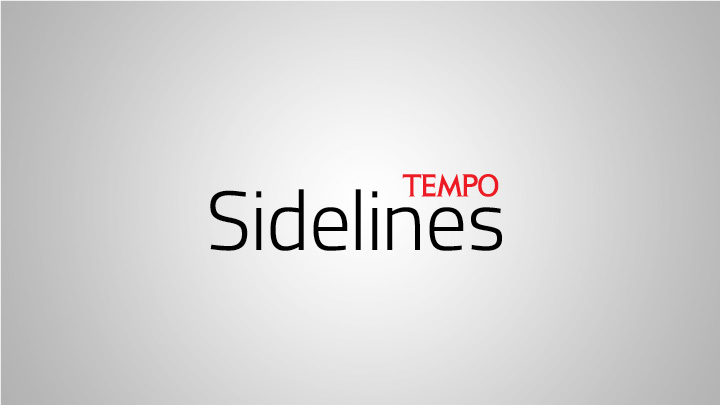 I think this is why people speak about 'post-truth'. Truth comes and goes quickly, blinking off and on, like a flashlight in the hand of a fugitive.
Yes, we are living in acceleration: eating, working, traveling, thinking, constantly speeding up. In rapid succession. Production, distribution, consumption whipped along by the fear of falling behind. T.S. Eliot was not wrong when he said this is the time of "The endless cycle of idea and action, endless invention, endless experiment."
With the qualification, of course, that this was probably a conservative's gloom—and Eliot did like to portray himself that way. The quote above is from The Rock, his drama in verse that he wrote on commission from a committee fundraising to build 45 churches in London's suburbs in 1934.
Eliot—like other writers completing commissions—was not very proud of The Rock. Works that have to be completed within a certain time frame, he said, produce only loud noise like "a motor car when the battery has run down."
W251bGwsIjIwMjEtMDUtMTMgMTg6NTQ6MTgiXQ
And indeed there is something like a flat battery in this verse drama: cranked out advice that can only inspire lazy Christians. But in many ways this is also where Eliot, the great poet of the 20th century, presented his views on life—complete with grievances.
These times, Eliot wrote of his times, bring only: "knowledge of motion, but not of stillness."
Where is the wisdom we have lost in
knowledge?
Where is the knowledge we have lost in
information?
It is interesting that Eliot's questions still resound today, a century later. Information is key, goes the 21st century motto—and we witness symptoms already common knowledge: increasingly fast data in the virtual world. We are snagged by WhatsApp, Instagram. Twitter. Facebook, email, and who knows what else.
But actually it is not information that is key, but interpretation. I know people who pretend to be knowledgable about everything—and love to show it. Conversation with them is never interesting. To them, 'knowing' is supremacy over 'not knowing'—namely their partner in conversation. Information becomes clever interpretation of data and facts, and is reinterpreted as the sign of supremacy.
There is a difference between 'information' and 'knowledge'. Knowledge is information that is digested and absorbed, like nutrition. When Eliot asks, "Where is the knowledge we have lost in information?" he questions when information is merely gathered—something measurable quantatively—and not changed into knowledge, which can only be probed qualitatively. The Rock bemoans the lack of wisdom in all this.
Where does wisdom come from?
Becoming 'wise' is not the same as 'knowing'. Wisdom arises from experience, which teaches that knowledge is an imperfect process. Wisdom arises through sensitivity to limits, and the most non-negligible limit is fellow human beings.
That is, fellow humans present in the relationship—to use Martin Buber's term—between Ich und Du, I and Thou. Wisdom grows when I view the other person as 'Thou', not as an object. When 'the other' is not a target but a potential for truth-through-dialogue.
It is interesting that The Rock mentions 'wisdom', not 'truth'. To Eliot, who called himself an 'Anglo-Catholic', truth was The Word, not words, as he says in The Rock. The great, single and universal truth, not something diverse and relative. Thus there was no need for further mention or debate.
In the 1930s there was not yet any concept of 'post-truth', but Eliot was already stressing that truth (upper case T) does not come and go. Truth is not 'knowledge of motion', but rather 'of silence'.
But—and this finds no mention—the achievement of silence is not automatic. The champions of Truth, the adherents of The Word, can be raucous. They are contaminated by the 21st century—the century bombarded by information and its interpretation, while words, pictures and amazing sounds spread their infection. All driven by capitalism.
I call this 'advertising-ism'.
In advertising, words, shapes and sounds jostle to treat fellows as targets, not as 'Thou', not as partners in dialogue. Advertising-ism builds truth from repetition and hyperbole: "I am the greatest, number one, the greatest…"
Lying has lost its sense of wrong—as we hear in political agitation, religion, and Donald Trump. The rhetoric of 'advertising-ism' proves the truth that Plato, speaking of rhetoric, berated in Gorgias: cookery (that) is not an art but a habitude or knack. Its aim—flattery, not truth.
Maybe Plato was disturbed to see truth leaving no trace. Like now.
Goenawan Mohamad