Breakups Between PSSI Elites
After being suspended due to to Covid-19, preparation for resuming soccer competition is being shadowed by breakup between the Chairman of Indonesian Soccer Association and his deputy. The national's team preparation to compete in the U-20 World Cup next year is also affected.
Edition : Monday, July 20, 2020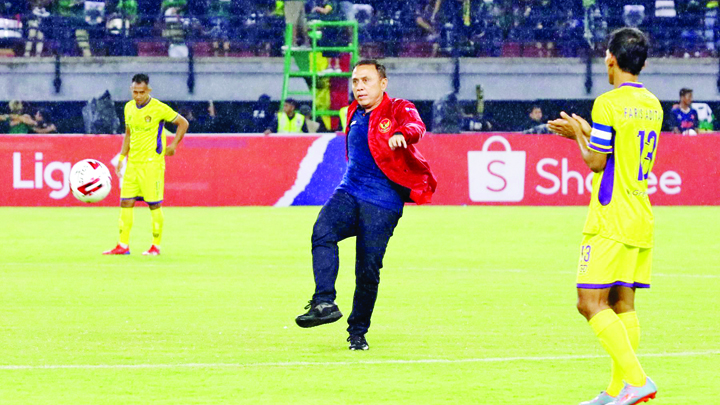 MOCHAMAD Iriawan had been always busy although the large-scale social restrictions were implemented due to the Covid-19 pandemic. His days were filled with virtual meetings with the organizers of Indonesian Soccer Association (PSSI). After the restrictions were eased off in June, Iriawan, chairman of the PSSI, started receiving numerous guests in his office, including some senior players. "Yesterday I had a day-long meeting to discuss the continuance of competitions and the national team's preparation for U-20 World Cup," said Iriawan when Tempo met him in the Senopati area, South Jakarta, Friday, July 10.
He said that leading the PSSI is something new to him. He spent 36 years in the police force until his retirement in March. His last rank was commissioner general. He is determined to improve Indonesia's soccer and its national teams, aiming to qualify for the 2026 World Cup. Being at the helm of the PSSI, according to him, is akin to carrying out state duties. "Also to leave a legacy, one my children and grandchildren would be proud of," said Iriawan, who is also known by his nickname Iwan Bule.
Resuming soccer competitions amid the pandemic is now one of Iriawan's biggest challenges. The PSSI has suspended League 1 and League 2 for three months. Players are no longer used to practice together. In order to somewhat soothe their longing for a soccer match, players of Persib Soccer Club in Bandung, West Java, such as Erwin Ramdani, Dedi Kusnandar, and Abdul Aziz took up other sports, such as cycling and badminton. "Whatever to alleviate our boredom, and also to help stay in shape," said Erwin on Monday, July 13.
The clubs' financial situation is also affected by the suspension of competitions. Without them, the clubs are unable to hold matches and revenue streams from ticket sales and merchandise, as well as sponsors, came to a halt. The PSSI allows clubs to pay players by up to 25 percent of their total salary for the duration of suspension. "Ticket sales from matches contribute around 80 percent to the club's income," said David Hutauruk, manager of a League 2 club, PSIM Yogyakarta, in mid-June.
Iriawan affirms that the competitions will resume in early October. Restarting soccer competitions is part of the new normal campaign in light of the Covid-19 pandemic. Competitions could also help breathe new life to the businesses of clubs, league organizers, and the public in general. However, competitions will be held without spectators, or otherwise with certain restrictions set in place. "Health protocol comes first. We have written down the guidance," said Iriawan.
Other than competitions, Iriawan also has to deal with the under 19-year old (U-19) national team preparation for the junior World Cup, due next year in Indonesia. Although the under 20-year old (U-20) World Cup is a single sport championship residing under the International Federation of Association Football (FIFA), instead of PSSI, it is being handled by the Youth and Sports Minister Zainudin Amali. "So that PSSI may focus on improving the national team," said Zainudin on July 7.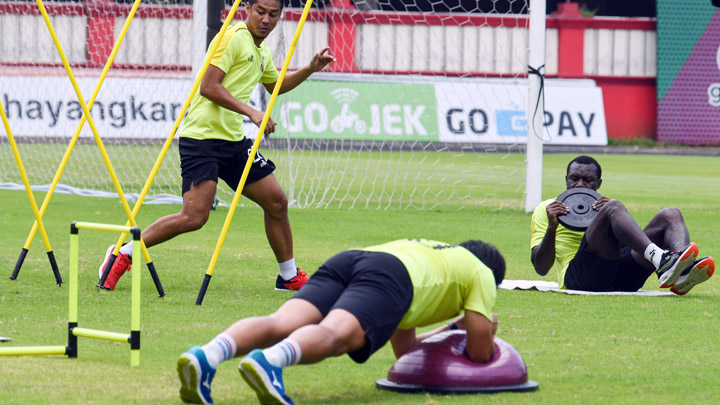 Bhayangkara FC players training in PTIK Stadium, Jakarta, in June./ ANTARA/M Risyal Hidayat,
Efforts by the PSSI to resume competitions and prepare the national team for U-20 World Cup are being shadowed by friction between the organization's leaders. One issue concerns the resignation of Liga Indonesia Baru (LIB) Chief Executive Officer (CEO) Cucu Somantri, who is also Iriawan's deputy in PSSI. "I just monitor from a distance as long as they can handle it on their own, because that is their internal affair," said Minister Zainudin,
Zainudin said, due to the Covid-19 pandemic, it is difficult to measure how much troubles within the PSSI are affecting soccer in Indonesia. Every soccer related activities are practically stopped. Even then, Zainudin maintains his optimism that PSSI organizers are still working well. "They should realize that they have a lot on their shoulders," he said.
National soccer observer Erwinyantoro said PSSI's internal issues point to coordination problems and conflicts of interest between its organizers. He said that Iriawan appears as if he was working alone and not very nimble in managing his subordinates. "He does not understand soccer, so he should approach those who do and seek out solutions together," he said.
Iriawan began his tenure as PSSI chief after winning the general chairman election in the congress last November. He chose Cucu, an Army major general, as his deputy. Iriawan and Cucu are old friends who spent time together working in the National Resilience Institute. There, Iriawan was a main secretary, while Cucu worked as an expert reviewer in geography. "I asked him to come along to PSSI," said Iriawan, who earned 82 out of 85 votes in the election.
News of breakups within the PSSI came to surface following allegation of nepotism involving the organization's elites. This began on January 16, when Iriawan appointed Maaike Ira Puspita as deputy of PSSI Secretary-General Ratu Tisha Destria. Maaike is the wife of Seribu Islands Precinct Police Chief Adj. Sr. Comsr. Mochamad Sandy Hermawan, who is Iriawan's brother.
A PSSI official said that Iriawan was offended by Cucu's remarks that Deputy Secretary-General Maaike may be appointed as PSSI Secretary-General. His statement was widely published by the mass media. The official said that Cucu might have misspoken. Nevertheless, after the incident, Iriawan and Cucu grew distant.
Their relationship further deteriorated after rumors began circulating about Cucu appointing his son, Pradana Aditya Wicaksana, as LIB General Manager in April. Through a written statement published by LIB on April 24, Cucu denied admitting his son into the ranks of the company's leadership. He said that such structure of LIB was only a suggestion from a staff member, and that it was not official because it had not been discussed in a meeting.
In front of journalists on April 27, Iriawan asked LIB to put an end to its infernal feud. He said that LIB should concentrate on preparations to tackle new challenges after the Covid-19 pandemic, instead of meddling in internal disputes which shows that it has absolutely no intention to focus on the development of competition industrialization.
Three weeks later, during LIB extraordinary general shareholders' meeting, Cucu resigned from his post as CEO. Three commissioners of LIB, Sonhaji, Hasani Abdul Gani, and Hakim Putratama, also resigned. "I want to focus on the PSSI. There is plenty of work there," said Hasani, who is also a member of PSSI executive committee, on July 8.
Iriawan did not say much when asked about his relationship with his deputy in the PSSI. He mentioned that they still get along well. "I have no problem with him. The PSSI is running, competitions will resume, and the national team is making progress," he said on July 10.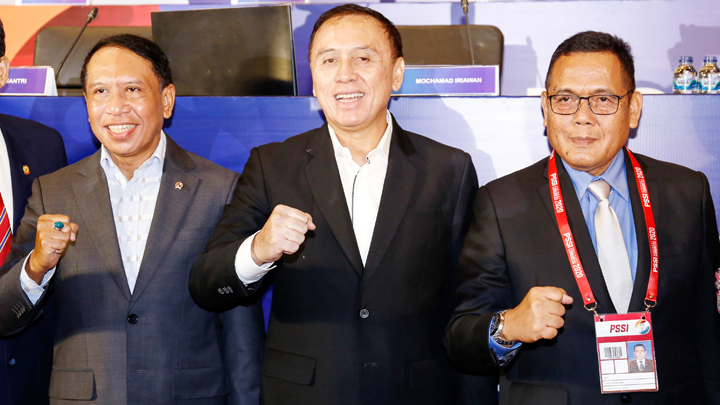 (L-R) Youth and Sports Minister Zainudin Amali, PSSI General Chairman Mochamad Iriawan, and Cucu Somantri at the opening of PSSI Congress in Kuta, Bali, last January./TEMPO/Johannes P. Christo
Iriawan also defended his decision regarding the appointment of PSSI deputy secretary-general as part of his authority as a general chairman. He said that he is always professional. Iriawan said the administration in the PSSI is lacking and Maaike can help organize it. She also speaks several foreign languages, which may be beneficial for the PSSI. "It just so happened that she is my sister in-law," he said.
The position of deputy secretary-general had previously never existed in PSSI's management structure. The PSSI statute of 2019 only mentions the title and responsibilities of the secretary-general. Article 40 in the statute says that PSSI executive committee may appoint or dismiss a secretary-general based on suggestion from the general chairman. Meanwhile, the secretary-general's responsibilities, as stated in Article 61, include handling all administrative affairs of the PSSI, maintaining relationships with PSSI members and FIFA, and appointing and dismissing staff members in the secretariat-general.
Soccer observer and Indonesian Professional Sports Body's Head of Organization and Coaching, Mohamad Kusnaeni, said internal dispute within the PSSI should not have happened if the management practiced good communication. PSSI management, he said, must be more solid than before due to the bigger challenges in preparing the national team for U-20 World Cup next year. "Indonesia's name is at stake, it will be better for the entire management and PSSI executive committee to unite," he said.
Hasani Abdul Gani admitted of knowing the issues in current PSSI management. However, he refused to elaborate. "PSSI management must stay and work together," said Hasani, who also sits in the PSSI referee committee and finance committee.
Misunderstanding, said Hasani, is a common issue in an organization, particularly one where the members and management came from different backgrounds. Even then, the differences may be bridged through good communication. "No organization is without conflict, certainly a leader capable of managing the members is needed," he said. "Why should we dispute if the management is doing right."
GABRIEL WAHYU TITIYOGA, DEVY ERNIS, IRSYAN HASYIM, AMINUDDIN (BANDUNG), PRIBADI WICAKSONO (YOGYAKARTA)
W251bGwsIjIwMjEtMDYtMjIgMTQ6NDY6NTAiXQ