Young Garuda Drama
During the Covid-19 pandemic, coach Shin Tae-yong continues to train and supervise players in their preparation for the U-20 World Cup. Shin is asked to immediately return to fulfill his contract of handling three national teams.
Edition : Monday, July 20, 2020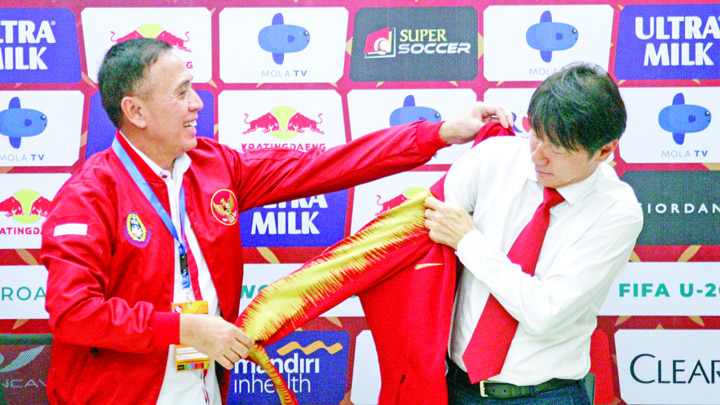 U-19 national team player Beckham Putra Nugraha spent the better part of the last four months training virtually. The Covid-19 pandemic prevents him from practicing with his coach and teammates in the field like they used to do. Beckham, a player of Persib soccer club in Bandung, West Java, does aerobic and exercises his muscles, guided by coaches via Zoom teleconference app. Training takes place every morning, usually at 9am, and lasts for an hour. "It is led directly by coach Shin Tae-yong," said Beckham on Friday, July 17.
Beckham said that Shin's assistant and physical trainer Lee Jae-hong also participates to guide the virtual practice. Schedule for the online training was changed after end of fasting month Idul Fitri. During the Ramadan fasting month, it started at 8pm for an hour. Beckham hopes to be included in Shin's first team for the U-20 World Cup next year. He adds to his practice by playing in the field every week. "I also maintain my condition," he said.
A U-19 player from North Maluku, Serdy Ephyfano Boky, does the virtual training at home as well. Guided by Lee Jeh-hong, Serdy trains for five days in a week, spending between 40 to 60 minutes in each session. There is no ball playing because the program is meant to keep physical fitness. Even so, Serdy still plays soccer with his friends in Jailolo Island, North Maluku. "We play every afternoon in the village," he said on July 16.
This will be the second time for Indonesia to participate in the U-20 World Cup since 1979. The opportunity comes because the country automatically qualifies as host. Back in the 1979 U-20 World Cup, Indonesia only had the chance to play in group elimination without receiving a point. The U-19 team's best achievement was winning the Asian Football Confederation (AFC) Cup in 1961. Since then, Indonesia has not had any other success in the Asia regional level. Another victory only came in 2013 when the U-19 national team, coached by Indra Sjafri, won the ASEAN Football Federation (AFF) tournament.
The team, known by its nickname Garuda Muda (Young Garuda), had its preparation for the U-20 World Cup obstructed by the large-scale social restrictions set in place to curb coronavirus transmission. At the end of January, Shin and the national team spent time in training center in Thailand. Eventually, the Indonesian Soccer Association (PSSI) suspended every activity for the national team due to the worsening outbreak. Shin and his team decided to return to South Korea in early April.
W251bGwsIjIwMjEtMDYtMjIgMTU6NDI6MjYiXQ
PSSI General Chairman Mochamad Iriawan said that Shin had listed 44 players to be considered for the U-19. The list needs to be further narrowed down to between 23 to 30 players for the first team that will compete in the U-20 World Cup. Iriawan ensures that Shin has control of every related matter and decision as to which players will be included in the national team. "No one may intervene. This is true for everyone in the PSSI, whomever they are, myself included," he said on July 10.
The still-growing cases of Covid-19 in Indonesia prevents Shin from returning and continuing his training program. Considering that the country sees more than 1,000 new cases every day, Shin offered the PSSI to relocate the national team training to South Korea. However, his offer was rejected. "The PSSI asked me to return to Indonesia and resume training there," said Shin in an interview with the JoongAng Daily on June 18.
Unable to return to Indonesia, Shin adopted an alternative training method via video conference for every member of the national team. As long as the Covid-19 pandemic in Indonesia is not showing signs of subsiding, according to him, it will be hard to hold trainings and form a formidable team.
Iriawan said that Shin's offer was rejected due to the difficulties in sending 44 young players to South Korea amid the Covid-19 pandemic. South Korea is also affected by the disease and that may pose a risk to players. Should they be sent over, players will also be subjected to a 14 days quarantine. "It will be easier to bring Shin's five-persons team to Indonesia, and we better understand the situation here," he said.
Another consideration, Iriawan continued, was that Shin is still under contract to handle the senior national team, U-23, and U-19 teams until 2023. Shin could better organize training programs for the three teams if they are held simultaneously in Indonesia. If Shin insists on bringing the U-19 team to South Korea, preparation for the senior team, which still has to play in three matches in the 2022 World Cup pre-qualifiers despite already failing to qualify, could end up being abandoned. "Hard as it sounds, I want to win every match to improve our FIFA ranking," said Iriawan. "That was why I asked Shin to return."
Preparations for the U-19 national team are also being affected by friction between coach Shin Tae-yong and PSSI Technical Director Indra Sjafri. Shin is disappointed by PSSI's decision of appointing Indra to his current post. Shin said that Indra made the mistake of leaving without his permission upon returning to Indonesia after training in Thailand on February 1. Indra was Shin's assistant at the time.
Indonesian National Team Task Force Chief Syarif Bastaman took a hard stance on Shin's polemic. He said Shin will be fired by the National Team Task Force if he fails to fulfill PSSI's request of returning to Indonesia. Syarif's statement was criticized by the public, forcing Iriawan to intervene to reconcile the two. Iriawan also reprimanded Syarif of his statement. "He said it was a spontaneous act and (he has) apologized. He is no longer talking now is he?" Iriawan said.
In a written statement published on June 20, Indra Sjafri said that his uninformed departure was due to having to attend the wedding of the eldest daughter of Rahmad Darmawan, a fellow national team coach. Indra said he told two national team staff members that he was about to leave, but failed to inform Shin who, according to him, was still going through immigration process. The situation escalated when Shin barred him from the team's evaluation meeting two days later. Indra said that he has apologized to Shin.
Youth and Sports Minister Zainuddin Amali said the conflict between Shin and Indra is a common occurrence due to differences in work culture and miscommunication. He said that Shin holds duty above personal concerns. However, he also considers Indra as a professional coach. Zainuddin said that this friction between coaches would not have happened if PSSI had moved in earlier to resolve the issue. "It is not necessary to make so much noise outside," he said.
Former national team captain Ferril Raymond Hattu said the arguments between PSSI organizers show their lack of good communication with Shin, the coach who once trained South Korea's team in the 2018 World Cup. Ferril said that there is always conflict in soccer federations. However, the PSSI should have kept its internal affairs to itself. "It is fine to have fights, but only inside. When talking to the outside, there should be one voice," said Ferril, who led the Indonesian national team to winning the gold medal in the 1991 SEA Games.
Ferril said that the conflict between PSSI management and Shin is seriously affecting the national teams' preparation and morale. Moreover, Indonesia's soccer is currently not at its brightest. The country's senior national team has been ranked 173rd in the International Federation of Association Football (FIFA)'s list since June. This is the second worst rank after FIFA suspended PSSI in 2015, following which the team slid to 191st place.
The PSSI is planning to resume competitions. This could serve as a warm up for the national team players. Ferril said that long term and centralized training program would instead be more effective in building the team's strength. This is because competitions take place over short periods, which could exhaust the players. "It is just fine to temporarily suspend competitions because this pandemic has no clear end in sight," he said. "But the focus must be on the national team because the results are more measurable," he said.
GABRIEL WAHYU TITIYOGA, IRSYAN HASYIM, DEVY ERNIS