The National Team's Win is My Responsibility
General Chairman the Indonesian Soccer Association Mochamad Iriawan
Edition : Monday, July 20, 2020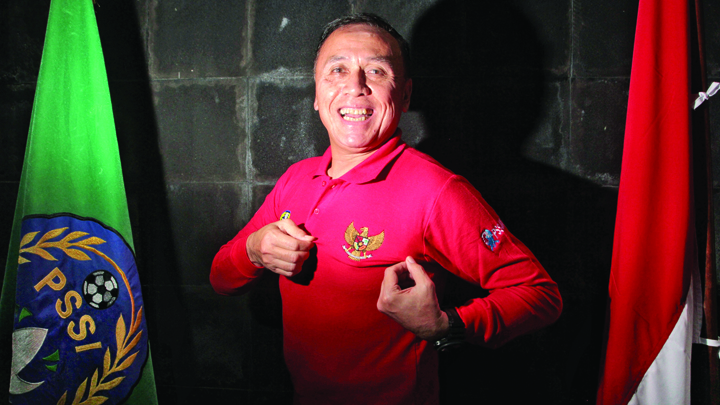 THE Covid-19 pandemic, first detected in Indonesia in early March, forced the 2020 League I and League II soccer matches to a halt. The League I competitions, begun on February 29, had only commenced for three weeks when the Indonesian Soccer Association (PSSI) decided to shutter it down.
The PSSI has prepared professional matches to resume in October. This agenda has triggered arguments among competition participants which cited various reasons, among them the issue of athlete safety and the dwindling financial condition of the clubs. PSSI General Chairman Mochamad Iriawan declared it imperative the matches to go ahead. "We cannot wait for the Covid-19 to first die down," said Iriawan, who is better known as Iwan Bule, on Friday, July 10.
In a meeting in Jalan Senopati, South Jakarta, Iwan talked with Tempo reporters, Gabriel Wahyu Titiyoga, Mahardika Satria Hadi, and Irsyan Hasyim, regarding how the competitions will continue, the preparations for the national team approaching the U-20 World Cup next year, to internal dynamics of the PSSI. The police pensioner whose last rank was commisioner general also explained about the appointment of his sister-in-law, Maaike Ira Puspita, as PSSI deputy secretary-general. "I only look at things professionally," he said.
Soccer competitions will resume in October and will be centered in Yogyakarta, yet there is no certainty regarding the status of the Covid-19 pandemic.
Why do you think the government has eased up on the large-scale social restrictions while the pandemic has not died down? It means life has to go on. The same goes for me. Our league matches must go on. Of course we had to make communications with the League I and League II club owners and the PSSI provincial associations.
We need to tell the world that Indonesia has embraced the new normal and we are adjusting our lives to it. We have to live with this Covid-19 because so far we cannot yet see its end.
W251bGwsIjIwMjEtMDYtMjIgMTU6MjE6MjAiXQ
Selecting Yogyakarta was also based on careful calculation. The five clubs from outside Java can stay there. The hotels have been contacted and are willingly providing assistance. Some are even only asking for 25 percent their normal rates. We made simulations and then determined October as our date.
Are there other considerations for conducting the competitions in the middle of a pandemic?
The national team needs warming up, and that can only be done through competitions. The economy is also related to revival of these matches. We had a discussion with University of Indonesia's Institute for Economic Studies, that showed when the league matches disappeared, a total of some Rp3 trillion became stalled. That was based on their study. So, with the reopening of the competitions, hotels, food and beverage, micro, small and medium-sized enterprises, and transportation services can resume. Obviously the health protocol will be top priority, so, for the time being (the competitions will be with) no audience.
Competitions in other countries, such as Vietnam, Thailand, and Malaysia, have resumed. Why should we be behind them? It will not look good in the eyes of the world if other countries are going ahead and Indonesia isn't.
But, to reiterate, the health protocols are number one. There are guidelines. There's still time to align everybody's perceptions. We will do the rapid tests and the rest of it, based on calculations as to which costs will be shouldered by the Liga Indonesia Baru enterprise and which by the provincial government.
Will the competition calendar be aligned to the European competition agenda?
Yes, it will end on February 28. We will still be holding some deliberations, including with the Covid-19 task force and the health ministry. The health ministry has conveyed that 30 percent of stadium capacity may be opened up for supporters.
How are the clubs reacting regarding the resumption of competitions?
In general, they all want to restart the competitions.
The national team have their own agenda. One of them is the AFF Cup at the end of this year. Will competitions continue then?
We will readjust the competition schedule to the needs of the national team. The national interest is the first priority. This will be communicated with the clubs. If players from the clubs are in competition and the national team is summoned, they will have to submit with good grace, because it is for the larger national interest.
But of course there will be recesses during the games, and also, we have not as yet drawn up the scheduling. I have conveyed this to the clubs, and that's why there is an option to not be downgraded. If for instance, God forbid, a club gets hit by the coronavirus and has to stop, we will show empathy. Their scores will fall. But these are what is being debated. Japan has already been doing this.
Indonesia will also be host to the U-20 World Cup next year. What are PSSI's preparations?
This World Cup is our golden moment. For as long as the PSSI has been in existence, this is the very first a World Cup is being held in Indonesia. Obviously this is huge work, but we have to do it, and do it well. Of course it's a burden. The work has to be done because we want it to be successful on all counts, in the execution, in our prowess, and in our venues. And so we're doling out the work. Event execution is in the hands of the youth and sports ministry. The prowess of our national team is my responsibility. The venues will be constructed by the public works and housing Ministry, so none of that will be our headache.
What's the progress on the team being prepared for the U-20 World Cup?
The names of the U-19 national team being prepped for the U-20 World Cup have already been put on a list by the coach. All things related to the national team are in the hands of the coach. No one may intervene. This is true for everyone in the PSSI, whomever they are, myself included.
We are waiting for coach Shin Tae-yong to return to Indonesia. I have corresponded with him a few times, also through virtual communication. In our virtual meetings and his last email, he said he would return. I want him to return and take a look at the 44 players on his list. Of course, not all the names will be in our national team, only 23 to 30 players maximum.
You have been PSSI general chairman for less than a year, yet you are already mired in several issues, including the matter of disharmony between members of the PSSI board, leaving you stuck in the middle.
Soccer is sexy, and so many parties have their vested interests in it. Yet to this day I do not feel as if I am stuck in the middle. I let myself simply enjoy the situation. My meetings with the President and with FIFA (the world soccer organization) go on as usual. Many sidekicks and old soccer mafiosi want to get back into the PSSI. Parties like these have no need to be accomodated. They are the ones that like to bash on me. To me, that's no big deal. If it's only things like this, then they're only small potatoes. In my former life as a policeman, I was always in situations of great pressure. So, if it's only pressure from rumor-mongering, I don't take any heed.
You don't feel you have to respond to people's bad-mouthing of the PSSI?
What on earth for? There are bigger things to do. If I cater to them, things will never let up. I was in the police's criminal investigation unit for 38 years, so I understand these things. They are waiting for me to respond.
For sure there are those who don't like it if our soccer makes progress, because so much vested interests are related to it. Those who were in the matter of score fixing, competition rigging, meddling with the umpires, they are now in a tizzy. I cannot name them one by one.
Being PSSI general chairman is new for me. After I entered pension age, I received many offers to act as commissioner by several corporations. If I had accepted, maybe today I would be in a certain corporation. It would have been good, I get a salary and need only go to the office once a month.
But I chose the PSSI so I could also leave a legacy for my country, something for my offspring and grandchildren to be proud of. They can later relate how, when Grandpa Iwan Bule led the organization, Indonesian soccer was such and such. Something like that can never be purchased, and will be remembered for all time. My life is enough, and I still have some energy, so let it be for soccer.
Since Ratu Tisha resigned as PSSI secretary-general, the position has been temporariy filled by Yunus Nusi, who is also member of PSSI's executive committee. Why haven't you appointed a new secretary-general?
I'll just let it flow for now. Appointing the secretary-general is the right of the general chairman. I can search for the right secretary-general. But if the general chairman already feels comfy with the current person, why should I replace him? There is no problem, and we have relayed this to the FIFA.
Now that I have an (acting) secretary-general, communciations-wise, things are fine. We have no problem with the AFC (Asia Football Confederation). Let things continue to work. Now our administrative matters are better organized, and our communications with FIFA regarding the World Cup has turned intensive. If there were no Covid-19, they would probably have already been coming over.
How do you explain the fact you appointed your sister-in-law, Maaike Ira Puspita, as PSSI deputy secretary-general?
The ones most affected by this would be the secretariate-general. I guessed people would act a priori towards myself. People call it nepotism, and all the other things. If I reply that the appointment was carried out objectively, people will still say it was subjective because she is my sister-in-law. In fact, in my capacity as general chairman, I have the right to appoint anyone for this position.
But I only look at things professionally. I think you should ask the people in the secretariate-general how Ira works. I never in contact with her. She is only in constant contact with the secretary-general.
The appointment of a deputy secretary-general should be no big deal. If there's anyone who is most disadvantaged, well it is Ira herself. She is, after all, the wife of a district police chief. I had to safeguard an administrative matter. Ira studied abroad. She speaks English, German, Dutch, and French. So in fact, she is a great asset. It's simply unfortunate that she happens to be my sister-in-law.
Is it true your relations with PSSI Deputy Chairman Cucu Somantri became lax after he resigned as CEO of the Liga Indonesia Baru enterprise?
Things are going ahead as usual. The President called us for meeetings, and there were no problems. This is a non-significant matter. We do not need to make a fuss of things that are of no consequence.