Crunch Time for District 28
There is suspicion that residential apartment towers in Meikarta were built before building permits were issued. Meikarta's marketing may have been in violation of the law.
Edition : 23 October 2018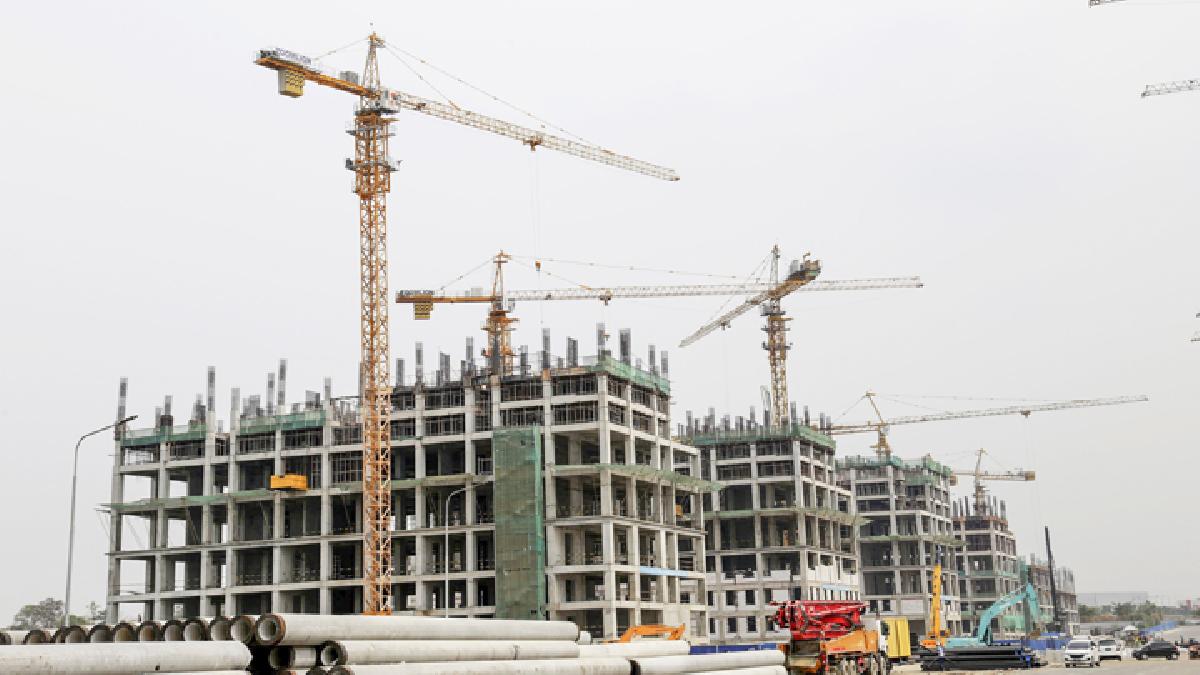 Last Thursday, dozens of workers in yellow helmets seemed busy at work at the Meikarta project site in Cikarang, Bekasi Regency, West Java. That day, some of the workers performed drilling and installed walls, while others walked back and forth, carrying building materials. There are 14 blocks in progress at the site, made up of 28 apartment towers. "This is District 28. The completion target is 2018," said one of the workers.
All of the towers are still made up of columns and floors, with an average height of seven to nine floors. Based on a video played on a digital board at the Meikarta Marketing Gallery, Maxxbox Lippo Mall, supertowers with 32 and 42 floors will be built in District 28. The plan is to have a handover of apartment keys to buyers in February 2019.
District 28 is part of Meikarta project's stage one on a 84.6-hectare land. Through its subsidiary Mahkota Sentosa Utama, Lippo Group plans to build the ambitious 774-hectare residential project—at first planned to be 500 hectares—at the site in Cikarang. Apartment bulidings, shopping centers, hospitals, schools, hotels, residences and offices will be built there, with a total of 200 towers with 225,000 residential units. The investment value is at an astounding Rp278 trillion.
The project was at first not included in the Bekasi Region Spatial Plan, as outlined in the Bekasi Regency Regional Regulation No. 12/2011. In April 2017, Bekasi Regency government proposed a detailed spatial plan to the Bekasi Legislative Council (DPRD). In only one month, the Bekasi DPRD special commission completed the detailed spatial plan, with the Lippo Cikarang ambitious residential project included. "Bekasi Regency Capital Investment and One-Stop Integrated Services submitted the early stage permit for the 86.6-hectare Meikarta (project)," said Muhtadi, member of Bekasi DPRD.
The West Java provincial government opposed the project because it was not in line with West Java's plan for development management as well as development of metropolitan cities and growth centers. Because of this, the provincial government made a recommendation of only 84.6 hectares of land that can be used to build the Meikarta residences. The rest is designated an industrial zone. "Among others, the rejection was because there's converted land use [but] it's unclear where it would be compensated," said Deddy Mizwar, then-West Java deputy governor.
On the 84.6-hectare area that has already received a green light from the provincial government, the Lippo Group plans to build 53 apartment towers. In September, chief of the Bekasi Regency Capital Investment and One-Stop Integrated Services, Dewi Tisnawati, signed a building permit for 24 towers on the site. The remaining 29 are still processed. "Some only need signatures, but [the people were] already arrested," said the Muhammad Said, Investment and Investment Permit division head at the Services.
Said explained that issuing the permits has been a long and time consuming process. One of the challenges was the change in the number of units in the process of requesting permits, which impacted other requirements, such as the environmental impact analysis (Amdal) document. An Amdal is one among many complications in granting permits for property or residential areas.
Last Sunday, KPK investigators apprehended Dewi Tisnawati, several Bekasi Regency officials, Lippo Group executive Billy Sindoro and two of his subordinates. Later, Bekasi Regent Neneng Hasanah Yasin was also dragged in. The government officials are suspected of having received Rp7 billion in bribes from a Rp13-billion commitment fee to facilitate and speed up permits for the Meikarta project, among others the building permit (IMB) for District 28, scheduled for a handover to buyers in February 2019.
A number of workers in District 28 told us that construction work for the 28 towers on the site had already begun in May. Meanwhile, permits for 24 towers on the site were only issued in September. Four permits have not been issued because chief of the Bekasi Regency Capital Investment and One-Stop Integrated Services was apprehended by the KPK. Although the permits have not been issued, marketing for the apartments had already began mid-last year.
In September 2017, the Indonesian Ombudsman scrutinized the Meikarta project because, despite not yet having permits, developers were already performing all-out promotions. According to Ombudsman commissioner Alamsyah Siregar, Meikarta's marketing violates Law No. 20/2011 on Vertical Housing. "Can marketing be performed before permits are issued? The law says no," said Alamsyah.
Intensive marketing efforts began one day after Bekasi Regent Neneng Hasanah Yasin issued a land use permit for the 84.6-hectare Lippo Group commercial residences. At the time, the name of the project was not included. Lippo Group then held a grand launching for the new city, Meikarta, at the Maxxbox in Cikarang. Since then, Lippo has mobilized tens of thousands marketing agents. Agrarian and spatial planning ministry as well as the West Java Capital Investment and One-Stop Integrated Services took issue with the grand launching because the project did not yet have a building permit, an Amdal, and a detailed spatial plan approved by the provincial government. But Lippo went ahead.
In late October 2017, Lippo invited Coordinating Minister for Maritime Affairs Luhut Binsar Pandjaitan to the topping-off ceremony for two Meikarta towers. According to Luhut, there were no issues with Meikarta's permits. They claimed the Meikarta project was already in the development stage. The site is, in fact, an early residential site planned for development long before Meikarta: Orange County with six towers. Later, Lippo marketed the area as a Meikarta premium site. The handover of apartment keys already began in September.
Orange County area is around 19.5 hectares. The permit to build six towers on four blocks was issued in 2014. Apartments in Orange County are the Irvine Suites, Burbank Suites, Westwood Suites, Glendale Park, Newport Park, and Pasadena Suites. Meikarta's marketing gallery at the Maxxbox Lippo Mall is also located in Orange County.
When asked to confirm the permit problems, Denny Indrayana, the legal representative of Mahkota Sentosa Utama—a Lippo Group subsidiary and Meikarta's developer—did not give a specific answer. He wrote a one-page letter to Tempo explaining that the company had acquired all necessary permits for the sold units. "Meanwhile, for other requirements, we will help the corporation resolve them according to prevailing laws," he said.
LINDA TRIANITA, RUSMAN PARAQBUEQ, ADI WARSONO (BEKASI), AHMAD FIKRI (BANDUNG)