Clay Batik and Ancient Script
Batik textile does not only come from Java, but also from other regions, such as West Sumatra and Jambi.
Edition : 6 November 2018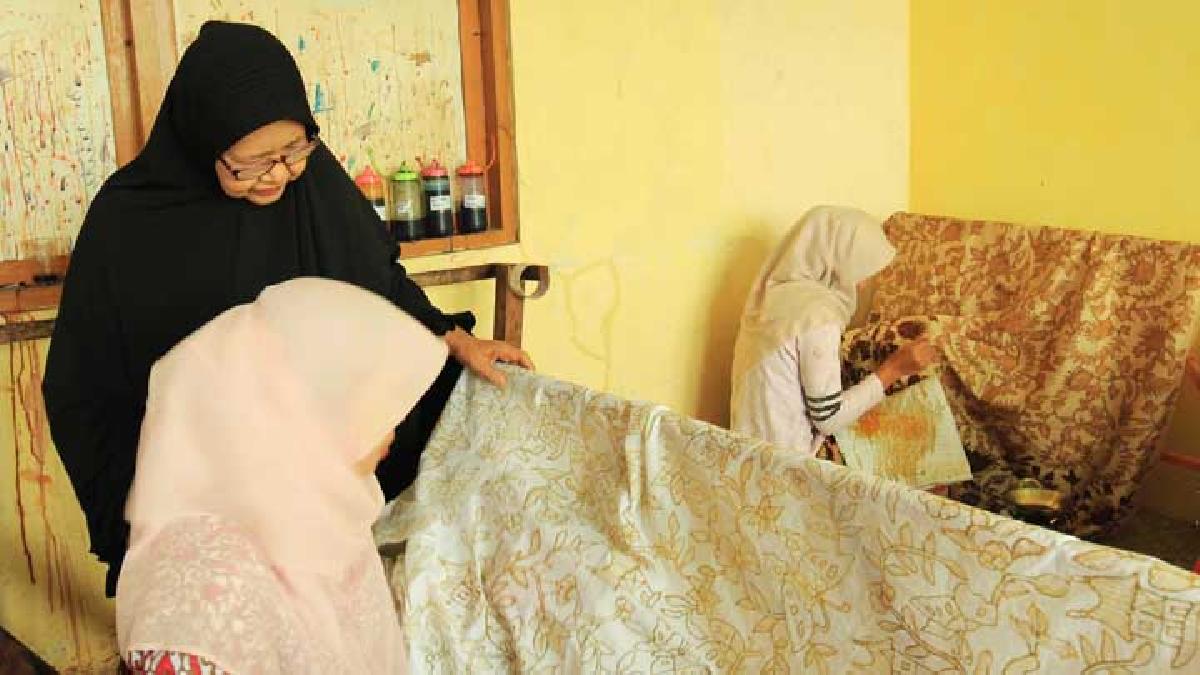 At a glance, the textile—dyed dark brown, coal black, cream, and maroon—seemed soothing. Upon closer look, the colors shaped a beautiful phoenix, fans, broken twigs, leaves, and flying horses. The fabric was no ordinary, machine-printed textile: it was dyed using clay, combined with natural ingredients from plants that grow in North Sulawesi.
The batik belongs to Wirda Hanim, 65, owner of Batik Tanah Liek. When we paid her a visit in mid-September, Wirda was monitoring the work of 10 young batik artisans in her residence in Jalan Sawahan Dalam, Padang, West Sumatra. "They're not my workers, but vocational high school students doing an internship here," said Wirda.
Although they are 'only' students at a vocational school, Wirda does not seem to let them off easy. She often corrects them, particularly when it comes to batik that is hand drawn using malam (wax) and canting (hot wax applicator). To her, the canting is an artisan's 'ammunition' when drawing on a sheet of brown fabric—brown because it has been boiled in clay. She believes that drawing batik requires more than mere talent. "But also diligence and attention to detail," said Wirda.
Wirda herself relies on both diligence and attention when exploring batik, both for her business and for cultural preservation. She has revived old batik motifs one finds on stoles worn by people in the old days as well as customary leaders in her hometown, Tanah Datar Regency.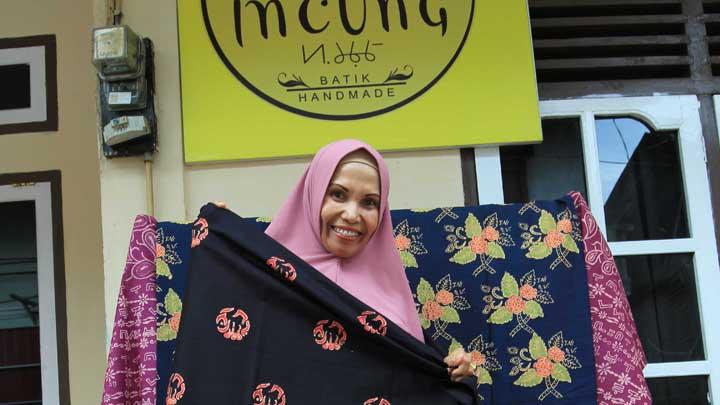 W251bGwsIjIwMjEtMDMtMDUgMDg6MDM6MzIiXQ
The batik entrepreneur became interested in Minang (from Minangkabau, West Sumatran traditional community and culture) batik in 1993, when she fell in love with patterns found on the textile worn by customary leaders at a traditional celebration in her village. The women wore the fabric on their shoulders and over their chests, while the men wore it around their heads. "The elders said they got the heirloom fabric from China," Wirda explained.
After some research, Wirda, who was already running an embroidery business, found that the fabric was batik textile. But batik had grown scarce in Minang because artisans were no longer making it. She then went to Nagari Pariangan, the oldest community in Tanah Datar. There she found several sheets of batik that were regarded as heirlooms meant for the elders. Upon her return, she made up her mind to revitalize her region's batik.
Wirda then learned batik drawing with a teacher at a visual arts school in Padang. But she was still hungry for more. Finally, she flew to Yogyakarta, a city known as a batik center, to follow up on her research. Because of her enthusiasm for batik, Wirda refused to return home empty-handed, bringing a batik artisan from Yogyakarta with her to Padang. But this effort did not go well. "The batik that [the artisan] created was not yet to my liking."
Next, she learned to produce clay pigments using chemical ingredients and managed to have fair results. She was confident enough to sell her synthetic-dyed batik. But in 2000, her curiosity led her back to Yogyakarta as a representative from the North Sumatra government. In Yogyakarta, Wirda studied natural coloring for one month.
This time, her effort proved fruitful. After her return from Yogyakarta, she found a new formula. She mixed clay with chemical compound alum to produce a beautiful base color for her textile. For her dyes, she made use of rambutan, phithecolobium, and onion peels. Because of the natural process, Wirda is able to sell Tanah Liek batik at high prices, though she refused to give us numbers. "Most buyers are collectors," she said.
Seeing Tanah Liek batik's market potential, Wirda decided to target low-middle income buyers by producing affordable batik stoles. "We produce them using the print technique," said the woman who was given the Upakarti award by the government for her role in reviving Tanah Liek batik.
According to Puti Reno Rauda Thaib, heir to the Pagaruyung Kingdom in North Sumatra, Tanah Liek batik would only appear at customary events in the past, and only customary elders would wear it. The textile is known as lacan, which she suspects came from China. "The silk is smooth. What I have was left to me by my grandmother," said the 71-year-old.
But she acknowledges the possibility that the batik came from Java. The Pagaruyung Kingdom once had close ties with the Majapahit Kingdom, whose heart was in Trowulan, East Java. Puti admits that the history of Tanah Liek batik is not yet clear, because woven textile still dominates Minang land, both for everyday use and in ceremonies.
William Kwan, a batik scholar, explained that the colors and motifs of the textile worn by elders in Minang are similar to the lokcan textile, which was once made by batik artisans in Pati, Central Java, and is thought to have spread to Bali. "In the past, the Minang people would buy it from Juwana (in Pati) artisans," said William. "Unfortunately, the textile has disappeared in Pati."
Batik is also experiencing a revival in the Sungai Penuh City, Jambi, where artisans are producing batik using motifs that reflect the region's nature and culture. Erni Yusnita is among the city's batik artisans. At her home, she produces batik with various motifs, such as the betel leaf motif. In Kerinci, betel leaf is often served to guests, used in pucuk rebung (a type of textile), woven baskets, as well as the larik (traditional house).
But what stands out is the motif containing the ancient script of Kerinci, known as Incung. The script is found in ancient Kerinci manuscripts etched on ox horns, bamboo, tree bark, and palmyra leaves. "These items became heirlooms for the Kerinci people, safeguarded for generations," said Erni.
The batik artisan explained that she studied the Incung script from history books, but she has also created 50 batik motifs. "With Incung script [batik], I make it as close to the original as possible, so that no meaning is changed."
Erni was introduced to Incung batik in a training course held by the Sungai Kota Penuh Office of Trade and Industry in 2012. In the course, she and 49 other participants studied natural dyeing techniques under Yogyakarta artisans, for example, by using mangosteen peel and mahogany bark. In the 15-day course, Erni also learned to produce hand-drawn batik using the canting.
But Kerinci's hand-drawn batik industry was suffering, so Erni took part in another regional government's training course, this time on synthetic dyeing techniques to produce bright colors as well as stamping techniques. After that she was bold enough to create a range of motifs. "I had to be diligent in creating new motifs because buyers here want to be exclusive," she said.
Every month, Erni's batik house produces 100-200 sheets of Incung script batik. One set of batik fabric with a wide stole for the tengkuluk (traditional Kerinci headdress) is sold at prices between Rp300,000 and Rp1 million. A 2-x-1.15-meter sheet of synthetic-colored fabric is sold for between Rp150,000-300,000, while batik colored using natural dyes can go for up to Rp700,000. "Batik with natural dyes is usually bought by foreign tourists," said Erni.
FEBRIANTI | PHESI ESTER JULIKAWATI | ISMA SAVITRI