Restoring the Forest
Local residents are lending a hand in the restoration of their forest.
AS he savored the pouring rain, Marwi, 56, told us how he and the people of Aik Berik at the foot of Mount Rinjani have managed to survive. Apparently, living so close to such a great wealth of natural resources has not always guaranteed well-being.
"It's different now. When you want to eat durian, you just have to pick it off the ground. Before, it was difficult to find food," said Marwi as he split open a newly fallen durian. Not long after, there was the thump of another fallen durian amidst the downpour.
We came to the Aik Berik village in Central Lombok, West Nusa Tenggara, at the end of November 2018, right when Aik Berik's growers were enjoying durian, mangosteen, and banana harvests. On his orchard, Marwi spends more time cultivating plots of land planted with various types of trees.
Marwi was born and raised in Aik Berik, and is familiar with the forest at the foot of Mount Rinjani. There was a time when the forest was slowly transformed by encroachment and poaching. Meanwhile, the government's reforestation efforts showed no results.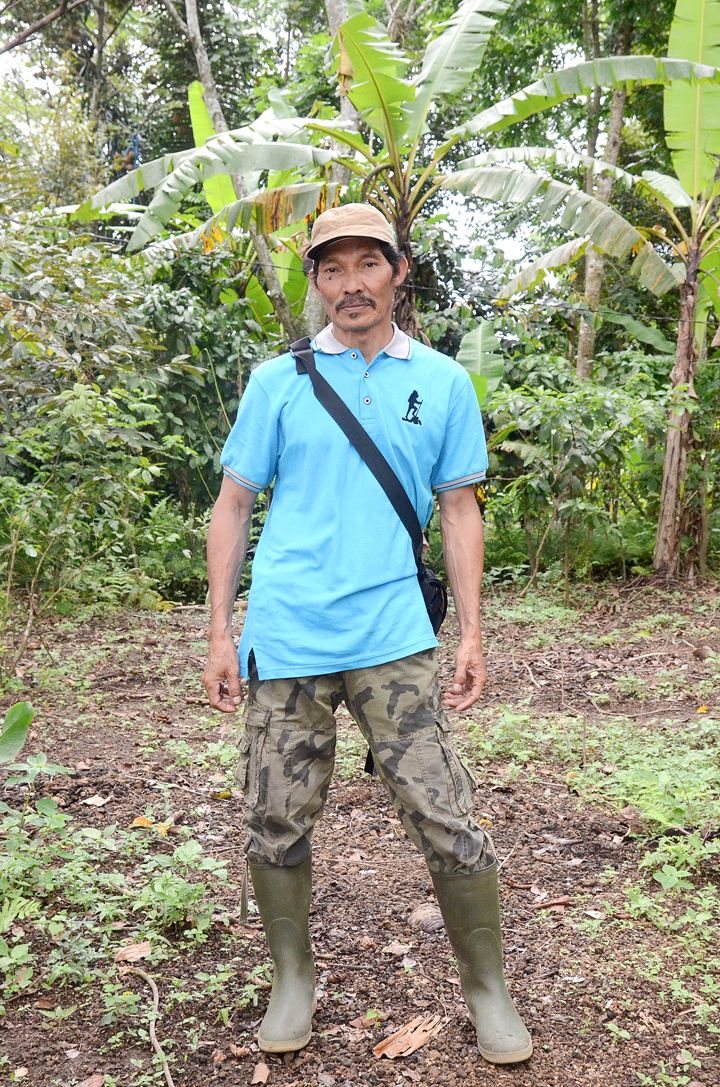 Marwi. TEMPO/Nurdiansah
Before they were granted management rights to the forest, the prohibition against entering the forest impoverished villagers. Conflict ensued. Because of economic demands and scarcity of land, villagers still saw the forest as a source of livelihood, therefore theirs for the taking.
As a result, as soon as they were given permit, Aik Berik residents planted whatever they could in the forest, including fruit trees that are beneficial, including to conservation, such as teak, kalanggo (Duabangga moluccana), mahogany, beans, mangosteen, nutmeg, durian, and banana trees. "They planted whatever they wanted carelessly, as long as the forest was covered first," said Marwi, head of the Rinjani Community Form (FMKR).
North Batukliang's community forest has had a somewhat long history, at least since 1975, when reforestation efforts were made to alleviate forest destruction. At the time, locals were still involved in reforestation efforts. But seven years later, the forest utilization agreement policy (TGHK) transformed the forest's status from production to protected, followed by a decree naming the northern forest area Mount Rinjani National Park Conservation Forest (TNGR).
The change of status did not immediately prevent locals from accessing the forest's natural resources and forest land. In the end, however, it was made illegal for the community to access and make use of the forest. In 2000, a group of North Batukliang residents, through the Darus Shidiqien Islamic Boarding School Cooperative, were granted 1,042 hectares of community forest area to be managed for a period of five years. Dwi Sudarsono, director of the Samantan organization, said the school's management of the community forest was seen as lacking. Conflict over management rights also arose among the people because they felt that they, too, had the right to manage the community forest.
Later on, several non-profit organizations, such as YKSSI NTB, Konsepsi, Samanta, Transform, and Koslata, faciliated community groups in advocating for their right to manage the forest, aiming to have a permit from the regent of Central Lombok by 2010. The permit was issued to four farmers' groups in four villages in the North Batukliang subdistrict, namely the villages of Lantan, Aik Berik, Setiling, and Sidemen.
The location of the community forest in the four villages—1,809.5 hectares in size—falls under the Technical Implementation Unit of the Batukliang Forest. Aik Berik received the right to manage around 840 hectares.
Chief of West Nusa Tenggara Environmental and Forestry Office, Madami Mukarom, said the people can now reap great benefits from the community forest. "There are potential non-timber forest products, such as fruits; the Benang Kelambu and Benang Stokel waterfalls for tourism, which have continued to be developed; as well as a trekking route to Mount Rinjani, which was opened not long ago," he said. Madami hopes that the welfare of the local people can continue to improve as the forest is restored.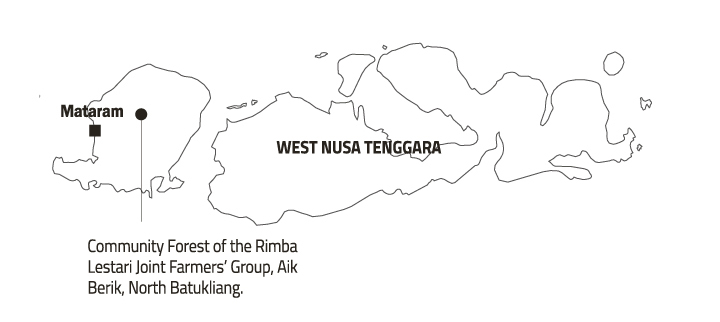 Name of Forest: Community Forest of the Rimba Lestari Joint Farmers' Group, Aik Berik, North Batukliang.
Regency: Central Lombok
Province: West Nusa Tenggara
Category: Community Forest
Forest area: 840 hectares
Forest group: Mount Rinjani (RTK 1)
Work area: BKPH. Pelangan Tastura West Rinjani
Forest status
Forest status: Protected
Potentials: Non-timber forest products, such as:
• Coffee
• Durian
• Avocado
• Mangosteen
• Candlenut
• Lovi-lovi
• Spices
Forest Management
Motor: Rimba Lestari Joint Farmers' Group
Regent's Decree No. 155/2010
Membership: 1,261 households
Assisting organization: (None this year)
Source: West Nusa Tenggara Environmental and Forestry Office
---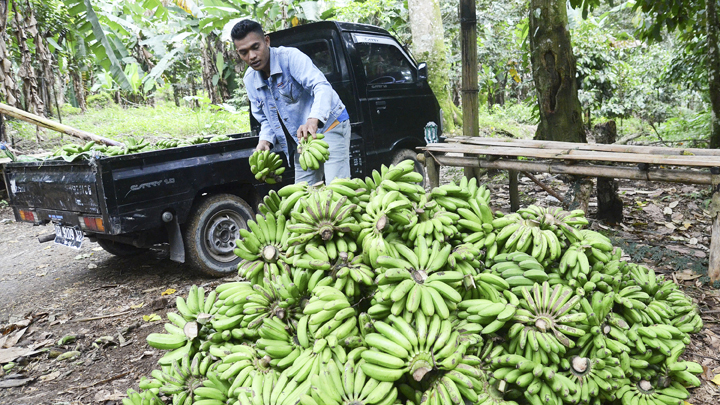 TEMPO/Nurdiansah
No More Theft in Aik Berik
YANI'S face seemed to sparkle as he told us how easily he and other Aik Berik residents have been able to enjoy all kinds of fruits grown in the community forest area. According to the 40-year-old man, now the farmers—who make up most of Aik Berik's population—can give more to charity.
Currently, each household has some farmland area to manage. When it is time to harvest, each family collects tens and even hundreds of kilograms of various fruits, from bananas, jackfruits, mangosteens, to durian—unlike 20 years ago, when the villagers were forced to steal due to financial pressures. "Teachers and ustads (Islamic preacher) also nearly became thieves because it was so difficult to survive," said Yani.
Then-chief of Aik Berik, Marwi, could not do much. "They stole because they were hungry and there were no jobs," he explained. There was no work available for local residents. This difficult situation encouraged Marwi to ask the regional government to allocate land to be managed by locals who needed a livelihood.
Little by little, after the right to manage the forest was granted, the people began working to safeguard and manage the forest area. Now they can enjoy the benefits offered to them by the forest. "Here the people take care of the forest, and in return the forest also takes care of the people," said Marwi, smiling.
There are no more thieves in Aik Berik village. "Before the community forest was opened [to the people], there were plenty of thieves. Now even if they are told to steal, they may not want to. In the past, coffee was harvested before it was time, now they don't want to," said Samiyah, 68, an Aik Berik resident.
Life is indeed prosperous in the village. More than several villagers own cars, not to mention motorcycles, purchased thanks to the fruits of the forest. Furthermore, the community forest status has made it possible for some villagers to perform their pilgrimage to Mecca. Education levels have also greatly improved. "There are many people with a bachelor degree in HKM (community forestry) because everything can be paid for once they were able to manage some areas of the forest," said Yani, beaming with pride. ν