Drug Running from Behind Bars
Cristian Jaya Kusuma is suspected of operating a drug trade ring in Central Java and surrounding areas from behind bars. He often involved law enforcement officers.
Edition : Monday, February 1, 2021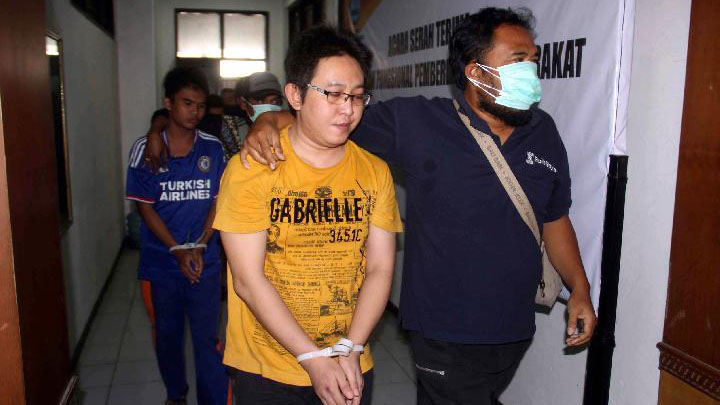 THE last time Mursito met with his client, Cristian Jaya Kusuma alias Sancai, in March of last year, he noticed a change in Cristian's weight. Cristian, who used to be chubby, was looking trim. Speaking to Mursito, Cristian said that he did not have freedoms like at other prisons. "It is very strict at the Batu Prison. He cannot use a cellular phone to control his network," said Mursito, Cristian's lawyer, describing about that meeting, on Friday, January 29.
Cristian, 36, has been an inmate at the Batu Correctional Facility in Nusakambangan, Central Java, since 2018. He was put in this prison for high-risk narcotics cases after being found guilty of being the mastermind behind the distribution and sale of sabu or methamphetamine in Central Java. This man from Banjarmasin, South Kalimantan, has been repeatedly discovered controlling drug trade from behind bars. Since his first arrest in 2014 he has been held in six different prisons.
Most recently he has been accused of controlling the methamphetamine network of Frans Wijaya in South Kalimantan. This case connected Cristian with Handayani, owner of a money changer business in Surabaya, East Java. Cristian and Frans are suspected of laundering drug money at Handayani's business. "The plan is next month I will return to meet him to discuss that matter," said Mursito when asked about the new charge against his client. Frans is currently on the run.
A joint team of officers from the National Narcotics Agency (BNN) headquarters and the Central Java BNN office arrested Handayani in Surabaya on October 21, 2020. It was discovered that Cristian's network was laundering money by exchanging it at money changers.
W251bGwsIjIwMjEtMDUtMTEgMTY6MzY6NTUiXQ
According to one law enforcement official involved in investigating the Cristian case, Handayani's bank account is suspected to receive Rp23.8 billion from Frans. These transactions ran from May 28, 2014 to September 29, 2016. Frans also deposited a total of Rp13.5 billion to Handayani's bank account in 2017.
Mursito was Handayani's lawyer back when she was first connected to the Cristian case. He said that Handayani does not know Cristian. Handayani told Mursito that she had received Rp1 billion from Frans to be exchanged for a foreign currency. "Handayani asked him about it, and he said that the funds were from a wine business," he said.
Handayani's current lawyer, Jhon Siregar, denied his client's involvement in Cristian's criminal network. "My client has never been involved in money laundering," he said.
Cristian was first arrested in 2014 in Banjarmasin. He was caught selling 100 grams of sabu from Fredi Pratama alias Miming. He was sentenced to six and a half years imprisonment, and was sent to the Karang Intan Prison in Banjar Baru, South Kalimantan. Before that, he had been in the Teluk Dalam Prison in Banjarmasin.
He served some time at the Kedungpane Prison in Semarang, Central Java. In 2016 he was moved to the Nusakambangan Special Narcotics Correctional Facility. In Nusakambangan, Cristian is suspected of bribing a guard for access to facilities such as cellular phone. He was suspected controlling a drug ring from behind bars for over a year.
To facilitate his business, Cristian involved Cahyono Adhi Satriyanto, the then chief of security at Nusakambangan Prison. Cahyono is suspected of holding all of the funds taken in by Cristian's drug network in a bank account under the name Suhartinah. Cahyono controlled that bank account. "Those funds were used a few times to pay for hotels and airline tickets," said Brig. Gen. Tri Agus Heru Prasetya, the then chief of Central Java BNN.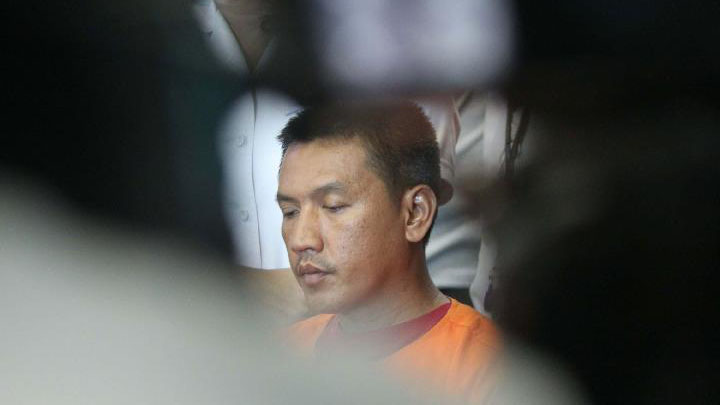 Cahyono Adhi Satriyanto, former warden of Purworejo prison who was implicated in drug and money laundering cases, was presented in the press conference at the National Narcotics Agency's (BNN) headquarters, Jakarta, January 2018. Tempo/STR Intern/Wildan Aulia Rahman
The total amount of money held in that bank account in 2017 came to Rp298.5 million. As it turned out, Cahyono received a 10 percent commission from each transaction for providing Cristian the use of that bank account in Suhartinah's name. The BNN arrested Cahyono a year later, when he was head of the Purworejo Detention Facility, in Central Java, and charged him with money laundering. The Cilacap District Court sentenced him to one year imprisonment.
The BNN learned about Cahyono's involvement after arresting Dedi Kenia Setiawan in Jalan Setiabudi in Semarang on November 8, 2017. At the time of his arrest, Dedi was in possession of 800 grams of sabu from Aceh which were hidden in the heels of women's sandals. Dedi said that he had received the drugs on Cristian's orders, who at that time had been moved to the Pekalongan Prison, also in Central Java.
Investigators searched Cristian's cell in Pekalongan. They confiscated his belongings, including a cellular phone he had been using there. This phone had a BlackBerry application containing chats between Cristian and Cahyono about sending money. Cahyono is suspected of receiving Rp31 million from Cristian's drug transactions.
Cristian is suspected of often involving law enforcement officers in his crimes. He once used the services of Adj. Comr. Kokok Wahyudi, a former member of the Narcotics and Dangerous Drug Investigation Directorate at the Central Java Police Department. Kokok was arrested by an Internal Security Team of the Central Java Police for attempting to bribe a senior adjunct police commissioner at the BNN who was investigating Dedi Kenia Setiawan's drug case.
Offering Rp450 million, Kokok asked that officer not to connect Dedi's network to Cristian. After his arrest, Kokok was sentenced to four years imprisonment.
Kokok was helping Cristian upon the request of Sudi Satria alias Hokai alias Babe, one of the henchmen of Fredi Pratama. Sudi Satria once served time in the Kedungpane Prison in Semarang for being involved in a drug case. After his release, he was indicted in Dedi's case. He is currently a fugitive.
Fredi has also been on the wanted list since 2013. Cristian and Fredi Pratama are both from Banjarmasin. The two have worked closely together to run their drug network. Fredi is suspected being in Thailand now. "The story is that he has already had facial plastic surgery," said Mursito.
He also suspects that Fredi is involved in both domestic and international drug trade. Fredi, 36, whose real name is Wang Xiang Ming, is suspected of working with Cristian in the drug business in Malaysia. "I still have records of some foreign phone numbers which have communicated with Cristian," said Mursito.
BNN spokesperson Brig. Gen. Sulitsyo Pudjo said that Cristian is serving his 15 years imprisonment sentence at the Pekalongan Prison. He is also sentenced five years imprisonment for the money laundering case. "An investigation to his other networks is still ongoing," said Sulistyo.
Cristian controls the drug ring from his cell. He also instructed his men to open new bank accounts to collect the money from the narcotics trade.
LINDA TRIANITA, JAMAL A. NASHR (SEMARANG)