Luckily our finances are strong
Chief Executive Officer of Astra International Djony Bunarto Tjondro is leading the company in the middle of the crisis resulting from the Covid-19 pandemic. The large-scale social restrictions from April to May 2020 was a blow to the Astra group automotive industry. Sales of cars and motorbikes fell sharply as a result of the weak market and people's buying power. Astra's business began to revive after the government relaxed the social restrictions from the middle of 2020. Supported by other business units, Astra was able to book a net profit of Rp175.05 trillion for last year, although this was down 26 percent on the previous year. As well as retaining its more established main business lines Djony says that Astra plans to diversify its business as a result of the pandemic. Electric vehicles is sector where preparations are underway.
Edition : Monday, March 15, 2021
LEADING Astra international, which has been impacted by the Covid-19 pandemic, Djony Bunarto Tjondro has his work cut out. The pandemic caused by the coronavirus has had a direct impact on most of the Astra group's major business lines. "Naturally the first to be affected was the automotive business," said Djony, 56, in a special interview with Tempo by video conference on Wednesday, March 10.
According to Djony, April to May 2020 was the most difficult period for Astra because of the large-scale social restrictions (PSBB). The Astra management was forced to halt operations at its Toyota, Daihatsu and Honda Motor factories. Automobile servicing was transferred from workshops to customers' homes using strict health protocols. Based on wholesale data from factories and agencies in April for example, car sales of the Astra Group plunged by 91.9 percent compared with the previous year when the figure was 47,000 units. In this business sector, Astra has the rights to the Toyota, Daihatsu, Isuzu, Peugeot and UD Trucks brands.
Djony could only breathe easier after the government relaxed the PSBB in June. That was also the time he was appointed chief executive officer (CEO), replacing Prijono Sugiarto. "In the second semester, automotive sales, although lower, began to improve," he said. Supported by other business units, the Astra group ended 2020 with company profits of Rp175.05 trillion, a fall of 26 percent compared to the previous year.
In an interview with Tempo reporters Wahyu Dhyatmika, Sapto Yunus and Mahardika Satria Hadi, Djony spoke about steering Astra through the pandemic, profitable business units and the development of electric vehicles. Djony, who has been with the Astra group for 31 years and has served in a number of important positions, said that Astra would remain a favorite place for young people to forge a career.
W251bGwsIjIwMjEtMDQtMjIgMDY6NDU6NDUiXQ
How much has the Covid-19 pandemic affected Astra International's business?
It's fair to say that all of Astra's business has felt the impact, except for the agribusiness and property. Property, which we launched in 2016, does not yet provide a very significant contribution to Astra. But the agribusiness sector was helped by a tailwind because the price of CPO (crude palm oil) rose significantly compared with the 2019 price. Net profits excluding the income from the sale of bank Permata in May 2020 fell by around 53 percent. If that sale is included, they only fell by 26 percent.
What about the automotive sector?
Naturally, the first to be affected was the automotive sector. As we entered the fourth week of March last year, we saw interest beginning to decline. After the President announced that Covid-19 had arrived in Indonesia, then the PSBB was applied in April, we were forced to halt our Toyota, Daihatsu and Honda Motor factory operations. We also had to stop the operations of our sales network. Only the mobile service sector was able continue by implementing health protocols. Last April and May were very tough.
The government has given tax incentives for new car sales this year. How has this affected sales of cars for Astra?
According to a study by the Association of Indonesian Automotive Manufacturers (Gaikindo), this will increase sales this year by 82,000 units. I think that in the short term, the relaxation of luxury goods sales tax will be positive and hopefully it will persuade people to buy cars. But this kind of stimulus cannot continue for years because the government also needs revenues. Hopefully, market and consumer's confidence will grow, for example after people have been vaccinated at the end of 2021, and the economy will improve.
Will this tax incentive only have an insignificant impact in the long term?
I can't say insignificant because there is a structural problem in our automotive industry. People's buying power is still limited. With GDP (gross domestic product) lost per capita last year falling to US$3,900, the growth of the automotive sector cannot be pushed too drastically. So, a stimulus like with the luxury goods sales tax is only a painkiller. If we want the automotive sector to grow rapidly, we must be able to produce cheaper cars. We already did this with a low-cost green car (LCGC) in 2003, but with inflation and for other reasons the price increased.
Minister of Trade Muhammad Lutfi said that he will visit automotive factories in Japan to ask for an export allocation of 120,000 cars from Indonesia to Australia. Has this plan been discussed with Astra?
Since Toyota halted production in Australia (in October 2017), we have discussed with Toyota about how we could export cars to Australia. However, this cannot only be discussed by us and the principal. It is a matter for the government of Australia. Sometimes, like now, we are talking about geopolitics. We always support the government. Today our exports of four-wheeled vehicles are 75-80 percent of Indonesia's total exports.
Have business units apart from the automotive sector also been affected by the crisis or have they supported Astra's business activities?
The global pandemic led to decline in the energy use and production. On the markets, this was unhelpful because the global spot price for coal fell drastically. This affected the sales of heavy equipment, which also fell drastically. There was a multiplier effect because of the link with the ecosystem. With other business sectors, such as toll roads and infrastructure, when the PSBB was applied, people didn't use toll roads. Our Semarang-Solo, Jombang-Mojokerto, Mojokerto-Surabaya and Cipali toll roads were all affected. The Tangerang-Merak was also impacted, but not too drastically. (Income from) the Kunciran-Serpong city toll road also fell drastically.
What has made Astra able to survive in this pandemic?
If I compare, the situation today is difficult. But what has added to the difficulties is the psychological issue. Every time we go out, we are worried that we are sick without symptoms and could infect other people, and we must be careful. It is very different from the multidimensional crisis from 1997 to 1998 that also had a huge impact on Astra.
How is it different?
Compared to 1997, Astra's financial position is completely different. Previously our debts were orders of magnitude greater than our equity. But now, and sorry if this seems arrogant, our financial position is very strong. The ratio of debt to equity is very small. In fact, our financial report shows that we have a cash surplus. We are lucky to be in this position. If not, our resilience would be questioned. And this is not only at the Astra level, but also in other business units.
What is Astra's debt to equity position at present?
In 1997-1998, Astra's gearing (debt to equity ratio) was higher than 10. Now our gearing is less than 0.1 and Astra has net cash. There are debts, but compared with our cash in hand, the amount of cash is much higher. Our balance sheet is strong and healthy.
How have you been able to make Astra's finances so strong during the pandemic?
It is the result of decades of work. We should be grateful that Indonesia's economic growth over the last 10 years has been strong so Astra's revenues, profits have also been good. We have only spent capital approximately equal to our profits. We have taken out loans, but as soon as they are due, we have paid them off. This type of management has gradually increased our balance sheet resilience. Although previously we were not as strong as now, the trend towards more healthy management was already apparent, and we did not take out too many loans.
You have been at the helm of Astra since June 2020 in these difficult times for businesses. Has your mission enabled Astra to hold out and survive through this pandemic?
It has just continued. It's not the case for example that like in the movies where in times like this suddenly (I) arrived (like a) superhero. There are those at the top, and we do our jobs. It's just that. Everybody has a survival instinct.
With the weak market and consumer's buying power, how will the Astra automotive business units adapt?
I take the example of the automotive sector because it has many interactions with retail and customers. Firstly, operational costs have been very carefully calculated. So, we say that any spending must be responsible. Secondly, we are fortunate because we began to implement digitalization a few years ago, although not too strenuously. So, this pandemic pushed every individual to implement automation and digitalization.
As well as having strong finances as an asset, does Astra have managerial values and style that are different to face the pandemic?
We hold to a philosophy, values and culture that it is fair to say is crystallized. From our founding fathers, these values have continued. One example is the four principles. We will always have responsible leadership, and this is a very good philosophy that will never go out of date. We have instilled these properly in every person at Astra. In terms of mindset for example, our performance is still good, but we also have to look from the community viewpoint. This is applied from when they join us. Now with many people from the young generation, perhaps we need enforcement. If we do not do this, it could be dangerous.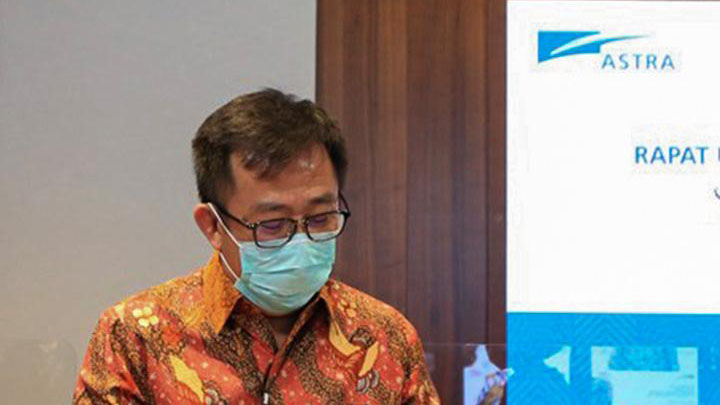 Astra International CEO Djony Bunarto Tjondro after the 2020 Annual General Shareholders Meeting in Jakarta, June last year. ASII Doc.
Why it's dangerous?
It is said that millennials are more transactional. I don't know if this is true because I'm not an expert in the field. These millennials should balance work and personal life and everything else. But we need to be sure about these values, because 60 to 70 percent of our employees are probably millennials.
With more young people joining Astra, how far does the company adapt these values to accommodate their way of working?
Perhaps not substantially, because a philosophy remains a philosophy. As the generations change, the core values and substance should not change. What can be adapted is the way that they are implemented. Of course, this is done in a way that is suitable for young people. Sometimes it is not easy, but we try our best and so far, it has worked well. After all, we think we are still one of the best places for fresh graduates.
How do you ensure that young employees stay working at Astra?
For millennials, Astra offers a family culture that has remained to this day. It has never faded away. Secondly, we treat them like human beings. Therefore, there is the human touch, not simply boss and employee. We also implement a number of very consistent approaches through training even though we need to cut costs at this time.
Will there be any permanent changes at Astra after the pandemic?
Flexibility in working from home is an option that perhaps we did not think much about beforehand. But this is highly dependent on the policy of each business unit. Previously perhaps working from home was only seen as something for start-up companies whose employees wore faded or patched jeans and T-shirts. But in the future, it could become an option for us. Of course, it would not be possible for production or servicing. Everything must be selected carefully.
What about other things?
I think that our engagement with customers digitally will become very important. We have seen this trend in perhaps the last five years and today it is something that is necessary. For example, I never used to shop on Tokopedia (online shop). It just wasn't an option for me. But nowadays we buy everything on Tokopedia.
The pandemic has led to many companies reducing the number of employees. Has Astra also done this?
We always take the stance that (reducing) employees is the last option. So, every saving possible must be made. It is undeniable that in 2020 there were employees (whose contracts) we did not extend, especially non-permanent staff. We also did not replace employees who retired. We froze recruitment last year. But this year we have begun again little by little while keeping an eye on business conditions.
In this time of pandemic, when it is not certain when it will end, how long can Astra hold out?
We have not calculated things that far. Even in 2020 with so much panic, Astra was still able to make a profit outside (income from the sale of) Bank Permata of Rp10 trillion. This means that although things have not yet improved, they are improving. We are convinced of this. To take an example, with the current run-rate, we are certain that automotive sales will be 532,000 units higher than last year. Gaikindo is predicting 750,000 units. And if the vaccination program moves quickly, we are sure that (the business) can continue even though things will not return to normal in 2021.
When do you think global business activity will return to normal?
Perhaps it will begin in 2022 or 2023.
Will the automotive sector remain the commander of the Astra business?
The automotive is very important for Astra because that's where we started from. It is also important for the nation. The automotive industry is a proxy for a nation that has production facilities. For Astra, the automotive sector will remain important. We produce for domestic and export consumption. But we will continue to expand and diversify the business. If not, Astra will not continue to develop and our ability to make a social contribution will stay as it is. Diversification is a must for us in the future.
Are there new sectors being studied?
I want many. The most important thing is that they are legitimate, in line with Astra's values, of a reasonable scale and Astra can provide added value to the business. We have been very aggressive, particularly in the fourth quarter (of 2020). We look at all businesses because this kind of situation usually provides many opportunities. If it wants to grow and survive, Astra must diversify without ever abandoning the business interests we have today. One example is the automotive sector. To use an analogy, we are improving the car while it is still running.
The government continues to push for the use of electric vehicles. A total of 19,000 electric cars and 750,000 electric motorbikes are targeted for production in 2025. How far is Astra supporting the development of electric vehicles?
If we talk of electric vehicles, most of them are battery electric vehicles that are 100 percent battery-powered. However, electric cars are hybrids, plug-in hybrids and other types. Today's Toyota Prius is a plug-in hybrid electric vehicle. Previously we launched the Prius only as a hybrid. Our communication with Toyota is very intense and there are discussions and plans for battery electric vehicles. We will launch when the time is right. But in order to locally produce battery-electric vehicles, we also need volume. So, the popularization of electric vehicles is important. In the end, everything depends on what the public choose. In principle, we support government's endeavor to reduce CO2 emissions.
What is the target?
It's difficult to give numbers. Last year we only sold around 80 to 90 hybrid cars per month. The public is not used to them. And there is still a price gap. One day, the total ownership costs of conventional cars and electric cars will be the same because technology will lead to lower prices.
---
DJONY BUNARTO TJONDRO
• Place and Date of Birth: Jakarta, May 2, 1964 • Education: Bachelor's degree in Mechanical Engineering Trisakti University (1989); Indonesia Management Development Institute/Monash Mt Eliza Business School, Australia (1996) • Career: CEO Astra Sedaya Finance (2009-2013), Chief Executive Astra International -Daihatsu Sales Operations (2013-2018); President Commissioner Astra Otoparts (2015-2018), Vice President Commissioner Astra Daihatsu Motor and Isuzu Astra Motor Indonesia (2016-2018), Commissioner Astra Sedaya Finance (2016-2020) and Astra Agro Lestari and United Tractors (2017-2020), Vice CEO Astra International (April 2019-June 2020), CEO Astra International (since June 16, 2020)