The Phoenix from the Nile
Nawal El Saadawi received constant pressure from the government, community, and religious institutions, but she stood firm in her struggle for women's rights.
Edition : Monday, March 29, 2021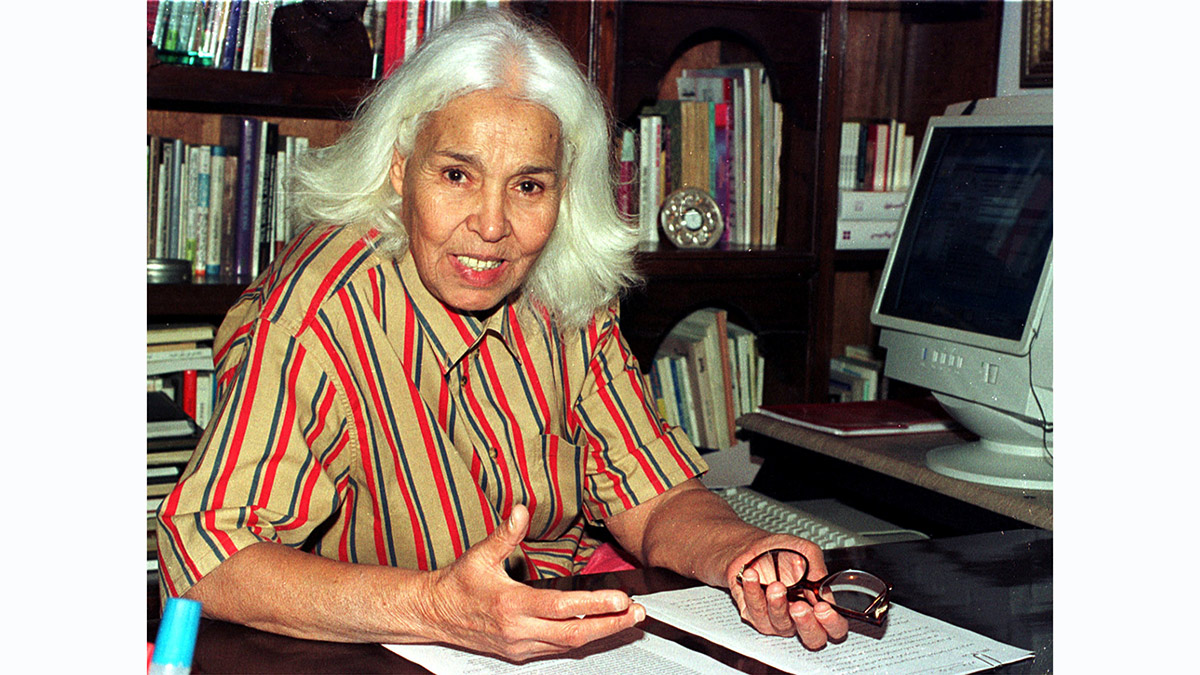 NAWAL El Saadawi lived in a simple apartment on the 25th floor of an old building in Shubra Garden in Cairo, Egypt. It is not an upscale neighborhood. Not as nice as the area where her previous house had been located, before all her businesses were gagged by Hosni Mubarak's regime. The elevator in her apartment building squeaked and rattled as it ascended to the upper floor.
She lived alone in her apartment. Her children already have their own families. She separated from her third husband, Sherif Hatafah, in 2010, after being together for 43 years. "I divorced all three of my husbands, so that I can be free," she said in a magazine.
Dr. Nawal EL Saadawi lived among thousands of books, with rheumatism that slowed her down. Some of those books laid disheveled on a shelf by a wall that had not seen new paint for a while. Books and papers filled the living room, strewn all over the dinner table and in both her rooms. No windows were open, which made the house feel even more cramped and dark.
I visited her in February 2011, during the height of the bloody Tahrir Revolution. Out there, in Midan Tahrir (Independence Square), 12 kilometers away, thousands of young people demanded for Egyptian President Hosni Mubarak to step down. Dozens of people died. But Saadawi was not afraid of the military terror. For 10 hours every day she stood there, tirelessly supporting the young demonstrators.
W251bGwsIjIwMjEtMDQtMjIgMDY6MjU6MzciXQ
"I feel re-born. A revolution like this, seeing people struggling to speak out their thoughts, is a childhood dream of mine. This is my day. Just like the time when I was 20, I don't feel tired at all. Usually I tire easily, but now I can be at Tahrir for more than 10 hours. Screaming, holding discussions. I never stop talking there. Then I sleep for four to five hours, wake up in the morning, and meet with the press," she said.
Saadawi had been a fighter and a rebel all her life. She inherited this character from her parents. Her mother was a passive rebel, something Saadawi always regretted. She got her hot-blooded spirit from her father, a civil servant at the Department of Education and Culture who was 'exiled' by the regime of King Farouk, Egypt's last monarch, because he was involved in a revolt against the British colonists, who were supported by the Egyptian Kingdom.
Although she had plenty of reservations against her father's patriarchal traits, Saadawi still admired him as a father and a good husband for her mother. Saadawi's father, who died from grief four months after his wife passed away, had aspirations to free Egypt from the British and the monarchy.
Like most of Egypt's younger generation in the 1950s, Saadawi chose socialism as her basis to fight for women's rights. She believed that only socialism could free women of the patriarchal shackles, which worked together with capitalism and religion. So, she harshly criticized President Anwar Sadat's open-door policy, which let in foreign investment and led to the rise of religious fundamentalism.
"During Sadat's time, the government rolled out what was called 'the open-door policy', which opened up Egypt to imports and investment from foreign countries, especially the United States. The result was an increase in poverty, unemployment, fundamentalism, and discrimination against women. Islamization in Egypt went hand-in-hand with Americanization. Stores sold American and Saudi Arabian goods. Prayer rugs from Mecca was sold simultaneously with lipstick and tight jeans. Television was laden with ulemas preaching chastity and propriety, but ads showed sexy women selling imported goods. I published articles in opposition newspapers, and suddenly I was jailed with the accusation of betraying Egypt," Saadawi wrote in the foreword of her book God Dies by the Nile.
This belief flowed from what she saw since childhood. Repression to women was always based on two things: religious commands or protecting the elite. When she started reading at the age of five, the first word she was able to write was her name, and then the name of her mother. She would put her name side-by-side with Zainab, her mother's name. But her father erased the name 'Zainab' and wrote down his own name after Saadawi's. When she asked him why he did this, he said: "Because it's God wish."
"That was the first time I heard the name 'God'," Saadawi wrote in her book A Daughter of Isis. She felt God was unjust. "In my mind, God was responsible for this, and I felt it was unjust. But father said that God was infinitely just. I didn't understand that, so I wrote a letter to God. It was the first letter I wrote in my life. The letter started with this: 'God, if You are infinitely just, why do You treat my father and mother differently?'"
Her most traumatic experience was when a midwife came to circumcise her in her bathroom. When she asked why she had to undergo this, once more she was told: "Because it's God wish." For decades, Saadawi hid this traumatic ordeal. She was only able to write down the details when she was at a cliff at an Indian shore. Unfortunately, the paper she wrote it down on was whisked away by the wind, and she decided never to write it down again. But her struggle against female circumcision—and also male circumcision—never ceased. This became among the top priorities in her feminist struggle, in addition to polygamy, marriage laws, and inheritance laws.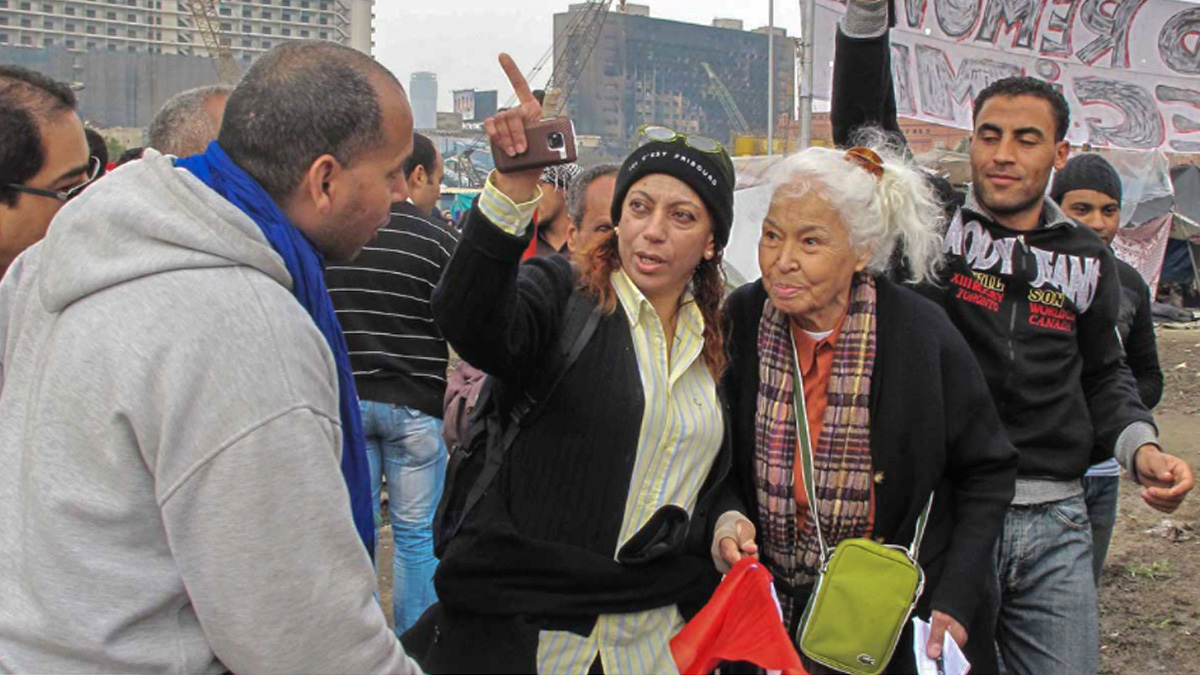 Nawal el-Saadawi in Tahrir Square, Cairo, Egypt, February 2011. Tempo/Qaris Tajudin
But all of that, Saadawi pointed out, were symptoms. The root of repression of women is religion itself. Not just Islam, but all religions are repressive, according to Saadawi. "I disagree with the terms Islam, Christian, or Jewish feminism. I think that women are held down by all religions—you can study that. This is why we need secularism. Religion has to become something very personal in homes, and away from public life. There should be no Islam or Christian feminism. Feminism must be separated from religion. There should just be secular feminism," she told me.
So, for her, it was impossible to free women without freeing society from religion. Saadawi voiced this loud and clear, even though she lived in a country with strong Moslem beliefs and grand religious institutions like Al-Azhar and strong Moslem organizations like Al-Ikhwam Al-Muslimun. "I am not courageous, it's just that the world is cowardly," she said when asked why she was so loud in voicing her protest.
She started her struggle for women's movement after the era of Huda Sha'arawi and her friends in the 1940s. Saadawi arose by herself with a loud voice. She not only fought for women's rights, but also for human rights. This is why she received such backlash, particularly during the time of Anwar Sadat.
When she began her career as a doctor, Saadawi found many cases of household abuse. When she tried to defend her patients against this, she was transferred. She voiced this even stronger through the health magazine she chaired. Then she was fired. Saadawi realized then that it was no use to speak out loudly merely against individuals. Thus, she started harshly criticizing Sadat's government. Saadawi was incarcerated for three months in 1981. Her experience behind bars was put into her book Memoirs from the Women's Prison.
She was freed when Sadat was killed and replaced by Hosni Mubarak. The new president and his wife, Suzanne, tried to embrace Saadawi. But they were embracing a tiger. "He did get me out of jail, but sent me to intellectual exile," said Saadawi. She demanded compensation from the government for her incarceration, and won. "I will not let go of my rights, not even for one bit." That, she said, angered Mubarak, who then excluded her from intellectual circles.
During the era of Sadat and Mubarak, Saadawi and her third husband Sherif Hatatah—a Marxist whom Saadawi said was the only male feminist in the world—almost had no breathing space. "Since we got married, the government never gave us any breathing space. Every time we tried to start something, a magazine, an association, a cultural group, a publishing project, they would shut it down after five or six months. The government destroyed everything we built, blew off the candles we tried to light," she wrote in A Daughter of Isis.
Although she was repeatedly put under pressure, Saadawi did not relent. She was the phoenix her mother predicted she would be. "Throw Nawal into the fire, and she will rise unharmed."
Dr. Nawal EL Saadawi passed away on March 21 at the age 89, leaving a profound trace of women's movement and the struggle for human rights around the world.
QARIS TAJUDIN