Brother Boy's Party Moves for 2024
Political party leaders are beginning to maneuver for the upcoming presidential election. Some are eyeing for candidates outside of the party.
Edition : Monday, March 29, 2021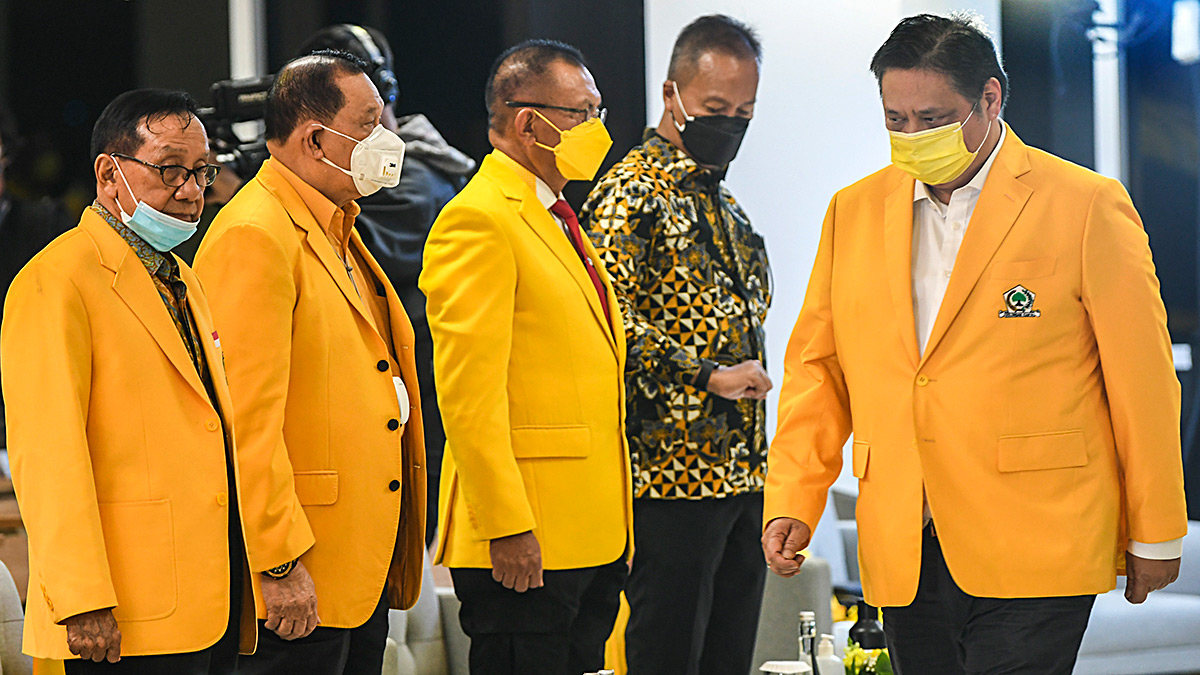 ATTENDED by the party's central and provincial committees, the Golkar National Leadership Meeting held on March 5 to 6 issued a number of decisions. One of these is the appointment of Golkar General Chairman Airlangga Hartarto as a presidential candidate. "That is the aspiration from 34 provincial committees who requested Pak Airlangga to become a presidential candidate," said Golkar Deputy Chairman Ahmad Doli Kurnia on Friday, March 26.
According to Doli, during that meeting in Golkar Party central office at Jalan Anggrek Neli, West Jakarta, Airlangga did not immediately respond to the appointment. He is still focusing on his tasks as coordinating minister for the economy. Doli said that the decision to push Airlangga forward as a presidential candidate is based on the result of the party's national conference in 2019, which said that Golkar should have its own presidential candidate for the 2024 election.
Golkar is making plans to raise Airlangga's electability. A survey by Indikator Politik Indonesia, released on Sunday, March 21, does not list Airlangga among the top 10 in terms of electability. Jakarta Governor Anies Baswedan sits on the first place with 15.2 percent electability, followed by Central Java Governor Ganjar Pranowo and West Java Governor Ridwan Kamil, whose electability ratings are 13.7 percent and 10.2 percent respectively. Former running mates in 2019, Prabowo Subianto and Sandiaga Uno, each scores more than 9 percent. Airlangga's electability rating, meanwhile, is below 1 percent.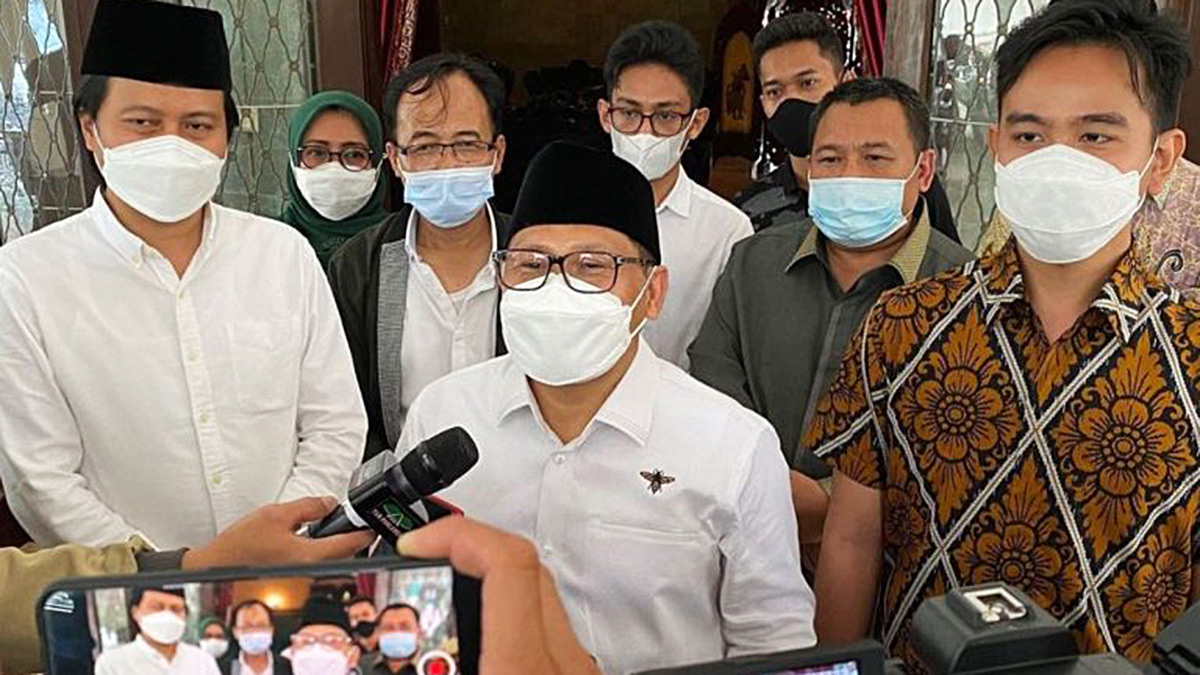 PKB General Chairman Muhaimin Iskandar (center) and Solo Mayor Gibran Rakabuming Raka (right). instagram/cakiminow
W251bGwsIjIwMjEtMDQtMjIgMDY6MzA6MTciXQ
Golkar Party leader Dave Akbarshah Fikarno said his party has already formulated a strategy to increase Airlangga's electability, Dave, who heads the Kosgoro 1957—an organization affiliated with the Golkar Party—said that central and regional committees of the party have been instructed to introduce Airlangga to various regions. This is done by installing banners in chosen locations. In Riau, for example, a billboard with Airlangga's portrait is standing along Jalan Jenderal Sudirman, Pekanbaru. A few meters away from the road, another billboard displays Airlangga with Golkar Deputy Secretary-General Fahd El Fouz A. Rafiq.
The party's cadres are also instructed to disseminate Airlangga's economy programs. "Such as the pre-employment card that provides stimulus amid the pandemic, and the Job Creation Law that opens up the way for investment," said Dave. The dissemination, according to him, is not only done by the cadres, but also through social media. He said that Airlangga will have more frequent visits to the regions next year.
Airlangga had previously met a number of party leaders, such as National Democrat (NasDem) Party General Chairman Surya Paloh, Gerindra Party Chairman Prabowo Subianto, and United Development Party (PPP) General Chairman Suharso Monoarfa. Airlangga reportedly met Surya in Kali Age Island, the Thousand Islands, on February 14, to discuss plan for a coalition.
Doli thinks it is not surprising if Airlangga's safari is seen as a preparation for forming a coalition in 2024. "Golkar already has its own presidential candidate, so exploring possibilities with other parties is normal," he said. Airlangga did not respond to phone calls and inquires sent by Tempo to his mobile phone number. However, on Friday, March 19, he dismissed the assumption that the meeting was meant to explore the possibility for a coalition in 2024. "The coalition is to be formed in 2023, so the road ahead is still long," he said.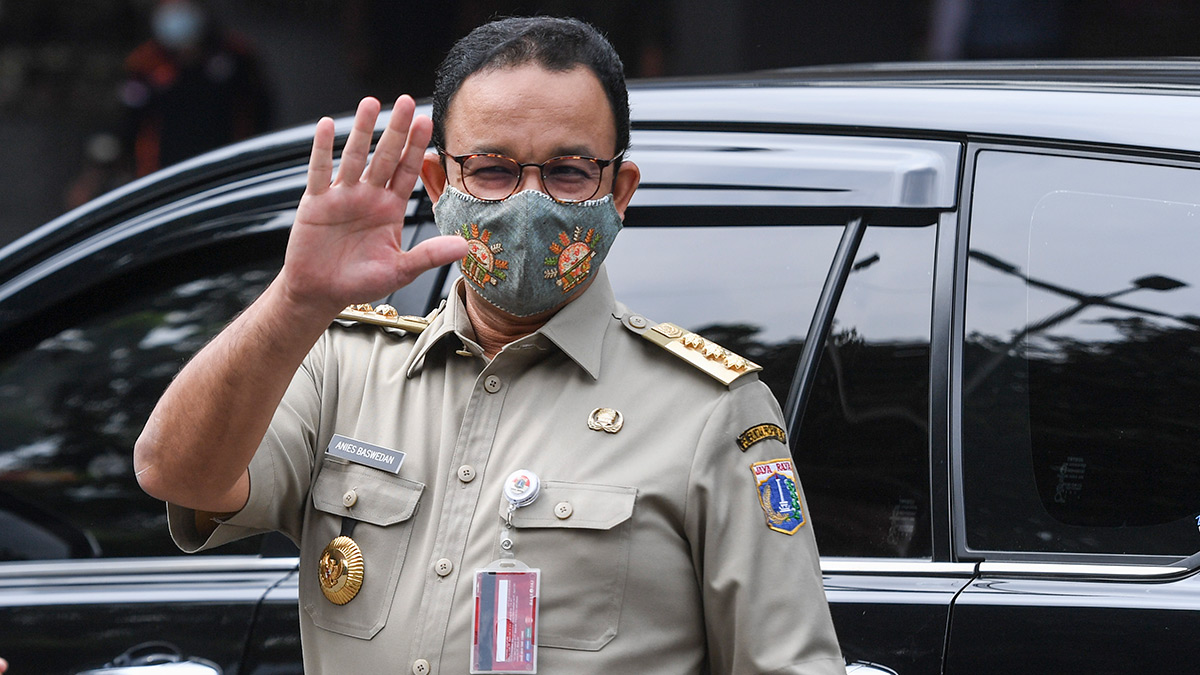 Jakarta Governor Anies Baswedan at the Jakarta Police Headquarters, Jakarta, last November. Antara/Hafidz Mubarak A
NasDem Party Chairman Willy Aditya said that the meeting was held to discuss upcoming presidential candidate convention. NasDem is planning to hold this convention next year. Another NasDem Party executive, Charles Meikyansah, said a team led by Siti Nurbaya is formulating the mechanism and regulation for the convention. According to him, the party is aiming to invite a number of figures to the convention, including Jakarta Governor Anies Baswedan, West Java Governor Ridwan Kamil, East Java Governor Khofifah Indar Parawansa, State-Owned Enterprises (SOEs) Minister Erick Thohir, and Tourism and Creative Economy Minister Sandiaga Uno.
Aside from Golkar and NasDem, the National Awakening Party (PKB) is also beginning to maneuver. Two PKB politicians said that the party's General Chairman, Muhaimin Iskandar, intends to chair the Nahdlatul Ulama Central Board (PBNU). According to both politicians, by becoming leader of the PBNU, Muhaimin will have a better chance of becoming a vice-presidential candidate. Several NU figures had been appointed as running mates in previous elections. In 2004, for example, two NU cadres, Hasyim Muzadi and Salahuddin Wahid, ran as vice-presidential candidates. Ma'ruf Amin was also the Rais Am (supreme leader) of PBNU before becoming vice president.
Head of NU's East Java Branch, Marzuki Mustamar, said that he knows of Muhaimin's plan to chair the PBNU. "Yes I have heard that, but I have not asked, and I do not want to ask (about it)," he said. PKB Semarang Branch Chairman, Muhammad Mahsun, said the rumor that Muhaimin is aiming to become NU leader has been circulating since last year. But he dismissed the information as merely gossip. Meanwhile, PBNU Chairman Marsudi Syuhud said it is fine if Muhaimin decides to move forward as PBNU general chairman candidate. He said that that everyone is eligible for candidacy, including himself.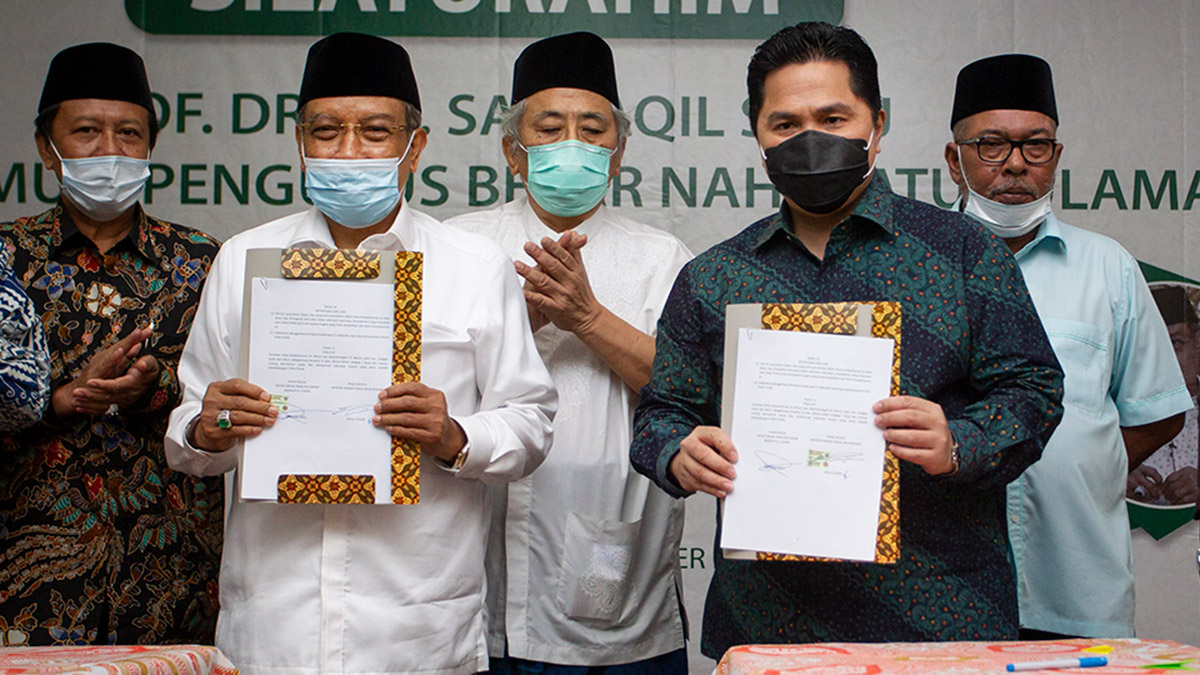 SOEs Minister Erick Thohir (second right) together with the Chairman of the Nahdlatul Ulama Executive Board Said Aqil Siradj (second left) at the Luhur Al-Tsaqafah Islamic Boarding School, Jakarta, last September. Antara/Dhemas Reviyanto
Muhaimin has begun his political safari. On Wednesday, March 24, he visited President Joko Widodo's son who is also the Mayor of Surakarta (Solo), Gibran Rakabuming Raka. Muhaimin said that it was a friendly meeting done following Gibran's inauguration to his post. "We also entrust NU and the PKB here so that they may grow," he said.
Aside from proposing Muhaimin, the PKB also communicates with a number of figures in preparation for 2024. The two PKB politicians said the party's leaders frequently talk with SOEs Minister Erick Thohir and his brother, Garibaldi alias Boy Thohir. Their closeness led to the internal committee calling the PKB as 'Partai Kak Boy (Brother Boy's Party)'.
Muhaimin Iskandar did not respond to phone calls and messages sent by Tempo. PKB Deputy General Chairman Jazilul Fawaid refuted the report that Muhaimin is going forward to chair the PBNU. However, he confirmed that his party is indeed talking with several figures. "We maintain communication with them, including Pak Erick Thohir, and we also communicate with others," he said. As for the 'Partai Kak Boy' nickname for his party, the People's Consultative Assembly (MPR) Deputy Speaker just laughed it off.
On the other hand, Boy Thohir denied being in talks with the PKB. "That is not true. I have never met or communicated with the PKB or other party," he said. According to Boy, his younger brother holds no ambition to run as a presidential candidate either. "Pak Erick wants to return to the private sector," he said. Erick also rejected the suggestion that he is exploring for opportunities with the PKB. "There is none of that. Go ahead and check," he said, laughing.
DEVY ERNIS, DEWI NURITA, NURHADI (SURABAYA), JAMAL A. NASHR (SEMARANG), HUSSEIN ABRI DONGORAN (PEKANBARU)