Traces of Golkar in the Investigator's Office
The bribery case of Adj. Comr. Stepanus Robin Pattuju is suspected to involve other investigators and also the leadership of the Corruption Eradication Commission (KPK). They used the Golkar Party network to carry out their actions.
Edition : Monday, May 3, 2021
WEARING a white shirt and black trousers, Adj. Comr. Stepanus Robin Pattuju lined up with dozens of other personnel from the National Police in the hall of the Merah Putih Building, the Corruption Eradication Commission (KPK) office, Jalan H.R. Rasuna Said, Kuningan, South Jakarta, on April 1, 2019. They were clutching a folder bearing the anti-corruption agency's logo.
That day, Robin and his colleagues had just sworn their oath as investigators of the KPK. KPK Deputy Chair for 2015-2019, Saut Situmorang, delivered the welcoming remarks for the inauguration. He expected the new investigators to maintain their integrity and independence in the line of duty. "I asked them to come with God. To not allow themselves be controlled by other people," he told Tempo on Wednesday, April 28.
Saut said that the selection process was tight. The procedure included tracing the track record and competence of the investigator candidates. The chosen ones were selected because they scored the highest among other candidates. Robin's test result, for example, was 91.89 percent. But that did not save Saut from disappointment later on. "Good scores alone are evidently not enough. They should have been constantly supervised," said Saut.
KPK investigators arrested Robin on Tuesday, April 20. He allegedly received a bribe of Rp1.3 billion from the Mayor of Tanjungbalai in North Sumatra, Muhammad Syahrial. Some of that money was supposedly funneled through a lawyer, Maskur Husain. The KPK also arrested Maskur and Syahrial. They are named as suspects in the bribery case. "Corruption occurs due to eroded integrity," said KPK Chair Firli Bahuri.
W251bGwsIjIwMjEtMDYtMjUgMDg6MzU6MzgiXQ
Robin, a 2009 police academy graduate, purportedly promised to 'secure' the case Syahrial is tangled in. For the last two years, the KPK has been investigating the position auction bribery case within the Tanjungbalai City Administration. Robin's name came under radar when the KPK team discovered a conversation about the bribe after confiscating a phone belonging to Syahrial.

Indonesia Corruption Watch researcher, Kurnia Ramadhana, suspects that Robin did not act alone. His name was not listed in the task force investigating the position trading in Tanjungbalai. Kurnia predicts that the crime also involves Robin's superior. "Ceasing a case during investigation is a collective agreement with investigators. The decision must be approved by the deputy for law enforcement and KPK leadership," he said.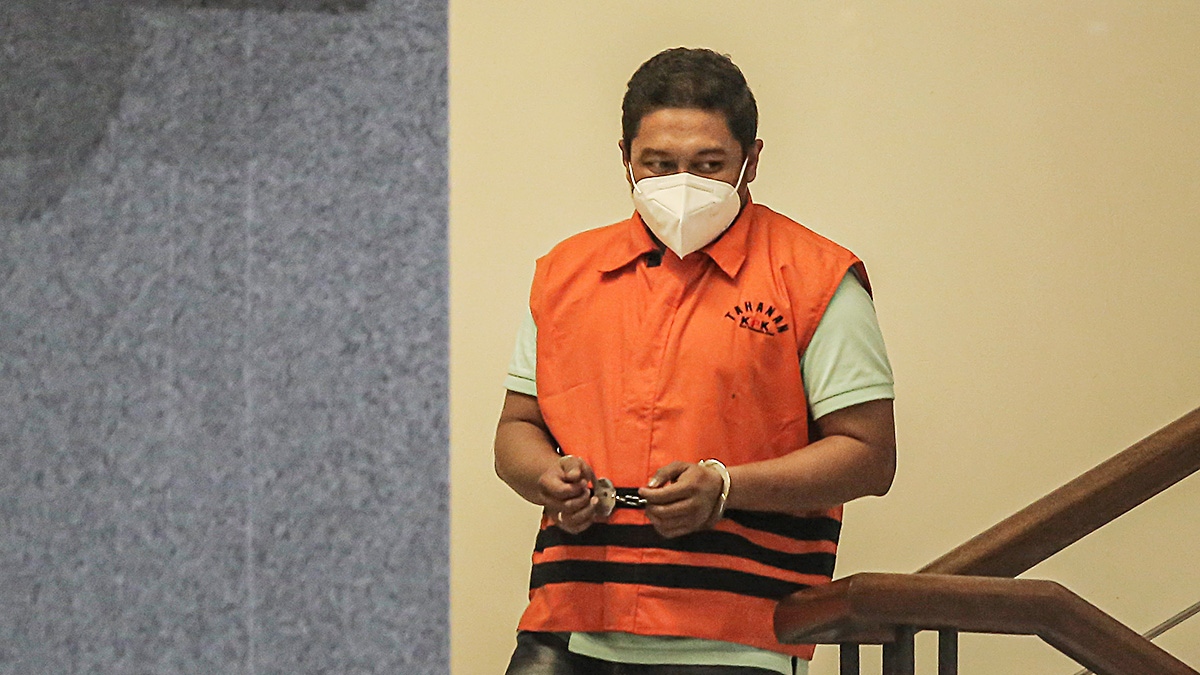 KPK investigator Stepanus Robin Pattuju after undergoing questioning at the KPK's Merah Putih Building, Jakarta, April 22. The KPK declared Stepanus Robin Pattuju and lawyer Maskur Husain suspects of a corruption case after allegedly received gifts or promises by state officials during the handling of the case of Mayor of Tanjungbalai for 2020-2021. Antara/Dhemas Reviyanto
A member of the law enforcement said that Robin was actually still an 'intern' investigator because he had not been directly involved in handling the major cases. However, there are other investigators who allegedly colluded with Robin. Among others, their initials are W, S, and M. Aside from the case in Tanjungbalai, they purportedly also approached the parties involved in the cases of Bina Marga (Highways) Agency of Central Lampung Regency Administration; permit scandal in Kutai Kartanegara Regency, East Kalimantan; bribery at the Sukamiskin Penitentiary, West Java; and corruption in the Cimahi Regional General Hospital, West Java.
Another one of Robin's alleged modus operandi was promising the status of justice collaborator to convicts. This status is important for corruption convicts to obtain parole. However, investigators are having difficulties securing evidence because Robin's phone had been factory reset.
Robin admitted to erasing records of conversation by resetting his cell phone. "I did it," said Robin to journalists after being questioned by the KPK. He did not respond to questions regarding the bribe.

Firli Bahuri said investigators are still probing other actors involved in Robin's case. He said that Robin knew Syahrial from House of Representatives (DPR) Deputy Speaker Azis Syamsuddin. Robin met Syahrial during a visit to the Golkar Party politician in October 2020. Firli dismissed the notion that other KPK employees might be involved. "So far there has been no indication of involvement of investigators aside from Robin," he said.
•••


TWO investigation teams from the KPK came to the DPR Building and the state officials housing complex at Jalan Denpasar, South Jakarta, on Wednesday, April 28. They searched the office and official residence of DPR Deputy Speaker Azis Syamsuddin on that day. "Documents and items related to the case are among those found and secured," said KPK spokesperson, Ali Fikri.
Azis is allegedly aware of the bribery case between Robin Pattuju and the Mayor of Tanjungbalai, North Sumatra, Muhammad Syahrial. Azis introduced Syahrial to Robin. "The introduction is suspected to be related to the settlement of investigation of an alleged corruption case currently being worked on by the KPK," said KPK Chair Firli Bahuri.
The anti-corruption agency has requested the immigration directorate-general to prevent Azis from going overseas. However, the KPK has not summoned Azis to be questioned until Saturday, May 1. "We assure that we will examine anyone who might know of the series of events in this case. We will be indiscriminate," promised Firli.
Azis did not respond to Tempo's request for interview until May 1. He also did not answer the calls and messages sent to his mobile number. He has not been seen in the DPR complex after the KPK search. He previously said that he forgot whether or not he had met Robin and Syahrial. He even said that he does not remember Robin. "I do not know specifically because I had many guests," he said.
This is not the only time Azis finds himself entangled in a case of corruption. In his testimony at the Jakarta Corruption Court in 2017, KPK investigator Novel Baswedan said that Azis Syamsuddin once pressured Hanura Party politician Miryam S. Haryani. At the time, Miryam was a defendant in the corruption case of electronic identification card (e-KTP).
Azis was accused of telling Miryam not to give information about distribution of money to other members of the DPR. Azis denied this accusation. "I have never met Ibu Miryam, nor have I talked with her," he said at the time.
---
"There are a couple of backgrounds, which made the leadership at the time to think that he was not eligible to join the KPK"
---

The Golkar Party deputy chair's name also surfaced in the corruption case of Central Lampung Regent Mustafa. Azis is suspected of asking for a Rp2.5 billion commission from the Central Lampung's special allocation funds in 2017. The commission was allegedly sent through an entrepreneur, Aliza Gunadi Ladony. At the time, Azis was the chair of the DPR's Budget Committee. In January, Azis denied that he had received the commission. He reported Mustafa for defamation to the National Police Headquarters.
An elite of the Golkar Party said that Azis often managed to walk away from various corruption cases due to his closeness to KPK leadership. He is also said to maintain close relationship with some investigators, including Adj. Comr. Stepanus Robin Pattuju.

Azis is reportedly close to KPK Deputy for Law Enforcement Insp. Gen. Karyoto as well. According to the Golkar politician, Azis had long promoted Karyoto to become an official at the KPK, but he was never successful at the time.

Former KPK Deputy Chairman, Saut Situmorang, said that Karyoto—before finally being accepted as Deputy for Law Enforcement in 2020—repeatedly took part in the selection process for a number of positions. According to Saut, Karyoto was disadvantaged by his track record and integrity issues in the past. "There are a couple of backgrounds, which made the leadership at the time to think that he was not eligible to join the KPK," said Saut without elaborating further on the issues being mentioned.
Karyoto's name actually surfaced in case of bribery by Muhammad Syahrial to Robin Pattuju. A member of the law enforcement said that Robin is Karyoto's 'man'. Robin allegedly reported all of his activities to Karyoto. When reached through telephone, Karyoto did not respond to Tempo's request for an interview until Saturday, May 1.
•••

CASE manipulation by KPK investigators has been known since 2006. At the time, Adj. Comr. Suparman was accused of blackmailing Tintin Surtini, a witness from Industri Sandang Nusantara, for Rp439 million. The case continued on to court. Tintin admitted of giving money to Suparman because she was afraid of being named as suspect. Suparman was sent to prison for eight years for his wrongdoing.
After Suparman's case was revealed, the KPK changed a number of its internal policies. It tightened monitoring towards its employees, particularly investigators. The efforts included prohibiting staff members and KPK leadership from meeting persons involved in a case. Violation to this rule could lead to termination of employment.

A member of the law enforcement said that supervision towards investigators began to loosen during the leadership of Commissioner Gen. Firli Bahuri. During the previous period, according to this source, it was hard for investigators to manipulate a case due to the tight supervision by the leadership. Current KPK leaders are seemingly intimate with politicians instead.

It was also political network that brought together Syahrial, Azis, and Robin. Syahrial is currently still in office as head of Golkar Party Tanjungbalai Regional Executives. Meetings between Syahrial and Azis Syamsuddin grew in intensity during the Golkar of North Sumatra succession debacle in November 2020.

A politician of the banyan tree party said that Azis went to Medan City three times in order to help a candidate win the position of North Sumatra Golkar chair. Syahrial went with Azis in the election.
As compensation, Azis allegedly promised to help Syahrial in his case of position auction bribes being handled by the KPK through Robin. However, the KPK still elevated the bribery case status to the investigation phase on April 15. Investigators have also examined Syahrial in this case.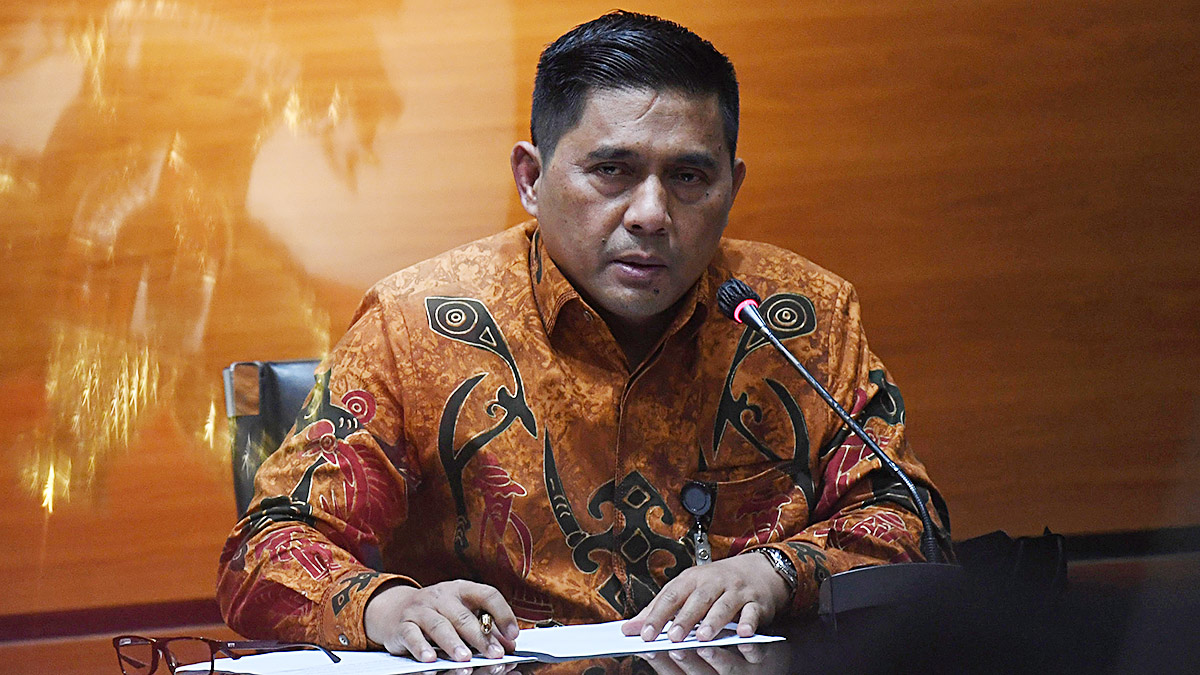 Deputy for Enforcement of Corruption Eradication Commission Karyoto delivers a press statement at the KPK Merah Putih Building, Jakarta, April 29. Antara/Sigid Kurniawan
Aside from Azis and Robin, Syahrial is also suspected of communicating with other parties in order to suppress investigation into the case. After being examined in the KPK building on March 27, Syahrial admitted that he once contacted KPK Deputy Chair Lili Pintauli Siregar. "Yes, I had," said the 32-year-old man. He did not elaborate on the topic of that conversation.

Kurnia Ramadhana from the Indonesia Corruption Watch suspects that Lili has long cultivated close relationships with politicians, especially those from the Golkar Party. He presumes that Golkar supported Lili during the KPK leadership election in the DPR in 2019. "This closeness could potentially become the stumbling block in the position auction investigation in Tanjungbalai," he said.
Golkar Party Chair Airlangga Hartarto remains silent on the case that has so far dragged two politicians from his party. "There will be time for it," he said on April 29.
Lili Pintauli Siregar denied of having communicated with Syahrial. "I firmly state that I have never communicated with the suspect MS regarding the handling of his case," said Lili on April 30. However, she does not prohibit meeting with regional heads. "As long as it is for office business and I remind them to carry out their duties properly," she said.
KPK Supervisory Council is planning to examine Lili and Robin Pattuju in the near future. According to Supervisory Council member, Syamsudin Haris, no one in the KPK is above the law. "The Supervisory Council will be seeking and studying all information related to suspected misconduct and or violation of ethics. The examination applies to everyone in the KPK, either employees, the leadership, or members of the Supervisory Council themselves," he said.
RIKY FERDIANTO, LINDA TRIANITA, SAHAT SIMATUPANG, ANDITA RAHMA, ROSSENO AJI, AVIT HIDAYAT, CAESAR AKBAR