Prabowo's Speed Train Arms Deal
Minister of Defense Prabowo Subianto plans to place a large order for sophisticated military equipment. It is suspected that this procurement does not involve the Indonesian Military (TNI). There is concern that companies filled with people close to Prabowo will monopolize the procurement of military equipment.
Edition : Monday, June 7, 2021
CONSISTING of over 25 pages, a presentation titled Perisai Trisula Nusantara was presented by Prabowo Subianto to members of the Defense Commission of the House of Representatives (DPR), on Wednesday, June 2. The defense minister was explaining a number of issues related to the primary weapons system (alutsista) of the Indonesia Military (TNI). "He explained everything in a logical manner which we readily understood," said Sugiono, a member of the Defense Commission from the Grand Indonesia Movement (Gerindra) Party Faction, on June 3.
Two members from the Defense Commission said that Prabowo cited that the Army's ammunition would be used up in three days of fighting. He added that additional supplies would equip the Army for up to 60 days of action. In this closed meeting, the Gerindra Party general chair also conveyed planned expenditure of US$55.27 billion or about Rp786.215 trillion, at an exchange rate of Rp14,225 per US dollar.
According to the same politicians, that figure is a part of the a planned expenditure of US$124.995 billion or equivalent to Rp1,778 trillion, as is found in a draft of Presidential Regulation regarding Defense and Security Equipment Need Fulfillment at the Ministry of Defense and Indonesian Military for 2021-2024. At the end of May, this draft was leaked to the public.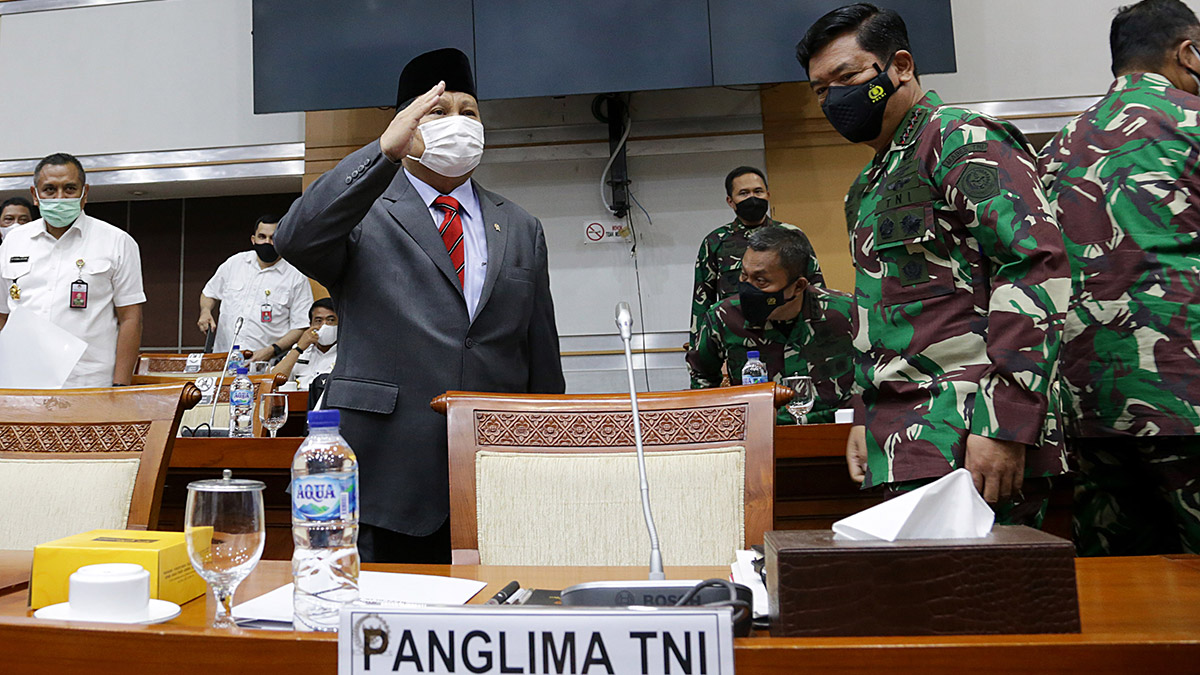 Defense Minister Prabowo Subianto (center), TNI Commander Marshal Hadi Tjahjanto (right) at a working meeting with DPR's Commission I at the Parliament Complex, Senayan, Jakarta, June 2. The meeting discussed general defense strategies and policies for 2020-2024 and modernization of defense equipment. Tempo/M Taufan Rengganis
W251bGwsIjIwMjEtMDYtMjIgMTU6MTM6MjMiXQ
In a DPR Defense Commission meeting Prabowo also conveyed his intention to purchase some military equipment. For instance, he plans to bring in 36 Dassault Rafale fighter jets from France. He visited the country twice, in January and October 2020. At that time, he met with French Defense Minister Florence Parly and said that Indonesia would expand cooperation to strengthen the national armaments. "And advance the capacity of Indonesia's defense industry as a part of the global production chain for alutsista products," said Prabowo in October 2020.
Prabowo also plans to purchase 36 F-15EX fighter jets made by Boeing in the United States. Initially, this former Commander General of the Special Forces Command intended to purchase F-35 jets produced by the Joint Strike Fighter (JSF) consortium, whose members consist of, among others, England, Australia, the Netherlands, and Turkey. Some sources in the ministry of defense and a member of the DPR Defense Commission said that Prabowo is interested in those aircraft because they have a stealth mode which can make an impression on neighboring countries. However, the United States has not approved the planned purchase of F-35s.
For the Army, Prabowo plans to continue cooperation to purchase Leopard tanks made by Rheinmettal Landsysteme GmbH in Germany. In 2013, the ministry of defense signed an agreement to purchase 164 Leopard tanks. A year later, 52 of those Leopard tanks had been sent to Indonesia. At that time, Deputy Minister of Defense Sjafrie Sjamsoeddin led the Indonesian delegation which took part in the delivery ceremony. Sjafrie is currently a Special Assistant to Defense Minister Prabowo Subianto.
Defense Minister Prabowo Subianto and his Turkish counterpart Hulusi Akar during a courtesy visit in Ankara, Turkey, October 23, 2020. Ministry of Defense Doc.
These Leopard tanks became a hot topic during the debates in the 2014 presidential election. At that time, Joko Widodo said that the purchase of Leopard tanks was not appropriate because they weighed 62 tons each, making them unsuitable with Indonesia's infrastructure. On the other hand, Prabowo, as a rival candidate in the election, said that the Leopard tank was usable. Some sources in the Defense Commission said that after Jokowi became president no more Leopard tanks were delivered to Indonesia.
According to two sources in the Defense Commission, Prabowo also plans to purchase 1,200 Carl Gustaf anti-tank rifles made by Saab Bofors Dynamics in Sweden. He also plans to acquire two Gowind Corvettes and four Scorpene submarines. The Naval Group in France makes both of those vessels.
After Prabowo finished his presentation, some Defense Commission members asked about the associated budget. Effendi Simbolon, a commission member from the Indonesian Democratic Party of Struggle (PDI-P), for instance, asked about the legal basis for foreign loans being regulated only through a presidential regulation. "Is a presidential regulation sufficient (for this purpose), especially when debt repayment will stretch across five government administrations?" asked Effendi.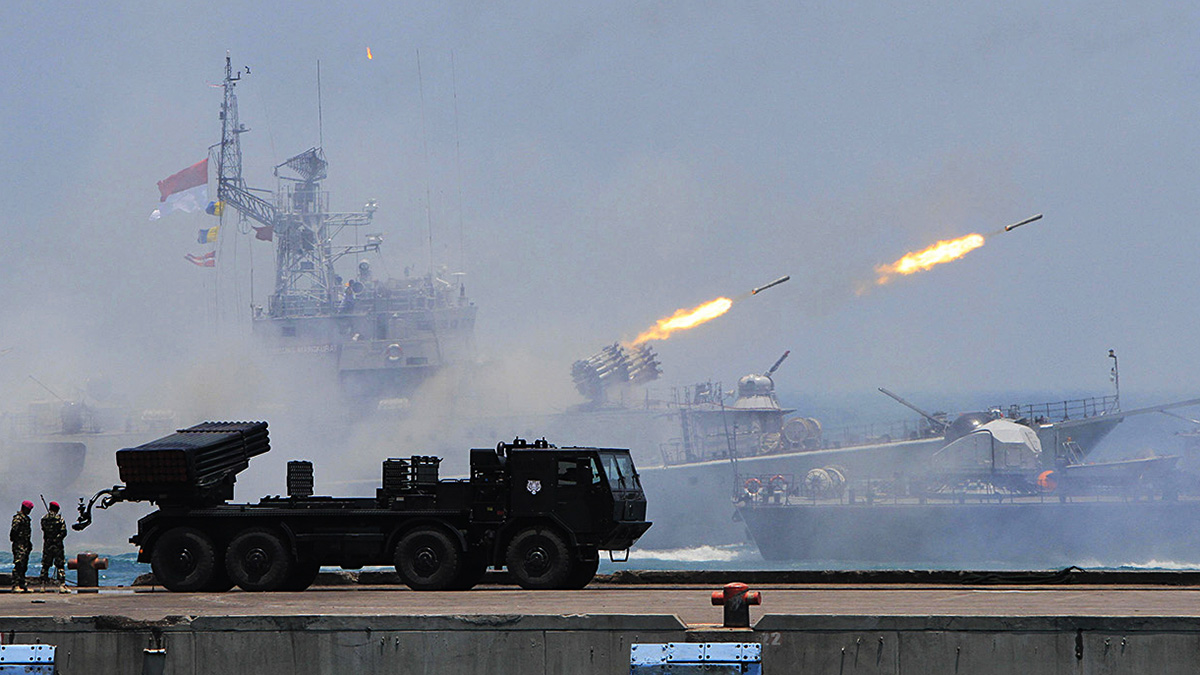 A missile vehicle and an Indonesian Navy warship in the background during the celebration of the 72nd Anniversary of the TNI at Indah Kiat Harbor, Cilegon, Banten, October 5, 2017. Tempo/Subekti
Sugiono said that Prabowo compared the budget for this primary weapons system to the Jakarta-Bandung high-speed train project, which was financed through a loan from China to be repaid over 50 years. "While that high-speed train was a project, these defense funds are a routine budget," said that Gerindra Party Deputy Executive Chair, imitating Prabowo's words. According to Sugiono, Prabowo said that a strong defense comes from funding which is not limited.
After the meeting, Prabowo explained the concept of the future of national defense. He said that the equipment for the three branches of the armed forces—the Army, Navy and Air Force—needs to be replaced. "Much of our equipment is old. It is indeed urgent to be replaced," he said. As for the budget, he added that the ministry of defense is still discussing the matter with the National Development Planning Agency, the ministry of finance, and other government institutions.
•••
A WEEK before meeting at the DPR, the polemic over the purchase of military equipment became hot news. For one thing, its budget of over Rp1,700 trillion will partially come from foreign loans. However, the DPR's Defense Commission eventually supported the defense ministry's plan to modernize the military weapons and equipment. "Our faction asked that the alutsista being purchased are not secondhand items and must be in line with the TNI's needs," said Utut Adianto, a member of the Defense Commission who is chair of the PDI-P Faction.
Some politicians in the DPR said that the meeting ran smoothly once Prabowo Subianto lobbied the leaders and faction chairs in the Defense Commission. On the night of Monday, May 31, Prabowo invited them to his home at Jalan Kertanegara IV, Kebayoran Baru, South Jakarta. That day, he did not attend the working meeting at the DPR, but sent Deputy Defense Minister Muhammad Herindra in his stead.
Utut Adianto and Sugiono verified that meeting in Kebayoran Baru took place. "It was just a friendly post-Ramadan (fasting month) gathering and dinner," he said. However, Sugiono was reluctant to mention what was discussed at the meeting. Two members of the Defense Commission said that during that event Prabowo clarified the polemic surrounding the budget for defense equipment. He also talked about the current state of Indonesian defense and the addition of Teknologi Militer Indonesia (TMI).
Established on August 14, 2020, TMI is filled with people close to Prabowo, such as Glenny Kairupan who sits as the President Commissioner. Three others on the Board of Commissioners are Gerindra Party cadres, namely: Deputy Secretary-General Angga Raka Prabowo, Board of Patrons member Judi Magio Yusuf, and Prasetyo Hadi, who is a DPR member from the Gerindra Party. The company's Chief Executive Officer (CEO) is Satrio Dimas Aditya, who is also Deputy General Chair of Tunas Indonesia Raya, a Gerindra's youth wing organization.
Three months after TMI's establishment, Prabowo sent a letter to A.A Mikheev, CEO of Rosoboronexport—an official Russian firm for the import and export of defense products. In it, he introduced TMI which is under the control of a foundation owned by the Indonesian defense ministry. Prabowo said that the company is led by Maj. Gen. (ret) Glenny Kairupan.
Muhammad Farhan, a member of the Defense Commission from the National Democrat (NasDem) Party Faction, said that the establishment of that company potentially violates Law No. 28/2004 regarding the amendment of Law No. 11/2001 on foundations. Business entities established by foundations must operate in the fields of social, religious or humanitarian affairs. "A foundation cannot set up a business entity that operates in the military sector," said Farhan.
In a working meeting held on Wednesday, June 2, according to Defense Commission member Effendi Simbolon, TMI is back in the spotlight. DPR members, Effendi added, have asked for an explanation regarding that defense ministry-owned company which is under the Development of Defense Resource Potential Foundation, initially known as the Welfare, Education and Housing Foundation.
According to Sugiono, Prabowo said that TMI is not a company which procures military equipment, but instead assists with the transfer of technology. Rodon Pedrason, Director-General of Defense Strategy at the Ministry of Defense, said the same thing. To date, said Rodon, the purchase of military equipment frequently does not include a transfer of technology. "So are we only going to paint and weld the boats?" he asked.
Sugiono claimed that the people close to Prabowo in those companies have proven track records in matters of military equipment. TMI Corporate Secretary Wicaksono Aji said that the company has experts who study technology transfer for sophisticated military technology. "We give input to the parties who need it," he said. Glenny Kairupan did not respond to questions Tempo sent to his mobile phone.
Soleman B. Ponto, a former chief of TNI's Strategic Intelligence Agency (BAIS), is suspicious that in less than a year TMI will have a monopoly over military equipment procurement projects. "It appears to be a monopoly because the transfer of technology for the purchase of alutsista is being done through TMI," he said. Al Araf, the Director of Imparsial, voiced his concern that TMI will become a broker, as all of the technology transfers will go through it.
A source familiar with TMI's activities said that the company is involved in a planned procurement and transfer of technology for Dassault Rafale fighter jets and Scorpene submarines. According to the same source, the ministry of defense is not involving the TNI commander and some chiefs of staff. The ministry of defense has monopolized the military equipment procurement process.
Muhammad Farhan, a member of the Defense Commission from the NasDem Party Faction, said that during a working meeting with TNI Commander Hadi Tjahjanto on May 6, the issue of the procurement of alutsista was raised. "The commander said that they were not involved in it," he said. According to Farhan, a few days after that meeting the ministry of defense held a meeting at Lorin Hotel in Sentul, Bogor, West Java, inviting planning assistants of three chiefs of staff. "They asked each military branch to write down their needs for military equipment," he said.
Defense Minister Prabowo Subianto (left) and his French counterpart Florence Parly at the French Ministry of Defense Office in Paris, France, October 21, 2020. Ministry of Defense Doc.
This is why one decision made in the meeting held on June 2 was that the ministry of defense and TNI and other stakeholders will intensify communication and coordination in order to finish the draft of the 2020-2044 State Defense Master Plan along with its related budget details. Hadi was reluctant to answer questions posed by Tempo after a meeting with the Defense Commission on June 2.
Soleman B. Ponto said that the procurement of military equipment should be in line with the needs of each branch of the service. "Not as it is now, from the top asking that things be adjusted at the bottom," he said. He cited the planned purchase of the Scorpene submarine, which is not suited to the repair and shipyard facilities in Indonesia.
Navy Chief of Staff Yudo Margono gave a diplomatic reply regarding the procurement which should start from proposals made by the military branches and then be taken to the ministry of defense. "We as the users, if we are given (that equipment), we will take care of it," he said. Tempo also asked about the planned purchase of the Scorpene, which is deemed to be not in line with the Navy's needs. "(Laughing) We will take care of such equipment regardless. If they purchase it, we will adjust accordingly," he said.
HUSSEIN ABRI DONGORAN, DEVY ERNIS, DEWI NURITA, BUDIARTI PUTRI UTAMI, EGI ADYATAMA