Life Line for Garuda
The government is making plans to bring out flag carrier Garuda Indonesia from a critical situation, threading a steep path between mountains of debts to many creditors.
Edition : Monday, June 7, 2021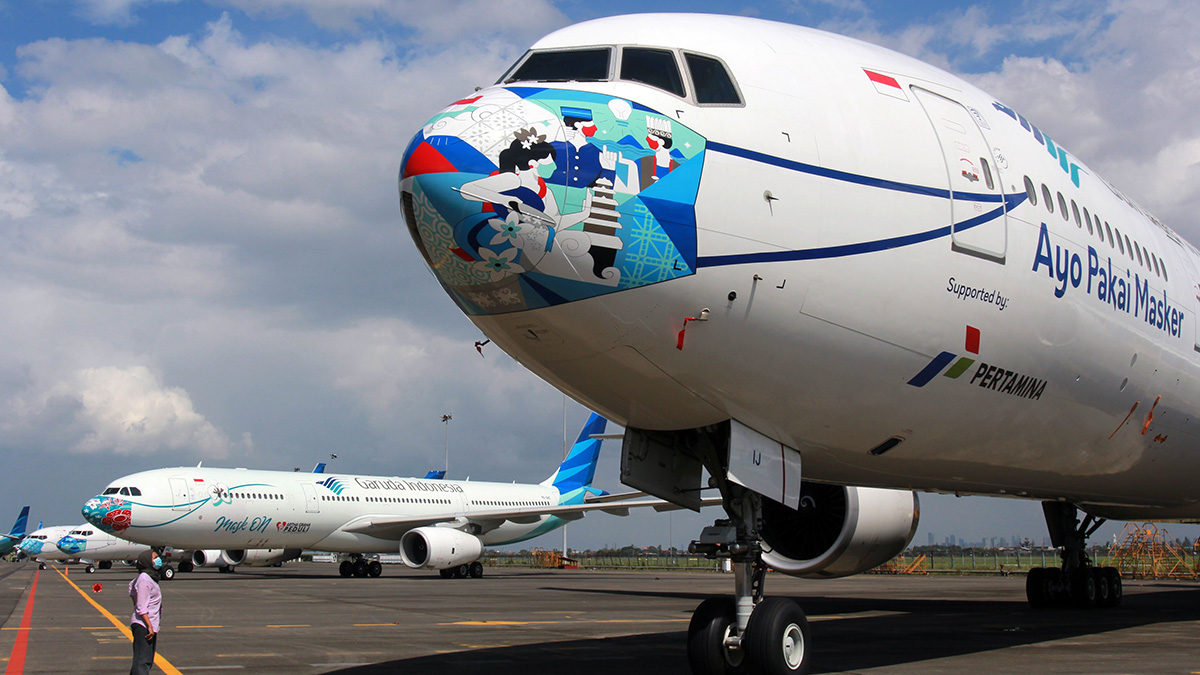 THE meeting between the Board of Commissioners of Garuda Indonesia (IDX: GIAA) and Deputy State Owned Enterprises (SOEs) Minister Kartika Wirjoatmodjo was held at the end of May. Several weeks prior, the supervisors of Garuda's management requested a meeting to discuss the financial condition of the state airline, which is in terrible shape. During the meeting, Kartika presented four schemes to resolve Garuda's problems, along with the considerations.
The meeting ended without any decision about the alternative methods for saving Garuda's finances proposed by the SOEs ministry. In fact, the airline's Board of Commissioners member Peter F. Gontha claimed he had no knowledge about when and how the options for solving the problems of Garuda were formulated. "I don't understand how those options were decided," said Peter on Wednesday, June 2.
Peter, who is the former Indonesian ambassador to Poland, is a commissioner representing CT Corp—a business group owned by Chairul Tanjung, which holds 28.27 percent of Garuda's shares through Trans Airways. Another CT Corp representative is Chairul's younger brother, Chairal Tanjung, who is the Deputy President Commissioner of Garuda.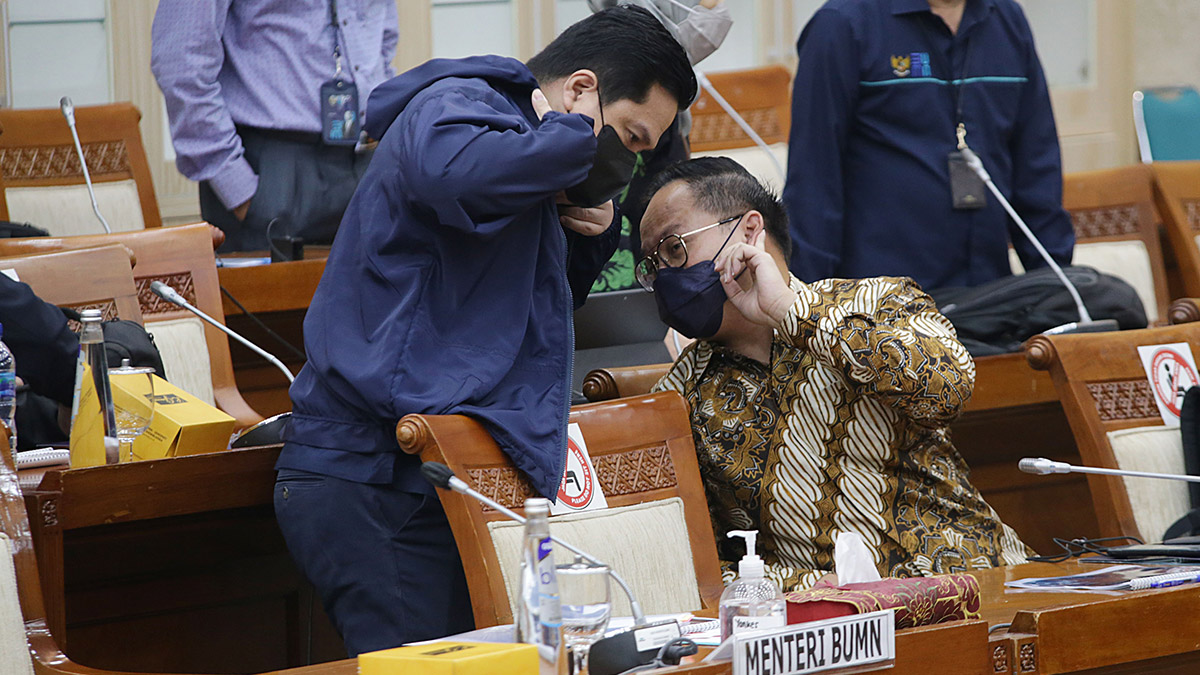 SOEs Minister Erick Thohir attends a working meeting with DPR's Commission VI at the Parliament Complex, Senayan, Jakarta, June 3. Tempo/M Taufan Rengganis
W251bGwsIjIwMjEtMDYtMjIgMTU6MTI6MTMiXQ
Over the last week, a presentation material bearing the SOEs ministry logo circulated on social media. The four-page document is about Garuda's rescue schemes. Each option is accompanied by an example of a similar scheme being used by overseas airlines, as well as what could potentially happen if it is applied to Garuda.
The first option is for the government to continue supporting Garuda, either through loans or equity injections. The document notes that the same scheme was applied to Singapore Airlines, Cathay Pacific (Hong Kong), and Air China. However, this solution is considered to have the potential for large debts, which could become a new challenge for Garuda in the future.
The second option is a plan to use the legal process for bankruptcy protection as a way to restructure Garuda's various liabilities such as debts, leases, and employment contracts. Such legal process does not only take into account the requests for postponing debt payments, but also bankruptcy schemes in the jurisdictions of which aircraft charter owners operate—such as those in the United States and Great Britain. Although this particular scheme had been used to the rescue Malaysia Airlines and Thai Airways, it may only succeed in overcoming debt and rent problems, not the company's work culture.
The third option is for Garuda to restructure and establish a new domestic airline that will take over most of its routes. This method refers to the experiences of Sabena Airlines (Belgium) and Swiss Airlines. Estimated to require some US$1.2 billion (about Rp17 trillion), the document noted, this option is deemed necessary to be explored further, especially so that Indonesia can continue to have a national flag carrier.
The fourth option is a plan to liquidate Garuda, just like what happened during the restructuring of Varig (Brazil) in 2005. In this scheme, the government will encourage the private sector to improve air services, such as by imposing lower airport tax or route subsidy. The impact is clear, Indonesia will no longer have a national flag carrier.
•••
THE four scenarios for rescuing Garuda Indonesia did not come out of thin air. The SOEs ministry and Garuda directors had been discussing it since the beginning of this year's second quarter. The airline's board of directors had proposed for bailouts because of its plummeting performances in the first quarter of 2021.
In its monthly operational report, from January to March, the Garuda Group only had 2.75 million passengers, down 54.51 percent compared to the same period last year. The biggest decline was recorded by the group's mainstay brand, Garuda Indonesia Airlines, by 73.81 percent. Citilink, a subsidiary of Garuda, was the biggest contributor to passengers' traffic, even though the figure fell by 30.98 percent, year-on-year.
This red ledger is a continuation of Garuda's poor performance in the last year. Irfan Setiaputra, Chief Executive Officer (CEO) of Garuda Indonesia, said the pandemic is increasingly pressuring the company's business. "Our income has dropped by 90 percent," said Irfan on June 4. He added that throughout last year, the company's revenue fell by an average of 60 percent.
The management had actually made several efforts to secure the company's coffers of money. In the passenger service line, Irfan said, a number of initiatives were implemented to ensure the public they can fly safely with Garuda during the pandemic. The company had also sought to optimize air cargo business performance.
The operational data shows that the Garuda Group's cargo volume during the first quarter of 2021 indeed rose, by 11.47 percent year-on-year. Even though it only contributes about a quarter of Garuda Group's air cargo volume, Citilink posted the highest annual growth for cargo business with 37.36 percent.
Workers doing maintenance and repair works for Garuda aircraft at the Garuda Maintenance Facilities (GMF), Cengkareng, Tangerang. Tempo/Tony Hartawan
International cargo services through the Garuda Indonesia fleet also rose by 34.65 percent. That is why the management is still maintaining international flights, even though from January to March this year there were only 30,000 people, down 95.4 percent from the first quarter of 2020.
Still, that did not help the company's finances. "We are still posting negatives," said Irfan. This condition was exacerbated by the mounting debt, reaching Rp70 trillion, with an estimated increase of Rp1 trillion every month.
To date, GIAA has not submitted its 2020 annual financial report and 2021's Q1 financial report to the Indonesian Stock Exchange authority. However, referring to its Q3/2020 financial statements, the company's liabilities jumped sharply, in line with the implementation of the Financial Accounting Standards Guideline 73, which requires noting down leases as a liability component. Nearly half of the company's total liability, around US$4.6 billion, are short-term.
According to Irfan, Garuda directors have intensively reported the airline's financial problems to the SOEs ministry, including by submitting settlement options. "We made suggestions. As they are ours, surely the (suggestions) are good ones," Irfan remarked. "Those are rational options, maybe those four, which would be decided by the owner."
An SOEs ministry official said that Garuda currently owes to at least 220 entities. In addition to debts to aircraft lessors, Garuda also has the largest debt arrears to a number of state-owned banks and state oil company Pertamina.
Debt settlement options are prepared in two major schemes: on-court and off-court. Settling outside the court is estimated to take a long time, such as what happened during the restructuring of Krakatau Steel, which took about two years. "Garuda will die if they take this route," said the official.
That is why, debt settlement and lease contracts through legal channels become one of the options, as it is estimated to take only nine months at the longest. "If creditors don't agree, there will be a vote," said an official with knowledge of the Garuda rescue process.
The House of Representatives' (DPR) Commission VI, which deals with SOEs, among others, held a work meeting on Thursday, June 3. There, the Deputy SOEs Minister Kartika Wirjoatmodjo said the government would seek to restructure Garuda, as the airline might go bankrupt if it fails to reach an agreement with the 36 lessors. "There is a risk that creditors will not agree or they have many legal demands, it may not reach a quorum, and that will lead to bankruptcy, which is what we want to avoid," said Kartika, who is also a former CEO of state-owned Bank Mandiri. "Hopefully all creditors would agree to a restructure."
According to Kartika, Garuda will undergo tough and complex legal procedures for the massive restructuring. This is because most of its lessors are foreign companies, thus the settlements must refer to international laws.
Another one of Garuda's major creditors are the global sukuk (Islamic bond) holders from the Middle East. The debt is US$500 million or around Rp7.1 trillion, and was restructured in June 2020 by extending the maturity. On June 2, the Islamic bond's coupons or interests matured, with a value of US$14 million or around Rp196 billion.
The SOEs ministry has appointed legal and financial consultants, such as the Boston Consulting Group and Credit Suisse, to assist Garuda in the negotiations. Throughout the renegotiation process, Garuda will ask for a moratorium on debt payments for about 270 days, before the restructuring is completed.
If the management succeeded in mass restructuring the company's debt to all lessors and sukuk holders, as well as lowering a number of cost components, Garuda's financial burden is estimated to decline by more than 50 percent. With the fundamental restructuring, its current debt of US$4.5 billion is targeted to drop to US$1 to 1.5 billion. "Garuda would be able to survive after the restructuring," said Kartika.
Garuda Commissioner Zannuba Ariffah Chafsoh, alias Yenny Wahid, prefers that Garuda's settlement does not go through a debt payment postponement (PKPU) mechanism. However, if that option is taken, she asked directors to map-out the creditors first, as they control 70 percent of the total debt. "Who will accept and who will reject," said Yenny. She reminded that the PKPU requirements are quite rigid, requiring approvals from more than half of the creditors. "If they don't want to, it would be difficult, (Garuda) can go bankrupt."
According to Yenny, the management must also improve Garuda's business. Only then can creditors be convinced and willing to go through the restructuring process. "There must be a clear road map for business reform that will be carried out, to make creditors believe that this is for the sake of rescuing Garuda."
•••
HOPES for Garuda Indonesia to stay alive lie in the hands of the finance ministry. Last year, as part of the national economic recovery efforts, the government prepared bailout funds for Garuda Indonesia and Krakatau Steel. Initially, the bailout funds were also allocated to Perkebunan Nusantara Group (state plantation company), Kereta Api Indonesia (state railway firm), and the Perusahaan Umum Pembangunan Perumahan Nasional (Public Company for National Housing Development). However, the discussions with the DPR resulted in a decision to provide the three companies with loans in the form of state capital participation.
The bailout scheme for Garuda is in the form of a mandatory convertible bond (MCB), or debt securities that must be converted into shares worth Rp8.5 trillion. The finance ministry, through its special mission vehicle, Sarana Multi Infrastruktur (SMI), becomes the executor of government investment. The MCB deal was finally signed in December 2020.


On February 9, Garuda received the first phase of MCB disbursement, amounting to Rp1 trillion. However, the company's recent deteriorating performance has hampered plans for the second disbursement.
Two officials from the SOEs ministry and the finance ministry disclosed similar information. The second disbursement was delayed because Garuda did not meet the required key performance indicators (KPI). "The management made projections with the assumption that conditions would return to normal quickly after vaccination (program)," said the SOEs ministry official. "But the number of passengers have dropped since last January and then fell further because of the homecoming ban."
Meanwhile, a source at the finance ministry stated that the first bailout disbursement was a major concern for his ministry. The office of Finance Minister Sri Mulyani Indrawati is now contemplating whether to continue or stop the bailout, as there are suspicions that the funds in February were used to pay debts instead of being allotted for the company's operating cash as originally planned.
Irfan Setiaputra denied reports that the first MCB fund was used inappropriately. According to him, the Rp1 trillion that was disbursed in February was used to pay for aviation fuel to Pertamina, as well as airport fees to Angkasa Pura I and Angkasa Pura II. "For current operations, we have to pay (them) every month. (The money) is used up. There was nothing left to pay the debt," he said.
He confirmed information that the MCB disbursement refers to the KPI agreed with SMI. The KPI is listed in Garuda's business plan. When the agreement was drawn up at the end of last year, the economy was beginning to improve. "We were also improving, until December, things were very good," Irfan said.
But situations took a downturn in early 2021. In January and February, a number of Covid-19 curbing policies, such as a new rule that requires passengers to show antigen test results, as well as the tightened social restrictions, repeatedly hit the travel business. Recently, the aviation industry was hit again by the end-of-fasting-month celebration Idul Fitri homecoming or mudik ban. "I could not say no. I had to support it. Because, for us, if people get better faster, Garuda will also recover faster," said Irfan.
As a result, the projections and requirements in the agreement to disburse the MCB could not be met. "There were agreements that could not be executed, even though Garuda needed them. That is the situation we are facing," explained Irfan. Nevertheless, he still hopes that the MCB bailout or other schemes can roll out to support Garuda's operations. "We will find it very helpful if shareholders could help, whether (through) the MCB or any other mechanism."
Right now, SMI is coordinating with the finance ministry as the owner of the funds. The main issue being discussed and reviewed is the fulfillment of withdrawal requirements or issuance of the second phase of mandatory convertible bonds, in accordance with the agreement. "The government continues to monitor GIAA's progress, especially the company's improvement plan, so that government investments can provide targeted and effective solutions," said SMI Corporate Secretariat Division Head Ramona Harimurti on June 4.
According to Ramona, SMI must design and recalculate the best scheme for Garuda Indonesia's recovery. "We will support and assist the SOEs ministry's chosen solutions for GIAA."
RETNO SULISTYOWATI, FRANCISCA CHRISTY ROSANA