Sex Predators in Our Universities
Several universities have disturbing track records of sexual violence. Some reported professors are still teaching.
Edition : Monday, November 22, 2021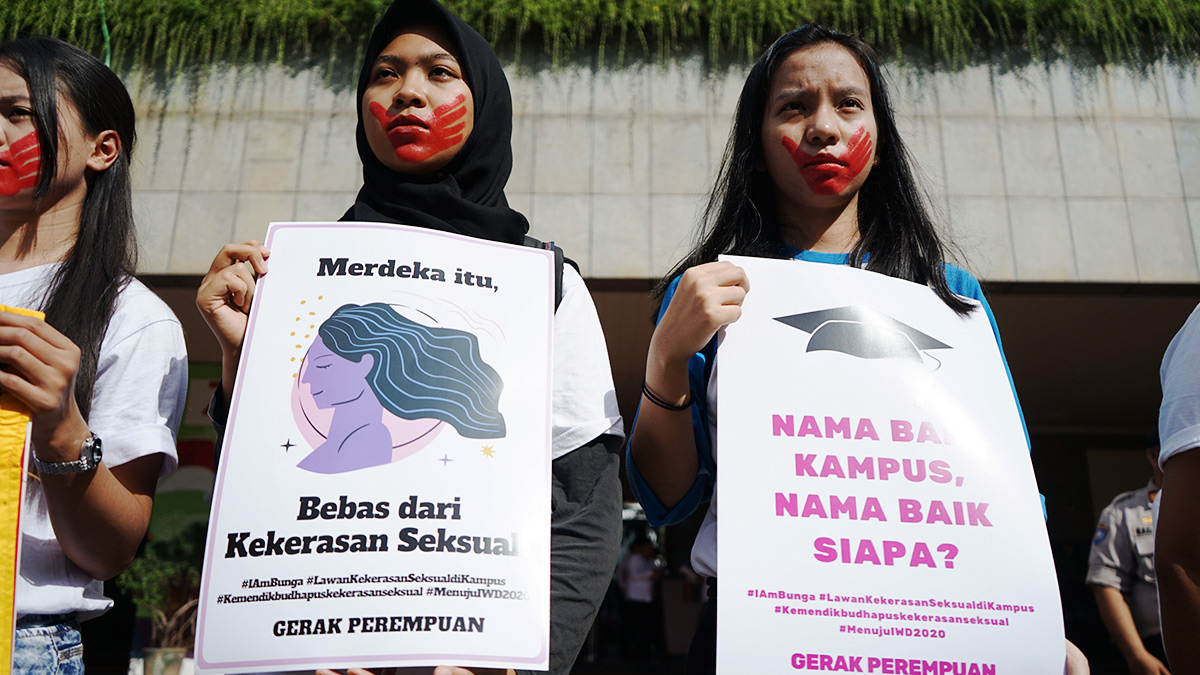 WHEN she read about the sexual violence experienced by a student at Riau University, Ritika thought back to a similar incident in 2019. Like the Riau University student, the 27-year-old woman had been sexually assaulted by her thesis adviser when she was completing her master's in political science at the University of Indonesia (UI), Depok, West Java. "I understand the student's suffering," she said softly on Friday, November 19.
The incident two years ago has taken a toll on Ritika's psyche. According to Ritika—not her real name—it was Burhan Djabir Magenda, a political ethics and philosophy professor at UI, who sexually assaulted her inside an online taxi they took after discussing a make-up exam at the end of December 2019.
With information from Ritika, Tempo investigated into the possibility that Burhan Magenda may assaulted other victims. We met with Gayatri—also not her real name—a student at the UI School of Social and Political Sciences, who entered the program in 1999. Burhan was her thesis adviser in 2004. Gayatri is now married with three children. But the sexual assault she experienced inside Burhan's office at the House of Representatives (DPR) complex still haunts her memory.
Besides teaching at UI, Burhan has been a DPR member from the Golkar Party. The 75-year-old man is a professor of political science.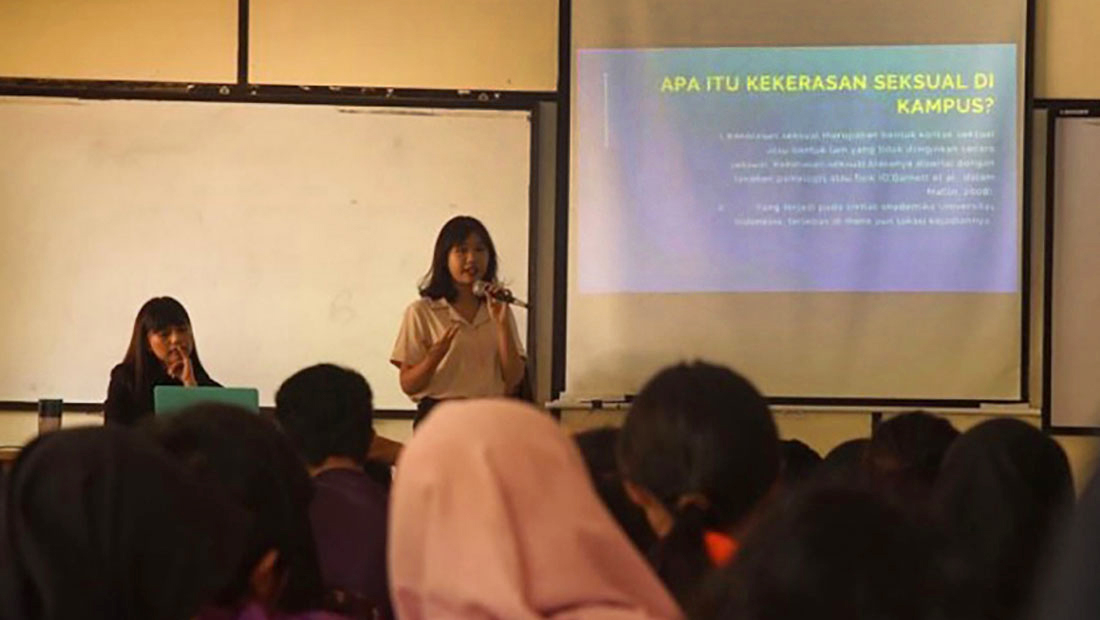 HopeHelps provides counseling on sexual violence at the University of Indonesia's School of Social and Political Science (FISIP UI), November 2019. HopeHelps UI Doc.
Three years after graduating from UI, Gayatri met Burhan in an alumni event at the UI Japanese Studies Center. Her heart began to race and she ran to the restroom to calm herself. "I hid in the restroom for almost an hour," she said. Since then, she is often shaken every time she thinks about the incident, or even when she reads or hears news about sexual violence.
Gayatri informed us that another victim of Burhan is now a professor at UI. According to this professor, Burhan also assaulted his own assistant, causing her to resign from UI because she could no longer withstand his treatment. "So he has been this way for 30 years and has never been punished," she said.
Burhan Magenda denied all of these stories. "That's slander," he said. He suspected that there was a systematic effort of character assassination. Burhan claimed that students who fancied him and were rejected fabricated these sexual violence accusations. "Go ahead and file a police report, like the Riau student," he said.
•••
ON August 31, Education, Research and Technology Minister Nadien Anwar Makarim issued Regulation No. 30/2021 on the prevention and handling of sexual violence at universities. The regulation was drafted after the ministry conducted a survey across 79 universities in 2020.
According to the survey, 77 percent of lecturers said sexual violence has occurred at their universities. Ironically, 63 percent of cases were never reported. "The majority of victims are university students," said Nizam, acting Director-General of Higher Education, Research, and Technology.
Armed with the data, Nadiem calls sexual violence at universities as entering an emergency state. Nadiem said that the Education and Culture Ministry Regulation No. 30/2021 was issued to prevent more victims of sexual violence in Indonesian universities. "Sexual violence cases are the tip of the iceberg," he said, meaning only a few are known compared to the reality.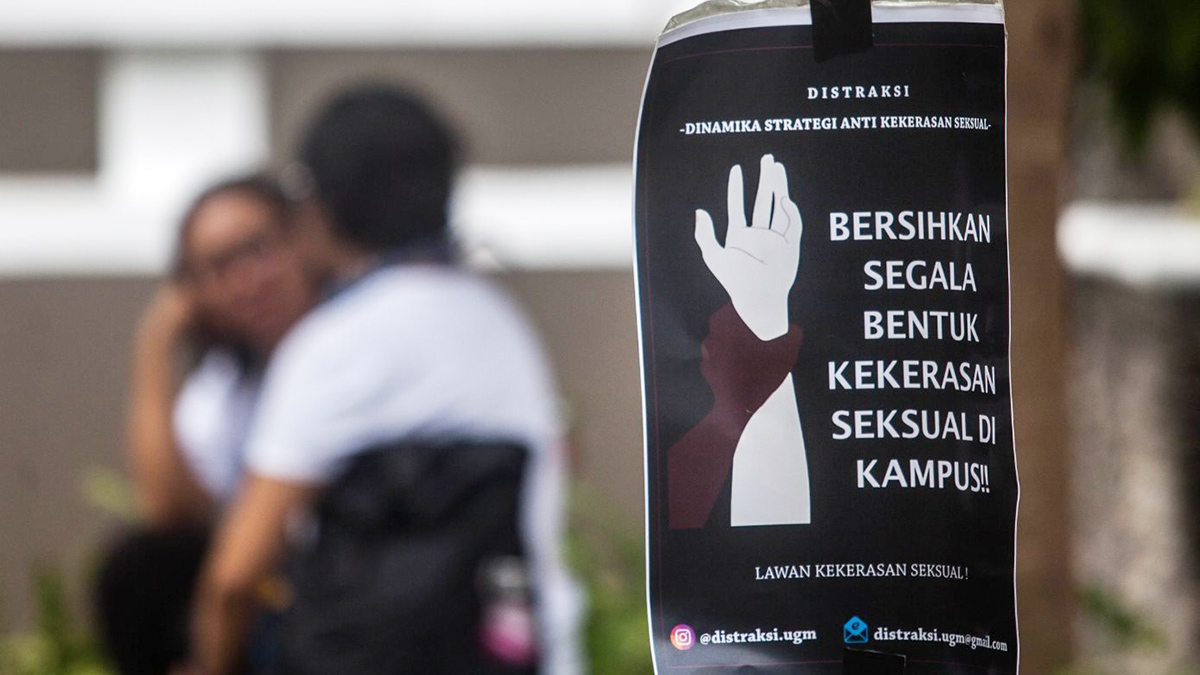 A poster against sexual violence at Gadjah Mada University (UGM), Yogyakarta. ANTARA/Andreas Fitri Atmoko
Nadiem's ministerial regulation gained momentum when the Riau University student exposed the university's dean of social and political sciences Syafri Harto's sexual assault. She reported Syafri to the police. The police have named him a suspect despite Syafri responding by reporting back the student for libel.
Advocates for the victims of sexual violence praise the Riau University student's courage to report her sexual assault to the police. According to Nizam, victims usually choose to keep cases of sexual violence secret because they are not sure that their cases would be investigated. "University leaders are hesitant to take action because there was no legal umbrella for responding to sexual assault," said Nizam.
This also occurred at UI. Some only dared to report and even create a petition urging universities to sanction Burhan Magenda and other sex predators in March 2020. According to the petition's signatory, Burhan often forces students to meet in person, both to teach and to advise on their theses, during the Covid-19 pandemic.
As of Saturday, November 20, Head of the UI School of Political Science, Aldrin Pasha, had not responded to Tempo's request for an interview about the various cases of sexual violence involving professors on his campus. But a professor at the UI School of Social and Political Sciences, Nur Iman Subono, confirmed that the petition was created by students who wanted to expose Burhan. "It's true that such a petition was created," he said.
Students are not the only victims of sexual violence at UI. One victim was a lecturer at UI's social and political sciences department. Hurriyah fell ill in 2012 when she found out that her personal photos were kept by a colleague, Cecep Hidayat. Those photos were intended for her husband who at the time was pursuing education in England.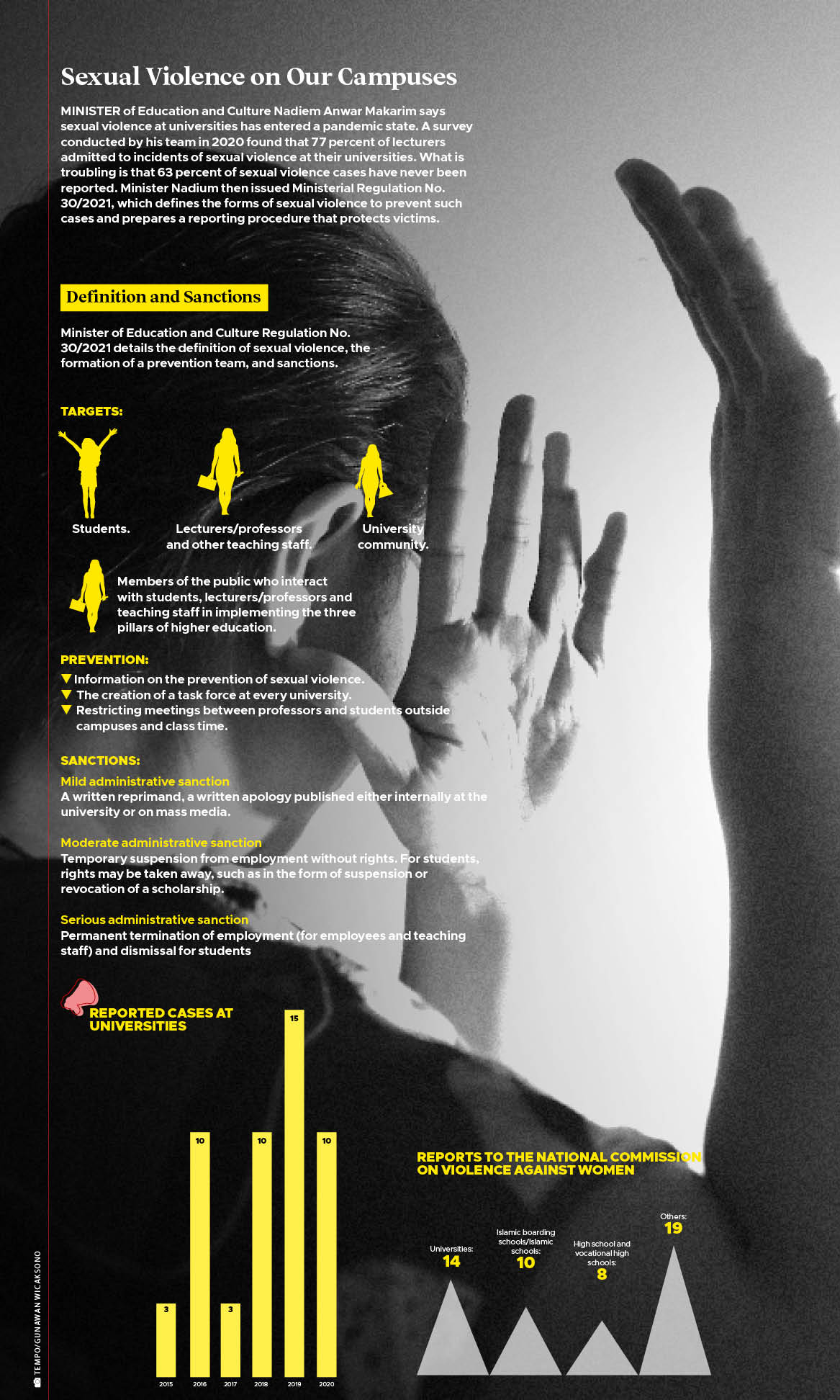 Apparently Cecep had kept Hurriyah's photos, which he allegedly took from her personal computer. In 2012, Cecep was head of the political science program, and Hurriyah was a secretary. She only found out that Cecep had kept her photos when his wife accused them of having an affair. Cecep had kept Hurriyah's photos for seven years.
Hurriyah reported the event to UI because she felt Cecep was sexually harassing her and causing psychological distress. But UI's response was unclear. According to Nur Iman Subono, UI created an ethics committee to investigate the case, which he was a member of. "The problem was resolved when the committee recommended temporary suspension for the person reported," he said.
Cecep has not responded to a request for an interview sent to his cell phone. Neither did he meet Tempo when we visited his home in Depok, West Java, on November 19. Not one opened the door.
The numerous cases of sexual violence at UI encouraged law students, Putri Salsa (class of 2014) and Irena Lucy (class of 2013), to create a post for receiving reports, called HopeHelps, in 2017. In 2019 to 2020, they received 47 reports of sexual harassment or assault. "This year, the number of reports increased," said HopeHelps Director, Dewi Wulandari. "There were already 31 reports by October."
HopeHelps now has representatives at 15 state universities throughout Java and Bali, working under the HopeHelps Network banner. "This organization was founded to respond to two cases of sexual violence that appeared at UI several years ago," said HopeHelps Network Director Joce Timothy Pardosi.
The two cases of sexual violence against UI students involved theater actor and poet, Sunarto—who is more popularly known by his stage name Sitok Srengenge—as well as a law professor, Teuku Nasrullah. Those cases were processed but the police said the reports could not be proven and were consensual.
Law experts criticized police's perception due to the unequal power between a professor and his students. Because of the unequal power relations—with students being in a weaker position and therefore more vulnerable—sexual intercourse can be categorized as violence. "The victim did not give consent, despite remaining silent," said Sulistyowati Irianto, a legal anthropology professor at UI.
On various occasions, Sitok and his attorney denied reports that he raped an UI student, who became pregnant and has since given birth. Teuku Nasrullah also dismissed the accusation against him as having no basis. He admitted to having been in a relationship with his student but not to committing sexual violence. "I have long since forgotten the problem. Please don't bring it up. To me it was slander. The police didn't find criminal elements there," he said.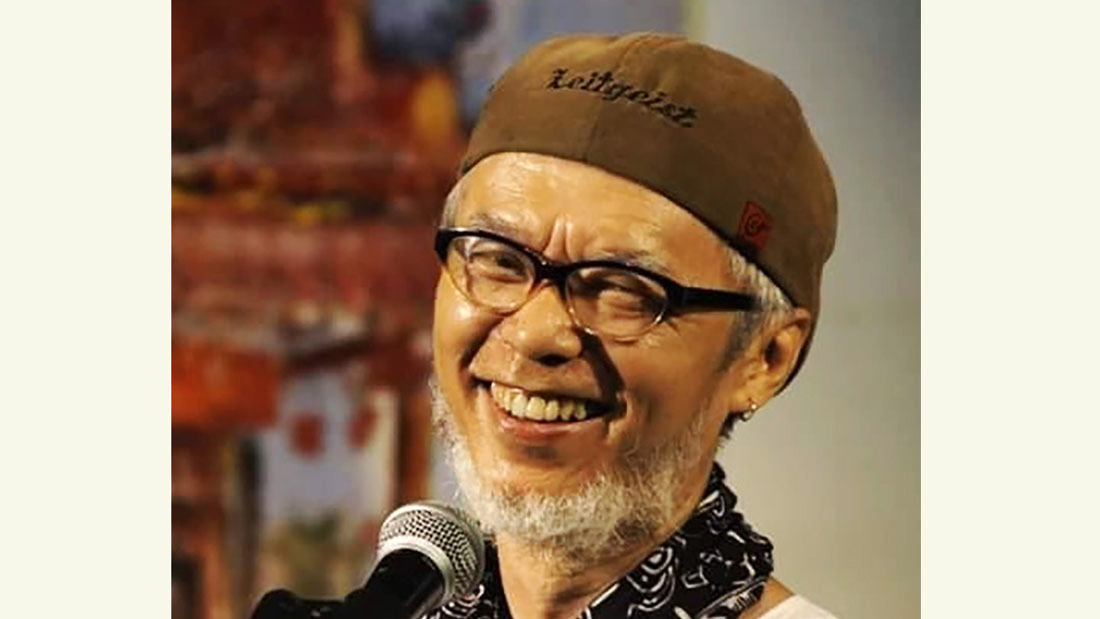 Christian Budiman kbm.pasca.ugm.ac.id
Shanty Dewi, the lawyer of the student who reported Teuku Nasrullah, believes that a romantic relationship does not mean that the rape did not happen. Shanty discontinued her advocacy because the victim died in June from Covid-19. But she still believes that Nasrullah was guilty. "Otherwise, why would there be an ethical sanction from the university," she said.
UI Secretary Agustin Kusumayati said the office of the university's rector has not yet investigated into the reports of sexual violence released by UI HopeHelps. Neither has she looked into the reports of sexual violence experienced by Burhan Djabir Magenda's students and Hurriyah.
Agustin claimed UI would respond to every report of sexual violence by protecting and respecting the rights of both the victim and perpetrator. "If the resolution is unsatisfactory, UI is always open to further communication," she said.
•••
THE cases in UI as well as the survey conducted by the ministry of education, culture, research and technology match the data gathered by the National Commission on Violence against Women (Komnas Perempuan). According to the Commission's records, there are more cases of sexual violence on campuses—as many as 14 cases over the past several years—compared to other educational institutions.
Komnas Perempuan Commissioner Maria Ulfa said there are potentially more cases in the field, which are not reported by the victims. "One of the factors that cause this is the absence of a legal umbrella to protect victims at universities," she said.
Director of Gadjah Mada University (UGM) HopeHelps in Yogyakarta, Filza Hanifah, said her university already has the Rector Regulation No. 1/2020 as a legal basis in responding to sexual violence cases. Despite the regulation, sexual violence at UGM has not been completely eradicated. "Throughout 2021, HopeHelps has received 12 reports," said Filza.
Students in the UGM culture and media postgraduate program experienced sexual harassment in June. Five students said they were victims of sexual harassment perpetrated by Christian Budiman, a professor of cultural studies. A friend of the victim said Christian had shared an image of a woman while teaching an online class.
According to the victims, Christian also talked about the size of male genitalia. Another student revealed she was embraced while discussing her thesis. UGM suspended Christian because of these reports. "The sanction should have been firing," said the friend of one of Christian's victims.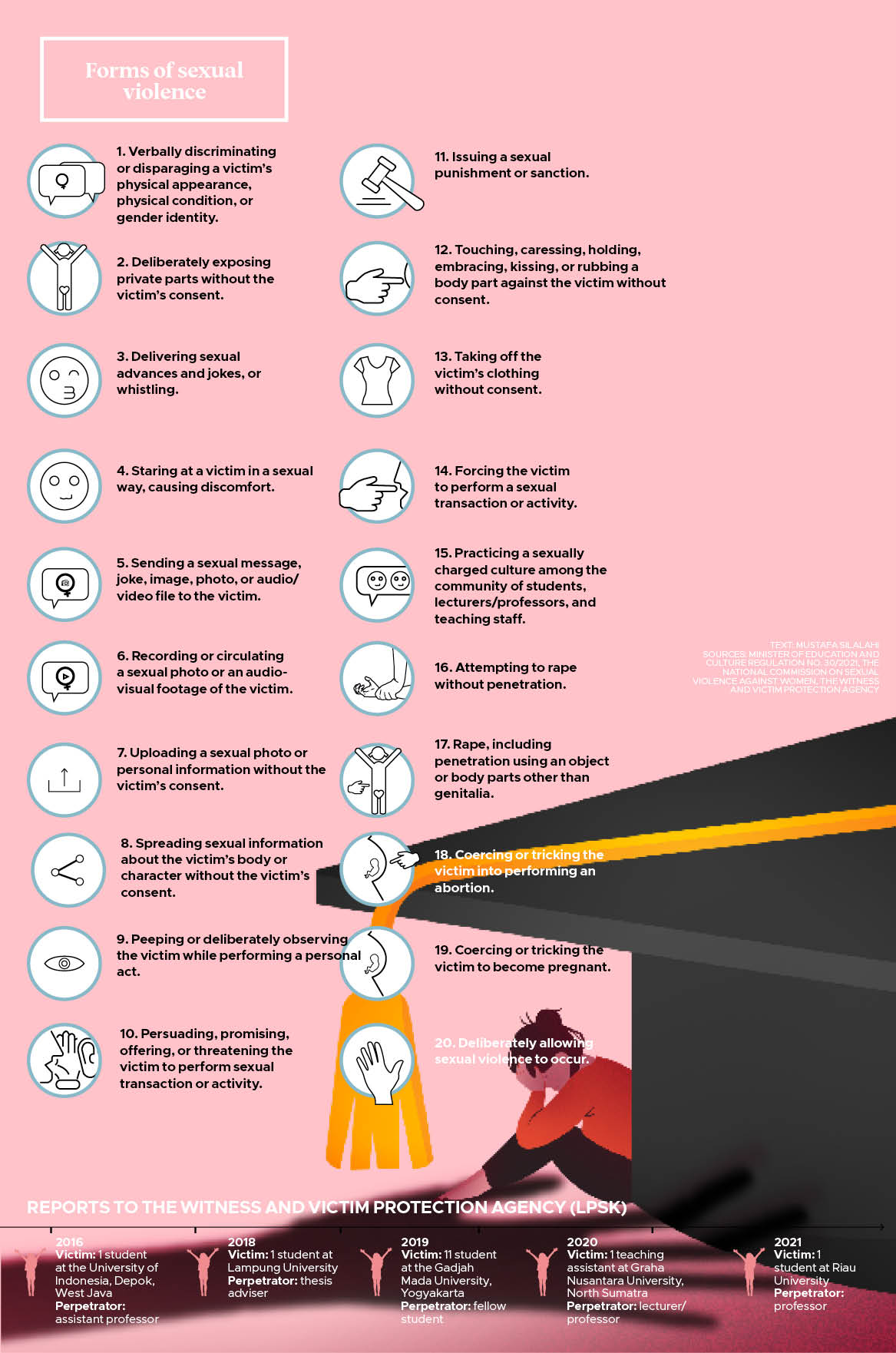 Head of UGM Public Relations and Protocols Division Iva Ariani said UGM has sanctioned Christian by not extending his teaching contract. His dismissal letter was issued in October. "He was tried in an ethics committee hearing before the university rector issued a sanction," said Iva.
Iva confirmed the data released by UGM HopeHelps. According to her, both lecturers and students are perpetrators of sexual harassment. The university applies different sanctions depending on the violation and the recommendation of UGM's ethics committee after it has worked for three months. The sanction for students may involve postponing graduation while teaching staff may have their contracts terminated.
Besides being a lecturer, Christian Budiman is a literary critic. He refused to explain the accusations of sexual violence leveled against him by his students. He also denied news that UGM's rector has discontinued his teaching contract. "Not so. I'm still at UGM," he said.
RIKY FERDIANTO, SHINTA MAHARANI (YOGYAKARTA)
Subscribe to read this entire article.
Start From
Rp. 36.000*/Month
✔
Unlimited access on Tempo website and mobile
✔
Tempo Media App on Android and iPhone
✔
Podcasts, video documentaries and newsletters
✔
Archives of all news from Tempo Magazine since 1971 and Koran Tempo since the first edition in 2001
sexual assault in university
government regulation on sexual assault
sexual violence case in Indonesia