United Nations Development Programme
Accelerator Lab speeding up SDGs accomplishment in Indonesia
Monday, 29 March 2021
The increasing challenge on development needed more creativity to result new opportunities.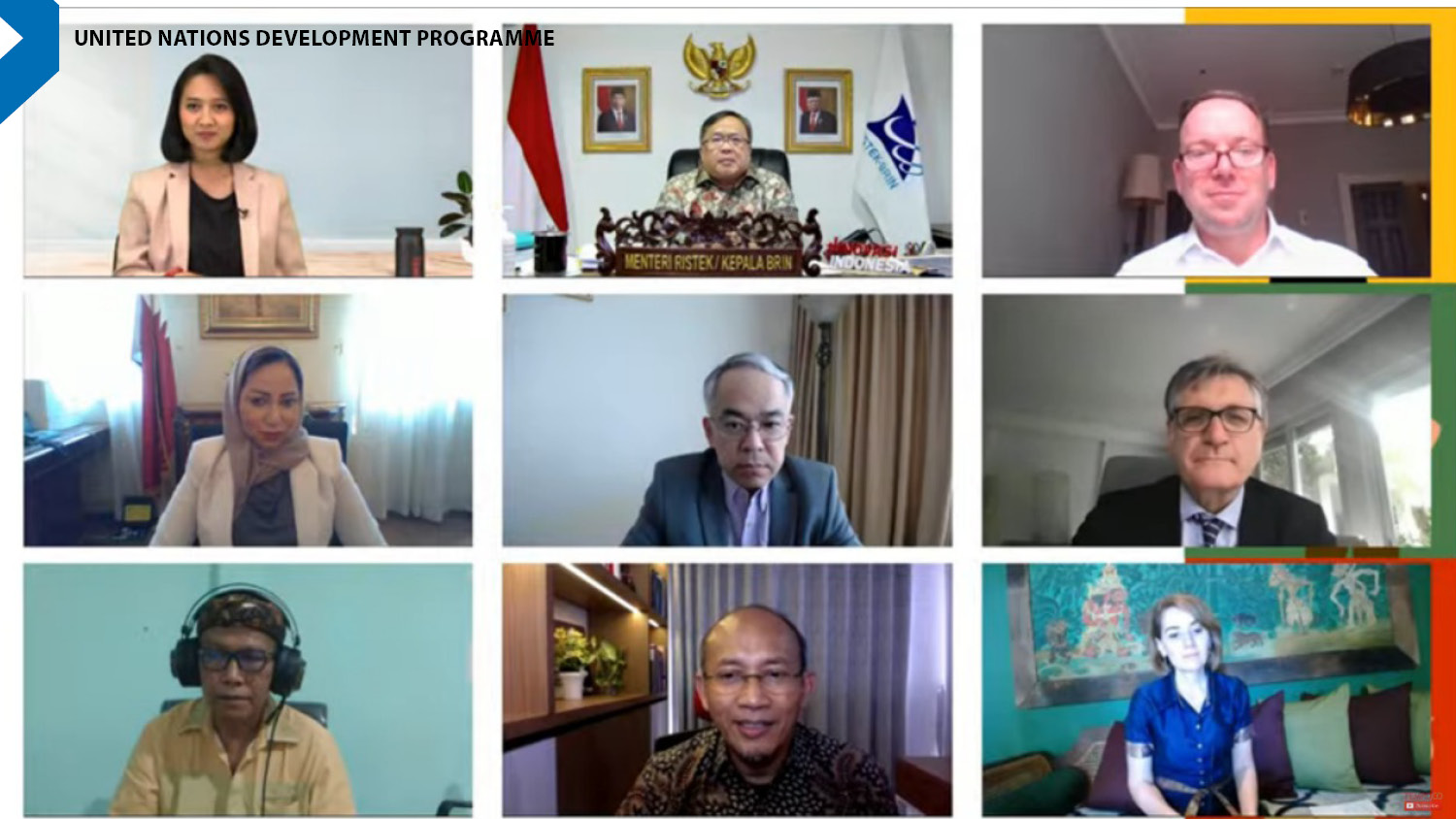 Peluncuran "UNDP Indonesia Accelerator Lab" secara online hari Rabu, 24 Maret 2021.. tempo : 168550816543_
JAKARTA - United Nations Development Programme or UNDP launched virtually Accelerator Lab to respond to the increasing challenge on development, Wednesday, 24 March 2021. Accelerator Lab Indonesia would become one of 91 Accelerator Labs in 115 countries, that worked towards, tested, and improved solution to accelerate the accomplishment of sustainable development goals (SDGs).
The event themed 'Towards more innovative and inclusive future for Indonesia' presented speakers, like Minister of Research and Technology Bambang Brodjonegoro, Ambassador of Germany for Indonesia Peter Schoof, Head of UNDP Representative for Indonesia Norimasa Shimomura, Ambassador of Qatar for Indonesia Fawziya Edrees Salman Al-Sulaiti and Advisor for Global Accelerator Labs Geoff Mulgan.
The purpose of event held by UNDP Indonesia and Tempo Media, was to encourage public so that took part more actively in responding to the challenge on development. The launching was attended virtually by 334 people and viewed by around 1,900 viewers in YouTube. The event was hosted by Dheayu Jihan, a journalist of Tempo Media.
Funded by Germany's Federal Ministry for Economic Cooperation and Qatar Fund for Development, Accelerator Lab Indonesia has carried out analyses on the issues related to water vulnerability in urban area, like flood as a part of its initial attempt, including ethnographic study in five communities that were affected by the disaster.
Minister of Research and Technology Bambang Brodjonegoro said that innovative technology and social innovation played an important role to overcome multiple major challenges in the world. "Covid-19 pandemic made us realized the importance of quick measure and creativity to overcome the recent challenge on development," he said.
According to Bambang, Indonesia needed new ideas and creativity to present new technology. "That is able to disrupt old paradigms that hamper solutions to overcome challenges like climate change and inequality," he told.
The ambassador of Germany for Indonesia Peter Schoof expected that the existence of learning network center in Indonesia would support the encouragement of ideas and creativity. Besides, he said, it was also expected to create quick solutions and drive more practitioners to accelerate the process of fulfilling SDGs agenda.
"The government of Germany proudly supports the establishment of Accelerator Lab in Indonesia, that is expected to become a catalyst of learning for SDGs solutions," said Peter Schoof.
The ambassador of Qatar for Indonesia Fawziya Edrees Salman Al-Sulaiti expressed that innovation was the core of Qatar's rapid development in the last decades. "Our people has experienced transformative changes and had a better life because we continuously encouraged innovation and technology," she uttered.
A major change with national scale could be started from a small community. "And we expect Accelerator Lab Indonesia to become a fast-growing learning network," said Fawziya.
Head of UNDP Representative for Indonesia Norimasa Shimomura called all stakeholders to accelerate measures and adopt innovation. "Creativity and pace must become our new approach," he told.
The increasing challenge on development needed more creativity to result new opportunities. "And as time goes on towards 2030, we do not have any choices but accelerating SDGs accomplishment with new ideas and measures," said Norimasa.
Norimasa felt proud for UNDP Indonesia launched Accelerator Lab. "This launching may increase more solutions and ideas to overcome recent challenges to reach opportunities in the future," he told.
Professor of Collective Intelligence, Public Policy and Social Innovation, University College London and advisor for Global Accelerator Labs Geoff Mulgan admitted that presenting dynamic innovation to major public bureaucracy was never easy, and there were always many opponents and cynicism. "It also looks risky when preparing so many Labs at once without any strong supporting infrastructure," he told.
According to Geoff, without any accelerated innovation, the opportunity to accomplish SDGs was relatively small. "Accelerator Lab has made a good start, through many input from many smart and committed people, that are focused on practical measures," he said.
Accelerator Lab Indonesia would work in partnership with Indonesian government, academicians, CSOs, local community, national and international community of innovator, and start-up. A part of initial activity of Accelerator Lab Indonesia was a citizen survey on urban issues in five communities that were affected by disaster.
Meanwhile, in the discussion session of the event, Deputy of Social Science and Humanities (IPSK) of Indonesian Institute of Sciences (LIPI) Tri Nuke Pudjiastuti said that in the frame of Sustainable Development Goals (SDGs), results of researches were not only limited to mere final products or commercial purposes, but there should be a development of alternative breakthrough on problem solving in state or public level.
To reach that point, according to Tri, researchers could not stand alone and they had to develop a collaboration with government, business actors.
An innovator from Komunitas Kampung Tematik Bambang Irianto also explained the importance of social innovation to develop self-reliance. He elaborated the things that were carried out in developing community self-reliance and collaboration with various stakeholders.
A lecturer and researcher from Lab Desain Etnografi of Bandung Institute of Technology (ITB) Meirina Triharini explained how design science could contribute to Accelerator Lab Indonesia. He said that ITB attempted to practice and develop the method in which this ethnography became a part of design thinking process. The purpose was for problem solving, through creative approach with any ways that were considered thoroughly by involving various disciplines and expertise.
Director and Chief Strategy & Innovation Officer Indosat Ooredoo Arief Mustain also stated that his company was designing the development of innovation ecosystem in this pandemic era through Virtual Hackathon. "Through SheHacks, we specially invites Indonesian women to carry out live hacking. We provide an arena for them to express their ideas," he said.
This step worked successfully. The distribution of virtual participant already covered throughout Indonesia with 75 participants, either team or individual. The 33 themes that were explored by Indonesian women through such Virtual Hacking also became one exceptional point.
Following discussion session, the host invited all participants to attend interactive session, that was dissemination of survey's result and focused group discussion which was divided into four sectors, that were environment (1), technology (2), economy (3), and social (4).
Previously, the participants were requested to complete a short quiz with question, "Where do you live?" and "Mention 3 words associated with Accelerator Lab!". Most of participants answered "-Innovation-", "-Experiment-", and "-Creativity-".
Aisha Marzuki, UNDP Head of Exploration, said that Accelerator Lab has made four scenarios on Indonesia's future from the survey's result which was conducted for 10 days in February 2021 and completed by more than 520 participants in 125 cities and regencies in Indonesia. Those scenarios were Capital: Counting Down, Urban's Downfall, Greater Inequality, and Developing in Balance. Through polling, the most elected scenario was Developing in Balance.
This scenario displayed the situation of state's fall due to pandemic and poor climate condition, the increasing development of environment-based economy, and the-more-balance investment turnover in rural area. The situation was supported by good development of communication and internet technology, so that the quality of education and works also improved. Enabled by high technology, many new businesses were developing. Afterwards, some participants were asked to share their opinions on the scenarion.
Further, the participants were grouped into four breakout room based on their elected sectors and had discussion with Cards for the Future method developed by Nesta. Following discussion, two teams expressed their opinions.
The spokesperson of social team stated that creating Indonesia's future should be carried out through sustainable and application-based public services with sustainable and technology-based development of human capacity and community. Besides, it needed free school program and community empowerment, public participation-based area management, edutainment for custom introduction to public, free school in Bogor to empower agroponic community, free school especially for the dropouts, capacity improvement of community in developing sustainable tourist village, and implementation of smart society towards sustainable community resilience.
Meanwhile, the economic team described that creating Indonesia's future should be carried out through more equitable economy. It needed the activities of development that had appropriate context to Indonesia's condition, equalization of living standard to living cost pursuant to the context and location, thorough social security, equitable development not only growth, changes on economic paradigm that also considered social and environmental aspect, community involvement in decision making, social appreciation that was aroused from grassroots' movement pursuant to the context for achieving common goal, linkage between human development and environment, as well as considering universal basic income.
In the last session, Accelerator Lab UNDP Indonesia announced its partnership with Lab Desain Etnografi of Bandung Institute of Technology to encourage social innovation culture in Indonesia. This cooperation would be started by designing identification tool and solution mapping media which has been developed by community in various fields.
Inforial