PNM
PNM Kediri Launched the "Sendang Ilmu" Smart Space as Social and Environmental Responsibility Program
Monday, 17 October 2022
PNM donated in the form of stationery packages, nutrition packages, textbook packages, locker cabinets, and internet.#InfoTempo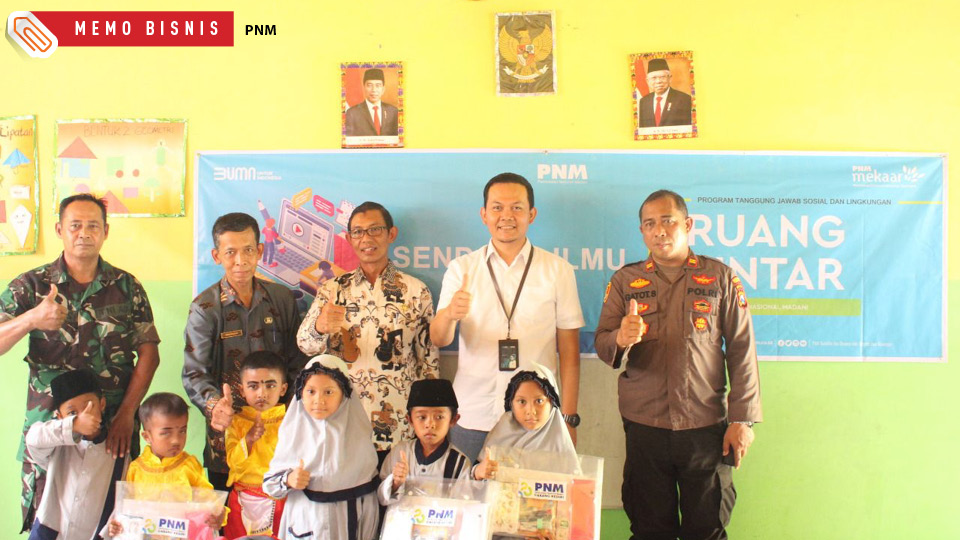 The launching of "Sendang Ilmu" Smart Space in Pilang Bangu Hamlet, Sendang Bumen Village, Berbek District, Nganjuk, East Java, Thursday 20 October 2022.. tempo : 167518079674
PT Permodalan Nasional Madani or PNM launched the "Sendang Ilmu" Smart Space in Pilang Bangu Hamlet, Sendang Bumen Village, Berbek District, Nganjuk, East Java, Thursday 20 October 2022. Smart Space is the State Owned Enterprise's social and environmental responsibility program (CSR program) which reflects the company's commitment to sustainable development by providing benefits to the economic, social, environmental, as well as legal and governance sectors.
In launching the Smart Space, PNM collaborated with the Sendang Bumen Village government, the Berbek District government, the Nganjuk Regency government and the management of RA Miftahul Ulum. "Hopefully it will be useful for the children here," said Yudy Ernanto, as Assistant for Economics and Development of the Nganjuk Regency Government who represented the Acting Regent of Nganjuk Marhaen Djumadi during the inauguration.
PNM Kediri Branch Manager, Mizan Saroni, said that the purpose of the smart space development carried out by PNM was to provide benefits for economic development, social development, environmental development, as well as legal and governance development for the company, and as a contribution to creating added value for the company with the principles that are integrated, directed, and have measurable impact. PNM also donated in the form of stationery packages, nutrition packages, textbook packages, locker cabinets, and the internet, which has now become a necessity in this Smart Space.
Also attending this event were PNM Kediri Branch Manager Mizan Saroni, members of Berbek district leadership forum, Sendang Bumen village officials, 25 students who were children of PNM Mekaar Berbek customers and 25 PNM Mekaar customers from the Berbek unit.
PNM has disbursed financing of IDR 146.43 trillion to a total of 12.9 million PNM Mekaar customers as of October 16, 2022. Currently, PNM has 4,138 service offices throughout Indonesia serving MSMEs in 34 provinces, 422 regencies/cities, and 5640 districts.