PNM
Erick Thohir Appreciates the Continuing Collaboration with PNM
Monday, 28 November 2022
The G20 taught BUMN employees the importance of inclusive international cooperation. #InfoTempo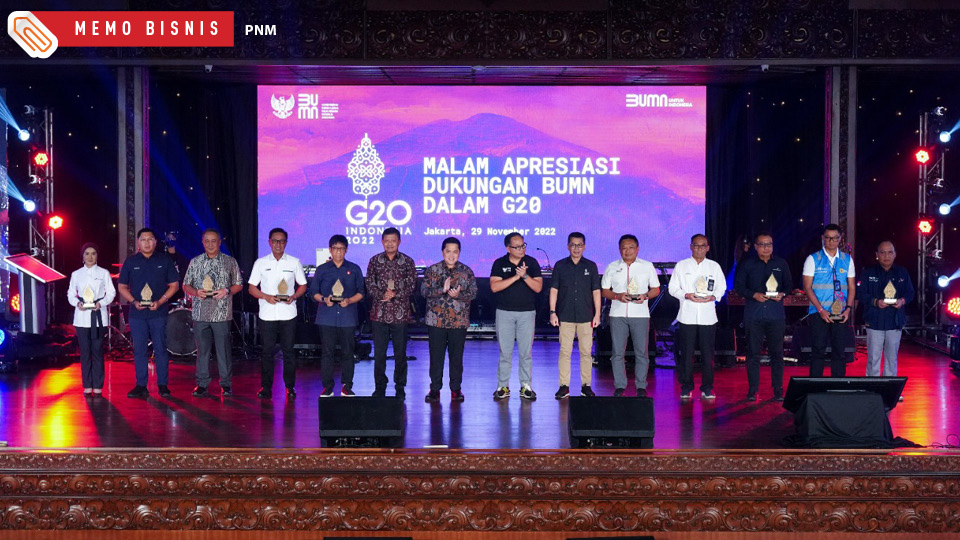 SOE Support Appreciation Night at the G20, Jakarta, 30 November 2022. tempo : 168547059639_
The Minister of State Owned Enterprises Erick Thohir expressed his appreciation for the collaboration of all State Owned Enterprises and their employees in the success of the G20 Presidency. A number of state-owned enterprises took part in the event, including PNM.
"I have to appreciate. Behind the successful implementation of the world event, many parties have worked extraordinarily hard," said Erick.
According to him, apart from teaching diversity, the most important thing is that the G20 has managed to bring Indonesia on par with other nations, and this must be maintained. As sustainability is at the core of the G20 presidency, through this moment Erick expressed his commitment to strengthen and improve sustainable communication and collaboration for PT PNM, PT Pegadaian, PT BRI, and all other State Owned Enterprises.
The G20 taught BUMN employees the importance of inclusive international cooperation. In addition, there is a need for support for increasing added value through sustainable inclusive investment in productive sectors such as the downstream manufacturing sector, digital trade and services. Then bridging foreign investors with local companies, especially small and medium scale ones.
The Special Staff of the Ministry of State Owned Enterprises, Arya Sinulingga, is proud of the achievements of MSME customers of PNM, in which five of their flagship products have succeeded in showing off at international events so that they are believed to have the potential to move up the grade. Of course, this is in line with one of the priority pillars of the G20 to increase productivity for people's economic recovery.
PNM has disbursed IDR 160.6 trillion in financing to 13.3 million PNM Mekaar customers. Currently PNM has 4213 service offices throughout Indonesia serving MSMEs in 34 provinces, 422 regencies/cities and 6158 districts.