PNM
PNM Won Two Awards at the Top BUMN Awards 2022
Monday, 12 December 2022
PNM provides assistance to ultra micro business actors, especially underprivileged women. #InfoTempo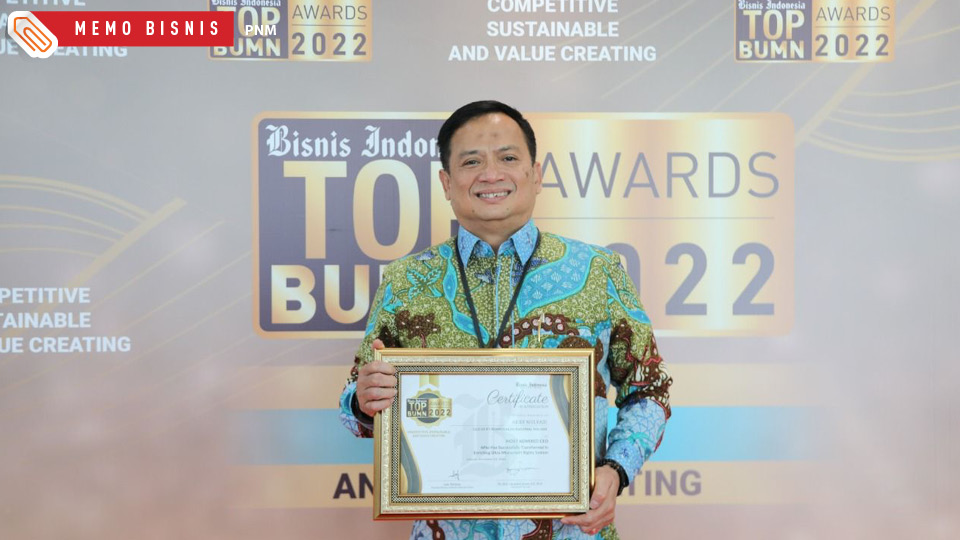 PNM President Director, Arief Mulyadi, received an award as the Most Admired CEO: Who has Successfully Transformed in Enriching Ultra Micro Credit Rights System at the Bisnis Indonesia TOP BUMN Awards 2022, in the TOP BUMN CEO category.. tempo : 168012760483
PT Permodalan Nasional Madani, or PNM, successfully won 2 awards at the Top BUMN Awards 2022 event held at JS Luwansa Hotel, South Jakarta, on Tuesday, December 13, 2022. First, PNM was designated as the recipient of the TOP BUMN Awards 2022 Indonesian Business Appreciation, in the Corporation category. Then, PNM President Director, Arief Mulyadi, also received an award as the Most Admired CEO: Who has Successfully Transformed in Enriching Ultra Micro Credit Rights System at the Bisnis Indonesia TOP BUMN Awards 2022, in the TOP BUMN CEO category.
"Many thanks to the family of Bisnis Indonesia who have been our partners for a long time, supporting us in spreading the virus of enthusiasm for the community and continuing to actualize our productive abilities so that today we are serving 13.4 million active customers of ultra-micro businesses throughout Indonesia. This award is a form of motivation for PNM to continue to provide the best for Indonesia," said PNM President Director Arief Mulyadi, on Tuesday, December 13, 2022.
PNM not only provides access to finance for underprivileged women, but also provides assistance. For this reason, PNM will continue to provide assistance to ultra-micro business actors, especially underprivileged women, and continue to contribute to optimizing the alleviation of extreme poverty. The development of MSME's in Indonesia is considered to be quite rapid that it is no wonder that MSME's become the backbone of Indonesia's economic growth.
PNM has disbursed Rp 163.33 trillion in financing to 13.4 million PNM Mekaar customers as of December 13, 2022. Currently, PNM has 4,213 PNM Mekaar service offices and 642 PNM ULaMM service offices throughout Indonesia serving MSMEs in 34 provinces, 513 regencies/city, and 6,642 districts.