PNM
PNM Collaborates with IPB to Implement Innovation and the Tridharma of the Higher Education
Monday, 13 February 2023
Improving the quality of Human Resources to accelerate the growth and development of Indonesia. #Infotempo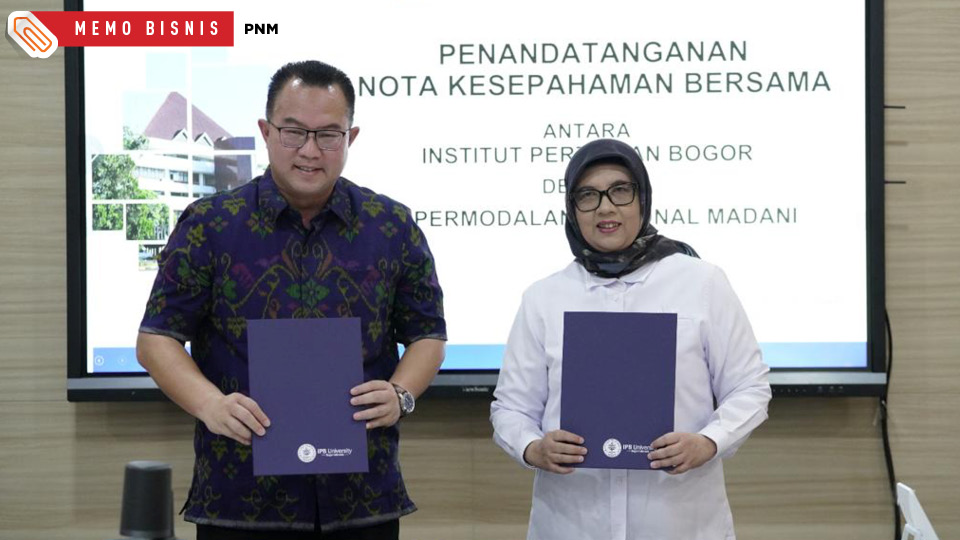 The signing of the MoU between PT Permodalan Nasional Madani (PNM) with the Bogor Agricultural Institute (Institut Pertanian Bogor, IPB) to maximize the empowerment of PNM Mekaar's clients, Monday, February 13, 2023.. tempo : 168544466776_
PT Permodalan Nasional Madani (PNM) cooperates with the Bogor Agricultural Institute (Institut Pertanian Bogor, IPB) to maximize the empowerment of PNM Mekaar's clients. Through the implementation of the Tridharma of the Higher Education and the implementation of innovation, both institutions are required to synergize, starting from education, research, to community service.
The signing of the MoU on this collaboration was carried out at the IPB Dramaga Bogor Campus, on Monday, February 13, 2023. PNM's Director of Finance and Operations, Ninis Kesuma Adriani, said that this collaboration could encourage an increase in the quality of Human Resources as a form of support for accelerating the growth and development of Indonesia.
"There is a lot of potential that can be developed from both sides. The synergy of facilities and infrastructure owned by PNM and IPB can certainly help ultra-micro entrepreneurs to become more empowered as a concrete form of economic equality," said Ninis.
The collaboration between PNM and IPB includes education in the field of ultra-micro and micro community finance and empowerment for the academic community, joint research in the field of finance and empowerment of ultra-micro and micro enterprises, community service, implementation of innovations, and other activities. A total of 14.1 million PNM Mekaar customers are spread all over Indonesia, even to underdeveloped, remote and outermost regions.
It is believed that economic equality will be maximized if PNM moves in accordance with the data and research results that will be carried out in the future by IPB. In addition, community service carried out by IPB students can be collaborated with PNM's Business Capacity Development (Pengembangan Kapasitas Usaha, PKU) program.
"IPB students who wish to undertake Student Study Service (Kuliah Kerja Nyata, KKN) can be directed to Mekaar's customer areas. The program will help women learn to develop businesses through initiatives and creative ideas from the students," he said.
As of January 31, 2023 PNM has disbursed a total of IDR 208.35 trillion in financing to 14,128,133 million PNM Mekaar customers. Currently PNM has 3,551 PNM Mekaar service offices and 705 PNM ULaMM service offices throughout Indonesia which serve MSMEs in 34 provinces, 513 regencies/cities, and 6,657 districts.