News, Stories, News
Tempo was born and changed the magazine scene. Previously, weeklies were like convenience stores.
Edition : Monday, March 15, 2021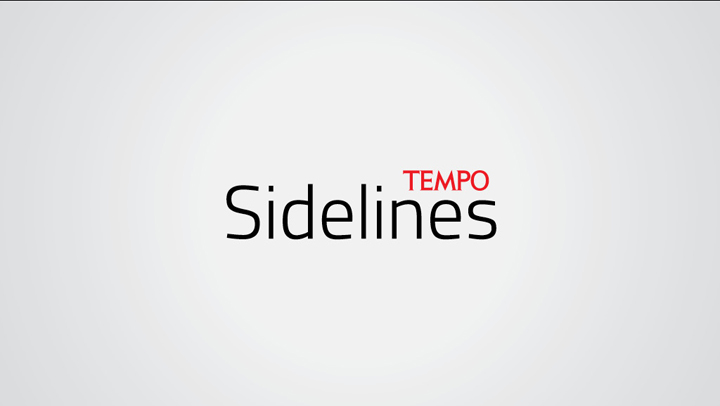 ONE afternoon 50 years ago in an old building at Jalan Senen Raya 83 while we were preparing the first issue of Tempo, I heard someone grumbled: "This magazine won't last more than three months."
I was shocked, a bit. The voice came from B, one of the team created to manage the administration of the new magazine. But I pretended not to hear.
"Let's hope he's not right," I said later, conveying the pessimism to T, a friend.
"Don't worry," T said. "Maybe Tempo will collapse in three months, but you will have made history anyway."
W251bGwsIjIwMjEtMDUtMTMgMTk6Mjk6NTkiXQ
"Let's hope you're not right," I said, only slightly cheered.
Half a century later, it turns out that B was wrong and T was right. Tempo made history because basically its appearance was something new and half reckless.
•••
TEMPO was born and changed the magazine scene. Previously, weeklies were like convenience stores.
Star Weekly, for instance, which was published in Jakarta before President Sukarno banned it in 1960, might publish a long analysis of Arnold Toynbee's philosophy of history, but also a comic picture story of the martial arts champion Sie Djin Jui; there were discussions of international events linked to the Suez Canal conflict alongside recipes for Magelang-style fried tofu. The Javanese-language weekly Panyebar Semangat, published in Surabaya, was the same: there were reports from the regions (the column Njajah desa milang kori) alongside the comic Mas Klombrot and Any Asmara's detective stories with his hero called 'Raden Mas'.
Tempo was totally outside this anything-goes model. Its content was restricted to 'news'. There were no recipe articles, no crosswords, no short stories. If there was a 'Religion' column, it presented not a sermon but news, for instance news about disasters during the haj season in Saudi Arabia. The 'Health' section did not give guidance against gout, but rather news about the global end to smallpox.
When we started work, we did not know whether readers would be attracted to this new way of presenting information. Tempo was put together without any prior surveys. It was a leap in the dark.
Maybe this is what T meant by 'making history'. Tempo was an innovation. In a particular sense: eccentric.
•••
BUT it is not true that Tempo was born from nothing, in the heads of me and my friends. Long before, in 1933, Henry Luce in America had created the magazine Time. This weekly was so successful that it became the model for others: Newsweek in America, L'Express in France, Der Spiegel in Germany.
Time was also the model for Tempo: it introduced news as story and made information into stimuli. I was attracted to this 'philosophy': readers were not considered as merely plastic receptacles to be crammed with data, facts and figures. Readers were invited to explore within events.
This exploration went on within and through language.
Language not only narrates the world, it also shapes it. That is not always easy. For language is often connected to something not always nice: power. From the late 1950s, the Indonesian language had been changing. Its function had one model only, becoming political language ruled by doctrine. It was no longer language that thrived in free-ranging discourse. It was difficult to become language that was contemplative, funny, playful, or full of unpredictable things.
From the time Bung Karno placed Indonesia under 'guided democracy', language became dominated by jargon, repeated in unison, and unquestioned. Acronyms and slogans ruled: 'Manipol', 'Usdek', 'nekolim', 'kontrev' and so forth. The meaning of words was no longer discussed. People no longer had the opportunity to consider that 'manipol' came from 'manifesto politik' or political manifesto, and we were not encouraged to assess the contents of that manifesto; or that the word 'Usdek' was an acronym from the initials of the state's governing principles: UUD 1945 (the 1945 Constitution), Sosialisme à la Indonesia (Indonesian-style Socialism), Demokrasi Terpimpin (Guided Democracy), Ekonomi Terpimpin (Guided Economy) and Kepribadian Indonesia (Indonesian Identity). Usdek became a word in itself, mouthed automatically. People were gathered to be crammed with State doctrine, formulated as 'Tubapi'—'Tujuh Bahan Pokok Indoktrinasi', or the Seven Basic Principles of Indoctrination.'
Indoctrination was an effective tool of thought control. It was conveyed with a few endlessly repeated slogans—and made people feel nervous or guilty contradicting them. Hitler and Stalin enforced their power by spreading a language with words stripped into acronyms and then broadcast: 'Gestapo' and 'Stalag', 'Politburo' and 'Proletcult'.
When the 'New Order' replaced 'guided democracy' with violence, the 'guided'ness was brutally continued. Bung Karno and Communist Party style slogans and acronyms were eliminated, but language turned into the language of authoritarian and bureaucratic power. New acronyms circulated: 'kopkamtib', 'Gestapu', 'dikbud', 'rapim'—usually perpetuating acronyms used in military documents.
I see a difference between this and the acronyms of 'guided democracy'. The language of 'guided democracy' was made to mobilize the masses. As part of propaganda, it was extremely communicative: its key words were easy to memorize and had an emotional effect.
The 'New Order's' bureaucratic acronyms were the opposite. As military communication, their function was to make orders efficient and effective—and not to be understood by the masses.
But they were both languages of power that impoverished thought. When words are summarized for mere repetition—and are never processed in our thinking with various alternatives—then thinking does not have many corridors to explore. When the term 'Manifes Kebudayaan' (Cultural Manifesto) was reduced to 'manikebu' and broadcast as such ad infinitum, then people forgot that the actual original words were 'cultural' and 'manifesto'—two things that required thought. So too with the acronym 'Gestapu': we no longer cared that the first word in this acronym was 'gerakan'—'movement' and no longer thought about how that 'movement' happened and why. At its base: psychological effect. 'Gestapu' was there for its terrifying connotation, like the word 'Gestapo'—the secret police of Nazi vocabulary. Language was hardened and frozen.
Tempo published by choosing to resist this hardening. We produced news-as-story.
In daily newspapers and news bulletins, it was straight news. There, facts—names, times, places, how and why things happened—were mentioned with fixed order. In Tempo it was the other way around: even though facts were still prominent, they were not formulated with formulae.
It was always fresh. Stereotypical opinions were avoided, clichés cut. Tempo eliminated bureaucratic officialese. We fostered linguistic variation. We optimized synonyms. We introduced the word 'santai' as an addition to 'rileks' (relaxed); I found the word 'santai' in the Komering language, at Bur Rasuanto's suggestion when he was deputy editor. Putu Wijaya, who was head of music and theatre, popularized the musical term 'dangdut'. There was also the term cas-cis-cus to refer to the use of English words in daily conversation.
Language poor in synonyms is language that loses the choice of difference and variety in thinking—just as these days people use only the word 'milad' for 'birthday', and are no longer permitted to say 'hari lahir'; or use 'salat' for 'prayer', and may no longer say 'sembahyang'.
•••
IN news-as-story, to bore people is a writer's sin.
Like One Thousand and One Nights, every story has to fascinate. And if it has brilliant and funny sentences from beginning to end, that is perfect. Stories are built from opening moments of lightness and fun.
Of course, stories' contents must be unique and important to know. Tempo drew up some criteria for this. The opening of the story, the lead, had to grab people, and not be just the same-old-stuff. The closing of the story should not be didactic. As with a good novel, news-as-story had to contain suspense and conflict.
For this, one needed not only writing skill, but also creativity, openness, independent and critical thinking—and a sense of humor. One of Tempo's lesser known mottos was "Jujur, Jelas, Jernih—Jenaka pun bisa" (honest, plain, clear—even funny is okay). We know that honesty and clarity are extremely important in communication, but people often forget the 'funny'.
'Funny', deliberate or not, is a deterrent. It can disarm fanaticism, lessen enmity, reach out to the hearts of others. It is anti the glorification of hierarchy.
This is not only a matter of technique. In news-as-story, as I mentioned earlier, there is an invitation to the reader—who is not treated as a receptacle—to join in the process of narration.
Thus the main character of the story is present. They are introduced not only by name and origin. Whether they are tall or short, how they sit and move, how they dress—all needs to be described. Even the mood of the place and time during the event. The figures are concrete. The person making the news is not just a case, and not just a means to convey an opinion. That person has a history, and can feel enjoyment and pain.
Some called Tempo's journalism 'literary journalism'. I do not think that label is useful. Others called it 'interpretative journalism'. I prefer not to name it at all.
What is important is that Tempo wanted to present people and events within a context and process, multi-sided and changing. There is no final story. The possibility is always there for versions different to the one we know. So it is not objective truth to be conveyed (which would be futile) but the willingness to hear truth from other corners.
This is journalism with empathy.
Tempo has tried to do this over the past half century. It has not always succeeded, but it feels as though it cannot be stopped.