Resounding Still, the Voice of Southeast Asian Cartoons
CARTOONS have often been a source of controversies in many nations. Satiric jokes in the form of comedic images have offended people, often to the point of anger and retaliation. In 2015, France's satirical weekly Charlie Hebdo became the target of shooting after it published cartoons of the Prophet Muhammad. The attack killed dozens, including the cartoonist. A decade before, in 2005, Danish newspaper Jyllands-Posten published an editorial cartoon depicting Muhammad as well, leading to international protests from Muslim communities. In Southeast Asia, things are not that much different. Three years ago, hundreds of supporters of the Islam Defenders Front (FPI) swarmed the office of Tempo in Jakarta. They protested a political cartoon in the magazine which they claimed insulted their leader. Southeast Asian's growing democracy did not come with freedom of speech for its cartoonists. The police have arrested some of them, and many work under fear of persecution. In light of the situation, Malaysia's political cartoonist Zunar and non-profit organization Hujah Ehsan are holding an online exhibition of the ASEAN Human Rights Cartoon Exhibition from May 3 to 30. The exhibition, titled Human Rights at the Homeland, features 100 critical cartoons by 37 cartoonists from Malaysia, Indonesia, Thailand, the Philippines and Myanmar.
Edition : Monday, May 17, 2021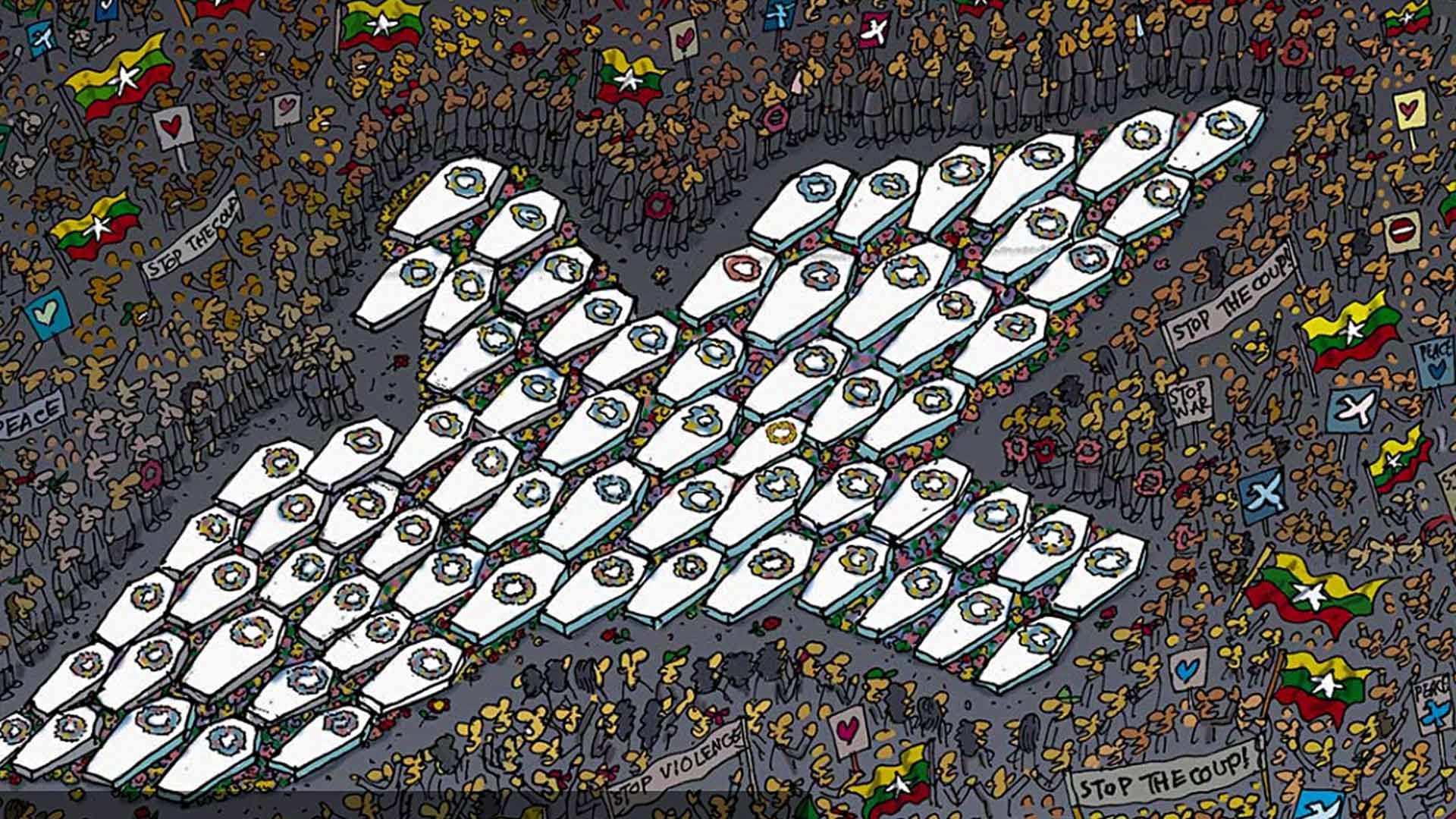 A MAN is depicted inside a cage with bars that look like automatic rifles. Between his teeth is a stalk of leaves, with "democracy" written on it, falling to the ground. On top of the cage is a military hat that says "junta," donning a human skull. The ground on which cage stands are humans and a green, spiky apparition that looks like the coronavirus. This is a cartoon by Tommy, 41, who works under the pen name Thomdean. Thomdean's works are far from being funny. This particular image is a satire of the current political situation in Myanmar.
Thomdean, who had worked as an editorial cartoonist in a number of dailies in Indonesia, did the cartoon for the ASEAN Human Rights Cartoon Exhibition. The exhibition, initiated by Malaysian political cartoonist Zunar and the non-profit organization Hujah Ehsan, is showcased online at Craftora.com from May 3 to 30. Zunar had been planning to hold the exhibition for quite some time, but was only able to execute it this year. Zunar said that exhibiting works on human rights is very important, as there are many cartoonists in Association of Southeast Asian Nations (ASEAN) member states who are able to voice staunch critics of foreign governments—such as North Korea, China, and the United States—but are silence when it comes to human rights issues in their homelands.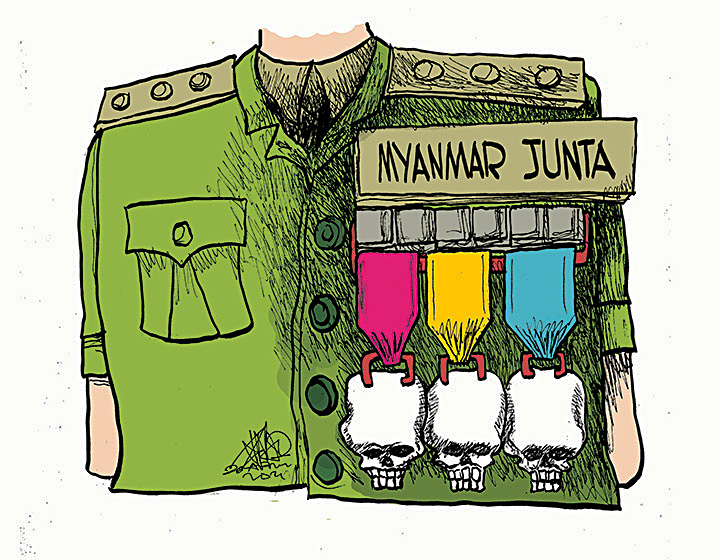 A cartoon by Zunar under the theme of "Solidarity for Myanmar" in the virtual ASEAN Human Rights Cartoon Exhibition.
Participating in the expo are 37 cartoonists from Indonesia, Malaysia, Thailand, the Philippines, and Myanmar, displaying a total of 100 works. Indonesia sent 13 cartoonists, including Yuyun Nurrachman, a former editorial cartoonist of Tempo magazine. Most of the participating cartoonists made works about Myanmar, as a form of both criticism against its governments, as well as solidarity with the civil struggle. Unfortunately, only one cartoonist from Myanmar is participating.
W251bGwsIjIwMjEtMDYtMjMgMTA6MDU6MjkiXQ
"There were actually three cartoonists from Myanmar who were interested in joining, but in the end only one joined, Sai Lai. The last time we were able to contact him was in March," said Zunar, whose full name is Zulkiflee Anwar Ulhaque, in a video interview with Tempo on Tuesday, May 4.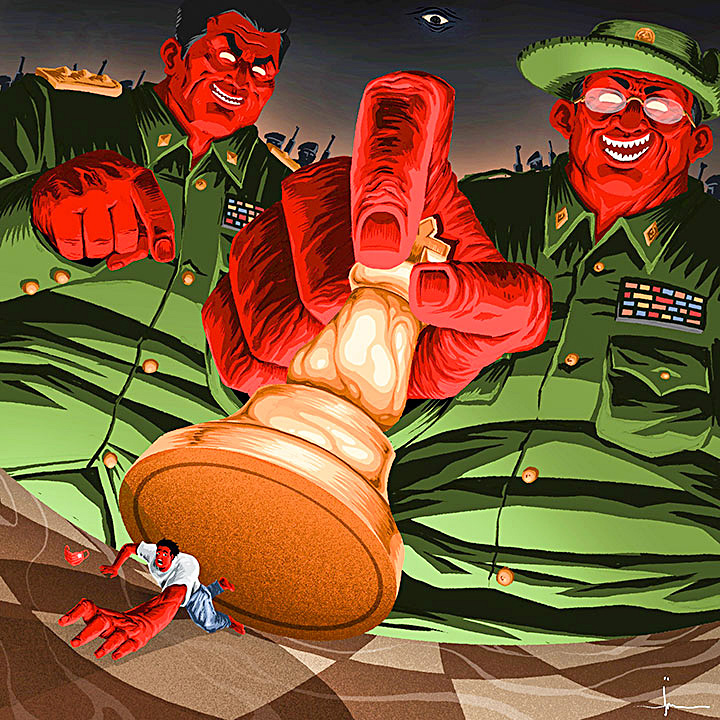 A work of PSSYPPL in the "Solidarity for Myanmar" theme in the virtual ASEAN Human Rights Cartoon Exhibition.
For the main event, participants sent works on the human rights conditions in their respective countries. Human rights issues are the crème de la crème for a number of cartoonists—a 'sexy' topic for images that may lead to controversies due to its criticism targets, who are often the government and the powerful. Apart from drawing about Myanmar, Thomdean has also made cartoons about Papua and freedom of speech, both of which are hot topics in Indonesia.
His illustration is naughty, to say the least. Thomdean, founder of the syndicated cartoonist Joker Syndicate, depicted a man hesitating to type on his mobile phone, as the public space for expressing thoughts and opinions are narrowed and fenced in by authorities and other parties. Dubbed Human Rights 4.0 Thomdean's work takes jabs at the government and surveillance over what people say and do on social media. "Nowadays, what we say on social media could be legally prosecuted. Democracy 4.0 has turned into a boomerang, as we haven't reached that stage of having respect for other people's opinions," he said on the phone on May 8.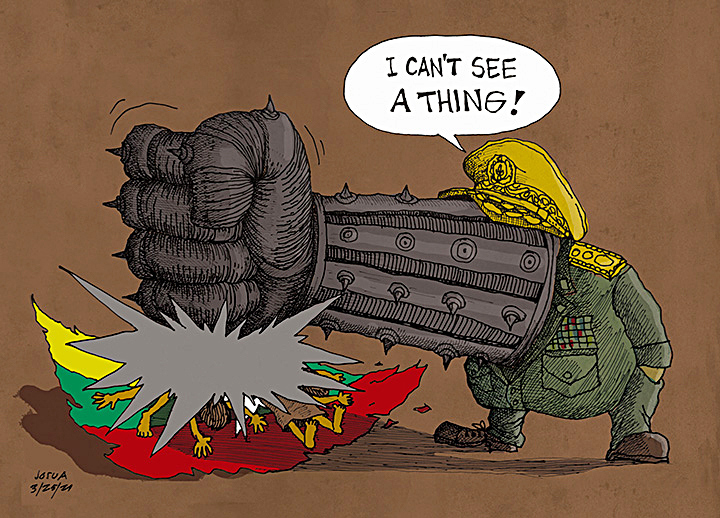 Josua Cabrera's cartoon under the themed of "Solidarity for Myanmar" in The ASEAN Human Rights Cartoon Exhibition.
Freedom of opinion on social media was also a topic chosen by Toni Malakian. The former editorial cartoonist who is now working freelance illustrates this issue by drawing a game of pool. The player is depicted as wearing a shirt that says "government" with an Indonesian flag. His pool stick is a firearm, pointing at people with voices. The pockets are prison cells that look like iron baskets.
Toni had hesitated before writing down the word "government," afraid it might offend people. He decided to go for it anyway. "If it is seen as too much, so be it. In principle, I will continue to speak when I feel that I need to," he said on May 8. Another reason for his hesitation was the threats sent via private message to his social media accounts. He usually gets threats after posting cartoon criticisms, such as about the omnibus law, corruption and environmental damage. The threats come from netizens and/or civil society organizations.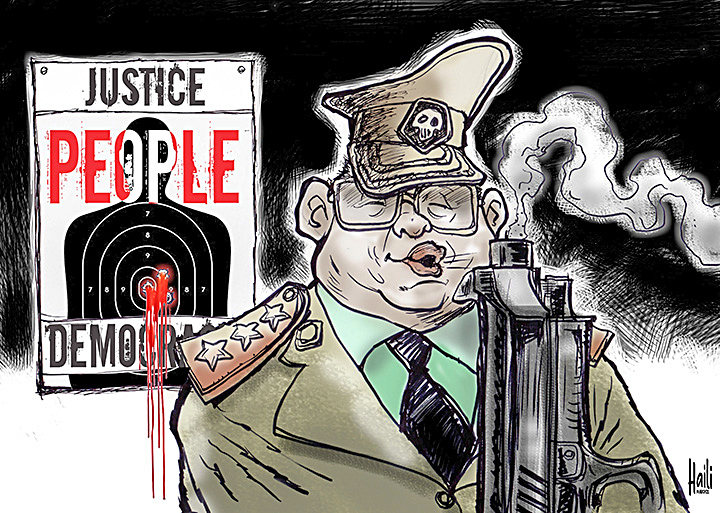 A cartoon themed "Solidarity for Myanmar" by Haili.
The ASEAN cartoonist digital exhibition itself was not free from interfering hands. On May 8, there were more than 100 attempts to hack Craftora.com made by some 50 Internet Protocol (IP) addresses. This happened during the online forum Cartoonists—Enemy of the State which brought together a number of activists and cartoonists, including the exhibition's program director, Zunar. "But so far there has been no damage to our website," said Zunar in a press statement after the event.
The cyberattack amplifies a recent report by non-profit organization Reporters Sans Frontières, which found that freedom of press among Southeast Asian governments continues to decline. According to Phil Robertson, Deputy Director of the Asia Division of Human Rights Watch, which focuses on Southeast Asia, this reflects how countries in the region are among the worst in the world when it comes to suppressing media freedom. "For activists, artists and journalists, the situation is so bad that if you can't laugh, you have to cry," he said on May 7.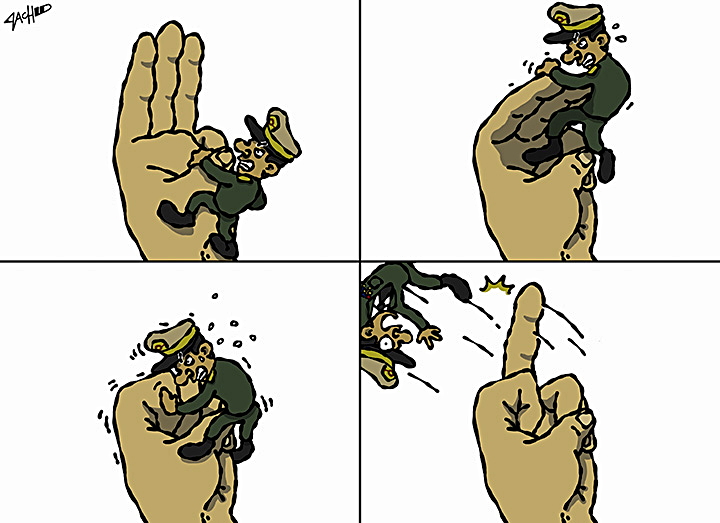 Zach's work themed "Solidarity for Myanmar" in The ASEAN Human Rights Cartoon Exhibition.
Therefore, Robertson believes the ASEAN cartoonist exhibition can help people laugh at the human rights oppressors. Because, he said, Southeast Asian leaders deserve to be ridiculed. "There is no doubt that respect for freedom of expression in Southeast Asia has plummeted over the last decade," he said.
Robertson pointed at how independent media outlets in the Philippines, Myanmar, Thailand and Cambodia were destroyed by governments. In the past, the governments of these countries were more democratic and tolerant of political expression. In countries such as Singapore, Vietnam, Laos and Brunei Darussalam, independent media is almost non-existent. Most of the countries that Robertson mentioned were absent from the ASEAN human rights cartoon exhibition.
***
A NUMBER of ASEAN members have been through a dark era for freedom of expression. Indonesia was no exception. According to cartoonist Yuyun Nurrachman, during the New Order regime artists were unable to speak. Yuyun—who before retiring was an editorial cartoonist for Tempo magazine—was an illustrator for Adil tabloid in the New Order era. On the eve of reformation, he drew cartoons depicting Suharto's policy on having tiwul—a traditional food made from cassava—as a substitute for rice. A few days later, a family member said that Yuyun's cartoon was photocopied and circulated among the demonstrators. Yuyun immediately got scared, remembering all the people who disappeared because they criticized the government.
Luckily, Yuyun did not suffer the same fate. But a similar horror is starting to cloud over today's conventional media or social media. "That atmosphere is here again, even more frightening because the society is now polarized. It's different from the New Order, when everyone had the same enemy: the regime," he said by telephone, Monday, May 10.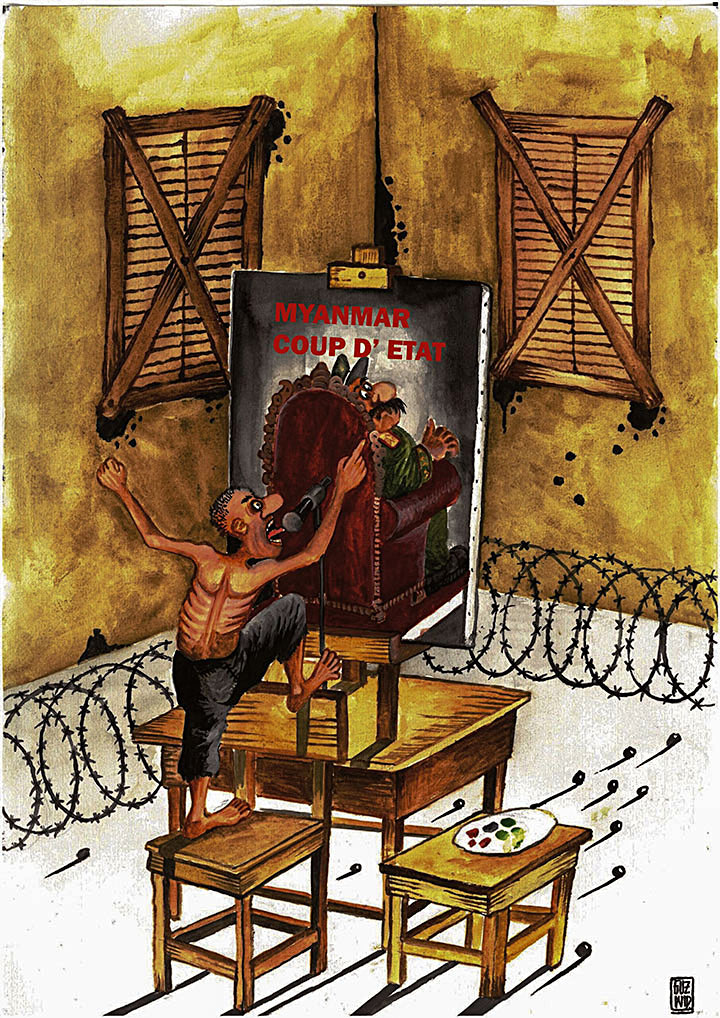 A cartoon by Agus Widodo themed "Solidarity for Myanmar" .
This situation changed drastically when Indonesia entered the Reformasi era, which seemed to provide a land for anyone to express themselves. The mass media were free to criticize the government through editorial cartoons. Even so, editorial cartoonists representing the media must adhere to company policies and narratives—unlike freelance cartoonists who can voice out their personal views.
Conventional media cartoons also come under public pressure. In 2018, Yuyun made a cartoon that offended the Islam Defenders Front (FPI). It led to hundreds of FPI supporters marching to Tempo headquarters. A friend told Yuyun about posts and comments sent to his Facebook account, saying the cartoonist's blood was halal (permissible), in other words he was allowed to be killed. Yuyun panicked and could not sleep. Every time he rides an online motorcycle taxi, he never uses his real identity. Even in public, he is scared by the sight of people wearing certain religious attributes. "I wore masks long before the pandemic so that my face could not be seen. I also looked down a lot, as if I was looking for lost money," he said laughing.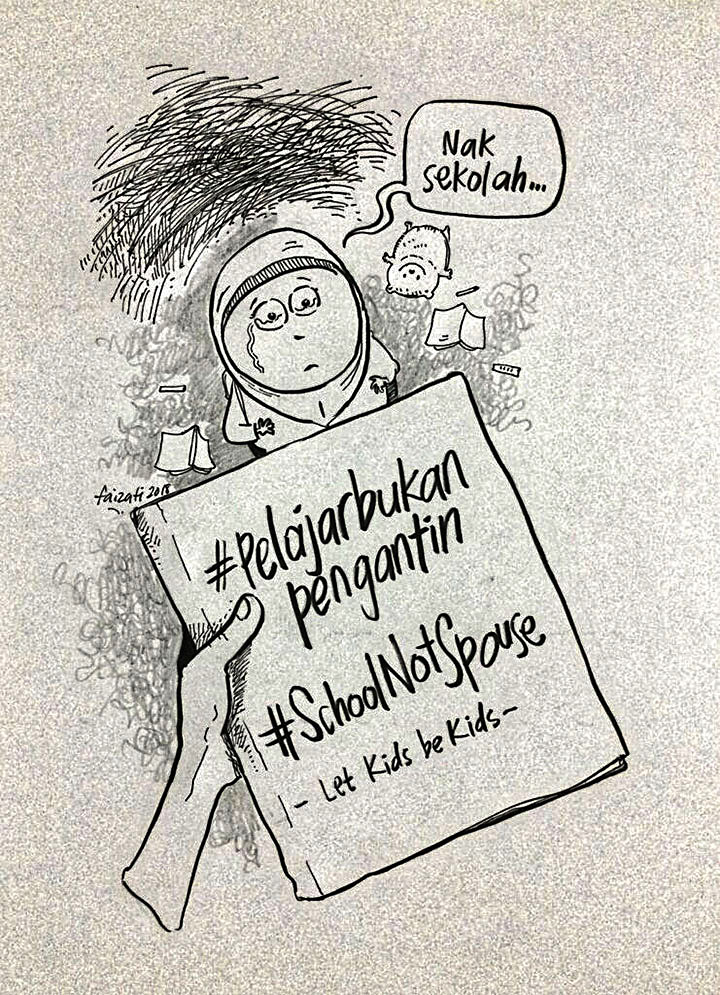 A cartoon on child marriage by Faizati. Committee Doc.
Although many people are speaking about freedom of the press, Thomdean highlighted how that freedom has become blurry. On a number of channels, including social media, there are unwritten signs that make cartoonists more self-aware. In addition to threats from the Information and Electronic Transactions (ITE) Law, there are netizens who act like 'cyber police' patrolling social media. "In the past, people who criticized were eliminated. Now they are being criminalized and canceled. This is worrying because it's like we are back in the old (New Order) days," he said.
That is why, research becomes a very important weapon for anyone, including cartoonists. They have to conduct research before publicizing their work. Behind their statements, manifested as cartoons, these artists usually have their own filters that will prevent them from being persecuted. Toni Malakian, for example, waits before publicly posting his ideas and views on an issue. "If my work is shared by hundreds, I feel excited. But at the same time, I am curious about the response. Because, it is undeniable that the frequent persecutions had been quite a shock therapy for most cartoonists," said Toni.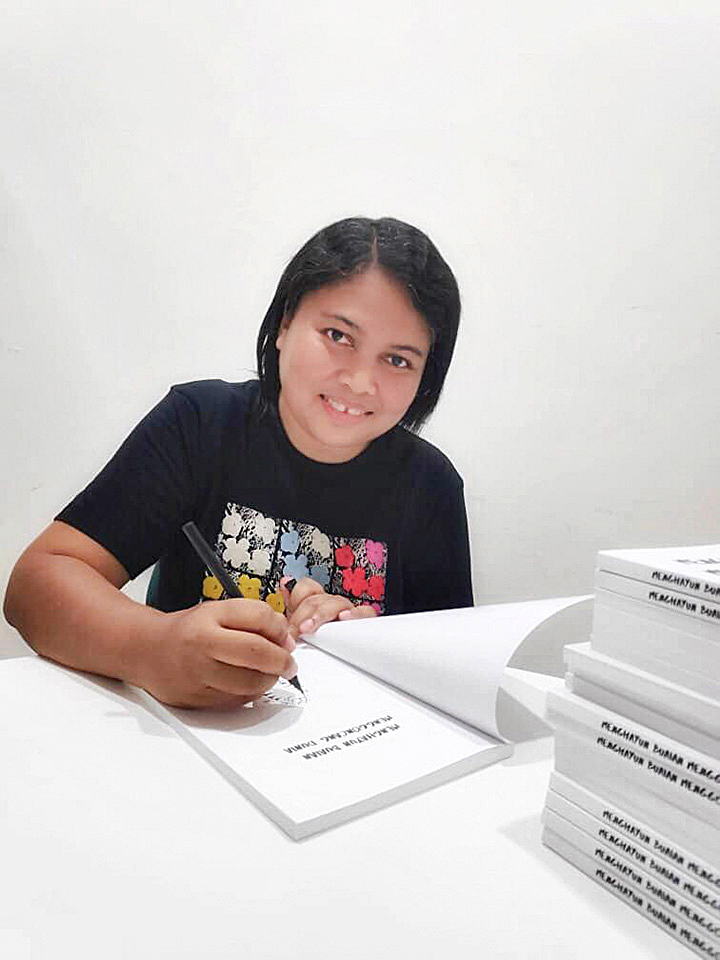 Malaysian cartoonist Faizati Personal Doc.
In Thailand, the right to freedom of expression is also repressed. There is a Section 112 rule in Thai law, ready to arrest those who insult the royal family. One of the country's cartoonists, Tanis Werasakwong alias Sa-ard, said that not as many cartoonists are arrested by the military compared to activists or journalists. Sa-ard assumes that criticizing with pictures, memes, or symbols in cartoons or comics is safer than through text.
Sa-ard, a developer of comic journalism works or drawcumentaries, said that public support for activists, journalists and artists has strengthened over the past year. This is a good sign considering in the past it was deemed improper for artists to talk about politics and monarchy. The government has resorted to using violence and the justice system as a weapon to silence citizens' voices. It is unsurprising that fellow artists are self-censoring in order to protect their colleagues from the threat of imprisonment.
Fatwa by Sarah Joan Mochtar.
Despite the unfriendly situation at home, Sa-ard accepted Zunar's invitation to take part in the exhibition. "As a cartoonist, I feel I have to do my best to communicate human rights issues in Thailand, which have been worrisome for both Thai citizens and global communities, so that things could be better. I believe that all Thai cartoonists involved in this exhibition have the same goal," he said via WhatsApp.
A similar situation is happening in Malaysia. There, rules can be used by the government and the monarchy to criminalize opponents. Optimism in the country, which had sprouted in about a decade ago, is starting to vanish. According to Human Rights Watch, repression of freedom of expression in Malaysia increased from late 2014 to 2015. At the time, the public were protesting the government's stance on former opposition leader Anwar Ibrahim. There was also the 1 Malaysia Development Berhad (1MDB) corruption scandal that dragged along former Prime Minister Najib Razak. In the end, the government blocked the site and 'pinched' mass media that made harsh criticisms.
Cartoon by Salai from Myanmar.
Lately, a similar thing started to happen amidst the recent country's political uncertainty. Artist Fahmi Reza has been charged, fined and jailed for creating satirical works that criticize the politicians and the government. Like Zunar, Fahmi was punished for sending clown caricatures to Najib Razak. "It is not overreacting to say that being a political cartoonist in Malaysia is a dangerous and risky job. We are under threat from the Sedition Act as well as the Communications and Multimedia Act," said Malaysian cartoonist Faizati Mohd. Ali said via WhatsApp.
Faizati is no stranger to bullying. As a lawyer who occasionally draws cartoons, Faizati has since 2018 uploaded works about sexuality, gender injustice, and religious hypocrisy to her social media pages. She had also created work about lesbian, gay, bisexual, transgender, and queer (LGBTQ) issues, which is a very sensitive topic in Malaysia. She now works with the UNFPA—a Unite Nations agency for reproductive health services—making cartoons on issues of women and children.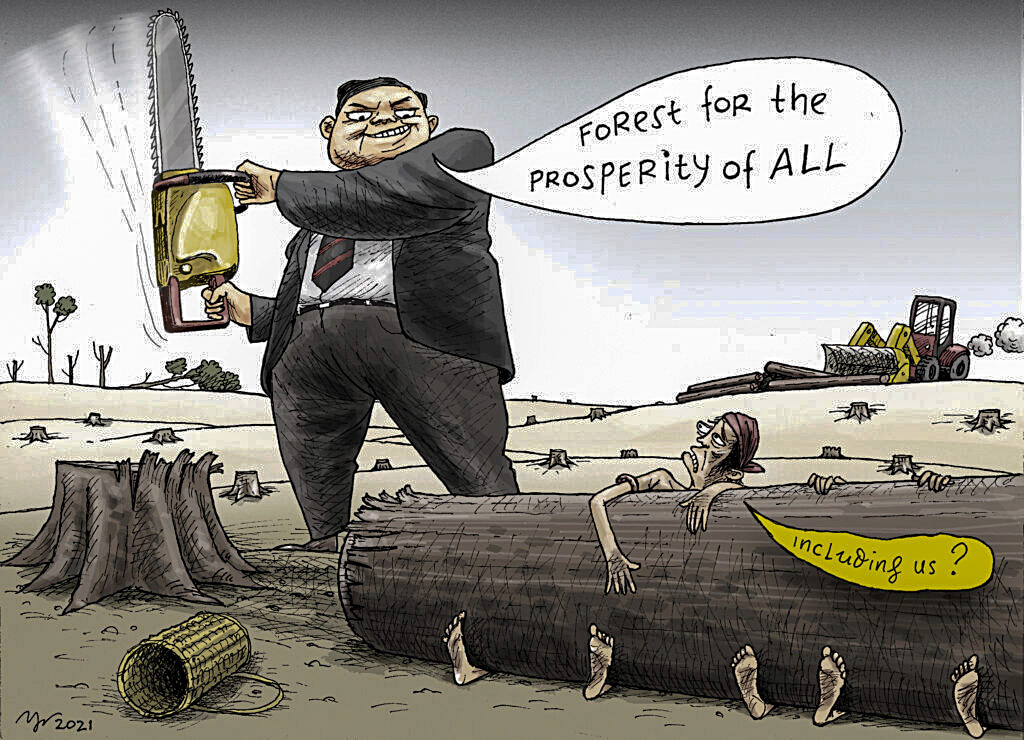 Cartoon about deforestation by Yuyun Nurrachman. Committee Doc.
Because her cartoons often have cynical messages, albeit in humor, Faizati has often been on the receiving end of hate messages. This is especially when her work is about the issues that implicate religion, such as child marriage. But Faizati remains critical. Moreover, the cartoonist profession is a male dominated one, both in Malaysia and globally. The truth is, the existence of female cartoonists is very important because they provide a different perspective. "Female cartoonists must be the voice that drives change, which is what I am trying to accomplish through cartoons," she said.
Sarah Joan Mochtar is another cartoonist voicing out brave messages. Sarah, a co-founder of artists association Unnamed.asia, is known for drawing cartoons that stir up controversies in Malaysia. Sarah said she has received threats on social media with regards to her work on religious freedom.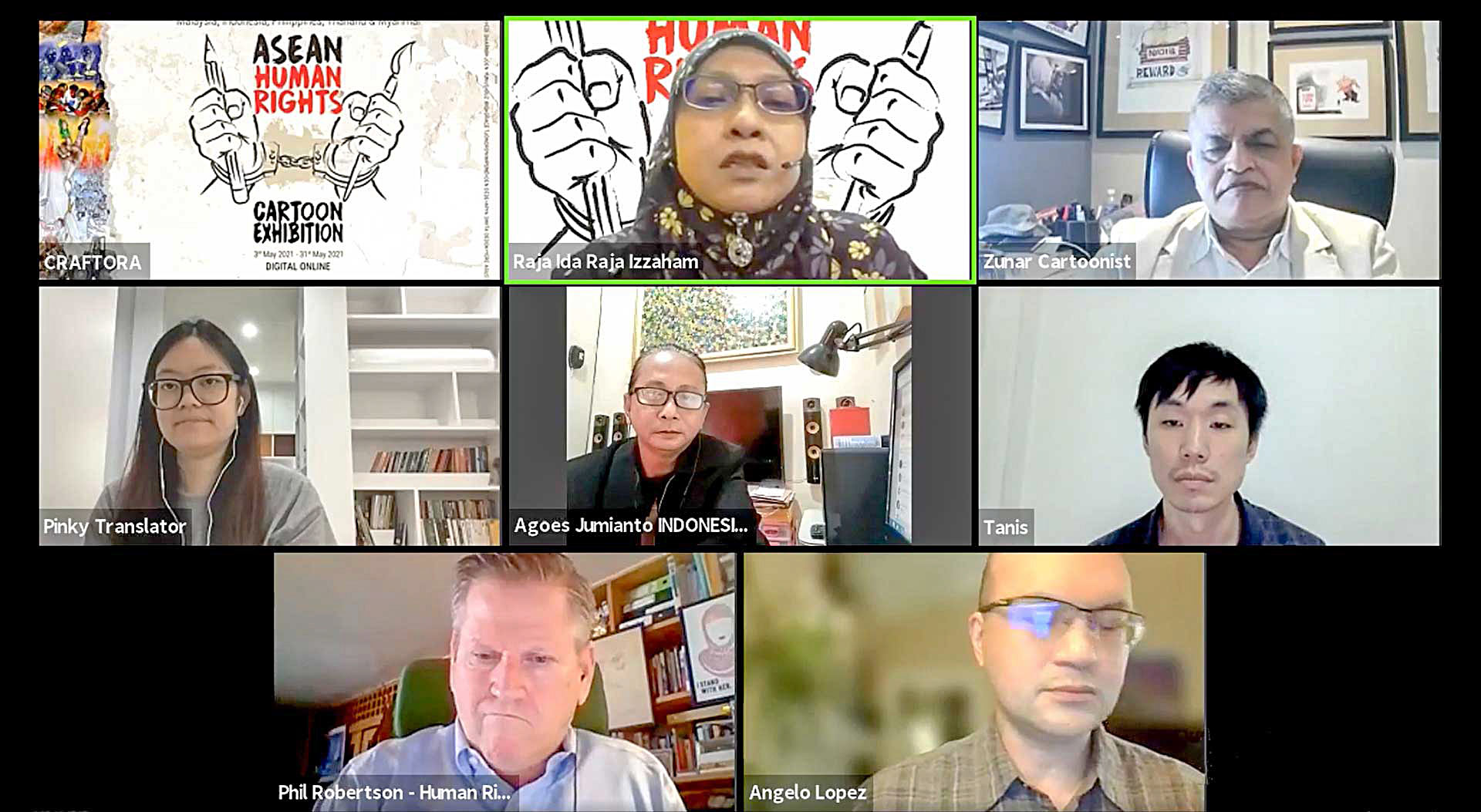 Opening event for the Virtual ASEAN Human Rights Cartoon Exhibition, attended by Human Rights Watch Asian Division Deputy Director Phil Robertson, Malaysian Cartoonist Zunar, Filipino Cartoonist Angelo Lopez, Thai Cartoonist Tanis Werasakwong, and Indonesian Cartoonist Agoes Jumianto, May 3. Craftora.
Her work submitted to the ASEAN cartoon exhibition, called Fatwa, is also a daring one. Two figures—a woman in hijab head scarf and a younger girl who is naked—are holding hands as they sit inside a pink flower with the words "faith" and "freedom," depicting harmony. But the stem is being cut by scissors with the word "fatwa" (edict).
The cartoon criticizes the Malaysian constitution for stating that all Malays are Muslim by birth—a statement that contradicts claims that Islam does not compel, as well as human rights. In the states of Kelantan and Terengganu, apostasy by a Muslim is a crime punishable by law.
This is not the first time Sarah created cartoons about women and religion, using her typical visual style—a cross of Disney and Japanese manga. "I would encourage more women to participate (as cartoonists) by pushing their most ambitious, stubborn, and rebellious sides," she remarked. Nevertheless, Sarah knows it is not an easy task, as many cartoonists in Southeast Asia face the same problem related to freedom of expression, especially with the escalating conservatism in religion over recent years. "Our strategy is drawing; placing the power and knowledge back into the hands of the people."
***
A CARTOONIST who is also the founder of the Malaysian Cartoonist Association, Muliyadi Mahamood, said cartoonists often become enemies of the state because they make use of powerful spaces to speak out. In the past, cartoonists worked with conventional media. Today, they are guerrillas in the social media jungle, with a strong base of mass followers. Cartoonists are also often considered to be dangerous, as they combine simple yet strong visual expression with strategic issues. "They are trying to make changes in the system," he said on May 8.
Malaysian politician, Anwar Ibrahim, had been a target of cartoonists. Anwar was once criticized by Fahmi Reza through pictures. But he uploaded the cartoon to his social media accounts. Anwar said that as a leader he must listen to public expressions and sentiments. "I have no problem with that. Cartoonists have a good ability to represent important issues in pictures. In addition, we should be able to learn to accept their opinions," he said.
Nalini Elumalai, a human rights activist from Article 19, said that rulers are sensitive to cartoonists who criticize them. Often, they resort to being repressive in response. This creates a climate of fear, which leads to cartoonists self-censoring their own works. This is unfortunate, as on their shoulders are hopes of educating the public about scandals like corruption and oppression, as well as expressions of frustration and grievances over the attitudes of governments and politicians. Cartoonists, said Nalini, illustrate the health of a country's democracy.
However, Nalini believes that younger audiences are now more aware of the importance of being able to criticize through cartoons. When the police arrested Zunar and Fahmi Reza, many young people protested and took their anger to social media. This is because cartoonists are seen as icons of struggle who represent society. The support also serves as a source of strength for cartoonists to be more courageous in publishing work on social media—a space that their predecessor from two decades ago did not have access to.
"It is important for cartoonists to continue making sounds. They must know that we stand behind them. This support system is very important during this current second wave of political crisis," he said.
ISMA SAVITRI