Many Issues Still Untouched by ASEAN Cartoonists
Malaysian political cartoonist Zulkiflee Anwar Ulhaque, known as Zunar, and non-profit organization Hujah Ehsan are holding an online exhibition of the ASEAN Human Rights Cartoon Exhibition from May 3 to 30. The exhibition, titled Human Rights at the Homeland, features 100 critical cartoons by 37 cartoonists from Malaysia, Indonesia, Thailand, the Philippines and Myanmar. Tempo interviewed Zunar to understand the road and the importance of the exhibition, also the development of political cartoons in Southeast Asia.
Edition : Monday, May 17, 2021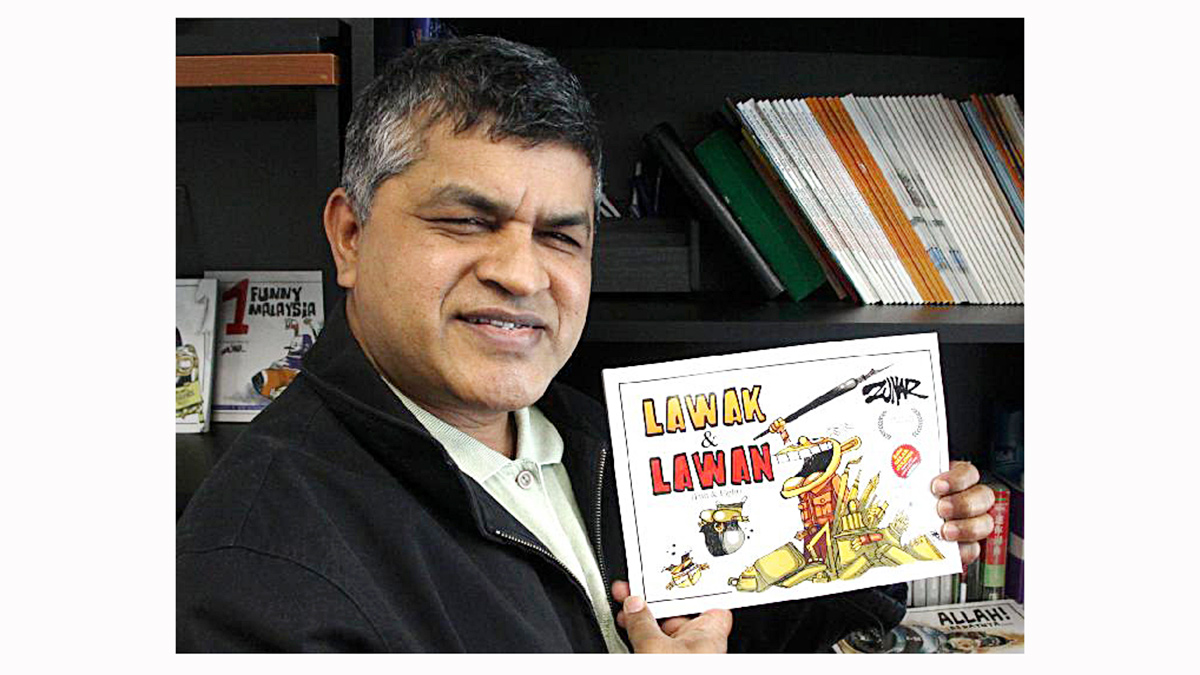 AN almost decade long dream of Zulkiflee Anwar Ulhaque's alias Zunar to hold a human rights-themed exhibition showcasing the works of Association of Southeast Asian Nations (ASEAN) cartoonists has finally come true. The Malaysian cartoonist known for his bold criticism against his government managed to bring together kindred cartoonists to raise their voice against all forms of violence, repression and restrictions on freedom of opinions in their respective countries via ASEAN Human Rights Cartoon Exhibition which is being held virtually through the month of May. The show features 100 pieces of 37 cartoonists from Indonesia, Malaysia, Thailand, Philippines and Myanmar.
One of the pieces from Indonesia, for example, is a caricature of a skull with a heap of gold in the eyes and the head covered with hundreds of people with miserable looks on their faces. The work by Tommy Thomdean is titled Save Papua: Is There a Profit over Human Rights? Meanwhile, Thai cartoonist Erdy depicts a hand restrained with a handcuff with the word "112" written on it. Section 112 of the Thai Criminal Law is the law that criminalizes anyone considered as insulting the royal family. Other cartoonists highlight media repression, impunity by security forces and unlawful killings. The situation in Myanmar received a special spotlight via a section called Myanmar Solidarity Gallery which features caricatures in support of the Myanmar people who have been languishing under the military rule since February 1
In the middle of the exhibition, Zunar himself is also facing possible criminal charges in his own country for violation of the Communication and Multimedia Act and Kanun Keseksaan (Malaysia's Criminal Code) for his Facebook cartoon. Kedah Senior Minister Muhammad Sanusi Md. Nor was depicted in the cartoon as holding a butcher knife over and chopping up a roundtable surrounded by four people, each representing four different races. Zunar actually is used to the government's repressive actions against his works. He was once convicted simultaneously of nine counts of sedition which carried a maximum sentence of 43 years. He was also banned from traveling overseas after receiving the Cartooning for Peace Prize from Kofi Annan in Switzerland in 2016. But Zunar is unfazed. 'Why pinch when you can punch?' is the principle he steadfastly holds.
Via a virtual interview with Tempo on May 4, Zunar shared stories about the exhibition, freedom of expression and the evolution of political cartoons in the Southeast Asian countries.
W251bGwsIjIwMjEtMDYtMjMgMTA6MTg6MTciXQ
How did the ASEAN Human Rights Cartoon Exhibition come about?
I first expressed the idea five or six years ago to hold an exhibition participated by cartoonists from across the Southeast Asia. The initial idea was a physical exhibition either in Kuala Lumpur or Jakarta. But it needed a lot of money to realize it. We did contact several institutions and NGOs (non-governmental organizations) particularly those active in advocating freedom of expression but failed to raise the necessary fund. Last year I got an idea to hold it online. The costs would be lower and we wouldn't have to invite cartoonists to be present.
I guess the Covid-19 is a blessing in disguise (laughs) because it made us more creative to come up with something that gave the same impact but at a lower cost. We started last September by contacting our cartoonist friends via telephone and email. It was quite easy to contact those in Jakarta because I have contact with Pakarti (the Indonesian cartoonist association). Likewise, for Philippines where I also have contact with senior cartoonists. But it was quite complicated to contact those in Thailand and Myanmar. We also tried Cambodia also at the beginning as we needed at least five countries to participate if we want to hold it under ASEAN's name.
Why the human rights theme?
Human rights are one of the topics most highlighted by cartoonists around the world. But usually these are about human rights issues in America, Israel, North Korea or China. Meanwhile ASEAN cartoonists have the tendency to criticize issues or leaders in other countries while preferring to keep silent about issues in their own countries. In this exhibition, I want all of them to paint the issues in their countries. No more about Kim in North Korea or the United States president because a lot of people are already talking about them.
Malaysian cartoonist Zulkiflee Anwar Ulhaque or Zunar teaching the basics of cartooning in Kuala Lumpur, Malaysia, in February. Personal Doc.
How did the cartoonists react when they received the invitation?
Very well. The most enthusiastic response came from Indonesia given its long history of political cartoons. Malaysia doesn't have a long history of editorial cartoons. Most Malaysian cartoonists choose not to touch political issues. In Thailand, only young cartoonists remain active. I participated in a cartoon exhibition in Tokyo in the 80s and met many Thai cartoonists who worked for the Bangkok Post, The Nation. I tried to contact them but they are no longer there. There's a huge void and only young ones left. I don't know why.
But young Thai cartoonists are also quite good. It's just that they work on social media, not in the media. What's interesting is that some of them agreed to participate in the exhibition but on the condition of anonymity out of fear for their safety. One of them is highly popular there. Their cartoons touch on the highly sensitive issues relating to the monarchy whereas even criticism of the king is now allowed there.
That's different in Philippines which has always had a very rich political cartoon culture until now. During the era of Ferdinand Marcos, so many political cartoonists criticized him. Even after Marcos, despite some restrictions, caricature continued to flourish without problems. When they criticize, Filipino caricaturists even criticize characters such as the head of state. Meanwhile Indonesian cartoonists prefer to focus on issues.
Why Filipino cartoonists are so brave?
I can't say for sure but I guess it's because of their long history which gives them confidence. They also have close ties to the US. Famous Filipino cartoonists like Corky Trinidad and Angelo Lopez live in the US. If we look closely, their cartoon style is similar to the American cartoon style which centers on characters.
The name of Myanmar cartoonist, Lailone (Salai) is mentioned in the program information but he isn't really present. What happened?
Initially, three Myanmar cartoonists agreed to participate. They are from Irrawaddy, a strong media outlet and we connected via the social media. But by the end of the collection deadline, only Salai sent his works. Two others couldn't be reached. By April, we also lost contact with Salai. I suspect two things. First, there was another Internet blackout. Second, perhaps they got spooked as many journalists had been murdered. The threats are real. There are shootings and so on.
How about Cambodia, Laos and Vietnam?
The problem is newspapers are not that powerful there. Cartoonists don't have a place in newspapers either. They are only active on social media and social media platforms in these countries are strictly monitored. In Vietnam, for example, the government keeps a tight rein on them. The military would check on Internet cafes. That's why it's extremely tough. Second, they don't have huge cartoonist communities. Few existing ones are being muffled. Just like in Singapore.
Hasn't Singapore's mass media already progressed?
Have you heard of the name Morgan Chua? He was very famous in Asia in the 80s. He worked for the Far East Economic Review. He criticized Lee Kuan Yew and as a result had to flee to Hong Kong. About three or four years ago, Leslie Chew was charged with sedition for a comic strip on his Facebook page Demon-cratic Singapore. I interviewed him in Singapore. He was accompanied by his lawyer and didn't want to be photographed. He told me, "Pak Zunar have many supporters in Malaysia but I have none in Singapore." Actually, his works are quite popular.
Did these hurdles prevent the rest from participating in the exhibition?
Correct. We want all to participate but it wasn't possible. Our aim of holding the joint exhibition actually is for all to be able to join and share so that ASEAN cartoonists could become stronger. We may not be able to help one another but at least we can encourage one another.
What about the conditions of cartoonists in Myanmar in general?
Irrawaddy has a group of cartoonists. Before Aung San Suu Kyi's era, they worked in exile in Thailand. I met them in Bangkok. But when I visited Yangon in 2015, they were already back in the country and were drawing for newspapers. That was really good. I myself can't even draw for Malaysian newspapers. Cartoons were booming again in Myanmar at the start of Suu Kyi's rise to power. In general, art and culture scenes were fledgling. I went there for Human Rights Film Festival. Imagine they could screen a short film about me in major movie theatres. Wow! The same film couldn't get into theatres in Malaysia. In fact, the police came right away even when it was shown in a small theatre. So, I was thinking that time that there's huge hope for Myanmar. But now they are under repression again.
What about your own experience as a cartoonist in Malaysia?
I've been arrested and indicted seven times. Nine of my 18 books have been banned and the rest are makruh (not recommended) (laughs) because although they are not officially banned, they are still not allowed. The police paid visits to the publishers and the printers. One received three visits. So, they don't dare anymore. Many cartoonists in Malaysia mostly tackle social issues, never political issues.
What are the differences between political and social cartoons?
Political cartoons openly address the kingdom's (the government) policies targeting those in power such as the prime minister or the president and other authorities such as courts, the police or the anti-corruption body. Meanwhile, social cartoons lament, for example, fuel price hikes. But they don't bring to the fore the root of the problem which is political actors who caused fuel prices to be high.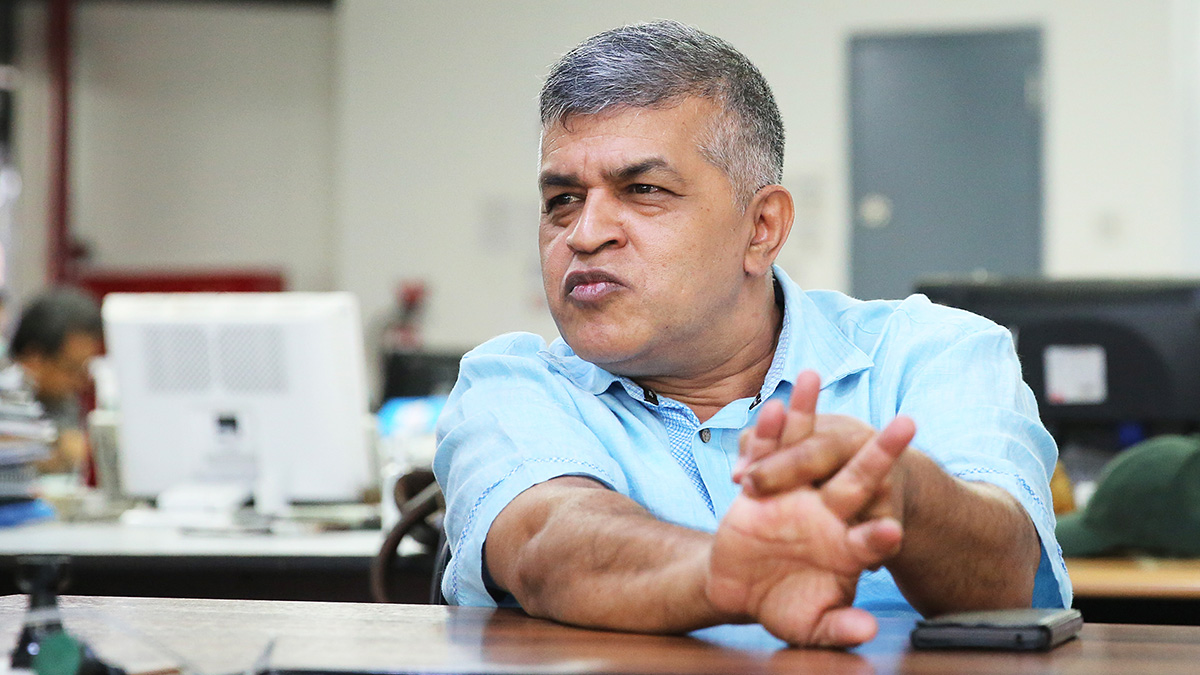 Zunar during a visit to Tempo's office, March 2019. Tempo/Ratih Purnama
How do you still foster courage?
Because I have a lot of supporters although I don't know exactly how many. When I was indicted for nine counts of sedition in 2015 and slapped with a 45,000-ringgit bail overnight, I posted the status on social media. I said I needed a bond assistance by the next morning at the latest, or else I would be jailed. I also included my bank account details. The money came in the next morning was more than needed (to pay the bond). Some came from overseas like Switzerland and England. That made me realize I have many supporters.
Why is the government so fearful of your works?
The official reason the government gave to ban my cartoon books was that they could disrupt public peace and order and cause loss of trust in the government. They feared that my books could change youths' perspectives towards Malaysian politics. So, they fear the youths, those who can bring about changes.
What do you think of political cartoons in Indonesia?
Compared with Malaysia's, Indonesia has a lot more. For example, out of 100 Malaysian cartoonists, only 10 of them talk about politics. In Indonesia, perhaps 50-60 cartoonists do although Malaysia has more cartoonists. We even have many cartoon magazines meanwhile Indonesia doesn't.
---
Zulkiflee Anwar Ulhaque (Zunar)
Place and Date of Birth: Kedah, Malaysia, May 15, 1962. Education: Studied science at the Universiti Teknologi Malaysia. Profession: Political cartoonist, Malaysia. Awards: Courage in Editorial Cartooning Award oleh Cartoonists Right Network International (2011), Cartooning for Peace Award (2016), Human Rights Watch Hellman/Hammett Award (2011 dan 2015), International Press Freedom Award, Committee to Protect Journalist, New York, United States (2015).
---
Indonesia has the Electronic Information and Transaction Law that threatens the freedom of expression on social media. What about in Malaysia?
We also have it. I've been asked to appear at the police station on May 7 (the interview was conducted on May 4) because one of my caricatures on Facebook about racial issues. I was charged under two laws: the Multimedia and Communication Act and the Kanun Keseksaan. These laws are aimed at protecting the government. If I criticize the Prime Minister, the PM should sue me. But with this law, the police can take actions on behalf of the PM. The police can immediately arrest anyone who criticizes the PM.
Malaysia has just introduced the new law on fake news. Spreading fake news is now punishable but the definition of 'fake' is determined by the government. The law was issued after PM Muhyiddin Yassin met with President Joko Widodo last February. After the meeting, Jokowi post their photo in his official Facebook account. It turned out Malaysians flooded the post with negative comments about Muhyiddin. They never have the opportunity to voice their criticism to the PM because he's not close to the public like Joko Widodo. He not for once has given a press conference. People can't ask him anything. So, they expressed their criticism via Jokowi's Facebook page. Then they screenshot these comments and circulated them via WhatsApp. The comments are really harsh.
Recently, Malaysiakini had a brush with the Multimedia Act because of public comments at their website. Can cartoonists also be subject to the same article for public comments on their works?
The Malaysiakini case is a case of malicious intent. That's my opinion. The objective is to pressure and shut down the only media outlet that is still independent and beyond the control of the government. First, the source of the problem is just comments. There were five comments to a news article and someone filed a police report against these comments. Then the court ruled that Malaysiakini must bear the responsibility for any comments made at their platform. It's a kind of punishment against Malaysiakini. Meanwhile, I heard from my source at the newspaper that they couldn't trace the origins of these comments. I suspect that they actually came from the government itself. In the same way, cartoonists can also be snared for comments on their works.
What is your conclusion about the development of cartoons in the Southeast Asia?
It's like ASEAN is growing without backbones. This is where cartoonists can play their role. But they must have power. There are still many human rights and racism issues that they haven't touched. They can actually analyze these issues. So, don't take cartoonists as just creators of funny cartoons.