The Big Names Behind Illegal Mining
Monday, January 23, 2023
An investigation by Tempo found illegal nickel mining by people claiming to be close to the authority.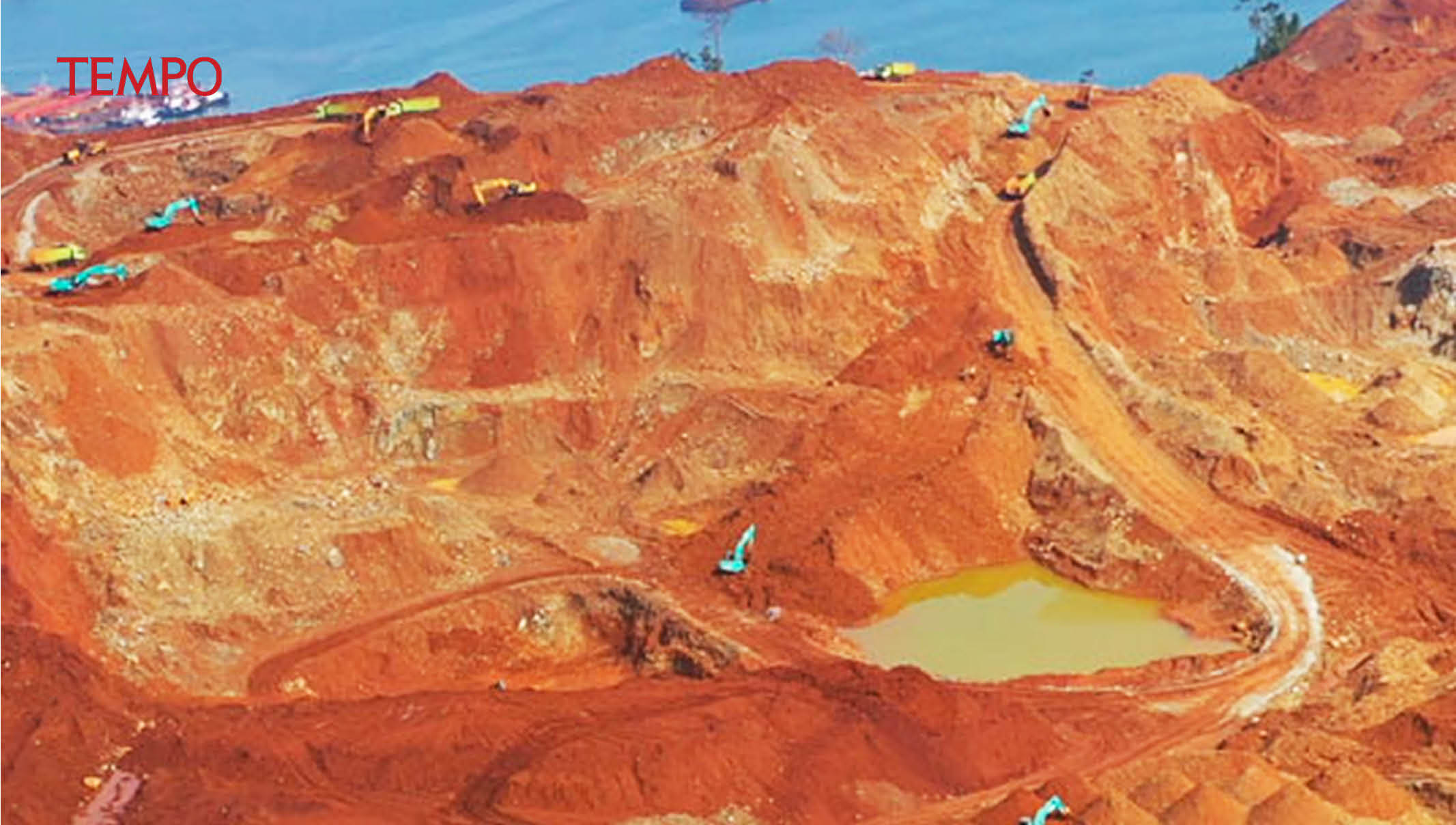 The Big Names Behind Illegal Mining. tempo : 170116628561.
MANY people have pointed out that natural resources are a gift that can easily become a disaster. Natural assets that are managed improperly, yet alone illegally, will only benefit a small number of people and will bring misfortune on the majority. The resource exploitation by nickel mining in Southeast Sulawesi is one example.
This commodity has become a prima donna because of the increase in demand for electric vehicles' batteries. As one of the world's largest nickel producers, with potential reserves of 11.7 billion tons and 4.5 billion tons of nickel ore available for immediate extraction, Indonesia should receive benefits in the form of foreign exchange. As a non-oil and gas export commodity, nickel has kept Indonesia's trade balance in the black over the last couple of years and has helped the rupiah maintain its value against the US dollar.
Since May 2020, there have been 29 months in which our export surplus has been in the range of US$4 billion to US$7 billion. From our total exports in 2020 of US$291.88 billion, or Rp4,524 trillion, the non-oil and gas component was US$235.61 billion. Palm oil, coal and nickel made the greatest contribution to Indonesia's exports. And 23 percent of these exported products went to China, a nation that is not particularly concerned about the legal origins of commodities.
These fantastic figures should be reflected in the value of our foreign exchange reserves, but the fact is that these reserves fell by US$7.7 billion in 2022 compared to the 2021 figure. So who is enjoying the benefits of these natural commodities resulting from the increase in global demand if they are not being shown in the balance sheet?
Findings by this magazine in the Mandiodo Block, a nickel mining area in North Konawe, provide an initial explanation. There are dozens of illegal nickel mines there that steal nickel by using fraudulent documentation and then sell it to ore processors in Southeast Sulawesi. In general these nickel smelters are run by major consortia of Chinese tycoons.
By appointing regional and central government officials as commissioners, these miners' illegal practices continue without any problems. In Mandiodo, illegal mining companies owned by politicians and the families of officials even enjoy protection from a number of police generals.
On paper, the 3,400-hectare mining permit for the Mandiodo Block belongs to state-owned company Aneka Tambang (Antam). Previously, nobody was in control of the land and it was contested by illegal mining companies. Following a legal process at the Supreme Court, Antam regained the concession right. However, instead of carrying out mining operations so that the proceeds would go to the state, Antam asked other companies to extract the nickel.
One company receiving a special right to mine nickel in Antam's concession area was Lawu Agung Mining, a company owned by Windu Aji Santoso, a local businessman who was a member of Joko Widodo's campaign team in the 2019 presidential election. Windu also claims to be close to National Police (Polri) Chief Listyo Sigit Prabowo. Lawu Agung appointed 11 other companies to extract 7.8 million tons of nickel over three years.
The companies under Lawu Agung also carried out mining operations outside the Antam concession area. This series of illegal activities escaped the attention of the authorities because they were carried out through the buying and selling of documents and the paying of 'coordination fee' to law enforcement officers. Over the three years, the value of the nickel extracted in the Mandiodo Block was Rp246.5 trillion, with potential losses to state tax revenues of Rp24.6 trillion.
Unfortunately, illegal exploitation of natural resources now enjoys legal protection through the Government Regulation in lieu of Law (Perpu) on Job Creation. This omnibus law includes Articles 110A and 110B that prioritize the principle of ultimum remedium (last remedy), meaning putting administrative before criminal sanctions.
President Jokowi should put a stop to these improper practices. If they are allowed to continue, the president will be repeating what happened in the United States in the 19th century, when resources belonging to the nation were stolen by the robber barons, while law enforcement officers did nothing because they had been silenced by bribes.
Articles: